Top 5 Best Dog Food for Pitbulls
Latest Update June 29, 2017
Choosing the Best High Quality Dog Food for Your Pitbull
Just like humans, dogs enjoy different tastes and may also have specific needs which makes it crucial to know what ingredients are found in your dog's food. With a plethora of options available, it can become a hassle trying to analyze dry food when you are unsure what to look for.
To help save you time and possible frustration, a guide has been composed to assist you in figuring out the needs of your pooch. We also devised a list of our top 5 picks to find out what is the overall best dog food for pitbulls along with what food might be best for your pitbull.
Why Are The Dietary Needs of Your Pitbull Important?
In order to guarantee that your pooch will live a life that is of the highest quality, you must get familiar with what types of foods he needs in his diet. Since pitbulls are muscular and have plenty of energy, it can be difficult to pick a food that is right for your dog without understanding what nutrients he needs and why he needs them.
When it comes to feeding your pitbull, search for a food that provides a high quality of proteins and carbohydrates to provide him with energy that will last awhile. Foods produced with low-quality proteins and carbohydrates will leave your pup feeling tired much quicker.
Take notice of your dog's behavior as licking, scratching, and rashes can often mean that he is suffering from a food-related allergy or stomach sensitivity as these are common for pitbulls. Sensitivities may present themselves in different ways such as unusual bowel movements and nausea.
If you do have a reason to be concerned, start by checking your dog's food and seeing if bone meal, meat by-products, corn, soy, or wheat is one of the top five ingredients listed. These ingredients are common irritants for pitbulls and most dogs alike.
Why Would You Feed Your Pitbull Food That Is Classified As Hypoallergenic or Grain-Free?
Overall, grains typically are not a good source of carbohydrates for pitbulls as they tend to be allergic.
While grain-free dog food does not contain grains, it may still contain soy and egg which are known allergens. It is ideal for a pitbull with acute allergies to try a hypoallergenic food as it does not contain grain, soy, corn, eggs, and gluten.
Transitioning your pup onto a food that is the best fit for him may take some time, so patience is key. If your pitbull has symptoms such as loose stool, excessive gas, or loss of appetite, you might want to try another food, eliminate ingredients that are common allergens along with seeking the opinion of a veterinarian.
Benefits of Feeding Your Pitbull a Healthy Diet
Dogs need to be fed quality food. A diet that consists of food that lacks nutrients will only leave your pooch lacking the nourishment he needs to stay strong and agile.
However, quality food often comes with a higher price tag than a dog food found at the grocery store. This results in individuals purchasing cheap food without knowing the true cost.
Cheap food is made with low-quality ingredients that will eventually lead to health issues later down the road which will end in a boat load of veterinary bill. However, many pet owners notice that when they switched to a higher quality food, their amount of vet visits decreased.
Similar human athletes, pitbulls need to consume more protein, carbs, and fat in their diet in comparison to most other breeds. Vitamins and minerals may vary in whether or not they are essential due to the age and size of your dog.
Nutritional Requirements for Pitbulls
Meals should occur twice a day for adult pitbulls, while puppies and young adults should have 3 meals a day since they are still growing and burn an excess of energy. Both adults and puppies are able to have healthy treats, but it should not consist be more than 10% of your dog's total calories for the day.
While the AAFCO recommends a minimum protein of 22% for puppies and 18% for adult dogs, it is important to keep in mind that because pitbulls are such a muscular breed a protein content of 25%-30% protein is necessary for typical adult pitbulls. For muscle growth and overall development in incredibly active dogs, it increases to a protein content of 30%-40%.
Protein is essential for your pitbull's diet as it can repair tissue and assist in bone growth along with reducing injuries that pitbulls are prone to. However, be cautious of chicken as many dogs tend to be allergic to it.
Fat is needed in your dog's diet as it provides energy and regulates the body's temperature along with assisting with a shiny coat. Ideally, your pitbull's fat content should be between 15%-25%.
Carbohydrates also provide energy and aid in digestion, however, no getting enough carbs in your pup's diet can make their body use their own muscle as an energy source. Sweet potatoes, oatmeal, brown rice, and barley are common carbohydrates of high standards.
The calories required for your pitbull may change depending on what stage in their life they are at. Keep in mind that weight, age, and activity level are factors that will accurately allow you to calculate how many calories your dog should intake daily.
It is important to precisely determine these factors as they may drastically affect your dog's weight over time if the calorie intake is incorrect. If you have any trouble figuring out how many calories your dog needs daily, a veterinarian can help you find the best number for your pitbull.
As a general rule of thumb, old pitbulls should have around 875 calories daily while puppies, young dogs, and lactating mothers should intake around 1100 calories a day. If you have an incredibly active adult pitbull, you should increase to around 1750 calories a day.
Pitbulls who overeat will gain weight, even if they need a higher caloric intake. Obesity can impose health issues along with lower the quality of your pitbull's life.
Keep your pitbull hydrated because it helps the body run the way it should. Since they have a lot of muscle mass and have high energy levels, they will need water frequently.
Our Top 5 Picks for the Best Dog Foods for Pitbulls
1. Earthborn Holistic Great Plains Feast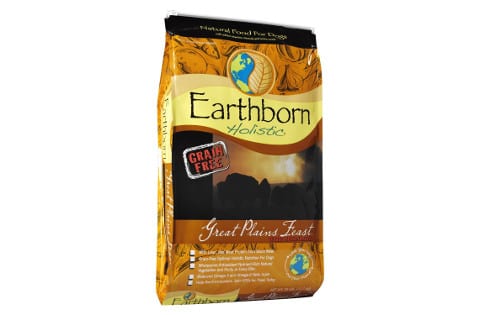 With lean, red meat bison as the top ingredient, this grain-free, gluten-free dry food is ideal for pitbulls as it has an average protein content of around 34 percent. Compared to fresh bison, the bison meal contains way more protein.
It also contains high levels of antioxidants nutrients, such as Vitamin C and Vitamin E. This formula is packed plenty of fruits including peas, blueberries, cranberries, apples, and spinach.
L-carnitine is present in this formula, which is great for pitbulls as it helps to convert fat in the body to muscle mass and energy. Also, it contains Omega-6 and Omega-3 fatty acids which are not only helpful for a shiny skin and coat but also assist with brain function and behavior.
For a 28-pound bag, this is in between Wellness CORE Natural Grain Free Dry Dog Food Original Formula and Taste of the Wild High Prairie Dog Food in both affordability and product size.
One customer enjoys knowing that the food her dogs happily eat every day is potato-free. Typically, most potatoes are used as fillers in certain dog foods as they provide little to no nutritional benefit.
A reviewer stated that she was unsatisfied as her dogs had gotten nausea and loose stool due to eating this food, and she was unable to return the food.
Things We Liked
Grain-free, gluten-free, and potato-free
L-carnitine which assists in converting fat to muscle mass and energy
Contains Omega-6 and Omega-3 for a shiny coat and positive brain function
Things We Didn't Like
Some customers reported their dogs getting sick from this food
Return policy can cause issues if a bad batch is received
A little expensive for the size of the bag
2. Taste of the Wild High Prairie Dog Food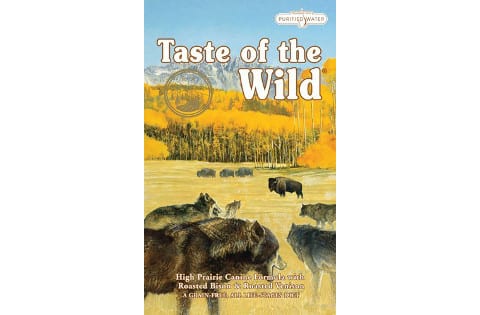 Taste of the Wild High Prairie is a grain-free dog food that is formulated with sweet potatoes and peas that makes it easily digestible for pitbulls. With a 32% protein minimum, this product is made with bison, venison, and buffalo.
As it is supplemented with vegetables and fruits, this formula provides plenty of antioxidants to ensure that your dog is getting all the nutrients he needs. Each cup of this food has 370 kcals.
A 30-pound bag retails for much less than other brands making it an affordable high-quality food.
One customer stated that the kibble is dark and rich in color and does not crumble easily, ensuring you are getting the most out of your money and not winding up with a bunch of crumbs filling the bottom of the bag. Another happy customer stated that she refused to feed her pitbulls any food besides Taste of The Wild as they have sensitive skin.
Consumers recommend buying this product locally as bad batches have been floating around the internet, causing loose stool and nausea. Some customers also noticed a sizing different in the kibble of bags purchased online versus bags purchased in stores.
Things We Liked
Affordable, high-quality formula
Provides a minimum protein content of 32%
Grain-free dry food that does not crumble easily
Things We Didn't Like
Many customers have purchased bad batches online
May not be convenient to purchase in stores in order to diminish the likelihood of getting a bad batch
Sizing differences in kibble purchased online versus in store
3. Wellness CORE Natural Grain Free Dry Dog Food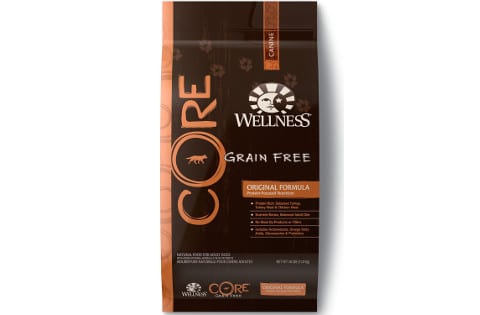 Wellness Core Natural Grain Free Original Formula contains chicken, chicken meal, and turkey meal as its primary ingredients with a protein content of around 40 percent. This formula uses natural ingredients and does not contain corn, soy, wheat, meat by-product, along with artificial colors, flavors, and preservatives.
The fat content is enough for it to be healthy, yet it might not be enough for athletic dogs. Since this food contains a prebiotic, it could assist in promoting your dog's overall digestive health.
A 26-pound bag is a little expensive compared to other brands that even provide more quantity. However, it is made only in the USA and backed by the Wellness Guarantee, if for some reason your dog does not like the formula or if it simply not the right fit for your pitbull.
One customer loves this formula as it has helped her senior dog lose weight and regain his energy, improving his overall quality of life. However, the customer did notice that the kibble typically has dust on it that end up getting stuck to the bottom of her dog's bowl so she sifts the food through a colander before feeding him.
A few customers have received bad batches of this formula that have gotten moldy due to getting wet and/or smell terrible.
Things We Liked
Made in the USA
Backed by Wellness Guarantee
High protein content and low fat is great for pitbulls who need to lose weight
Does not contain corn, soy, wheat, meat by-product, or artificial colors, flavors and preservatives
Things We Didn't Like
Expensive for a 26-pound bag
Athletic dogs might not get their recommended fat content
Kibble is loose, resulting in some people sifting the food before meals
Inconsistency of batches which has lead to bad smells and mold
4. Natural Ultramix Grain-Free Duck, Sweet Potatoes and Whole Peas Entrée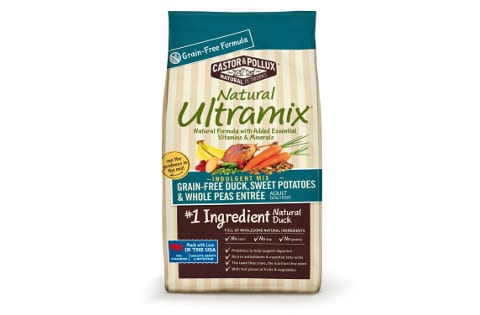 Duck is the main ingredient used in this dog food, which is great if you have a dog that has allergies to common proteins. In addition to the 38% protein content, this product contains plenty of fruits and vegetables to satisfy your pitbull's need, such as bananas, carrots, cranberries, apples, and blueberries.
This formula does not contain any soy, corn or wheat as well as being made in the United States, and none of the ingredients are sourced from China. For a 25 pound bag, this product is within the same price range as the others but provides less product for more money.
A customer raved about this product as she always receives bags that are fresh. She stated that her dog enjoys the kibble and real fruit pieces; overall, this product is great for all dogs because the kibble is not too hard.
However, another customer noticed quality differences after Castor and Pollux were purchased by Purina. After the switch, her dog had experienced diarrhea and nausea, but she was unable to return the bag.
Things We Liked
Plenty of real freeze-dried fruit and vegetable pieces
Ideal for dogs with food sensitivities
Made in the USA and no ingredients are sourced from China
Things We Didn't Like
Expensive compared to product amount
Quality difference after purchased by Purina
Some dogs experienced loose stool and nausea
5. Canidae Grain Free PURE Fresh Salmon Dry Dog Food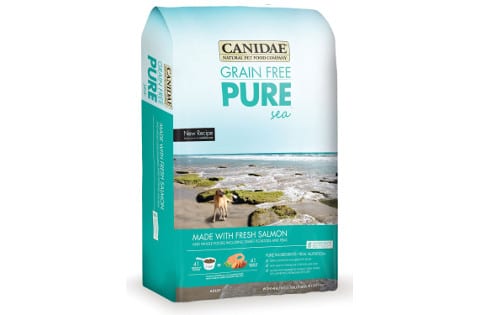 To remain simple, it is created with 8 key ingredients such as fresh salmon, salmon meal, menhaden fish meal, sweet potatoes, peas, canola oil, sun-cured alfalfa, and potatoes in addition to natural flavor, vitamins, minerals, and probiotics mix. This formula provides Omega-6& Omega-3 fatty acids to help your dog achieve a beautiful skin and coat.
The probiotics used are able to aid in digestion and antioxidants are also added to support your pitbull's immune system. This formula is free of soy, corn, and wheat making it great for dogs with grain sensitivities.
This is the most expensive food mentioned as well as the provides the least amount of product, that is 24 pounds.
A customer who tried out this formula mentioned how her dogs loved the taste of it but she noticed that they were producing more stool, while it was solid and looked normal. She had reached out to Canidae and not only did they email her back with genuine concern, they had their vet email her as well to provide answers.
Things We Liked
8 simple main ingredients used
Free of corn, soy, and wheat
Has added Omega-6 and Omega-3 to give your pitbull a shiny coat
Responds to customer efficiently and genuinely cares
Things We Didn't Like
Most expensive dog food mentioned
Smallest sized bag at 24 pounds
Due to a high fiber content, your dog may poop more when adjusting to the formula
Overall, Earthborn Holistic Great Plains Feast is the best dog food for pitbulls as it is high in protein and has moderate to high-fat content, unlike Wellness CORE Natural Grain Free Dry Dog Food. While most of the bags weight 26 pounds or less and cost a large chunk of change, this bag weighs 28 pounds and is relatively affordable per pound. However, if you get a bad batch, it is unlikely that you would be able to return it online but depending on the store, you might be able to exchange it for store credit.
Buyer's Guide to the Best Dog Food for Pitbulls
PuppyWire
Buyer's Guide to the Best Dog Food for Pitbulls