Buyer's Guide to Finding the Best Dog Food for Huskies
Last Updated: June 17, 2018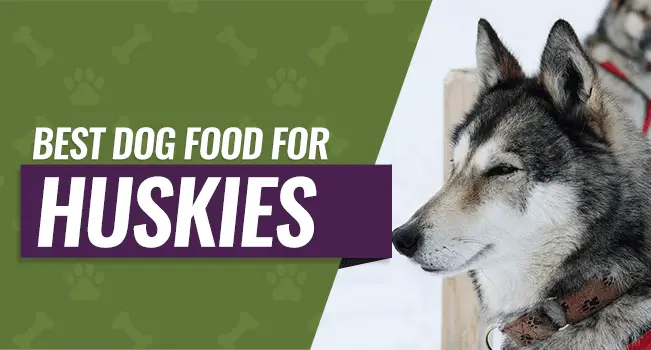 The Husky is a fun loving, loyal, and high-energy dog breed that thrives on being assigned a job and being able to work. However, this high-energy dog breed needs the best dog food for Huskies to stay at their peak performance levels. 
This can present a problem as there are hundreds of different Husky food brands and styles to choose from, and this can get overwhelming very quickly. This is why we've compiled the top six best food choices for your Husky along with a short buyer's guide you know exactly what to look for the next time you go to buy food for your Husky.
Our Top Picks for the Best Dog Foods for Your Husky
How to Choose the Best Husky Food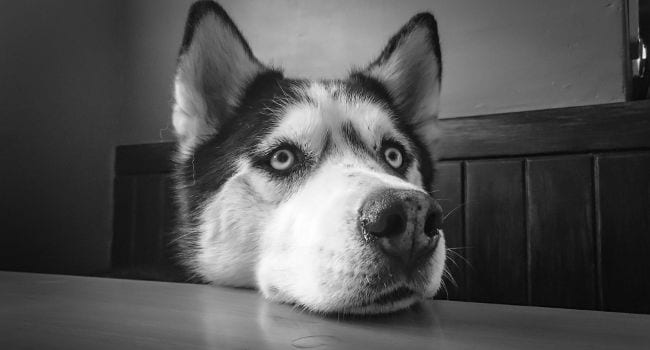 When it comes to your Husky's food, it's very important to read the label and find out how much of each nutritional need is being met when you feed them. As Huskies are the athletes of the dog world, they may need higher protein levels to keep them satisfied. 
It is very important to choose a higher-quality dog food for your Husky because this can help to ensure that their nutritional and daily caloric needs are being met on a consistent basis. 
Antioxidants. Your husky's food should have a good mix of antioxidants, minerals, and vitamins to promote a balanced digestive system and improved overall health. You want to look for things like sweet potatoes, peas, carrots, Vitamin A, Vitamin B9, calcium, and blueberries or fruit.
Carbohydrates. Any food you choose for your husky should be high-protein and low carbohydrates because it is very easy for this breed to gain weight, but it's harder for them to lose it again. Additionally, it may cause digestive issues if your dog eats too many of them.
Fats. As husky's are a high-energy, hard-working dog breed, they'll need an appropriate amount of fat in their food to sustain them throughout the day. You should start at 15 to 20 percent fat content and go up if your dog is more active or if you live in a colder climate to slightly higher amounts.
Protein. The protein content in your Husky's food will fluctuate depending on how active your dog is. The minimum protein requirement for an adult dog is around 18 percent; however your husky's food should have between 35 percent and 40 percent protein to support their faster metabolism.
The Role Diet Plays in Your Dog's Health
Unfortunately, the husky is a breed that is prone to problems with their hips and their eyes. Feeding your dog a balanced, healthy diet might help to alleviate some of these problems, and this leads to your dog being healthier throughout their lives.
Coat and Skin Problems
Although huskies aren't particularly prone to allergies, they do have a very thick, short coat, and they can develop problems with dry and flaky skin. Omega-3 fatty acids and high-quality fats from fish oils or flaxseed can help to improve your dog's skin and coat health, and you'll usually find them in many good dog food brands.
Eye Problems
Corneal dystrophy, juvenile cataracts, and progressive retinal atrophy are the three main eye diseases the husky breed suffers from. However, your dog's food can help because antioxidant-rich blueberries, vegetables rich in beta-carotene like broccoli, sweet potatoes, and carrots, and eggs are usually listed in higher-quality dog foods, and these ingredients help to protect your dog's eyes.
Hip Dysplasia
Canine Hip Dysplasia is a common condition caused by your dog's femur head not fitting into the socket correctly, and this can lead to pain, arthritis, inflammation, uneven gait, and eventually wearing of the joint. A well-balanced diet with low carbohydrate counts can decrease the chance of your husky being overweight, and this could lead to healthier joints.
Things to Avoid in Your Dog's Food
There are also a few things you want to watch out for and avoid when it comes to your dog's food if you can help it. A lot of dog food uses 'filler' products, and these can quickly lead to weight gain and other health problems for your dog.
Also, you may want to avoid milk or dairy goods because these can be hard on your dog's system due to the absence of the digestive enzyme lactase. A lot of pet parents also avoid many grain products and soy because these may cause your dog to have allergies. 
How Much to Feed Your Husky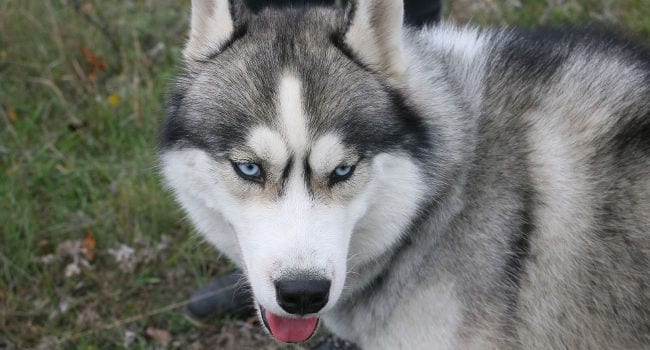 The amount of food you feed your dog will depend on the food itself, your dog's age, activity level, and their metabolism. You'll want to look at the back of the bag for feeding guidelines, but most dog food is fed according to weight. To help prevent this condition, you want to keep your dog at a healthy weight because extra weight can add stress to your dog's joints, and this is where a carbohydrate light food comes into play. 
You can adjust this as needed, and you have to remember that huskies don't tend to eat a lot at once, and they tend to get bored with their food. Your husky was bred for endurance, and they can go a long way on a little bit of food, especially if they're less active. 
In general, most huskies will eat around two and a half cups of food a day, and this is why buying calorie-packed food is so important. They have to get their recommended caloric intake from a small amount of food, and since your dog may only eat two and a half cups a day, you'll need around 480 calories per cup.
Our Top 6 Picks for the Best Dog Food for Huskies
Best for Adults - Diamond Naturals Dry Dog Food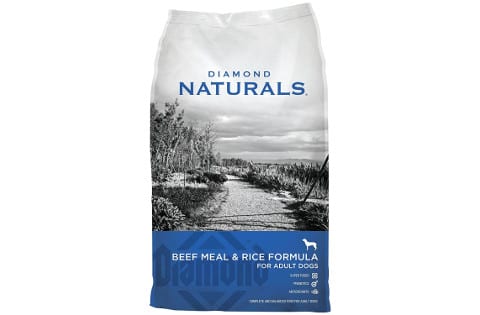 Diamond Naturals brings a dog food that is packed full of Omega-6 and Omega-3 fatty acids, antioxidants, vitamin E, and probiotics to support a healthy digestive system and a healthy skin and coat. It contains no corn, wheat, or soy in its formula, so your dog should have an easier time digesting this food. 
This formula is made with 25 percent protein, 15 percent fat, 4 percent fiber, and it comes with beef protein. All of these ingredients work together to support your adult husky while making sure they reach their daily caloric intake to keep them performing at their best. 
Pet parents who have bought this adult dog food stated that this dog food was very well balanced, and it was an excellent choice for a less expensive complete adult dog food. They also stated that this dog food made their dog's coat shiny, soft, and healthy in addition to helping their dog's skin be healthy. 
Things We Liked
Balanced nutrition to support your adult dog
Works on your dog's digestive system as well as their skin
Less expensive option
Things We Didn't Like
May cause digestive upset
Can cause an allergic reaction with rashes and/or hair loss
Food has a strong smell
Best for Senior Huskies - Wellness Complete Health Natural Dry Senior Dog Food
Wellness Complete's senior dog food comes with several key vitamins and nutrients to support your senior dog's whole system including Glucosamine and Chondritin for healthy joints and hips. It is also an all natural formula that is designed to be easy on your dog's stomach, and it includes no wheat, by-products, soy, artificial flavors, or preservatives. 
This senior dog food also contains fewer calories than adult dog food, and this can help you watch your dog's weight. Wellness Complete helps to support your dog's skin and coat, teeth, digestive health, eyes, immune system, and skeletal system. 
Pet parents who bought this senior dog food stated that they saw an improvement in their dog's energy levels, as well as their skin and coat health. They said that the smaller pieces made it easier for their dogs to eat, and it seemed easier on their digestive system. 
Things We Liked
Formulated with Glucosamine and Chondritin
Provides complete support for both internal and external systems
Formulated with almost 10% less calories for weight control
Things We Didn't Like
May be too harsh for sensitive digestive systems
Recently switched the formula
Price - slightly more expensive
Best for Husky Puppies - Taste of the Wild Grain-Free Dry Dog Food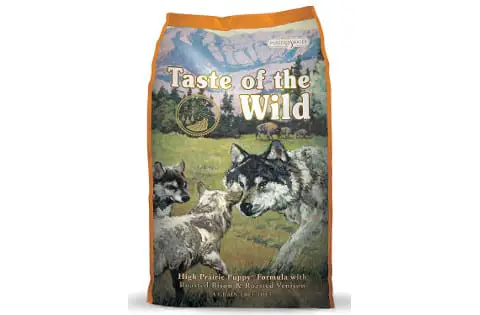 Taste of the Wild's puppy food is a grain-free formula that comes in two flavor options and three different size options so you can customize it to your puppy's needs. This puppy food formula contains sweet potatoes, chicken meal, potatoes, egg product, fruit, vegetables, vitamins, and minerals to support your growing puppy. 
Buffalo, lamb meal and sweet potatoes are the first three ingredients, and the grain-free formula is designed to be gentle on your puppy's stomach. It is also packed with protein, and this can help to give your puppy more energy so they can be active and happy. 
People who purchased this puppy food stated that their puppy's loved it, and it was an excellent puppy food because the grain-free formula was packed with essential vitamins, minerals, and nutrients. They said that this food was gentle enough that it didn't cause digestive upset, and it worked to support their puppy's immune system as well as healthy skin and coat. 
Things We Liked
Grain-free formula is packed with essential vitamins, nutrients, and protein
Several different size and taste options available so you can customize your food to suit your puppy
A meat is listed as the first ingredient on the label
Things We Didn't Like
Formula may cause itchy skin
Certain puppies may experience diahrrea
Slightly more expensive formula
Best for Gaining Weight - Purina ONE SmartBlend Nutrient-Dense Formula
This food is an excellent way to help your Husky gain weight as it contains a slightly higher protein count than regular dog foods at 30 percent protein, 17 percent fat, and 3 percent fiber. It comes in two different flavors and three different size options as well as no soy, wheat, corn, or artificial colors.
Meat is the first ingredient, and this dog food formula also contains vitamins, egg product, sweet potatoes, and other vegetables for a healthy, balanced formula. This formula is designed to be easy for your dog to digest, and the high protein count means your dog will have an easier time gaining weight. 
Dog parents who purchased this product were thrilled with the price, and they stated that the choice of dog food size and the variety of flavors made this food easy to customize to your dog's taste. It also has Omega-6 fatty acids and antioxidants to support your dog's immune system. 
Things We Liked
Easily digestable formula
Formula has a high protien and fat count
Price and formula choices
Things We Didn't Like
May cause diarrhea as your dog transitions over
High protein count may not be suitable to keep feeding your dog
Food may have a strong smell
Best for Weight Loss - BLUE Life Protection Formula Adult Dry Dog Food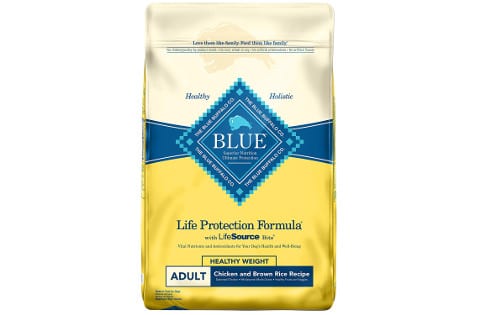 This formula is great for supporting weight loss because it has 20 percent protein, 9 percent fat, and 10 percent fiber. It also comes in fourteen flavor options and four size options, and this makes it easy to customize this food to your dog's taste.
This dog food is formulated with whole grains, vegetables, and fruit and it doesn't have any corn, wheat, soy, chicken, or by-product meals. This brand also has several breed and condition-specific formulas so you can ensure your dog gets all of the nutrients they need while supporting healthy weight loss. 
Pet parents who bought this food for their dogs said that it worked great to help curb their dog's weight, and the higher fiber count helped to keep their dog's system regular. They also said that the large variety of flavors made it easy to experiment and find which food suited their dog the best. 
Things We Liked
A lot of taste and size choices
Supports bones, teeth, muscles, immune system, joint health, and healthy skin and coat
Contains low protein, high fiber, and low fat
Things We Didn't Like
Formula may have recently changed
Brand has had some controversy with lead levels
Contains chicken fat which may cause allergies if your dog is sensitive to it
Best for Allergies and Sensitive Stomach - Hill's Science Diet Sensitive Stomach & Skin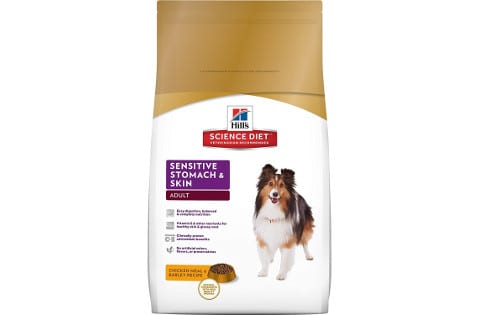 This dog food is formulated with high-quality ingredients and it comes in several sizes, flavors, and dry or wet formulas. It contains Omega-6 fatty acids, antioxidants, minerals, proteins, and Vitamins C and E. 
It is supposed to easy to digest, nourishes your dog's coat and skin, and it promotes healthy digestion. All of these things are designed to be gentle on your dog's stomach while the food helps to control any allergy or skin sensitivities your dog may have. 
Pet parents who bought this dog food loved the fact that there were so many different choices and styles of this food to choose from. They also said that it worked great to help calm their dog's digestive system, and it helped to calm their stomach sensitivities or skin allergies. 
Things We Liked
Made with high-quality natural ingredients
Variety of styles, sizes, and flavors to choose from
No artificial colors, flavors, or preservatives
Things We Didn't Like
May have trouble getting your dog to eat it
Can cause your dog to have diarrhea
Can cause weight gain
Taste of the Wild Grain-Free Dry Dog Food is the winner for out best dog food for huskies as you can switch to adult and senior formula as your husky grows. The grain-free formula is made with high-quality ingredients, and it comes in a few different sizes and flavor options.
Although this pick is one of the more expensive choices on our list, you're paying for quality, and this formula is packed with vitamins, minerals, protein, and nutrients. Meat is the first ingredient, and it supports your husky's immune and digestive systems as well as their skin and coat.
Buyer's Guide to the Best Dog Food for Huskies
PuppyWire
Buyer's Guide to the Best Dog Food for Huskies