Top 6 Best Dog Foods for Beagles: From Puppies to Seniors and Much More

By Ashley Turner     Last Updated November 13, 2018
As a pet owner, it is essential to keep your pup healthy and happy. While toys may entertain your pet, nutrition plays a huge role in keeping your beagle healthy.
If you own a beagle, chances are there are very few meals that your dog wouldn't eat. However, not all meals are nutritionally-balanced with your dog in mind. Nutrition goes beyond your dog's taste buds. We curated a list of the top 6 best dog foods for beagles and produced a buyer's guide so that you have the tools to choose the best pet food for your beagle.
Our Top Picks for the Best Dog Foods for Your Beagle
Nutritional Requirements for Beagles
It is no secret that beagles enjoy eating. Previously hunting dogs, domesticated Beagles are not as active as they once were. Feeding your dog in compliance with their nutritional requirements is the foundation to a healthy life.
On average, beagles weigh between 18 to 30 pounds. Males are typically larger than females. As a puppy and young adult, beagles are very active and slow down as a senior.
When feeding your dog, it is essential to keep in mind their current weight, activity level, and their age. For example, a beagle weighing 22 pounds needs approximately 533 calories a day if they are a senior, neutered or inactive. A moderately active, 22-pound beagle needs about 618 calories daily. A highly productive, 22-pound beagle needs approximately 910 calories daily.
We recommend consulting your veterinary for your pet's most accurate daily caloric intake requirement. For a daily caloric intake approximation, the Pet Food Manufacturer's Association has a calorie calculator.
Like all pets, beagles need a good source of protein. The AAFCO, also known as the Associaton of American Feed Control Officials, recommends a minimum of 18 percent protein for adults and 22 percent protein for puppies. High-quality dog foods usually exceed the recommended protein percentages.
Fat should make up at least 8 percent of a beagle puppy's diet and at least 5 percent of an adult's intake. Fat is a vital source of energy, and it keeps your dog active. However, too much fat may cause your dog to gain weight.
Fat adds flavor to pet food, making it appealing for dogs to gobble up. High-quality fatty acids such as omega-3 and omega-6 provide excellent benefits for your dog's coat, skin, brain, and heart.
Beagles live 13 years on average and are less prone to canine diseases than other dog breeds. Keep these common health conditions in mind when choosing food for your beagle.
Common Health Problems to Watch Out for and Why the Right Food May Help Prevent Them
On average, Beagles live up to 13 years old as they are generally healthy dogs. However, there are common health problems that beagles face. Use nutrition as a tool to prevent different diseases and health ailments.
Eye Diseases
Eye problems such as glaucoma, cataracts, prolapse of the third eyelid, and progressive retinal atrophy are common amongst beagles.
These are several ingredients that contain lutein, zinc, and selenium which help strengthen your beagle's eye health.
Sweet potatoes, carrots, and broccoli
Cold water fish ie. salmon, tuna, and cod
Eggs
Blueberries and tomatoes
Hip Dysplasia
Beagles are genetically predisposed to hip dysplasia and arthritis since they are an active breed.
Glucosamine is an amino sugar that occurs naturally. It helps repair cartilage that is deteriorating or damaged. You can also use glucosamine as a preventative measure. Chondroitin is often used in combination with glucosamine as it lubricates the joints.
Irritable Bowel Syndrome (IBS) and Allergies
Allergies are common among many breeds, including beagles. Food-related allergies can turn a delicious meal into a tummy ache and an itchy coat. Like allergies, irritable bowel syndrome may result in painful bowel movements.
It is important to choose food that helps promote proper digestion based on the ingredients.
A hypoallergenic diet with a high amount of fiber may help regulate bowel movements. It can also prevent an upset stomach.
Consult your veterinarian if you notice that your dog may have an allergy to see if the pet food's source of protein could be the problem.
Obesity
Beagles enjoy eating and do not stop themselves, so it is important that you be aware of when your pet is eating.
Beagles should ideally be fed 2 to 3 small portions at the same times each day. Give your beagle only healthy treats. Make sure that you give your pup treats in moderation.
Overfeeding your beagle can result in rapid weight gain and increase the risks of ailments such as arthritis, heart disease, and cancer.
These health risks are why it is vital that your beagle eat nutritional meals and is fed based on activity level/age.
Traits of a High-Quality Dog Food for Beagles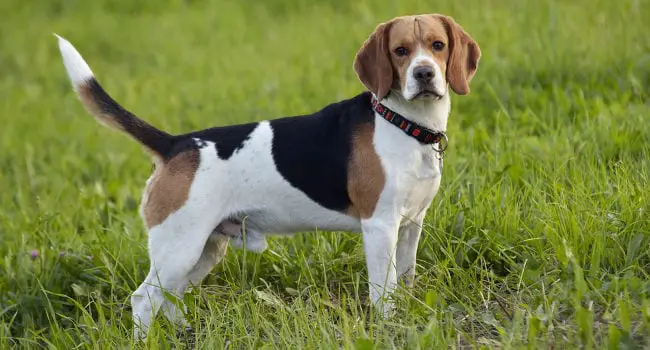 Recognizing the traits of high-quality dog food helps narrow down the choices by a lot. It helps prevent you from selecting a lower quality of food when it is time to make that decision.
The First Ingredient is a Whole Protein
Dogs are carnivores which makes it vital to feed them whole proteins such as lamb, turkey, salmon, beef, and deboned chicken.
Low-quality foods use fillers such as wheat, corn, or chicken meal. These inexpensive ingredients fill your dog up without providing any nutrients.
A high-quality food prioritizes using whole proteins as the first ingredients listed. The primary ingredients listed are the ingredients that are used the most in making the kibble.
No Artificial Colors, Additives, or Flavors
Low-quality dog foods add artificial ingredients to make their food smell appealing and taste good, despite having little nutrients.
A high-quality bag of dog food tastes fantastic to pets because of the high-quality ingredients they use. They do not need to add anything artificial to tempt the dog into eating it.
Artificial colors and flavors may trigger specific food allergies, which is why it is also best to afford them.
Fortified with Probiotics and Other Nutrients
Most dog foods are fortified with vitamins and minerals to avoid deficiencies.
Premium dog food brands prioritize adding supplements such as prebiotics, probiotics, glucosamine, and chondroitin. As a pet owner of a beagle, it is essential to seek out foods with added supplements that can prevent health ailments.
Probiotics are healthy bacteria that assist in regulating your beagle's digestive system. Prebiotics are a food source for the healthy bacteria.
Glucosamine and chondroitin assist in protecting your beagle's joints from deterioration and damage.
Manufactured in Countries with High Food-Safety Regulations
It is important to select a dog food produced in a country with high food-quality and food-safety regulations. Typically, dog foods manufactured in the USA, Canada, New Zealand, Western Europe, and Australia have high food-safety regulations.
Our Top 6 Picks for the Best Dog Food for Beagles
Best for Adults - Wellness CORE Natural Grain Free Dry Dog Food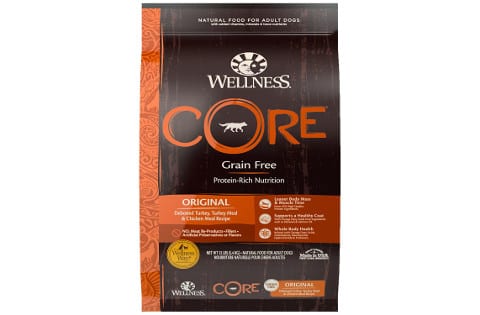 Wellness CORE Natural Grain Free Dry Dog Food is grain-free and does not contain corn, soy, wheat, artificial flavors or colors, preservatives, and meat by-products. This premium dog food is ideal for adult beagles because they may develop food sensitivities as they age.
This formula contains Omega-3 and Omega-6 and living prebiotics and probiotics. The Omega-3 and Omega-6 fatty acids promote healthy skin and coat. The live prebiotics and probiotics aid in proper digestion.
Antioxidants are derived from real fruits and vegetables to strengthen your dog's immunity.
High-quality proteins and complex carbs used in this formula help your dog maintain a healthy weight. These ingredients provide a sustainable source of energy. This formula includes chondroitin and glucosamine. These vitamins promote healthy joint function.
A few customers stated that their picky dogs would not eat this food; however, it is not the brand's fault. Customers whose dogs enjoy this food indicated that they had seen weight loss in obese dogs and shinier coats.
Things We Liked
Grain-free formula
Contains no animal by-product or preservatives
Formulated with live prebiotics and probiotics to promote proper digestion
Enriched with chondroitin and glucosamine for healthy joint function
Things We Didn't Like
Most formulas contain chicken, which is a common allergy among dogs
Picky eaters might refuse to eat this food
Novel protein flavor contains chicken
Best for Seniors - Blue Buffalo Life Protection Healthy Weight Formula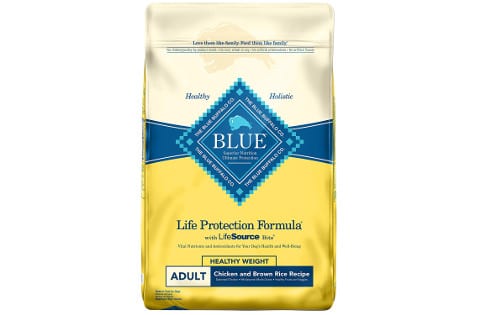 Blue Buffalo's Healthy Weight recipe is designed to taste great while providing your dog with essential nutrients. This formula is an excellent option for owners of senior dogs.
Seniors are more likely to gain weight since they are less active. It can be difficult to adjust their food accordingly after being fed the same amount for years. This food helps dogs maintain their weight while eating the same amount.
Deboned chicken is the first ingredient listed. The high amount of protein keeps your dog full for longer. Complex carbohydrates, such as whole grains, used in this formula keep your beagle active. When brands use fillers as main ingredients, your dog remains sluggish throughout the day and becomes hungry much faster.
A small number of purchasers reported that their dogs did not enjoy this food, while some people have reported inconsistencies in the formula of the bags they purchase. However, most pet owners whose dogs enjoy this food reported weight loss among overweight dogs and proper weight management in senior dogs.
Things We Liked
Formulated to help dogs maintain their weight
LifeSource Bits are enriched with a precise amount of antioxidents and nutrients
Made in the USA
Things We Didn't Like
Some people have reported incosistency in bags
Picky eaters might not eat this food
Might not be enough calories for an underweight senior dog
Best for Puppies - Orijen Six Fish Grain Free Dog Food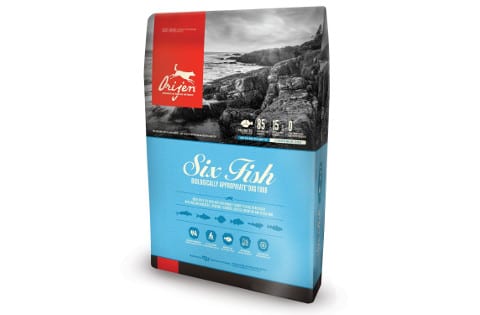 Orijen is a premium dog food, and the Six Fish Grain-Free formula is an excellent choice for a beagle puppy.
The macronutrients are ideal for beagles of all ages. This formula includes 38 percent protein, 18 percent fat, and 4 percent fiber. The proteins listed are whole Atlantic mackerel, flounder, monkfish, silver hake, redfish, and herring.
It is grain-free and ideal for dogs with allergies as it excludes many allergens. Since this formula includes multiple fish, there are high levels of Omega-6 and Omega-3 fatty acids. Fatty acids promote healthy skin and a shiny coat.
There are many vegetables and fruits in this formula, including pears, apples, pumpkin, carrots, and collard greens.
Orijen contains chondroitin and glucosamine to promote healthy joint function; as such, this is an excellent choice for puppies, adults, and seniors alike.
Pet owners reported that while this formula contains carrots, it does not provide enough additional ingredients such as blueberries and sweet potatoes to improve eye health in beagles with poor eye health. Some customers have reported weight gain among inactive beagles since this food is high in protein. Overall, most pet owners state that their dogs enjoy the taste of this food and it provides excellent health benefits.
Things We Liked
Multi-fish formula that is high in Omega-3 and Omega-6
A wide variety of fruits and vegetables
Formulated for all life stages
Things We Didn't Like
Does not contain enough fruits and vegetables to promote eye health
May cause weight gain in inactive dogs
More expensive than most brands
Best for Hunting Beagles - Solid Gold High Protein Dog Food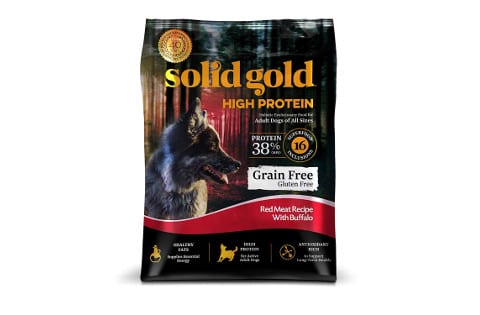 Solid Gold has operated for over 40 years, which is much longer than most American manufacturers. Unlike most brands, they take a holistic approach to your beagle's nutrition.
Solid Gold's High Protein formula is ideal for hunting beagles. It is available in three flavors: duck, buffalo, and salmon with krill.
All formulas have a minimum of 38 percent protein as well as 16 superfood inclusions. The superfoods help support long-term health which is vital for hunting beagles. The healthy fats and high protein content provide sustainable sources of energy.
Despite having a high protein content, this formula has reduced calories and low carbohydrates. It provides essential dietary fiber while promoting gastrointestinal health.
Many pet owners reported that this formula helped their dog's allergies clear up, improved their pets temperament, and promoted a shiny coat. However, a few customers stated that they received bad batches that upset their dogs' stomachs.
Things We Liked
High protein content with 16 superfood inclusions
Promotes gastrointestinal health
Improved coat and skin due to Omega-3 and Omega-6
Things We Didn't Like
Customers have reported bad batches
High protein may cause excessive gas
Pricier than other premium brands
Best for Weight Loss - Natural Balance Ultra Whole Body Health Small Breed Bites
Natural Balance Original Ultra Whole Body Health contains high-quality protein sources and carbohydrates. It is ideal for beagles that need weight management. The small bites help your dog eat less.
Each kibble is enriched with phosphorous and calcium to support healthy teeth and bones, which is necessary for beagles as they tend to have sensitive joints. It contains taurine for healthy heart function as well as eye function. Omega-3 and Omega-6 are for a healthy coat.
This formula is ideal for heavy puppies, adults, and seniors that need assistance losing weight. It does not contain any artificial flavors or colors.
Many pet owners reported that this food is easy on their dogs' stomachs and it is excellent for calming runny eyes. A few customers stated that they love the ingredients listed; however, their picky dogs will not eat the food.
Things We Liked
Contains taurine to support heart and eye function
Supports skin and coat health with Omega-3 and Omega-6
Easy on most dogs' stomachs
Ideal for all life stages
Things We Didn't Like
Contains chicken, which is not ideal for those with food sensitivities
Picky dogs might refuse to eat
No grain-free alternative
Best for Sensitive Stomachs and Allergies - Taste of the Wild Appalachian Valley Dog Food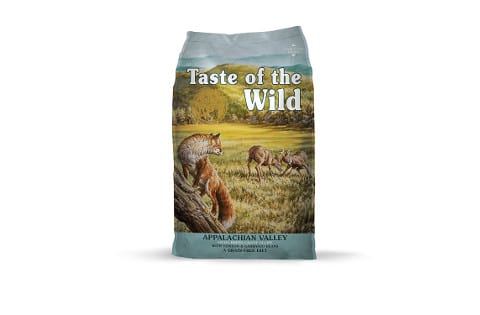 This formula lists venison and lamb, which are easily digestible novel proteins. It also includes egg, ocean fish, and duck. Novel proteins are ideal for beagles with protein-related food sensitives.
Taste of the Wild Appalachian Valley is formulated with probiotics and prebiotics to keep your beagle's digestive system healthy. This formula is grain-free making it an excellent choice for beagles with sensitive stomachs. The tiny kibble is natural for smaller mouths to chew and enjoy.
Many customers adore this product as their dogs happily chow down on this food during meal times. One customer mentioned that this food smells meaty and real, unlike other brands.
A few customers stated that the bag quality is inconsistent, causing loose stools occasionally.
Things We Liked
Novel proteins that are easily digestible
Ideal for dogs with food sensitivies
Customers say it smells meaty and real
Contains probiotics and prebiotic fiber
Things We Didn't Like
A few customers reported inconsistencies in quality between bags purchased
May cause loose stools, depending on quality
32 percent protein which is lower than other brands
Overall, Orijen Six Fish Grain-Free Dry Dog Food is an excellent choice for active beagles of all ages. Since this formula is all-life stages, your puppy is able to continue eating this as they grow. High-quality proteins are listed first. This formula is enriched with Omega-3 and Omega-6 along with glucosamine for healthy joints and skin. It has plenty of fruits and vegetables so that your beagle gets all the nutrients they need. However, the high protein content may not be ideal for inactive senior dogs.
Buyer's Guide to the Best Dog Food for Beagles
PuppyWire
Buyer's Guide to the Best Dog Food for Beagles