Best Dog Food for Pugs: Top Recommended for Adults, Puppies, Seniors and More
Latest Update: October 6, 2018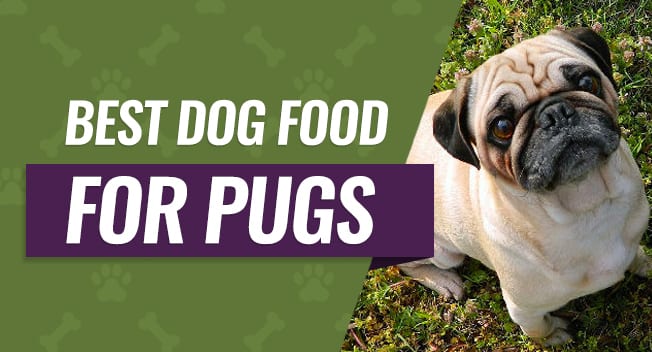 Your wrinkly-faced pug is an affectionate, loving, and spunky bundle of energy that has special dietary needs to help ensure that they stay healthy throughout their lives. You have to balance giving them the nutrition they need with catering to their sensitive digestive systems.
We understand that this can make finding the best dog food for pugs difficult, and this is why we've rounded up the top six dog food choices that you may want to consider feeding your furry friend. Our buyer's guide will outline essential considerations to keep in mind when you're dog food shopping, and this can help to ensure you get the best food possible to keep your dog healthy and happy.
Our Top Picks for the Best Dog Food for Pugs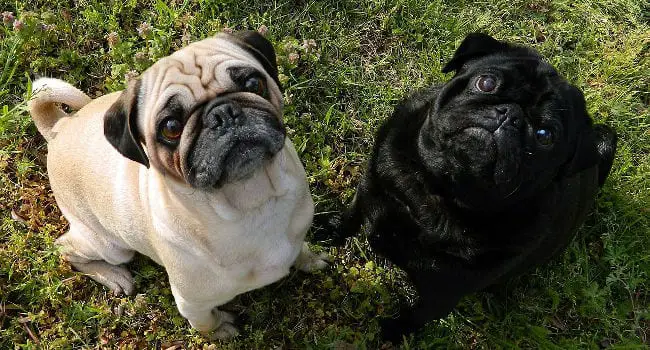 Your pug's optimal weight range is between 14 and 18 pounds, and it's very easy for these dogs to gain weight. Since this dog breed is so compact and prone to breathing issues, even one extra pound can cause a lot of complications, and it's harder to take the weight off than it is to put it on.
This is why balancing your pug's daily caloric intake along with any sensitivities is so important, and portion control is also important. Your pug most likely won't stop eating if they still have food in their bowl, so it's a good idea to start them on a quality puppy food and change the food as your dog grows.
On average, your pug will need just over 700 calories per day if it weighs 18 pounds, but they'll need less if they're spayed or neutered. Additionally, older dogs and dogs that aren't as active will need fewer calories to maintain a healthy weight.
Since this is a more active breed, it is recommended that they have a slightly higher protein content in their food, and it should ideally range from 22 percent protein for growing puppies and 18 percent protein for adult pugs. This will help to give them energy and develop their muscles as they grow.
Fats are another important component in your pug's food, and you want to find a dog food that has at least eight percent fat content for puppy food and five percent fat for adult pugs. Look for dog food with Omega-3 and Omega-6 fatty acids because these types of fat can help keep or get your dog's coat and skin to a healthy state.
Special Breed Considerations
There are several breed issues that can arise from feeding your pet an unbalanced diet, and they can have a lasting impact on your pug's quality of life.
Allergies - Unfortunately, pugs are prone to developing allergies like irritated skin and dandruff, and a lot of these allergies can have genetic factors. If your dog has allergies, switching their food out to a grain-free formula or feeding them a grain-free formula may help calm down any irritation and cut down on dandruff.
Breathing Problems - Pugs may have cute wrinkly little faces, but this wider head with a shorter snout can lead to breathing problems. If your pug puts on weight due to overfeeding or feeding them the incorrect type of dog food, it can add pressure on their respiratory systems and exacerbate their breathing problems.
Hip Dysplasia - Pugs come in second for the highest percentage of hip dysplasia out of any other dog breeds, and carrying around additional weight can increase your dog's risk. Feeding your pug a balanced and nutritious diet can help to reduce the risk of developing this condition.
Ingredients to Watch for in Your Pug's Food
Protein
As we mentioned earlier, protein is extremely important in your pug's food, and this is especially true when they're puppies and still growing. You want a protein source listed as the first few ingredients in your dog's food, and it should be a whole protein source instead of by-product meal.
A whole protein source means that it comes listed on the ingredient list as beef, chicken, lamb, or fish. You may also see a meat meal listed on your dog food label because this refers to whole meats with their water content removed, and they're usually a higher protein source than whole meats.
Fats
Fats are important for your dog's coat and skin as well as their energy levels, and this is why it's important to find a dog food that offers higher levels of Omega-3 and Omega-6 fatty acids. Ingredients like chicken fat or fish oil are excellent sources of these fatty acids.
These healthy fats also play key roles in ensuring that your pug develops normally, reproductive health, good immune function, coat health, and skin health. Your dog will need good levels of fats throughout their lives to stay happy and healthy.
Vegetables and Fruits
You want to avoid filler in your dog's food and look for clearly labeled vegetables and fruits like peas, carrots, cranberries, and sweet potato. If your dog food has these listed, it's usually healthier because there isn't a lot of by-products to fill in the gaps left by the fats or protein.
Filler and By-Product
A lot of dog food likes to have by-product meal or filler ingredients that aren't healthy for your dog to eat, or that can cause inflammation or skin problems. A lot of grain, wheat, soy, corn, dyes, gluten, and meat by-products are good examples of ingredients that you don't want to see listed in your dog's food.
Pug Feeding Schedule Requirements
Your feeding schedule for your dog food should stay the same no matter what your dog's age, activity level, and whether or not you had them spayed or neutered. Keeping your dog on the following feeding schedule can help ensure that they're full throughout the day.
Up to Three Months - Four times per day
Three to Six Months - Three times per day
Six Months to One Year - Two times per day
One Year and Up - One to two times per day
Your pug will eat more as a puppy because they need more nutrients to grow, but you should switch them to adult dog food after a year because puppy food comes packed full of calories and this can lead to rapid weight gain, even if your pug is on the active side.
Our Top Six Picks for the Best Dog Food for Pugs
Best Adult Food - Blue Buffalo Life Protection Formula Natural Adult Dry Dog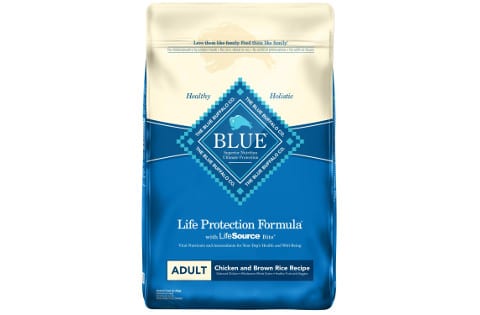 The first ingredient in this adult dog food is deboned chicken, and this formula contains a healthy amount of fruit, garden veggies, and whole grains. Your dog will also enjoy Blue LifeSource Bits, and these Bits contain a healthy blend of antioxidants, minerals, and vitamins to support your dog's health.
This food contains no chicken by-product meal, corn, wheat, soy, preservatives, or artificial flavors in this food, and this makes it a healthier choice for your dog. You also get the choice of three different sizes, and this is helpful for smaller dogs and for people who want to buy larger sizes, so they don't have to purchase the food as much.
Pug parents who chose this dog food liked that real meat is listed as the first ingredient on the package, and they also liked that it contains Blue LifeSource Bits for an additional nutrient boost. They didn't like that this dog food is slightly more expensive than other brands or that the kibble pieces are a little bigger.
Things We Liked
Contains a whole meat as the first listed ingredient
Available in a few sizes ranging from small to large
Contains Blue LifeSource Bits
Things We Didn't Like
Slightly larger kibble pieces
More expensive than other brands
May have a slightly oil feel
Best for Seniors - Wellness Complete Health Natural Dry Small Breed Dog Food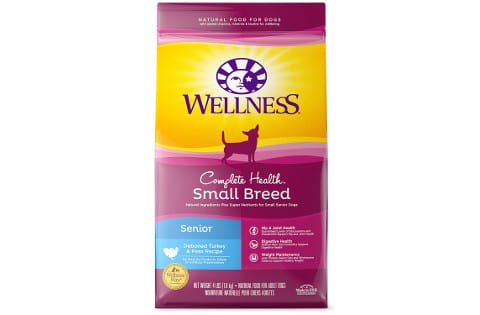 This small breed senior dog food contains a high quality protein source from turkey, blueberries for antioxidants, spinach for antioxidants, and flax seed to support a healthy coat and skin. Your pug will enjoy smaller kibble size that is easier for them to pick up and eat as well as all natural ingredients that support your dog both inside and out.
This dog food is made in the USA, and it is held to very high-quality standards, and it doesn't contain soy, corn, wheat, meat by-products, preservatives, artificial colors, or artificial flavors. There is also glucosamine and chondroitin that promotes healthy hips and joints, and this is important with senior dogs who have hip problems like pugs.
People who purchased this dog food liked that it has several ingredients that promote healthy joints, and they also liked that it has an all-natural formula that is free of dyes and artificial flavors. They didn't like that this dog food can leave a greasy residue or that it can upset very sensitive stomachs.
Things We Liked
Contains glucosamine to support joint health
Has fruits, vegetables, and deboned turkey
Smaller kibble is easier for smaller dogs to eat
Things We Didn't Like
May upset very sensitive stomachs
Can leave a greasy residue
May cause your dog to have gas
Best for Puppies - Iams PROACTIVE HEALTH Puppy Dry Dog Food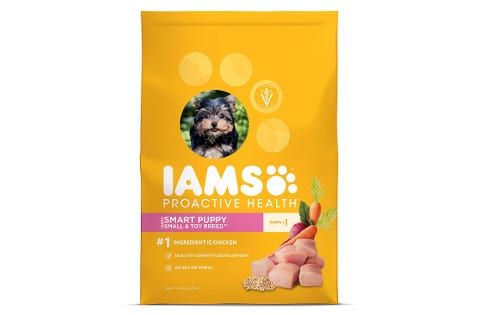 This puppy food comes in seven different sizes and with three different formulas that lets you to customize and change your order to meet your dog's needs. Real meat is listed as the first ingredient on the bag, and this puppy food is formulated with 22 other key nutrients that are found in the mother dog's milk to help ensure healthy and happy growth.
This dog food has no soy or wheat for a better formula for sensitive stomachs, and it contains ingredients that promote healthy cognition along with Omega-3 fatty acids for a healthy and dandruff-free skin and coat. You'll find a variety of vegetables, fruits, minerals, and whole grains in this puppy food.
People who tried giving this puppy food to their pug liked that it contains higher levels of meat-based protein, very little filler, and fatty acids that promote brain health. They didn't like that it had a slightly stronger smell when they first opened the bag, and they also didn't like that it's more expensive to buy online than in the store.
Things We Liked
Comes in three different formulas
Has 22 key ingredients to support healthy growth
Very little filler or by-products in this formula
Things We Didn't Like
Has a slightly stronger smell
More expensive to buy it online
Kibble may crumble after a few days
Best for Picky Pugs - Purina Pro Plan SAVOR Shredded Blend Small Breed Formula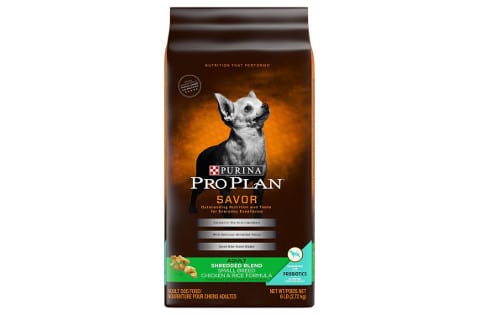 Picky pugs may love this dry dog food with real shredded meat pieces because it comes in chicken or lamb as the protein with brown rice that is easy on their digestive systems. You also get the choice of several different sizes, and this makes it easy to try a few flavors without breaking your budget.
This shredded formula comes with live probiotics to support your pug's digestive health, and it comes packed full of fatty acids, calcium, phosphorous, prebiotic fiber, vitamin A, and other minerals and vitamins to support a shiny coat as well as a healthy immune system.
Pug owners who bought this picky eater dog food liked that it contains real shredded meat pieces as well as smaller kibble and live probiotics to support digestive health. They didn't like that this dog food can take up to a week or more to fully transition to or that their dogs could pick out the meat and leave the kibble.
Things We Liked
Contains real shredded meat
Formulated with live probiotics for digestive health
Comes in several sizes and flavor profiles
Things We Didn't Like
Dogs may pick out the meat and leave the kibble
Takes a while to fully transition your dog to this food
May be too hard for some dogs to eat
Best for Weight Control - Hill's Science Diet Dog Food for Healthy Weight and Weight Management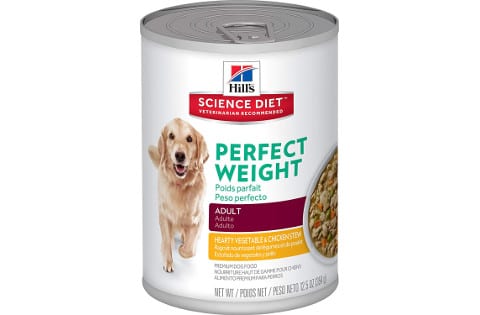 This dog food comes in five different styles, three different flavors, and six different sizes so you can purchase the correct amount of product for your dog. This food is recommended for dogs that are overweight, less active, or older because it helps to remove excess weight and it also helps your dog maintain a healthy weight.
This formula contains prebiotic fibers from beetroots, and these fibers help to promote great nutrient absorption along with healthy digestion each time your dog eats it. There is no artificial preservatives or flavors with this dog food, and this makes it a healthier choice to help your dog lose weight.
People who bought this soft dog food liked that it contained prebiotic fibers from beetroots that helped their dogs absorb as many nutrients as possible from their food. They didn't like that this food can have a stronger smell when you first open the can and that it gets hard if you leave it set out.
Things We Liked
Comes in several flavors, styles, and sizes
Helps to remove excess weight and maintain a healthy weight
Contains prebiotic fibers to promote nutrient absorption
Things We Didn't Like
Will get hard if you leave it out
Can come with a slightly stronger smell
May cause digestive upset when you first transition your dog to it
Best for Sensitive Stomachs and Allergies - NUTRO Limited Ingredient Dog Food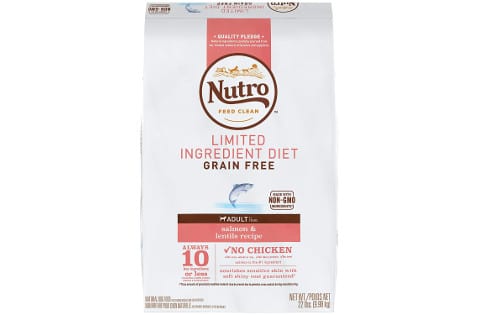 This limited ingredient dog food comes in six different sizes and four different flavors including lamb, seafood, duck, and venison that allows you to tailor your selection to your dog's taste. This specialty food contains 10 key ingredients or less along with important vitamins, minerals, nutrients, and fats so there is less for your dog's stomach to disagree with.
Real meat is the first ingredient with this formula, and it also contains high-quality ingredients that exclude soy, dairy, corn, wheat, and grains because these are common triggers for digestive upset. It's designed to work on your dog's insides as well as on their coat and skin to leave them shiny and healthy.
Pet parents who gave this food to their pugs liked that it comes with 10 key ingredients or less, and they also liked that it contains no soy, dairy proteins, corn, or wheat. They didn't like that this food was one of the more expensive options available, and they also didn't like that the kibble is extremely small.
Things We Liked
Comes in a few different flavors and sizes
Contains 10 key ingredients or less
Designed to be gentle on sensitive stomachs and it promotes skin health
Things We Didn't Like
Kibble pieces are extremely small
Slightly more expensive dog food
May cause minor upset stomach when you transition your dog over
Our pick for the best dog food choice for pugs is Blue Buffalo Life Protection Formula Natural Adult Dry Dog. We liked that this dog food contains fruit, vegetables, whole grains, and a real meat source as the first ingredient. We also liked that it comes with Blue LifeSource Bits for a boost of antioxidants, minerals, and vitamins to keep your pug happy and healthy.
Best Dog Food for Pugs: Top Recommended for Adults, Puppies, Seniors and More
PuppyWire
Best Dog Food for Pugs: Top Recommended for Adults, Puppies, Seniors and More