Best Dog Food for American Eskimo Puppy, Adult, Senior and More

By Ashley Turner     Last Updated March 7, 2022

We independently research and recommend the best products; Learn more here. We may receive commissions on purchases made from our product recommendations.
The American Eskimo is a small and spunky breed of dog that has special dietary requirements to keep them healthy. This can make shopping for a dog food difficult, and it's why we picked out the best dog food for American Eskimo breed and reviewed them for you.
Along with our reviews, we'll give you a comprehensive buyer's guide that will outline exactly what you need to know about your American Eskimo's dog food. In turn, you'll get all of the information you need to make the right choice for your dog's breed to keep them healthy and happy.
Our Top Picks for the Best Dog Foods for Your American Eskimo Dog
American Eskimo Food Requirements and What to Avoid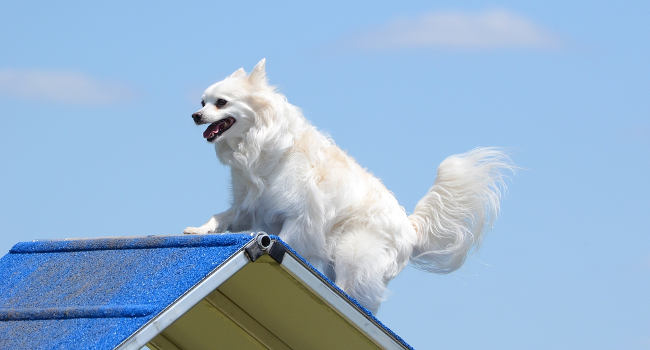 This breed is very sharp and energetic, and they have special nutritional requirements. This makes buying the right high quality food challenging, but choosing the correct one will ensure your dog grows and stays healthy throughout their life.
American Eskimo Caloric Requirements
Since this breed is small but energetic, you have to make sure you feed them the correct amount of calories to support healthy growth. You should feed your puppy between one and two cups per day, and adult dogs should have between three and four cups of food per day split into equal portions.
If you're not sure how much food to feed your dog each day, consult your veterinarian. They'll be able to tell you exactly how much you should feed them based on the number of calories in the particular dog food. You may have to adjust as your dog ages, and their activity levels drop.
Components of Your American Eskimo's Food
There are several things you want to see in your dog's food to ensure they get a balanced diet that supports your dog both inside and out. We'll outline the biggest things below.
Protein
Protein is how your dog gets energy, but you have to find a dog food that has a medium level of protein without having a lot of extra calories. This way, your dog will get energy without gaining a lot of excess weight, and this means less stress on their joints and skeletal system. A puppy will need more protein than an adult or senior.
Fatty Acids
Healthy fats promote a shiny coat with nourished skin, and this is very important with this breed because they're very fluffy dogs with stunning white coats. Look for fatty acids in your dog's food, and you'll know the food has them if it has salmon or other fish in the formula.
Taurine
Taurine comes from poultry, meat, fish, and eggs, and this antioxidant promotes brain and eye health. A lot of dogs can end up with a deficiency of this amino acid, so it's important to look for these ingredients on your dog food label.
Healthy Ingredients
Whole grains are easier for your dog to digest, and they can help your dog feel fuller between meals to help control their weight. Look for whole grains, brown rice, and healthy carbohydrate sources like pumpkin, sweet potato, potato, and legumes to round out the formula.
Low Calories
Unfortunately, this breed is prone to gaining excess weight that can put a lot of stress on their joints and bones as they age. This is why it's important to look for lower calorie foods for every stage of their life. This will help keep your dog trim and healthy.
Real Meat
You don't want to see meat meals or meat by-products in your dog's food, and you should see real meat listed as the first ingredient on the label. Turkey, chicken, bison, duck, lamb, and salmon or fish are great protein sources to see in your dog's food.
Fiber
Fiber can help to regulate your dog's digestive system and keep them regular after they eat to avoid digestive upset. Common sources of fiber is good to see in your dog's food which include things like green beans, peas, potatoes, pumpkin, or sweet potatoes.
Ingredients to Avoid in Your American Eskimo's Food
Along with ingredients you want to see, there are several things you don't want to see when you read the label. These things can cause digestive upset or other issues for your dog, whether they have sensitivities or not. Generally, you should avoid:
Artificial flavors, preservatives, or colors
Wheat
Corn
Soy
Sugar
Meat by-products or meals
Our Top 6 Picks for the Best Dog Food for American Eskimos
Best for Adults - Purina Pro Plan Small Breed Formula
This food comes in six different sizes and four different formulas. The formulas include grain-free, chicken, chicken and shreds, and lamb with shreds that allows you to personalize your choice to fit your dog.
The formula for this food is very dense in nutrients and rich and protein to support your dog's healthy immune, skeletal, and muscular system. There are no grains or soy in this food, and this makes it easier for your dog to eat and digest at mealtimes.
Each portion of food delivers 100% balanced nutrition to keep your dog healthy throughout their adult life, and they won't worry about preservatives, artificial flavoring, or artificial preservatives. The kibble has a smaller design that makes it easier for your dog to pick up and eat.
Dog parents who purchased this food liked that there was no poultry or by-product meals in the formula because this made it healthier for their dog to eat. Dog parents didn't like that this food could leave a slightly greasy residue on the bag and bowl when they poured it.
Things We Liked
Gives 100% balanced nutrition
Rich in protein with meat as the first ingredient
Has several styles available
Things We Didn't Like
Shreds can be dry
Kibble can be hard
Too high in calories for less active dogs
Best for Senior American Eskimos - Purina ONE SmartBlend Vibrant Maturity Senior 7+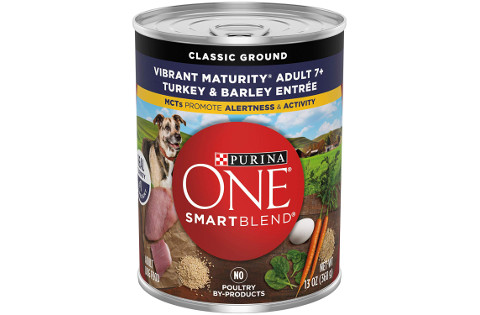 You can get wet or dry food with this formula, and it comes in chicken or turkey and barley recipes. There are five different size options, and it works well for dogs over seven years old.
The high amount of protein in this dog food supports healthy muscle growth, and this can help support your senior dog's joints as they age. The formula is packed with MCTs to promote activity and alertness, and this can keep your senior dog active and playing for years.
Real meat is the first ingredient on the label, and there are no by-products in this formula, so it's healthier for your dog's system. There is also brown rice and barley in the mix to help support your dog's digestive system and keep them regular each time they eat it.
Senior dog parents that purchased this wet food liked that it came with healthy grains and meat sources that were easier for their dog to digest. Dog parents didn't like that this food had a stronger smell that tended to linger after they opened it.
Things We Liked
Available in two different formulas
Gives your senior dog balanced nutrition
MCTs promote mental alertness and physical activity
Things We Didn't Like
Has a lingering and strong smell
Will dry out after you open it
May be too thick for some dogs
Best for American Eskimo Puppies - Instinct Puppy Grain-Free Natural Dog Food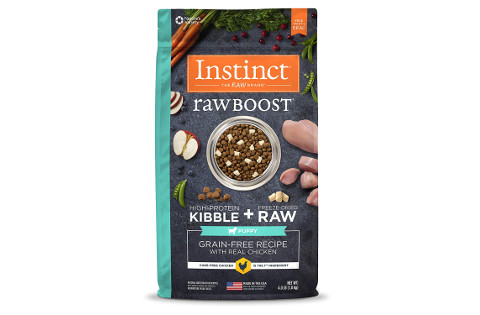 This puppy food combines grain-free kibble with a high protein content and bites of freeze dried chicken to promote growth and energy. Chicken is the first ingredient on the label, and your puppy will get calcium and phosphorus to encourage strong teeth and bones.
The DHA promotes brain growth and development, and there are no soy, wheat, corn, potato, grains, artificial preservatives, or flavors in this formula. There are fatty acids and probiotics in this food that regulate your dog's digestive system while ensuring their skin and coat are healthy.
This food is minimally processed to retain the vitamins and minerals, and everything comes from companies in the United States that use strict quality control standards. This food comes in wet or dry formulas with four different sizes that allow you to mix and match to suit your dog.
Puppy parents who bought this food liked that it was a mix of dry kibble with pieces of chicken that enticed their puppies to eat it at every meal. Puppy parents didn't like that this food had slightly harder kibble that could be difficult for their puppy to eat.
Things We Liked
Has kibble and chicken pieces
Contains DHA for eye and brain development
Fatty acids promote healthy coat and skin
Things We Didn't Like
May not have a lot of raw pieces
Kibble is slightly larger and harder
Raw pieces can dry out quickly
Best for Weight Loss - NUTRO Wholesome Essentials Adult Healthy Weight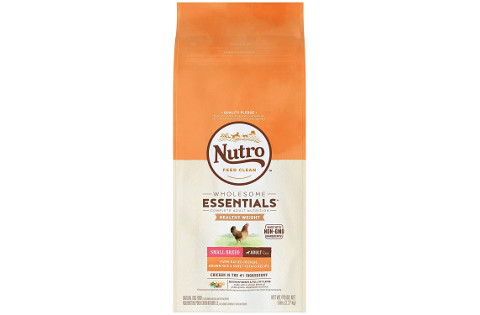 This recipe contains farm-raised chicken, sweet potatoes, and brown rice for healthy carbohydrates that have fewer calories. There are vitamins, minerals, and other nutrients that support your dog both inside and out.
Chicken or lamb make up the protein source, and it's the first ingredient on the bag to make up a large portion of the nutritional content. The formula supports healthy muscle growth while restricting weight gain by carefully monitoring the number of calories that goes into every portion.
Your dog will get a healthy dose of fiber with every meal, and this fiber will help regulate your dog's digestive system to make mealtimes easier. Whole grains, fruit, and vegetables round out this formula to keep your dog full between meals. It has a small kibble that's easy for your dog to eat.
Dog parents who bought this food liked that is comes packed with whole grains to keep their dog full between meals to help them maintain a healthy weight. Dog parents did mention that this food could cause soft stools in dogs that had sensitive stomachs.
Things We Liked
Available in chicken or lamb
Has brown rice, fruits, and vegetables
Designed to keep your dog full on fewer calories
Things We Didn't Like
Can cause loose stool
May be too dry and hard for some dogs
Picky dogs may not eat it
Best for Miniature American Eskimos - Blue Buffalo Basics Adult Dry Dog Food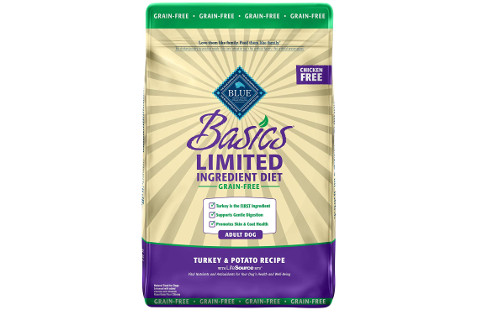 This dog food comes in four sizes and five different recipes with sweet potato or potato with lamb, duck, salmon, or turkey for the protein. There is a single animal protein source with sweet potatoes, pumpkin, and peas to support healthy digestion.
There is no beef, corn, chicken, by-product meals, dairy, soy, eggs, or wheat in this dog food, and this reduces the chances of your Miniature American Eskimo having a reaction. The formula comes packed with LifeSource Bites, and these small pieces have a unique blend of minerals, vitamins, and antioxidants.
The food comes made to support your dog's growth and development, and it'll also support their continued health throughout their lives. The fatty acid content is great for repairing any damage to the skin or coat to restore the shine while reducing flakes.
People who purchased this food for their Miniature American Eskimo liked that it supported their skin, coat, and digestive health throughout their lives. They did say that this food could have a strong scent when they first opened the bag, but it tended to go away.
Things We Liked
Contains LifeSource Bits
Packed with vitamins, minerals, and antioxidants
Uses sweet potato, pumpkin, potato and peas
Things We Didn't Like
Kibble may be too large
May cause your dog to drink more
Is more expensive
Best for Sensitive Stomach and Allergies - Natural Balance L.I.D. Limited Ingredients Diets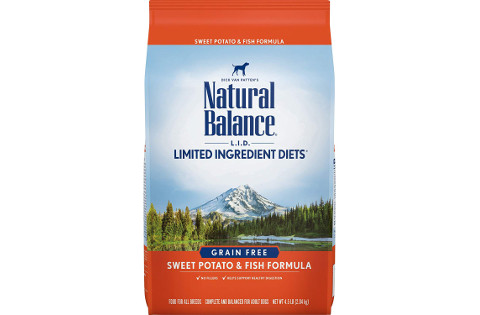 This food has eight different protein sources ranging from lamb and beef to bison and venison with legumes and sweet potato to make digestion easy. There are six different sizes that lets you choose the one that matches your dog's needs.
There are essential vitamins and minerals that support your dog's health, and they help to round out the dog food formula to give your dog a balanced meal. The natural fiber content promotes healthy digestion, and there are no artificial flavors or colors.
There is a limited list of premium carbohydrate and protein sources with no poultry by-product meals or fillers, and this gives your dog less to react to. The kibble is slightly smaller and uniquely shaped, and this makes it easy for your dog to pick up and eat.
Dog parents who bought this food for their dogs were impressed with the sheer range of protein and carbohydrate combinations it offered. They did say that this food is slightly more expensive than the other choices they have available.
Things We Liked
Has premium protein and carbohydrate sources
Packed with fatty acids, vitamins, and minerals
Natural fiber promotes digestive health
Things We Didn't Like
Concerns about steep price increases
Kibble shape recently changed
May cause loose stools
Common Questions About American Eskimos
What is the Best Food for American Eskimo?
Our pick for the best dog food for American Eskimo is Purina Pro Plan Small & Toy Breed Formula Adult Dry Dog Food because you get several formula choices that includes a grain-free option. We liked that it delivered 100% balanced nutrition, and we liked that the food supported healthy growth.
We invite you to browse through our reviews and find the best food for your dog's age and specific issues. Finding the correct food can help your dog live a happier and healthier life, and the food supports all life stages from puppy to senior.
Do American Eskimos Have Any Health Issues?
American Eskimos are prone to health issues just like any other dog breed. Here are a few that you need to keep an eye on. These include luxating patella problems, progressive retinal atrophy, hip dysplasia, legg-calve-perthes disease, hypothyroidism, addison's disease and diabetes. It seems like a lot but in general American Eskimos are pretty healthy dogs especially if given a high quality diet.
How Much Food Should an American Eskimo Puppy Eat?
You should feed your American Eskimo puppy between 1/2 and 1.5 cups of a high quality puppy food every day split up in roughly 4 meals a day. Even with that said, each dog and puppy food is different. Be sure to follow the guidelines listed on the dog food and ask your vet if you have any questions.
How Much Food Should an American Eskimo Eat?
It really varies by dog and depends on which dog food you choose to feed them. You can check the dog food bag to get an idea or even talk to your vet. Even with that said, you can go with 3 to 4 cups of food a day split up into 2 meals a day.
Other Breed Specific Dog Food Guides You May Like