Best Fresh Dog Food Delivery Subscription Services: Nom Nom vs Pet Plate vs The Farmer's Dog vs Ollie

By Ashley Turner     Last Updated January 25, 2022

We independently research and recommend the best products; Learn more here. We may receive commissions on purchases made from our product recommendations.
Getting fresh and healthy dog food delivered straight to your door for your furry friend is among one of the newest and hottest trends available. With so many choices available, how do you pick out the best fresh dog food delivery service to ensure your dog is getting healthy, balanced food?
We've reviewed our top four picks below to give you a good idea of what's out there, how they're different, and what they offer for your dog. We understand that it can be challenging to find the best solution, and this is where our reviews and short guide come in.
Our Top Picks for the Best Fresh Dog Food Delivery Subscription
What is a Fresh Dog Food Delivery Service?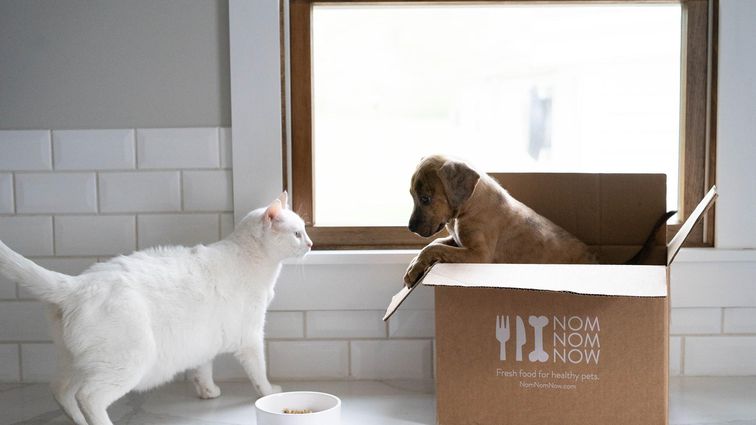 A dog food delivery service works just like any human meal delivery service. You sign up, set up your pet's profile, choose the meals you'd like them to have, pick the quantity (with some companies), pay, and they'll ship it straight to your door.
Once you get the meals, it's simply a matter of freezing them and feeding them to your dog. Many companies allow you to choose different protein sources like beef, turkey, chicken, or lamb, and some even have food suitable for dogs with sensitivities and allergies.
The companies cook the food fresh to order, and they ship it to you in cold packaging. Put some in the refrigerator to defrost when you get it, and put the rest in the freezer for storage. Every meal comes balanced and tailored to your dog to help them get to or stay at a healthy weight.
Benefits of Ordering From a Fresh Dog Food Delivery Service
There are several benefits that come with ordering fresh food for your dog, and we've picked out the top ones for you below. This way, you can see why it's such a popular option.
Convenience
There is a huge convenience level with ordering your dog fresh food to feed them every week or two. It removes the stress out of sourcing high-quality ingredients and preparing your dog's food by yourself. Instead, all you have to do is pull it from the freezer, defrost it, and portion it out for your dog's meals.
Cost
Unfortunately, your budget is going to play a role in which meal delivery service you order for your dog. Take a few days and compare the various prices associated with different meal services until you find one that fits into your budget. The price will also depend on the size of your dog with larger dogs costing more than smaller breeds.
Customizable
Many dog food delivery services let you easily customize your order, or they'll give you suggestions based on your dog's unique needs. For example, they may have food that is better to give your dog if they have allergies or sensitivities, or they could have food designed to help your dog lose weight. They usually tailor your order to your dog's unique needs.
Fewer Ingredients
Because the dog food comes frozen from fresh sources, there is usually a lot less ingredients in the dog food itself. This makes it healthier for your dog and better for dogs with sensitivities because it usually has no preservatives, artificial colors, artificial flavoring, or by-products.
Fresh Ingredients
When your dog eats dry dog food, they're eating food that has gone through a grinding process before getting mixed and packed together to form uniform kibble pieces. Fresh dog food comes from human-grade ingredients that don't go through a grinding process, and you can easily see the raw ingredients like vegetables, starches, proteins, and fruit.
Nutritious
Dog food delivery services go to great lengths to comply with AAFCO's regulations regarding nutritional standards for dog food. They often use premium ingredients sourced from reliable farms around the United States, and each portion is nutritionally-balanced to offer full nutrition for your dog.
Things to Consider When Choosing a Dog Food Delivery Service
Since not all dog food delivery services are equal, there are a few things you want to consider before you choose one. The most important things include:
Ease of Serving
If your dog food doesn't come portioned, take a look at how easy it is to open the package, portion it out, serve your dog, and package it back up until the next feeding time. You don't want packaging that will make a mess between servings, and a resealable package is a plus.
Ingredients
You want your dog to have the best food possible, and this starts with quality ingredients. Double check and see if your dog food's ingredients are human-grade or restaurant-grade. This means that the ingredients are sourced, prepared, processed, and manufactured to higher standards that ensure a human could eat them without an issue.
Instructions
Any fresh dog food you order should have very clear instructions on it that tells you how much to feed your dog, how often, and whether or not you can safely store it between feedings. Most delivery services will either give you meals they portioned based on your dog's weight and caloric requirements, or they'll give you a measuring cup and instructions how to do it.
Ordering Flexibility
A lot of different meal delivery services give you several options to order different volumes of food and skip weeks altogether. Look for a company that lets you order in different week increments,
Packaging
Although plastic is unavoidable, compare the different packaging options before you settle on a specific one. Your packaging should be flat, easy to open, and easy to stack and store. Vacuum packaging is very popular, but it doesn't allow you to seal the bag back up once you open it.
Storage
The bulkier your dog's food is, the more difficult it will be to store once you get it. You typically get a few weeks of food in every order, so you may gravitate toward flatter packages that can stack very neatly in your freezer. Simple resealable tubs or containers are preferred.
Top 4 Fresh Dog Food Delivery Subscription Services
1. Nom Nom (formerly NomNomNow)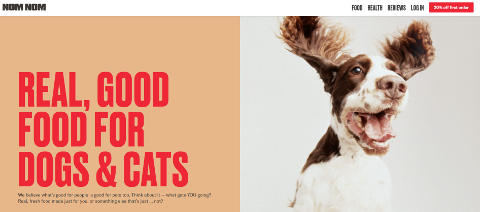 This dog food delivery service features restaurant-quality, whole food ingredients that adhere to the strictest quality standards, and you can customize your portion size depending on your dog's size and weight. Every week, Nom Nom will cook your pet's food to order before shipping it to your door in a cold shipping container.
Every meal comes portioned out in a packet, and all you have to do is open it and feed it to your dog at mealtimes. You can pick from four different entrees each week, and they include beef mash, turkey, chicken, and pork with a mix of healthy vegetables and a light sauce.
The tear-apart packaging doesn't require any scissors to open, and you can freeze the excess meals if your dog can't eat them all within a week. Every package comes with the food name and ingredient list on it as well, and this is helpful for avoiding allergies or food sensitives your dog may have.
Dog parents who bought Nom Nom for their dogs like that they could mix and match different food each week, and they could also customize their order preferences, skip weeks, and tailor their order to their dog's size. Dog parents made mention that is it a process to cancel the orders entirely, but customer support is very helpful.
Things We Liked
Comes with restaurant-grade food ingredients
Tailor the portion size to your dog's weight
Offers probiotic supplements, dog jerky snacks, and chicken snacks
Things We Didn't Like
More expensive per week than other choices
Packaging does not seal again once you open it
Can be difficult to separate portions without tearing the bag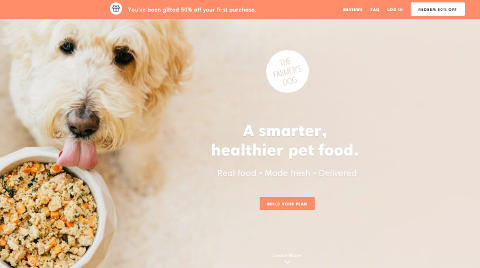 The Farmer's Dog makes it easy to order food for more than one dog per order because all of the vacuum-sealed food comes with your dog's name on it. It ships in thin packages that lay flat and make it easy to store in the freezer until you need them.
Each meal uses human-grade vegetables and meats that exceeds all AAFCO standards for pet food, and they get prepared in a USDA-certified kitchen. You'll get veterinarian pre-portioned meals based on your dog's age, weight, breed, and caloric requirements delivered to your door fresh and never frozen.
They have turkey, beef, or pork recipes that they tailor to your dog, and they ask about any allergies or sensitives before they design a meal plan. You can pick from a flexible delivery schedule ranging from 2 to 12 weeks with 14 meals, and it's easy to pause and skip orders whenever you need to.
Dog parents liked that The Farmer's Dog was one of the most cost-effective options available with plans starting at just $16 for a smaller dog and $80 for a larger dog. Dog parents did say that it was a little messy to get the dog food out of the bag, and it's not a resealable bag.
Things We Liked
Food exceeds AAFCO standards
Profile asks about health problems, allergies, and sensitivities
Offers DIY dog food meals free of charge
Things We Didn't Like
Can be difficult to open the packaging
Not able to reseal the packages between meals
Only offers three meal choices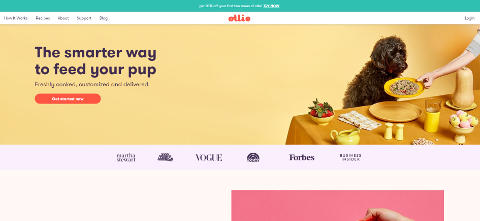 Ollie is a bit different than other meal delivery services because it doesn't individually portion out your dog's food by meal. Instead, you get a portion scoop that lets you quickly and easily give your dog their recommended serving at each meal based on their activity level, breed, age, and ideal weight.
Ollie has lamb, chicken, turkey, and beef as its primary protein sources, and each serving comes with vegetables and whole grains. Another selling point with Ollie is they give you probiotic treats and a guide on how to transition your dog to the food without upsetting their stomach.
Each thin tray comes with a bright orange lid that allows you to reseal it between uses, and the thin design makes it easy to stack and store them in the freezer or refrigerator. All of the fruits, vegetables, and meats get cooked at very low temperatures to help preserve the nutrients in each serving.
People who tried Ollie liked that it included ingredients like Chia seeds to give their dogs a boost of fatty acids to help support healthy skin and coat. People who tried Ollie did say that you can only order six weeks at a time, and this is a lot of food to get at once.
Things We Liked
Comes with three plan levels at various price points
Has a resealable container with a portion scoop
Tailors the order based on several important factors
Things We Didn't Like
Can only order six weeks at a time
Has a mushy consistency
Have to defrost the meals before feeding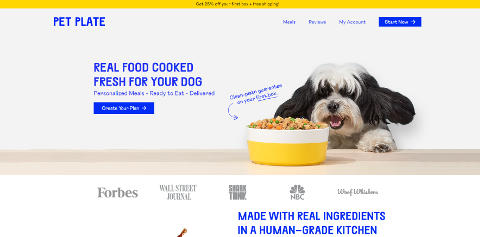 Pet Plate ships your dog's food each week in a lidded container that you can reseal between uses to keep your dog's food as fresh as possible. Each container is a full day's serving, and you simple open it, scoop out half, feed your dog, pop the lid back on, and repeat for dinner time.
You can choose from braised lamb, oven-roasted turkey, harvest chicken, and farmhouse beef for the entrees, and they all come made out of human-grade ingredients from the meat and vegetables to the starches like quinoa. There are no artificial colors, rendered meats, by-products, or preservatives in this food, and it makes it great for sensitive stomachs.
When you order your dog's food, you'll get 28 meals per order, and you can order manually or set up a reoccurring order every two weeks. The food ships in cold storage, and you put it into your refrigerator until your dog is ready to eat it.
People who bought this meal service for their dog liked that it had options available for dogs with allergies or sensitivities, as well as weight loss. People didn't like that you don't have the opportunity to order less than 28 meals per shipment, and there is no trial box to see if your dog likes it or not (but they do have a 30% off first box coupon).
Things We Liked
Ability to tailor portion sizes based on dog's height, weight, breed, and age
Ships in resealable containers
Contains USDA meat and fresh veggies
Things We Didn't Like
Containers take up a lot of freezer room
Has a very heavy plastic use
Does not have any flexible shipping options
Our pick for the best fresh dog meal delivery service is Nom Nom because it features restaurant-quality ingredients to make every portion of your dog's meal. You get five different entree choices with a sample pack to see which ones your dog likes best before ordering a large shipment.
We liked that Nom Nom gives you exact portion meals per package, and that the packages were vacuum-sealed for freshness and ease of storage. Finally, we liked the flexibility to skip weeks with a simple click of a button on your profile. All of these things brought it out ahead of the other choices.