Best Dog Food for Boxers: Guide to a Happy, Healthy Boxer

By Ashley Turner     Last Updated November 4, 2018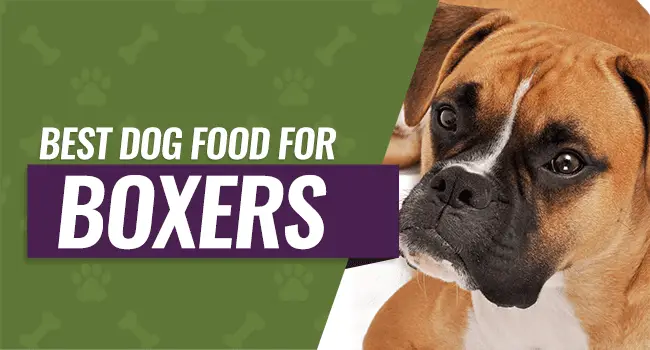 You are struck by what feels like a bus as she pounces on you and delivers a large pink tongue to your face, then tears off in a fit of jumping from couch to chair and racing from room to room in a frenzy. This is the life of the owner of a Boxer.
This German bred dog is a high energy, loyal, animated and overall happy canine with a shyness to strangers and a fierce loyalty to family and friends.
Keeping your Boxer happy and healthy starts on the inside by feeding them the best dog food for Boxers and their high energy dietary demands. Use the following information and comparisons to help you decide which type of dog food is the right one for "the love" of your life.
Our Top Picks for the Best Dog Foods for Your Boxer
What Are the Specific Nutritional Needs of a Boxer?
Boxers of all ages have very high energy levels that require a diet that is high protein (25 to 30 percent on average and up to 40 percent) to maintain their bouncy personalities, while addressing issues of common allergies and including vital ingredients such as:
Carbs and Fat
Vegetables
Vitamins and Minerals
What Ingredients Should be Avoided When Choosing the Best Food for Boxers?
There are a number of dangerous and non-healthy ingredients often found included in many brands of dog foods that owners should be aware of and avoid if possible:
Artificial Flavorings
By-products
Artificial Colorings
Allergy Triggers
What Are the Common Health Issues Associated with the Boxer Breed?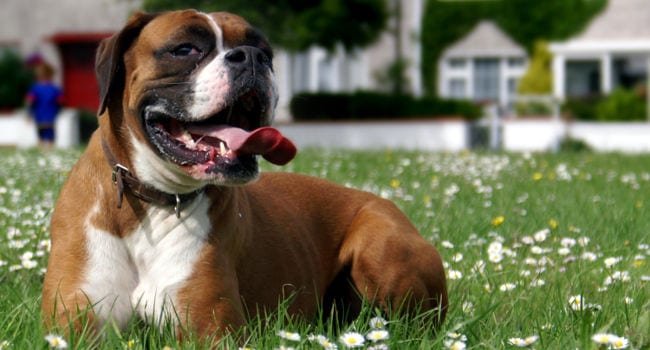 Boxers face many instances of health issues including but not limited to:
Bloat – This condition is caused by ingesting foods (oats, rice, and wheat) that cause the dog excess gas and may contribute to the stomach twisting and trapping gasses.
Hip and Elbow Dysplasia – This condition is a degenerative condition of the hip joints that can be more severe in Boxers that are overweight. If interested, here's an article we did on hip dysplasia treatments for dogs.
Food Allergies – Many boxers are afflicted with allergies and require a specialized diet to combat this condition; it may be necessary to try different types of specialized foods to find the one that best fits your Boxer's unique allergy concerns.
Hyperthyroidism – This is the result of increased hormone levels and can be treated with medication.
Cardimyopathy – This condition occurs when the main pumping chamber of the heart is diseased; it often causes fainting, heart failure, and possibly death.
Aortic and Subaortic Stenosis – This heart condition is caused by an obstruction in the heart.
Cancer – This disease is the number one killer of Boxers with brain and mast cell tumors occurring more frequently.
What Types of Ingredients Are Boxers Commonly Allergic To?
It is unfortunate that the most important thing that Boxer's need in their diet (protein) is also the ingredient that may be causing them the discomfort and pain associated with their sensitivity to allergens.
Some dogs are allergic to the proteins in some meats, while others are allergic to the proteins found in grains; this condition can be managed by trying different types of foods that contain alternate protein sources.
What Are the Signs That a Boxer Is Experiencing Allergic Issues?
Dogs who suffer from food allergies often portray signs of irritability by licking their legs and paws; often causing loss of hair in the area, redness, and broken skin.
They also often suffer from allergic conditions that cause their skin to dry and flake as well as create redness and itching.
Reviews of the Best Dog Food for Boxers
1. Taste of the Wild High Prairie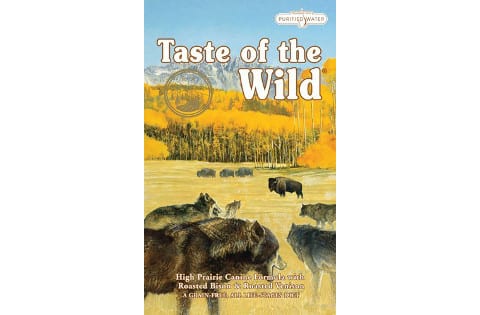 Boxers will love the big taste of Bison and Roasted Venison in this variety of dog food. Grain-free and full of beneficial ingredients, this food is sure to be a hit with your Boxer.
This combination of Bison and Venison give this blend of high protein dog food a unique taste that Boxers love.
This rich and nutritious taste comes from high quality ingredients. This food comes in assorted sized bags and different flavors.
The servings for this type of food are dependent on the size or weight of the dog. Feeding guidelines are located on the side of the packaging.
This variety contains high energy lean proteins such as Bison and Venison. It is processed into a kibble form of dry food.
This grain-free dog food is perfect for those Boxers who require a rich diet of proteins without a lot of grains to slow them down. This proprietary blend of ingredients is easily digestible with beneficial antioxidants, vegetables, and fruits.
This food is safe for dogs of all ages to enjoy. The serving size is directly related to the weight of the dog and is clearly displayed on the side of the packaging.
After trying this particular food, reviewers had mixed feelings. Some owners love the different types and flavors offered with this brand. Others report that their dog can not tolerate the food and developed issues with illness and vomiting.  It's also good to note that this food took a top 5 spot for the best Pitbull dog food as well.
Things We Liked
This choice for a great Boxer dog food has a number of different flavors from which to choose.
The formula is supplemented with added anti-oxidants and highly digestible proteins.
This food is grain free and made with real meat.
Things We Didn't Like
Introducing this new food to your dog may cause digestive problems such as vomiting or diarrhea.
There is an inconsistency with the product that causes random illnesses and stomach problems for the dogs.
2. Orijen Original Grain-Free Dry Dog Food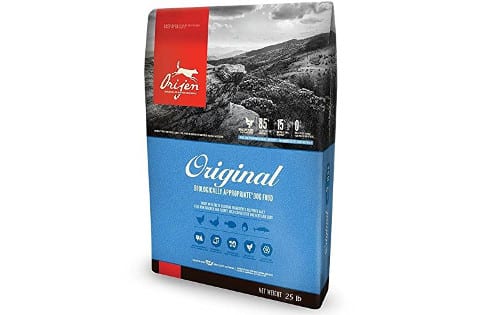 This whole meat dog food is formulated to accentuate your dog's carnivoristic diet with natural and sustainable ingredients that promote health and vitality in your Boxer.
This brand of special diet dog food has many beneficial ingredients such as whole green peas, carrots, spinach, etc. The only grain in this mixture is Alfalfa.
There are NO artificially added vitamins and the only mineral added is Zinc Proteinate.
This bagged variety of dog food comes in a 4.5 pound, a 13 pound, and 25 pound bag options. The number of servings is determined by the weight of the dog being fed.
This dry food is formulated to fill the specific dietary needs of Boxers such as reducing the stress on joints and bones, low in calories to maintain healthy weight, and rich in protein to support a Boxer's high energy levels.
This food is formulated for the dietary needs of dogs at all stages of life. The serving size is directly related to the weight of the dog and if any other wet foods are included in the dog's diet; follow the chart that is printed on the food bag.
After trying this particular food, one reviewer stated that her dogs love this food so much that they drool in anticipation of being fed. Yet another owner says that their Boxer will not touch another dog food after trying this brand.
Things We Liked
This formula of ingredients are specific to the protein, allergies, and health issues that are unique to the Boxer breed of dogs.
Flavor is added to this food with natural ingredients such as freeze-dried liver.
All ingredients are sustainable and arrive fresh daily at the processing plant.
Things We Didn't Like
Some of the varieties of this brand of dog food have been substituted with new formulas, which may cause a disruption in the diet of some Boxers.
This type of food is not recommended for puppies.
The producers of this food have decreased the size of the bag of food, while increasing the price.
3. Royal Canin Breed Health Boxer Specific Dog Food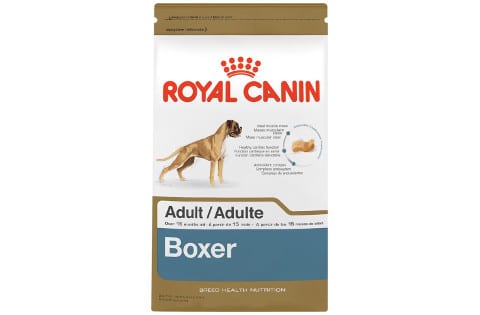 This dry food is specially formulated for the dietary and protein needs of adult Boxers.
This highly unique blend is enhanced with ingredients that support healthy cardiac function and maintaining muscle mass.
This formulation also contains antioxidants and L-carnitine for superior health benefits.
These individual dry kibbles are of a loose "S" shape, which offers some tooth cleaning aspects as your dog dines on this variety of food.
This variety of food has ingredients that are specially targeted to protect Boxers against the common heart conditions often found with this breed.
This blend of dog food is recommended for Boxers that are over the age of 15 months. The serving size is determined by the dog's weight and age; follow the chart on the bag.
After trying this particular food, many dog owners are praising the positive effects of this food on their Boxers. In one instance, the customer loves that this food is filling and he doesn't have to feed his Boxer as much food. Another satisfied consumer states that they would stick to this brand of food even if the competitor brands were free.
Things We Liked
It has targeted heart healthy ingredients.
The size and shape of the food promotes clean teeth.
The unique shape of this food is specially formed to make it easier for the Boxer to pick up.
Minimal allergic effects reported from dog owners who feed this blend to their Boxers.
Things We Didn't Like
There are a lot of "extra" ingredients listed on this bag of dog food.
This type of specialized food is more expensive than other brands or types of food.
4. Eukanuba Boxer Specific Dry Dog Food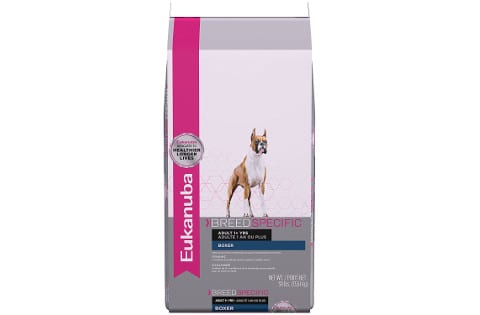 This brand of Boxer friendly food contains animal based proteins to promote healthy joints, to boost the immune system, and maintain a healthy heart.
The first and only meat ingredient on this list is chicken. The fillers found in this mixture are corn meal, ground whole grain sorghum, ground whole grain barley, brewers flax meal, brewers dried yeast and corn meal.
The only representative of vegetables in this formula is dried beet pulp.  There are NO fruits or berries found in this formula of dog food.
This variety comes in a 30 pound bag and the number of servings available will vary with the size of the dog.
This dry food is recommended for dogs over a year old; the serving size is dependent on the dog's weight and can be found on the side of the bag.
One dog owner claims that this food has helped to keep his Boxer free of stomach issues for 2 1/2 years. Another person expressed their love of this food because of the positive effects that it has on their Boxer's gastrointestinal issues.
Things We Liked
This variety helps to maintain weight.
This particular blend of food can be fed to Doberman's as well.
Chicken is the first ingredient and is least likely to cause allergic reactions.
Things We Didn't Like
There are a lot of "extra" ingredients in this formula of dog food.
Younger dogs are not recommended to consume this food; owners must purchase separate food for puppies and youths.
5. Natural Balance Potato & Duck Limited Ingredient Dog Food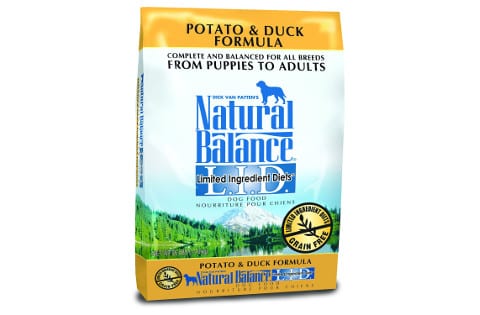 This healthy formula of dog food contains a mixture of natural ingredients that help to support a Boxer's digestive system as well as their high energy levels.
This formula comes in bags of 4.5, 12, 13, and 26 pound variations. The number and amount of food per serving for each age and weight of dog are listed on the packaging.
This blend of grain-free ingredients is formulated to aid in digestion while giving your Boxer a shiny coat and healthy skin.  There are no grains, fruits, or berries in this food to trigger common allergies.
After trying this particular food on their Boxer, one customer says that it helped the stomach issues that their Boxer experiences with other dog foods. Another customer states that his dogs love the taste of this food so much he can barely get the dish to the floor without being bowled over by his Boxers.
Things We Liked
There are no grains or fruits to initiate allergic reactions from sensitive Boxers.
This choice of food can be introduced to dogs of all ages and stages of life.
Things We Didn't Like
This variety of food is often inconsistent of color and quality.
Some dogs become ill even after a lengthy time without any problems.
When it comes to the best dog food for boxers, it is important to know your dog and what ingredients affect them individually. With a high probability of having or developing allergies, Boxers will benefit the most from Taste of the Wild High Prairie Dry Dog Food.
If your "loved one" shows signs of developing allergies, it may be necessary to test out different varieties of high protein foods until your Boxer is happy and itch free.
Buyer's Guide to the Best Dog Food for Boxers
PuppyWire
Buyer's Guide to the Best Dog Food for Boxers