Best Venison Dog Food Brands: Guide, Reviews & Top 5 Picks

By Ashley Turner     Last Updated January 25, 2022

We independently research and recommend the best products; Learn more here. We may receive commissions on purchases made from our product recommendations.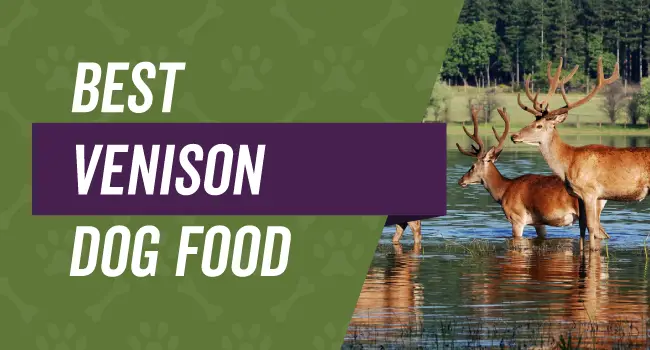 If your dog has sensitives or allergies to common dog food protein sources, you may want to consider switching from the traditional lamb, chicken, or beef formulas to venison dog food. Not only is this an excellent lean protein source, but it's also generally easy for dogs to digest, and not many dogs experience issues with it.
However, there are hundreds of venison dog foods to choose from, and this can make it overwhelming when you're trying to decide which one is best for yours. We've put together a buying guide to help explain why you may want to try venison for your dog's food, and we've also rounded up five excellent dog food options for you to compare.
Our Top Picks for The Best Venison Dog Food Brands
What is Venison and Why Should I Buy Dog Food with Venison?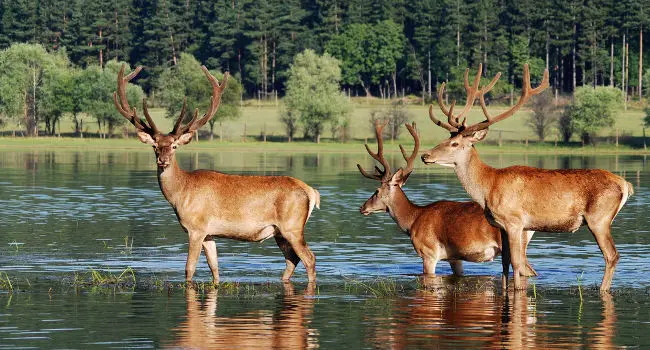 Venison is a lean protein source that has a much lower fat content than traditional beef or lamb, and this can help to reduce your dog's cholesterol levels as well as their food's fat content. This is excellent news if your dog has trouble with gaining weight or if they've become more inactive as they age.
Venison is also typically a commercial meat source, and this means that there usually aren't growth hormones or antibiotics added to their feed. In turn, this makes it healthier for your dog to eat because growth hormones, additional hormones, and antibiotics are considered to be generally unhealthy for your dog to eat on a regular basis.
This protein source also comes with a very high essential vitamin and mineral content that you may not get from traditional dog food protein sources like iron, zinc, phosphorous, and B vitamins. While your dog could get some of this from other sources, venison contains the higher single concentrated content when you compare them side by side.
Additionally, venison comes with a more gamey taste that most dogs seem to enjoy, and it could help to keep picky eaters interested in their food for longer periods of time. You could try mixing it with their normal dog food or just switch to a venison-based food and see how your dog likes it.
Venison Food Considerations
Like every change with your dog, there are several things that you have to consider and keep an eye on to ensure that your dog stays healthy. Each dog is different, and what may be fine for one dog may not be fine for another. You want to watch for:
Age: As your dog starts to get older, their nutritional needs start to change, and you want to ensure that their food changes to continue to meet their needs. They may need a higher protein content or dog food with vitamins, minerals, and fatty acids that support their joint health.
Allergies: Allergies to venison are more rare with dogs than allergies to chicken, beef, and lamb, but they do happen. When you switch your dog to a venison food, look for allergic reaction signs like itching, poor coat quality, bloating, gas, discomfort, or biting at their paws and stop feeding your dog the food if you see them.
Behavior: It's important to keep an eye on your dog when you switch their food and look for behavior changes like less energy or a shorter temper. This could mean that your dog isn't reacting well to the food change, or your dog could simply be a picky eater and need a different meat source.
Protein Needs: Maybe your dog is more active or growing quickly, and they require a higher amount of protein to support their growth and development. Venison has a lower protein content than beef or lamb, and you want to be sure that the venison food you're feeding your dog has enough protein, especially when your dog is younger.
Choosing Venison Dog Foods
Just like any other dog food, it's essential that you pay attention to what is and what isn't in your dog's food. The following points can help you ensure that you choose a healthy food that will fulfill all of your dog's nutritional requirements throughout their lives.
No Artificial Preservatives or Ingredients
Some dog food manufacturers like to add artificial colors or flavors to their food to make it more appealing to dogs, and the artificial preservatives help the dog food last longer than it should. Ideally, you want to pick out a venison food that doesn't have any artificial colors, flavoring, additives, or preservatives because this type of food is generally easier for your dog to eat and digest.
By-Products or Fillers
In order for your dog's food to be as nutritious as possible, it should have real ingredients listed on the label including real meat sources, vegetables, fruits, and healthy fillers like peas or beans. You want to avoid foods packed with fillers or by-product meals because there are very little nutrients in these types of food, and they can be harder on your dog's system.
Grains, Wheat, and Soy
You can give your dog a food with grain in it if they don't have allergies without an issue, but many dogs develop sensitivities or food allergies to grains, and this can cause digestive problems. If you notice your dog is having problems or seems uncomfortable, you want may to try switching to a venison food without any grains, wheat, or soy products and see if your dog improves.
Our Top Five Picks for the Best Venison Dog Food
1. Taste Of The Wild Venison & Bison Dry Dog Food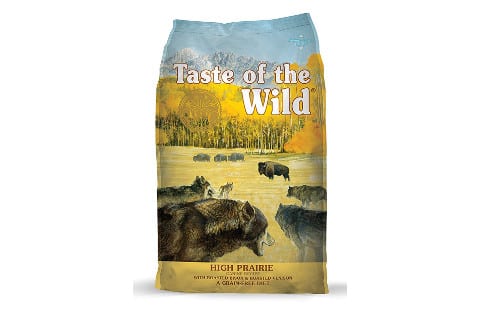 Your dog will enjoy a grain-free dog food that comes packed full of rich protein sources to support lean and healthy muscle growth, and this food has real meat listed as the first ingredient. This food comes in three different sizes so you can customize it to your dog's needs, and you'll also get vegetables, fruits, nutrients, vitamins, and more.
The premium ingredients in this dry dog food come sourced from trusted resources around the world to help ensure a high-quality food, and the fatty acid blend combined with the antioxidant content help to keep your dog healthy inside and out. There is no corn, grain, filler, wheat, artificial colors, artificial flavors, or artificial preservatives in this food, and this makes it a healthier choice for your dog to eat.
Dog owners were happy that this dog food came rich in protein with live probiotics to help aid in digestion, and they were pleased that there was a healthy blend of antioxidants and fatty acids to improve their dog's coat and skin. Dog owners weren't happy that this food has smaller and harder kibble pieces, and they weren't pleased with the slightly greasy feel.
Things We Liked
Comes with a grain-free formula
Contains live probiotics to help with digestion
Made in the USA to high standards
Things We Didn't Like
Kibble may be too hard for some dogs
Can leave a slightly greasy residue
Kibble may tend to crumble
2. Purina ONE SmartBlend True Instinct Turkey and Venison Dry Dog Food
Purina ONE SmartBlend comes with a slightly higher crude protein count at 30-percent to help support your dog's lean muscle growth and maintenance, and your dog will enjoy double the amount of meaty morsels compared to a few other options. Real meat is the first ingredient, and this dog food contains glucosamine to support healthy joints as well as fatty acids for coat and skin health.
There are no preservatives, by-product meals, or artificial flavors in this formula, and this makes it easier for your dog to digest. The vitamin and mineral content in this food gives your dog a balanced meal and helps support all of their systems, and this dog food has a mix of crunchy kibble and meaty pieces to keep your dog interested.
Pet parents were happy that Purina ONE SmartBlend has double the amount of meaty pieces for their dog to enjoy, and they were happy that this food has a great blend of vitamins, nutrients, and fatty acids to support healthy growth both inside and out. Pet parents were not happy that this food seemed drier than other choices.
Things We Liked
Comes with double the meaty pieces
Designed to be easy for your dog to digest
Mixes meaty pieces with kibble to keep your dog interested
Things We Didn't Like
May be too dry for some dogs
May have too much protein for older dogs
Has more turkey than venison
3. Ziwi Peak Air-Dried Dog Food Recipe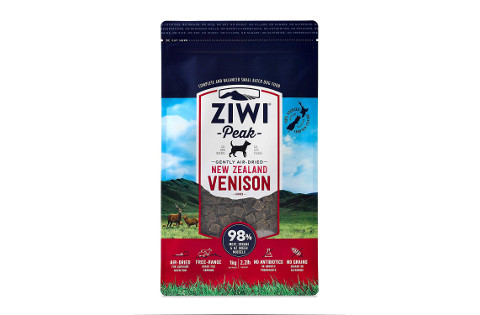 This food by Ziwi comes with six different meat sources and five different sizes to pick from so you can customize your dog's food to suit their size and diet preferences. It comes with 100-percent single sourced grass-fed venison from New Zealand that doesn't have any antibiotics, added hormones, or growth hormones to make this a healthier food choice.
Your dog will enjoy a formula that is packed full of 98-percent protein including organs, green mussels, and bones, and this dog food doesn't contain any grains, soy, corn, potatoes, fillers, rice, sugars, rendered meals, preservatives, or glycerin. Additionally, the green mussels are an excellent source of Glucosamine and Chondroitin, and this helps to encourage healthy joint growth and aging.
Dog owners were happy that this formula had a two-stage air drying process that helped to get rid of any bacteria while still preserving the nutrients of the ingredients, and they also liked that the venison came from a free-range grass-fed farm operation. Dog owners were not happy with the price of this food as it is expensive, and they also didn't like that it takes some adjustment to find the correct calorie range.
Things We Liked
Very natural dog food with limited ingredients
Contains ingredients to support healthy joints
Made with a two stage drying process to preserve the nutrient content
Things We Didn't Like
Pricing is very high for the amount of food you get
Can be difficult to get the serving size correct
Venison cubes can crumble easily
4. Natural Balance Dry Dog Food - Sweet Potato & Venison Formula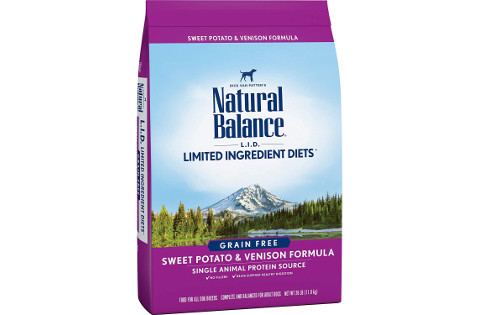 You'll get a limited ingredient dog food when you purchase this product, and this limited ingredient list means that your dog has reduced chances of allergy problems or digestive issues when they eat it. Sweet potatoes and venison are the first two ingredients, and your dog will get balanced nutrition with this food as it contains fruits and vegetables in addition to the protein and nutrients.
This food does have a slightly lower protein content at 20-percent, and this is good news if you have a more inactive dog or a breed that is prone to gaining weight. Your dog will get a healthier alternative to other foods because they won't get any artificial preservatives, flavoring, or colors with this food, and you get four different sizes to pick from when you order it.
Pet parents liked that Natural Balance food had a limited ingredient list with quality ingredients including protein and sweet potatoes as well as vitamins, minerals, fruits, and vegetables. Pet parents didn't like that the price seems to continue to go up every few months.
Things We Liked
Contains a limited amount of ingredients
Venison and sweet potato are the first two ingredients
Has a slightly lower protein content
Things We Didn't Like
Price continues to go up
May have concerns about quality issues
Kibble can be too large for some dogs
5. NUTRO Limited Ingredient Diet Adult Dry Dog Food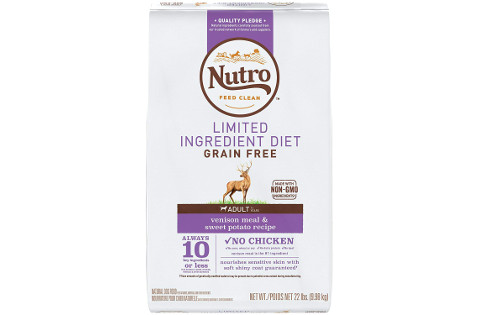 Each of the dog food lines made by NUTRO contain 10 key ingredients like venison, potatoes, sunflower, alfalfa and more along with other essential minerals, vitamins, and natural flavoring for a healthy and balanced diet. You can choose from large breed, regular, or small breed kibble, and this food has four different protein sources to pick from and three different sizes.
This choice of dog food can be good for dogs who have sensitivities to grain, soy, wheat, or dairy, and it doesn't contain any GMO ingredients, chicken, or beef products for a safe and easily digestible formula. You should notice that your dog's coat is shiny and healthy, their skin is nourished, and that your dog's immune system is functioning at great levels because this food supports your dog inside and out.
Dog parents who bought NUTRO food were pleased that they got a dog food with 10 key ingredients or less along with non-GMO ingredients and no chicken or beef products. Dog parents were not pleased that this food could cause stomach upset in sensitive dogs.
Things We Liked
Formulated with a few essential key ingredients
Supports a healthy immune system
No chicken, beef, or dairy products
Things We Didn't Like
May cause stomach upset in sensitive dogs
Small breed kibble is very small
Kibble can be very crumbly
Our pick for the best venison food for your dog is Taste Of The Wild Venison & Bison Dry Dog Food because the ingredients come from trusted sources, and we also liked that it has a healthy mix of fruits and vegetables as well as protein. This food has antioxidants to support your dog's skin, coat, and immune system, and it's healthier for your dog as a whole.
We also chose this food because it contains live prebiotics that helps your dog digest their food better. Finally, we liked that it comes in several different sizes that you can switch to suit your dog's eating habits and size.