Best Hypoallergenic Dog Food: Choosing the Right Food for Dogs with Allergies

By Ashley Turner     Last Updated January 25, 2022

We independently research and recommend the best products; Learn more here. We may receive commissions on purchases made from our product recommendations.
Dog food allergies can surprise any dog owner, and even an owner who knows about his/her dog's allergies may sometimes find that choosing the best hypoallergenic dog food can be hard. Testing for your dog's food allergies may take some time and effort. If you have noticed a chronic issue with your dog, such as constant vomiting, diarrhea, excessive scratching or poor coat quality, you may want to address those issues with a vet to ensure your dog's allergies are indeed food related.
If possible, scheduling a chat with your dog's vet can help lead you both to some much needed solutions using methods like an elimination diet, allergen testing and, ultimately, much needed relief for Fido.
Testing your dog for food-related allergies is going to take a lot of trial and error, but it is essential to experiment with your dog's food and diet.
As daunting as the task may seem, Puppywire is here to provide a guide to the best care and food for your dog. At the bottom of this list are our top five picks for the best hypoallergenic dog foods with relevant links. We like to think of our pets as members of our families so caring for our dogs' health ought to be at the top of the list.
Our Top Picks for the Best Hypoallergenic Dog Food
How Do You Know If Your Dog Has Food Allergies?
When your dog is feeling less than great, it interferes with his/her quality of life and it shows. Food allergies, which many owners confuse with food intolerances, are caused by food allergens that then cause a negative reaction in your dog's body, such as rash, frequent bowel movement and vomiting. Food intolerances are the result of missing or lowered levels of digestion enzymes--the most known intolerance is lactose--and is attributed to overall poor digestion.
Food allergies and intolerances are two separate issues. A food allergy forces your dog's immune system to go into "fight" mode and create a defense, which often results in a negative physical reaction. Food intolerances are existing digestive problems that happen when your dog's system is incapable of digesting a specific ingredient, versus fighting an introduced allergen. Because both cause discomfort in your dog, it's easy to see why the two may seem the same.
Vets list some of the frequent food allergens for dogs as beef, wheat, soy, dairy, and some fish. When your dog's immune system is introduced to any of these allergens, his/her system goes into a kind of "shock", which causes a physical reaction. These allergens are proteins present in your dog's food and while most owners may only consider meats as a source of protein, there are also similar proteins present in other ingredients.
The mucosal barrier, also known as the lining of the gut, is made up of both structural and immune system elements. The structural elements halt the process of absorption of large proteins, while the immune system element is responsible for recognizing those harmful materials of the gastrointestinal tract. If you are unaware of your dog's allergies, the response of your dog's immune system grows every time the allergy-causing food is eaten, and continuing to feed this to him/her can possibly exacerbate any existing issues.
It could take a long time before your dog shows any reaction and that can make finding a diagnosis of food allergies in your dog extremely difficult. Other symptoms of dog food allergies include itchy skin, stinky bowel movements and other disruptive digestive symptoms. These symptoms can also be indicative of other diseases so it is a great idea to have your dog see a vet at least once a year.
Putting your dog on an elimination diet is tough so making sure no other family members are feeding your dog table meat or scraps during this period is key. If circumstances make it difficult to do this, you should also also talk to your dog's veterinarian about a patch test, which helps determine the foods your dog does not react to, and might be a better way to go.
Targeting Your Dog's Allergy
The first step towards finding the best dog food for allergies is to isolate the problem with your dog's veterinarian by recognizing your dog's symptoms and what they mean. As mentioned above, food allergies and intolerances often share the same symptoms so it is up to the vet to help determine an allergy. Your veterinarian can recommend a diet, or you can find a recipe for a home-cooked elimination diet, as the vet-prescribed diets are usually expensive.
Should your dog have one, his/her vet will probably recommend an elimination diet, which requires feeding your dog foods that have different ingredients than what he/she is normally fed. This usually means a new source of meat protein and grain. Some of the common anti-allergy ingredients include oatmeal, buffalo, and some fish. These and more foods are also categorized into three types of recipes:
Limited ingredient foods, which are foods that contain only a certain amount and type of ingredient, which makes it easier to pinpoint what your dog is eating;
Novel ingredient foods, which are foods that your dog may not have ever been exposed to (like venison) and will be less likely to set off a reaction; and,
Prescribed ingredient foods, which are foods that are specifically prescribed by a veterinarian for your dog's dietary needs.
First, limited ingredient dog foods can help make it easier to hone in on the culprit allergen by streamlining the list of ingredients to cut down on potential risks. Novel ingredient dog foods are foods or ingredients in foods your dog may not have been exposed to and these foods sometimes contain hard-to-find ingredients. These, in turn, are foods that your dog may be less likely to have an allergy to. Prescription dog foods are diets that have been tailored for your dog's needs and normally contain the above hypoallergenic ingredients. These are usually reserved for more sensitive dogs.
Because most dog foods are made with chicken, beef and wheat, foods with lamb and rice are often considered to be hypoallergenic, however, there are a lot of allergies attributed to lamb and rice diets. Preventing food allergies may be hard to do in dog breeds that are prone to developing such allergies, but with close attention and frequent follow-ups with your dog's veterinarian, these allergies may be curbed.
Treating Your Dog's Allergy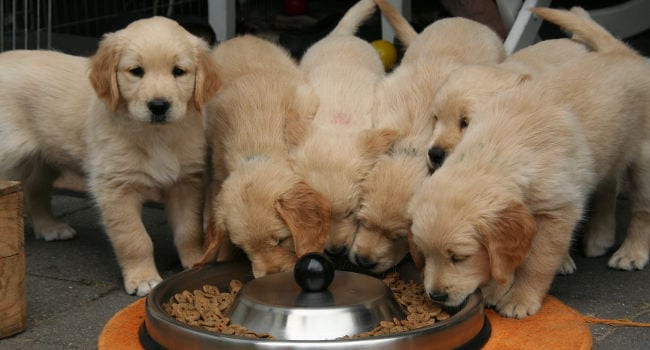 Caring for a dog with food allergies can be challenging and since we cannot prevent our pups' allergies entirely, there are a few things you can do that may provide your dog with some relief:
Encourage a healthy diet from puppyhood by starting your dog on a limited ingredients diet;
Keep your dog away from eating unsafe items such as chicken bones, twigs, or dead animals; and,
Encourage healthy digestion by feeding your dog proteins that are easy on the system.
A lot of veterinarians say to look out for gastroenteritis, which is an inflammation of the stomach and intestines and can be caused by new foods. Symptoms include abdominal discomfort or pain, diarrhea and/or vomiting and veterinarians also think that severe gastroenteritis, especially in puppies, can result in lifelong food allergies. It can be difficult to fully monitor what your dog gets into but if you suspect that he/she has eaten something that may have caused a problem, it might help to add a sweet potato diet to his/her meals. In general, however, if diarrhea is constant without signs of improving, you should consider consulting medical advice. With such situations, it is not a good idea to attempt to treat your dog yourself.
Dogs don't usually have a problem digesting protein but it is recommended to feed your dog a simplified, customized diet of organic meats ground down in a food processor. In kibble, protein is already ground and therefore easily digested. Veterinarians recommend starting puppies on limited ingredients diets because it can be helpful in giving you an answer should your dog develop an allergy. For example, if you choose to feed your dog just chicken as the protein, it is easier to pinpoint any present allergy versus trying to sift through a diet of multiple proteins to find the cause.
While your dog is on a special diet it is very important, since you don't know what your dog is allergic to yet, to commit to it strictly or you may risk a reaction. You can slowly reintroduce other foods once you start to see results as it'll be easier to work on ridding the allergy.
How Long Before You See Results?
It is no secret that an elimination diet for your dog is a great first step towards finding the cause of his/her food allergy because it will be worth it. Your dog's food allergy symptoms can diminish his/her quality of life and it is up to you to do some much needed research.
Gradually, as more ingredients are added back in, you will learn to clearly identify which allergens affect your dog, and how to then proceed with a specialized diet. In some cases, giving your dog food that is lightly processed with one single meat or protein source, might help improve your dog's quality of life.
Hopefully you should see results as soon as right away. Once the bad foods have been eliminated from your dog's diet, his/her symptoms will hopefully start to go away but you'll want to try and get started as soon as possible.
If you find that your dog is still suffering from allergies, then it is possible your dog could be allergic to something present in the environment, like carpet, a specific fabric, or medication.
Picking the Best Hypoallergenic Dog Food
While it may seem overwhelming, there are more hypoallergenic foods available that will expose your dog to proteins and grains he/she may have had little interaction with. Proper diagnosis and care of allergies can make it easier to understanding how to potentially prevent any future issues.
Your dog might also be allergic to some grain-free dog foods that might not be hypoallergenic because of protein ingredient in some foods, which may cause a reaction. Luckily, some of the same dog foods are also grain-free making it a lot safer for your dog's potential allergies.
Our Top 5 Picks for the Best Dog Food for Allergies
1. Wellness Simple Natural Dog Food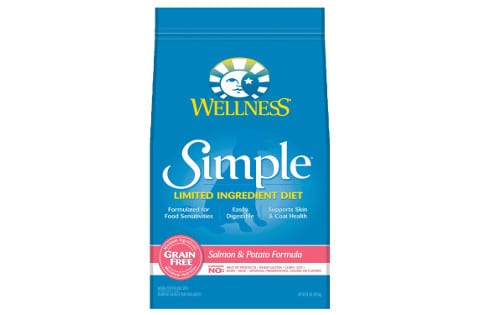 Wellness Natural Dog Food is available in multiple flavors for your dog and made with a list of tasty, safe ingredients. The limited ingredients recipes are made with proteins such as duck and turkey, to name a few.
Limited ingredient foods help target what your dog's food allergies are and, since it only has a single protein source, carbohydrate and no additives, we decided this dog food as the top overall pick for the best dog food for dogs with allergies. It is also gluten-free, contains no by-products or other ingredients, artificial colors or flavors.
Things We Liked
No chicken meal or meat by-products
Also great for dogs with diabetes
Variety of protein and grain options
Things We Didn't Like
Not so pleasant smell
May take dogs a little time to adjust
Off-putting color and texture
2. Addiction Wild Kangaroo and Apple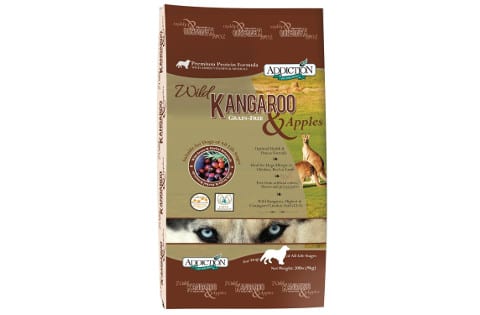 Addiction Wild uses kangaroo meat as the main source of meat protein ingredient. Hypoallergenic and holistic, this novelty dog food is free of antibiotics or hormones and contain essential antioxidants and flavors to support your dog's immune and digestive system. We found this to be highly recommended for dogs and as a popular brand in hypoallergenic foods for dog with allergies.
It is so good for our dogs that it minimizes the odor of fecal matter, and -- if you're brave enough to conduct a taste test -- the chicken flavor tastes good enough to snack on. Overall, not only is this brand considered to be a favorite among dogs but a favorite with owners as well.
Things We Liked
Antibiotic and hormone free
Dogs (and brave owners) love the taste
Promotes overall immune health
Things We Didn't Like
A little pricier than other brands
Contains more potato ingredient than some owners want
Not available in some pet stores
3. Holistic Select Natural Dry Dog Food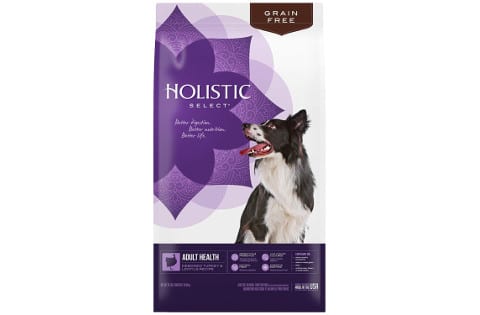 Holistic Natural Dog Food is a newer brand in dog food but many owners have made the switch from their previous brands to this one. Made with digestive enzymes and oils, this brand may also aid your dog with allergies and other existing digestive problems too. It is also made from tummy-safe ingredients, no meat by-products, or fillers and flavors.
You should hopefully see a decrease in how often your dog throws up food or bile, and the chicken flavor seems to be a go-to favorite. The kibble is also small enough for smaller breed mouths, which might work for any toy breeds with allergies.
Things We Liked
Observable improvements to dog's health and energy
Minimizes the frequency of throw up
Kibble is small enough for smaller breeds
Things We Didn't Like
Taste and smell of some formulas are unpleasant, particularly salmon and anchovy
May cause softer stool
May cause stinky breath
4. AvoDerm Natural Chicken Meal and Brown Rice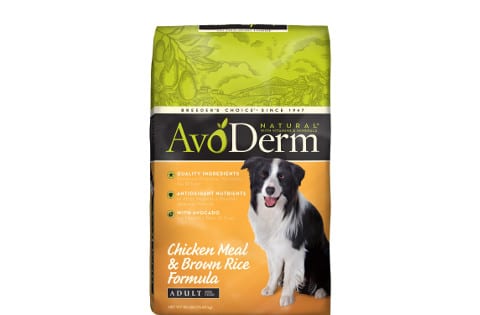 Avoderm Natural Brown Rice and Chicken is a great starter hypoallergenic food to help in getting your dog's nutrition back on a strong and healthy road. AvoDerm contains no corn or artificial additives, and there is some avocado added for extra nutrition.
Rich in healthy fats and oils, with a mix of Omega-6 and Omega-3 fatty acids, this can aid in solving your dog's sensitive stomach problems.
The list of ingredients makes this a great choice for owners looking for healthier options, which uses a lot of natural ingredients and specifically avoids by-products.
This is also great for big breed dogs that may suffer from joint pain, or dogs with diabetes because it's grain-free and contains the avocado, which is also healthy for your dog.
Things We Liked
Additive and preservative free
Recommended for big breed dogs who may have joint issues
Has avocado and Omega oils which promote health skin and coat
Things We Didn't Like
May cause diarrhea and gas
Contains more salt than some other brands
Has a higher grain to protein ratio
5. Blue Buffalo Limited Ingredient Dry Adult Dog Food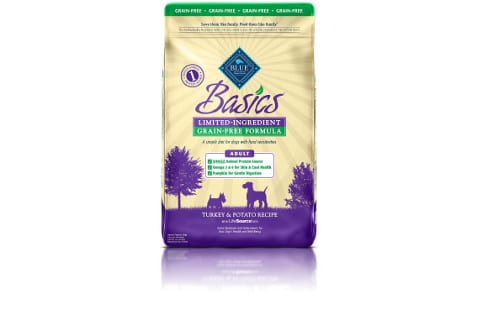 Blue Buffalo Dog Food is grain-free and might work best for pups with allergies and intolerances. The formula provides a well-balanced, hypoallergenic diet for your dog by mixing rich proteins with unique ingredients and easy-to-handle grains.
Blue Buffalo is also great for dogs who have a known allergy to poultry based by products, and, even though this formula isn't available for young pups, the small breed size bag may work well for when he/she gets older.
Things We Liked
Limited ingredients formula is great for dogs with pre-existing allergies
Grain free which is ideal for hypersensitive stomachs
Reasonably priced
Things We Didn't Like
Kibble size may be too small for some larger breeds
Bag can be easily torn during shipping
May cause diarrhea and and skin irritation in dogs with unknown poultry allergies
If your dog has allergies, breathe easy. In reviewing our five selections, the best hypoallergenic dog food to feed your dog is our top pick winner by Wellness brand. While some foods may still set off other allergies, Wellness's food is ideal for beginners because of variety and transparency of ingredients - which helps minimize confusion when shopping.
Our dogs are our companions so their happiness and longevity are paramount. So please remember: although the process may be long, it's not impossible!