Sensitive Stomach Dog Food: Causes, Benefits and Top 5 Best Options
Latest Update: December 14, 2017
There's nothing more frustrating than buying food for your dog that you're sure they'll love and have them eat it eagerly, only to throw up a few minutes later. Worse, what if your dog eats eagerly, then has a potty accident in the house?
Other signs your dog has a sensitive stomach include doggy gas and itchy, red skin or "hot spots." Some dog digestion sensitivity problems come from the same foods that can cause problems with human digestion, like wheat, corn and soy.
Finding the best sensitive stomach dog food that can help combat food sensitivities and allergies, can be a challenge. We looked at some of the most-popular brands of dog food for sensitive stomachs and found the advantages and disadvantages for the five best options.
Our Top Food Picks for Your Dog's Sensitive Stomach
What Causes Sensitive Stomach in Dogs and How Can Dog Food Help?
The common misperception that dogs can eat anything they want with no stomach problems, from table scraps to candy bars, is just that: a misperception. The American Kennel Club says that dogs with sensitive tummies share the following three symptoms:
Loose stools
Flatulence (gas)
Occasional vomiting
If your dog has severe vomiting and diarrhea, take him or her to the veterinarian as quickly as possible: these are acute problems and can be a sign something more serious could be wrong.
When your dog has sensitive stomach, you will see more moderate, occasional symptoms in your dog's stool, or spot other warning signs that something in your dog's diet could be causing a sensitive stomach.
Pica and Other Causes of Occasional Stomach Upset
Los Angeles veterinarian Dr. Patrick Mahaney told Animal Planet that dogs can have stomach problems because they explore the world through their mouths. They can eat non-food items and suffer vomiting, diarrhea and gas.
Eating table scraps and gobbling human food from the trash or unattended plates are other common causes of dog stomach problems.
Pica is the general term for eating non-food items, used by human physicians and veterinarians. Chewing on sticks or eating grass are types of pica.
Your dog may vomit after eating grass, a behavior that has been observed in wild dogs. Some veterinary studies show that about 1 in 4 dogs that regularly eat grass vomit afterward.
Some veterinarians think that pica behaviors could be a sign of nutritional deficiency. Another likely cause of grass-eating or consuming other non-foods is boredom or curiosity.
Some Dogs Tend to Have More Sensitive Stomachs
We found out that some breeds have more sensitive stomachs due to their size, particularly Yorkies and Scottish Terriers. The older a dog gets, the more likely they will be sensitive to the things they eat.
Dogs that gulp a lot of air when they eat can have flatulence, and others are simply eating dry dog food too fast. Dogs with small stomachs for their size (not necessarily only the smallest breeds) can suffer distress when the dry food expands inside their stomach after eating.
Solutions for dogs that gulp too much air include elevated feeders, and exercise after meals. We recommend trying both to see if this problem improves.
Just like people, dogs can be intolerant or even allergic to common foods that other animals have no trouble with. The most common canine allergens or sensitivity trigger foods are wheat, soy and corn.
It's no coincidence that dog foods found to cause sensitive stomach often contain wheat, soy and corn, sometimes as the first ingredient. Don't overlook animal protein sources causing stomach upset, either.
Some dogs are sensitive to fish, poultry or specific kinds of meat protein. We recommend eliminating suspected problem foods one at a time to determine if food allergies or sensitivities could be causing your dog's digestive problems.
Sensitive Stomach Can Also Signal Sensitive Skin
Another concern among owners is itchy skin, sometimes with rash and even bleeding. Sensitive skin in dogs is similar to skin sensitivities in humans, and can result from the wrong type of dog food.
Your dog may be showing signs of sensitive stomach and skin, which makes it even more important for you to choose the right kind of food. Sensitive stomach dog food may also come in versions that relieve skin sensitivities.
Look for Complete and Balanced Foods
The AKC says that commercial dog foods can be a good solution for dogs with sensitive stomachs, although some owners are preparing hypoallergenic home cooked meals for their dogs like plain chicken and brown rice. If you don't have time to cook every meal for your dog, the AKC advises you to look for "complete and balanced" commercial food.
The phrase "complete and balanced" means the food includes all essential nutrients needed by your dog. Including all essential nutrients could also help to eliminate problems like pica which can stem from nutritional deficiencies.
Pet food labels now give you the information you need to thoroughly analyze nutritional content and value. We advise you to read every label completely when selecting the best food for your dog's nutritional needs and sensitive stomach.
Look for foods that have your most-desirable protein and fiber sources, avoiding any potential sensitivity triggers like soy, wheat or corn. You may have to try several different kinds of food before finding one that's the right fit.
Start Slowly With New Food
Changing from one food to another can cause sensitive stomach problems. The AKC advises you to transition your dog slowly from old to new food.
The best method is to change slowly over the course of 10 days to 2 weeks. Mix a small amount of the new food with your dog's old food one day at a time.
The AKC recommends including about 10% new food and 90% old food on the first day, then increasing about 10% more new food one day at a time for about 10 days.
Other Helpful Dietary Tips
In addition to finding the best food for your dog's sensitive stomach, you can try other best-practices recommended by the AKC and Animal Planet. A small amount of canned pumpkin or yogurt mixed in your dog's food can provide easier digestion.
Pumpkin will help your dog's digestion as a neutral fiber that doesn't upset many dogs' stomachs. Yogurt has probiotics that also help digestion in dogs as well as people.
Some probiotics are available which can be sprinkled on your dog's food. Small dogs or those with very small stomachs can be helped simply by moistening dry food, which helps it expand less in small stomachs.
Watch for Serious Health Problems
If you've picked your dog's food carefully and still see problems, your dog could have a more serious illness. Here are some potential problems that can't be solved by sensitive stomach food, and require veterinary treatment:
Stomach virus or bacterial infection
Fungal infection
Parasites like whipworms, tapeworms or roundworms
Pancreatitis from eating large amounts of table scraps or trash
Intestinal or stomach disorders, stomach ulcers or gastrointestinal tumors
Inflammatory bowel disorders (similar to humans)
Things to Look for in Sensitive Stomach Dog Foods
Although there is no hard and fast rule for exactly which foods help dogs with sensitive stomachs, some ingredients are more likely to cause problems than others. Among common proteins, beef and chicken cause more problems than more unusual proteins like salmon and venison.
Grains that cause problems include corn and wheat, similarly to people. Soy is also a sensitivity-causing ingredient.
Look for sensitive stomach foods without grains like corn and wheat. We also suggest you look for foods with less-common primary sources of protein, like venison, bison or duck.
Our Top 5 Picks for the Best Dog Food for Sensitive Stomachs
1. Wellness Simple Natural Limited Ingredient Dry Dog Food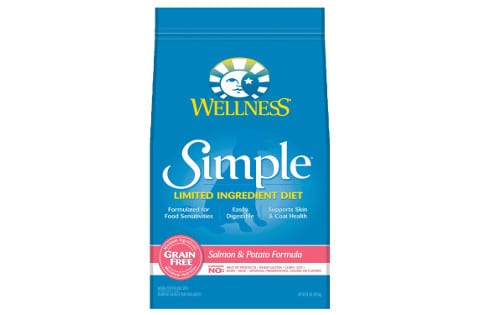 Available in Duck & Oatmeal, Lamb & Oatmeal, Salmon & Potato (Small Breed and Regular) and Turkey & Potato, Wellness' foods for dogs with sensitive stomachs, food allergies and sensitivities offer novel protein alternatives to chicken and beef.
These foods have fish protein alternatives as well as duck, turkey and lamb. The main ingredients are all proteins advertised on the package. There are no preservatives, additives or artificial colors and flavors.
This food also comes with prebiotics and probiotics already mixed in. Owners report there are few, if any, side effects or bad reactions, even in dogs that have tried many other foods for their sensitive stomachs with no success. Picky dogs love all flavors of the food, especially duck and turkey.
Just keep your eyes out to make sure all your bags of food are of equal quality, because a few customers have noticed taste and texture differences in different bag sizes.
Things We Liked
Several flavors with limited ingredients
No fillers and additives
Good results for many different sizes and types of dogs
Things We Didn't Like
Unexpected variations in food appearance
Some dogs do not tolerate the product
Some dogs gained too much weight
2. Hill's Science Diet Adult Sensitive Stomach & Skin Dry Dog Food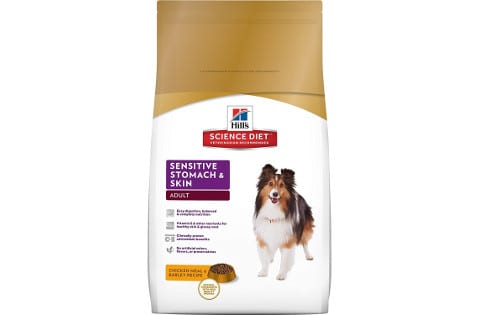 Hill's Science Diet dry dog food is available for regular and small breed dogs, and comes in dry and canned varieties. It has no artificial colors, preservatives or flavors. Ingredients are natural, including essential minerals and vitamins like Vitamin E and omega-6 fatty acids.
Hill's is balanced and complete, and is formulated to be easily digestible by most dogs. An annual veterinary survey conducted by Hill's Science Diet found that it is the #1 choice of veterinarians to feed their own pets.
Rescue dogs and extremely picky eaters respond well to Hill's formula. Some dogs gained over 10 pounds after two to three months on the diet. Other dogs saw improvements in skin tone, hair loss, and appetite after being switched from non-sensitive foods to Hill's.
Ingredients are led by brown rice and chicken meal. Other protein comes from pea protein, and vegetables and color come from carrots, apples, broccoli and cranberries.
Things We Liked
Corn and wheat-free
Formulas for all sizes of dog
Appealing taste for picky eaters
Things We Didn't Like
Some dogs didn't respond well and vomited more
Chicken and pea are the main proteins
Rice is the primary ingredient
3. Purina Pro Plan Focus Sensitive Skin & Stomach Dry Dog Food
With the first ingredient of salmon, Purina's dry dog food for pets with sensitive stomachs and skin has a better chance of working for your dog than some other products which list grain as a first ingredient.
The Purina food also contains salmon meal, brewer's rice, barley and oats in addition to vitamin and mineral supplements including omega-6 and omega-3 fatty acids and antioxidants.
The second ingredient of Purina's food is canola meal, which isn't found in a lot of dog foods. Some consumers can confuse canola for corn, but it isn't made from corn. It is the fiber left behind from making canola oil and it does contain some protein.
Many owners say their dogs do well on Purina's Pro Plan Sensitive Skin & Stomach formulas. Owners report less vomiting and smoother skins and shinier coats. Some veterinarians are recommending the food, although a few owners report their dogs have "fish breath" and increased, not less gas, after trying the product.
Things We Liked
Numerous formulas and options
Many owners noticed less vomiting and improved skin
Widely available
Things We Didn't Like
Second ingredient is canola meal
More than one "filler" ingredient
Can give some dogs "fish breath" or gas symptoms
4. NUTRO Natural Choice Limited Ingredients Dry Dog Food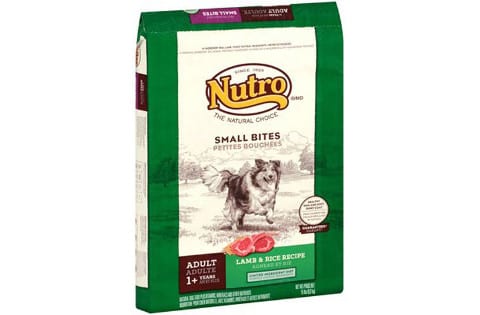 The first two ingredients of NUTRO's limited ingredient dog food are lamb and lamb meal, followed by brown rice. Lamb is often found to be more digestible and less allergenic than chicken and beef.
The sources for NUTRO's lamb are also limited to New Zealand and Australian lamb. This product's small size and tasty smell and texture make it a good potential for smaller dogs and picky eaters.
Limited ingredients will help in isolating potential food sensitivities and allergens. Owners of larger dogs like setters, Dobermans and retrievers all praise NUTRO's lamb and rice formula. Some smaller dog owners said their pets showed improvement in skin problems as well as less vomiting and other digestive issues.
With rice as the primary grain ingredient, few, if any, owners said their dogs had gas after eating this food. No added colors, preservatives or yeast by-products are also positives for this food.
Things We Liked
Quality meat ingredients
High rates of customer satisfaction and loyalty
Free of preservatives and low quality fillers
Things We Didn't Like
High percentage of rice ingredients
Price is too high for some owners
Some dogs did not like the flavor
5. IAMS Sensitive Naturals Adult Dog Ocean Fish and Rice Recipe
This IAMS limited ingredient food is the only food that some puppies with severe food allergies have been able to eat. Ocean fish is the main ingredient.
While the product contains grains, they are limited to sorghum, barley and rice, which are better tolerated than corn and wheat. Dried vegetables including peas and beets round out the ingredients along with vitamins and minerals.
Owners report their dogs having less gas, clearer skin and eyes, and noticeably less vomiting. Dogs either love or dislike the fish flavor. A lot of owners are turning to fish-flavored foods as alternatives to chicken and beef.
Like some of the other fish-derived options, owners notice "fish breath" but with no flatulence, this IAMS fish flavored food could be a great choice, especially good for sensitive stomach and skin combinations.
Things We Liked
Non-allergenic grain ingredients
Dogs who couldn't eat anything else did well on this food
Especially good results for dogs with skin allergies
Things We Didn't Like
Wide variations in price
Unpleasant breath in some dogs
Package size has been reduced
Although some dogs have done well with every choice we considered in food for dogs with sensitive stomachs, the clear winner is Wellness Simple Natural Limited Ingredient Dry Dog Food.
Wellness gives three non-fish novel protein flavors: Lamb, Duck and Turkey. The carbohydrate choices vary too, from oatmeal to potato. Finally, you can get non-allergenic salmon and potato flavors for small breeds and larger dogs.
Main ingredients on all of Wellness' foods are limited to five, and the added vitamins are high quality and nutritious. Wellness' flavors for sensitive stomachs all have prebiotics and probiotics mixed right into the food.
Buyer's Guide to the Best Sensitive Stomach Food for Dogs
PuppyWire
Buyer's Guide to the Best Sensitive Stomach Food for Dogs