Top 5 Best Probiotics for Dogs
Latest Update April 7, 2017
Everything You Need To Know About Probiotics For Dogs
If you're like us at PuppyWire, you know that nothing compares to coming home to your healthy, bright-eyed, tail-wagging pet. While feeding your dog a balanced diet is important, supplementing it with probiotics will keep them feeling their best.
Probiotics contain healthy gut bacteria which, when regularly ingested, improve dogs' digestion and overall well-being. Picking the right product for your pet's health is essential, so we've compiled a list of some of the best probiotics for dogs available today.
What are Probiotic Supplements and Can They Help My Dog?
Probiotics are essentially live bacteria and yeasts that promote good overall health in dogs, especially when it comes to their digestive system. Although we usually think of bacteria as being harmful and the source of illness, probiotics are a good, healthy kind that is important for both people and animals.
These supplements can be of great help to both cats and dogs that are having gastrointestinal problems, but they are also important for preventing future health issues.
Probiotic supplements can be of great help to dog owners who want to ensure that their pets live a full and healthy life, as they come with a number of benefits, ranging from preventing diarrhea to lowering cholesterol levels.
These natural bacteria are important for the normal, healthy functioning of your dog's digestive system and they have a lot to offer when it comes to helping your dog to get what its body needs on a daily basis.
Are Human Probiotics Safe for Dogs?
There isn't really a difference between human and dog probiotics, though some companies that manufacture these supplements have different ingredients to benefit dogs specifically.
While some of the ingredients between these two types of probiotics may differ, it is okay to give your dog human probiotic supplements.
The Benefits to Giving Your Dog Probiotics
Probiotics for dogs offer undeniable health benefits that healthy diet and exercise alone do not. A study done in 2010 to test the efficacy of probiotics observed that dogs with diarrhea recovered a total three days faster if administered probiotics.
With nearly 70% of the immune system and 80% of plasma cells making their home in a dog's gut, the health of its bacterial ecosystem is of critical importance. Although the list of benefits is endless, here are some key advantages to supplementing your dog's diet with probiotics.
Enhances the immune response
Helps to manage a long list of diseases, like kidney disease and gastrointestinal disorder
Improves recovery time after illness or infection
Contains healthy antioxidants
Anti-inflammatory properties reduce pain and swelling
Decreased gas, bad breath, occurrence of diarrhea, and symptoms associated with food poisoning
Reduces cholesterol levels
Improves stress response and emotional well-being
Possible Probiotic Side Effects on Dogs
If you are thinking about giving your dog probiotics to help with digestive health among other things, it is important to know what the side effects are.
Just like any other type of medicine, probiotics do come with some side effects, though most of them tend to be mild and affect the digestive system, presenting in the form of gas or bloating.
Probiotics can, however, cause more serious side effects. Most of the more serious side effects from probiotics have been known to occur in people, though they can also present in animals such as cats or dogs.
These kinds of supplements can theoretically cause infections that must be treated with antibiotics, but these kinds of side effects are fairly rare. Probiotics can also cause metabolic problems as well as over stimulation of the immune system.
Dog owners who are considering giving probiotics to their pets should put off doing so until they have talked with their local veterinarian.
While it is true that probiotics can be tremendously beneficial for these animals and the side effects are usually mild, it is still important to get advice from a trained and licensed vet first.
It is important to keep in mind that while side effects from probiotics can occur, the more serious ones are considered to be very rare and the health benefits outweigh the risks significantly.
How to Choose the Best Probiotic for Your Dog
There are countless probiotic dog products on the market that can be delivered in many forms and provide a wide range of benefits. To narrow down your options, consider factors like your dog's age, health, diet, taste preferences, ingestion preferences (chew or swallow), and more.
Probiotics for Puppies vs. Probiotics for Adult Dogs
Similar to your pet's main diet, age is a factor that you should keep in mind when deciding on what probiotics are best. There's a distinct difference between the nutritional needs of a puppy and an adult dog and many probiotic manufacturers acknowledge this by supplying specialized puppy formulas or age instruction on their product labeling.
Puppies are extremely susceptible to nutritional deficiencies and digestive upset. Introducing healthy gut bacteria to their system, as probiotics do, will boost their immunity, reduce the occurrence of abnormal digestion, and minimize their chances of developing a chronic illness as they get older.
Dosing, nutritional density, and form of ingestion are the main differences between puppy and dog probiotics. Puppies may be more resistant to swallowing the pill form of a probiotic and they also require a smaller daily dose than an adult dog would; never forget to read the dosing instructions!
Probiotics for Dogs With Health Issues
Does your dog suffer from a health condition like kidney disease, gastrointestinal disease, obesity, or allergies? If so, there's likely a specific probiotic formula available that will address the health needs associated with the condition.
If your dog suffers from obesity, for instance, you have the option to choose a probiotic formula that is geared towards healthy weight loss. Implementing the formula with the right treatment emphasis will get you the best results while continuing to offer the other general health benefits of probiotics.
How Diet Should Affect Probiotic Choice
Dogs with specific diets or diet sensitivities may require a specific type of probiotic. For a dog with a dairy sensitivity, for example, look for a non-dairy probiotic.
Regardless of what your pet's food sensitivity is, make sure you read the ingredient label of your probiotic beforehand. Ensuring there are no potentially toxic additives could help prevent disastrous consequences.
If your dog is somewhat picky, you may be familiar with the frustration of excitedly bringing home a new treat for your pet to try only to have them turn their nose up at it. Your dog's taste preferences are important considerations when you're deciding on the best probiotic for your pet.
You may want to get a probiotic that is flavored to the regular food they eat. Probiotics come tasteless or in a variety of flavors, including, but not limited to, chicken, bacon, and beef.
Probiotics come in pills, powders, dog foods, treats, and liquids. Do you think you'd have more success feeding your dog probiotics in pill form, mixed in with their food, or as part of a treat?
Your dog should not only enjoy the taste of the probiotic, but have no issue with ingesting it. Many people elect to avoid probiotics in pill form for their pets, due to the difficult task of convincing their dog to swallow it.
Hiding the pill in a block of cheese or glob of peanut butter often has negative health consequences and doesn't always work. Powders and liquid mixed in with their normal food or dog foods and treats infused with probiotics are often easier methods of delivery.
Additional Considerations
Affordability: How much room in your budget do you have for this expense?
Organic: Does this product contain natural ingredients without any harmful additives?
Eco-friendly: Is the production of this product harmful to the environment?
Animal-friendly: Were animals harmed or treated unfairly to make this product?
Vet-recommended: Does your vet approve of this probiotic product?
Now that you know the basics about probiotics and what to consider before moving forward with a purchase, here are five of our favorite probiotic products we think you should check out.
Reviews of the Best Probiotics for Dogs
1. Amazing Nutritionals Probiotic Joint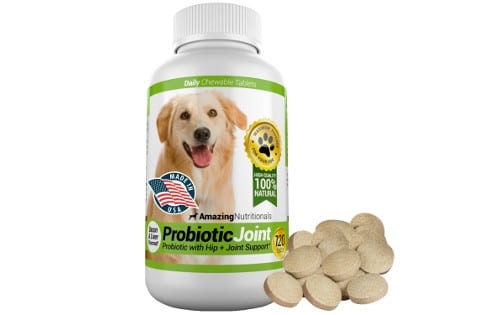 Does your dog also suffer from joint or hip pain?
Amazing Nutritionals Probiotic Joint for dogs is a probiotic supplement that works to improve the health of your dog's digestive tract along with the health of their skin, coat, and joints.
We like that this probiotic supplement has no harmful additives or byproducts and is 100% natural.
It comes in a chewable, bacon or liver flavored tablet that makes less of a mess than powder.
One bottle comes with 120 pills at seven-billion CFU per supplement. The company boasts of a 100% money-back guarantee if you are unsatisfied with its results.
The guarantee is important because in our research we did find some customers that say it didn't work for their dog.  We found more people saying it worked for their dog but no two dogs are alike so having the guarantee helps if it doesn't work out for some reason.
Things We Liked
This probiotic is great for your dog's overall health, including digestive health and is particularly effective for promoting joint health
100% natural and great for dogs with food sensitivities
100% money-back guarantee after 60 days and Made in USA
Chewable tablet doesn't leave a mess like powder might
Things We Didn't Like
Picky dogs may not take to the bacon and liver flavoring
Can be hit or miss with some dogs
2. Purina Veterinary Diets Fortiflora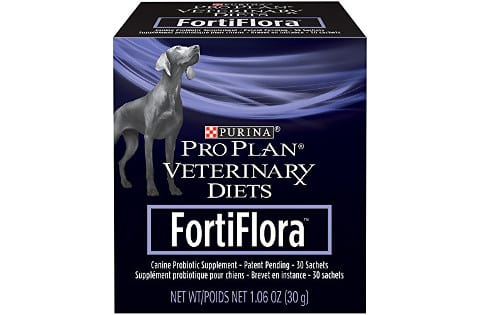 Purina Veterinary Diets Fortiflora helps your dog maintain a healthy immune system, has live active cultures, and is even fortified with antioxidants and vitamins A, E, and C.
This probiotic comes as a powder and is packaged in 30 gram sachets. Each box either contains 30, 90, or 180 pouches.
The pouches also help make it easy to give this probiotic to your dog. Just open a pouch and mix it in with your dog's food.
Fortiflora is vet-recommended and is a powder probiotic that is made in the USA. One of the major issues that customers have with this probiotic is that it can be expensive compared to other brands.
Things We Liked
This probiotic contains antioxidants and vitamins
Great for overall health with a focus on improving immunity
Vet-recommended and Made in USA
Powdered form of ingestion mixes in easily with dog food
Things We Didn't Like
Recent boost in price is a deterrent to some
Can be hit or miss with some dogs
May be damaged during the shipment process
3. VetriScience Vetri Mega Probiotic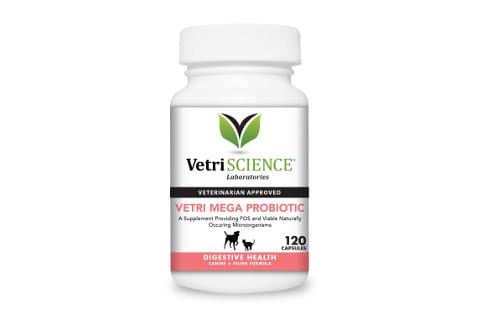 The VetriScience Vetri Mega Probiotic for dogs is another probiotic formula which will support your pet's overall health, with an emphasis on digestive tract health.
The formula contains eight different strains of five-billion micro-orgranisms per capsule.
The distinction of this probiotic supplement is that is free of dairy.
If your pet is lactose intolerant, the VetriScience Vetri Mega Probiotic may be the perfect fit for you.
This vet-recommended product contains 120 capsules. Many report satisfaction with this option because of its low cost for good value.
Things We Liked
Promotes overall pet health with a focus on the digestive tract
Capsule can be opened to pour powdered formula into food
Affordable
Dairy-free
Things We Didn't Like
Product is dairy-free but still includes grains
Instructions may be unclear and customer services may be hard to reach
The product spoils easy if not stored properly and pills will harden
4. Nusentia Probiotic Miracle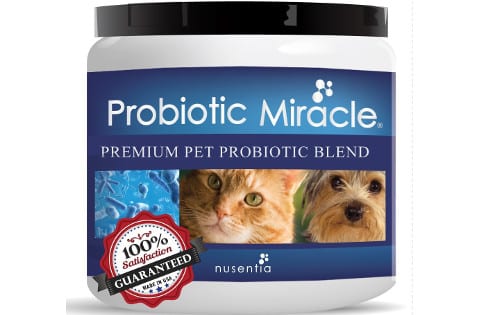 The Nusentia Probiotic Miracle is a tasteless, vet-recommended probiotic powder that contains over 360 billion CFU per jar.
Its vegetarian and allergy sensitive formula is safe for a wide array of dogs with varying health conditions, including loose stool, bad breath, constipation, diarrhea, and more.
Each of the strains contained in the formula work to promote the overall health of dogs.
One of the probiotic strains, B. animalis, contained in this probiotic product has been show to severely reduce the risk and duration of diarrhea in dogs.
Each jar will last for up to 360 doses for dogs that weigh under 50 lbs. and 180 doses for dogs over 50 lbs.  Probiotic Miracle is also made in the USA.
Things We Liked
Contains strains which work to protect and improve your pet's digestive and resulting overall health
Tasteless powder is nearly undetectable when mixed in food
Vet-recommended, all-natural formula
100% money-back guarantee and Made in USA
Things We Didn't Like
Powder may cake which may make serving it more difficult
Small scoop becomes buried in the powder during shipping
5. NWC Naturals Total-Biotics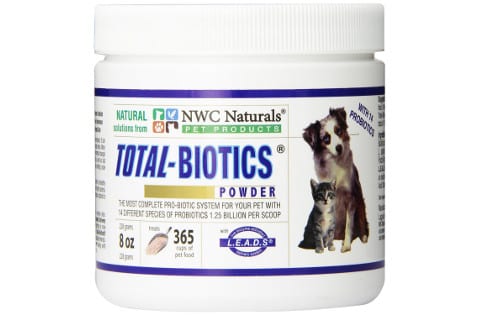 This probiotic supplement is vet-recommended and has been top-rated in America for six years. It also is made in the USA.
It offers a wealth of health benefits for dogs, like the promotion of proper elimination, a heightened immune system, and the production of B vitamins.
This probiotic contains 14 different strains to promote overall health and wellness.
Its effectiveness is made possible because it contains the world's first patented stabilized glutamine, an essential amino acid.  It's available in either a 2.22 oz. or 8 oz. size. The 8 oz. size treats 365 cups of pet food using their dosage instructions of one scoop per cup of food.
Things We Liked
Promotes overall health and well-being of you pet with 14 different strains
Contains stabilized glutamine
Vegetarian approved and 100% natural
Vet-recommended
Things We Didn't Like
If stored in a way not according to instructions, product will be ineffective.
Dogs may detect the powder and not like the taste
Our favorite pick from the list is Amazing Nutritional Probiotic Joint. At one of the most affordable rates, this probiotic is all-natural, comes with a money-back guarantee, and provides the widest amount of health benefits.
Unlike the others on this list, it is built with ingredients that consider dogs with food sensitivities and joint problems. Regardless of your dog's health conditions, allergies, or other restrictions, this probiotic is safe to supplement to your pet's diet and exercise.
Buyer's Guide to the Best Probiotics for Dogs
PuppyWire
Buyer's Guide to the Best Probiotics for Dogs