Best Dog DNA Test: Reviews of the Top 3 Affordable Brands

By Ashley Turner     Last Updated January 25, 2022

We independently research and recommend the best products; Learn more here. We may receive commissions on purchases made from our product recommendations.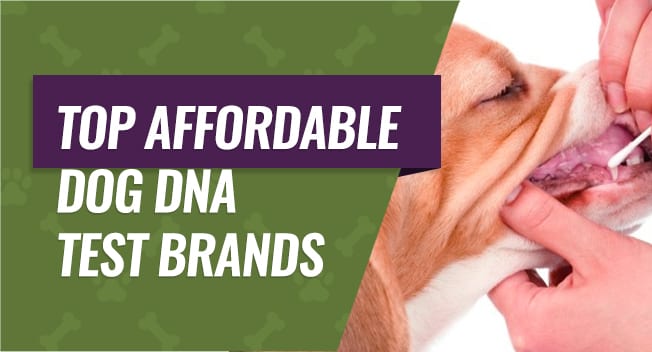 As a dog parent, you want to make sure your dog lives as long and as healthy of a life as possible. You want to know exactly what breed your dog is, how big they'll get, and if they're prone to any health risk or breed specific genetic issues.
All of these questions can easily be answered by purchasing and using the best dog DNA test that is available on the market. However, there are currently hundreds to choose from, and this can make it difficult to choose the best one to suit you and your dog, so we're going to give you criteria to look for in your dog DNA test and review the top three DNA tests available.
Our Top Picks for the Best DNA Test for Dogs
How Do Dog DNA Tests Work?
It is important to note that not all dog DNA tests work the same way, and this can, unfortunately, give them a lot of room for errors in their accuracy. The more popular dog DNA test option is by way of a swab test, but some pet owners choose to have a blood test done as well.
The DNA blood test is another option for pet parents who want to reduce the risk of contamination or error in their dog's DNA test results. This is a more expensive option as the dog owner has to take the dog to the vet to get the blood sample.
Once the vet draws the blood sample, the process is similar to the swab test as the sample gets packed into the containers provided by the kit and sent to the company the kit came from. The company will analyze the results and send the owner the results of their dog's DNA test. 
A swab test is done by the pet owner first purchasing a DNA test kit and reading all of the instructions, and this is important because they usually tell you to wait for x amount of time after your dog has eaten before you perform the test. You take the swab and gently swab the inside of your dog's cheek to cover the swab with saliva. 
Once you have your saliva sample, you carefully pack the swab into the provided container and mail it back to the company you purchased the kit from. The company will process the results (each company's processing time frame is different) and send you an email with your dog's DNA test results. 
Benefits of Dog DNA Tests
There are several benefits that come with getting your dog's DNA tested. The DNA test can highlight problems areas, and it can help you prevent certain problems before they appear. 
Bloodline Purity. In order for your dog to be classified as a purebred, you have to have proof that your dog comes from a purebred genetic line. A DNA test can prove or disprove this, and it can also help to identify designer dogs like Puggles or Cockapoos as well what percentages of different breeds make up your dog's genetics.
Disease Warnings. Some dog breeds are more prone to diseases and hereditary genetic problems like canine cancer or arthritis. By testing your dog's DNA, you can screen for genetic mutations that make up these diseases, and this will enable you to watch for early warning signs.
Size. A good DNA test can help you find out exactly what hereditary traits your dog has, and this can give you a good idea of how big they'll get once they're full grown. It can also help you get a good understanding of your dog's temperament and disposition early on in their life.
Things to Look for in Your Dog DNA Test
Now that you know what a dog DNA test can do for your dog, you have to know what to look for in the test kit. 
How big is the DNA test kit company's breed database?
You want your dog DNA test company to have a larger breed database that it compares to your dog's DNA sample. This can help you get more accurate results, and it should help you get answers to more of your questions about temperament, size, and more. 
How in-depth is the DNA testing process?
Some dog DNA test kits don't come with the option of screening for canine genetic mutations that cause diseases or that make your dog more prone to hereditary conditions. You want to ensure your test kit does do this screening as it is important to know about your dog's health condition.
DNA testing time frame for results and company reputation
Once you've spent the money to purchase the kit and sent it in to be analyzed, you don't want to wait forever for the results. You also want to go with a company that has a solid reputation, so you have a better chance of getting trustworthy results. 
Here's Some Answers to Questions You May Still Have
1. How accurate is a dog DNA test?
The accuracy of your dog DNA test results depend largely on which testing company you choose to go with. Some testing companies have a larger margin of error due to their smaller testing database, but if a company tests for the standard 180 American Kennel Club recognized breeds, the accuracy level greatly improves.
2. How long does it take to get results of the DNA test?
As with the above question, this answer also partly relies on which company you use for your dog's DNA testing. Normally, you can expect to get results with 2 to 3 weeks, but it can take longer depending on how in-depth the testing process is and how many breeds they're comparing your results against.
3. How much does it cost for a dog DNA test?
Typically, dog DNA tests on the market start around $60 and go up depending on how much you want to test for, and how many breed profiles the company tests against. A blood test will be more expensive than a swab test because you have to add the veterinary bill on top of the test kit cost.
1. Embark Dog DNA Test Kit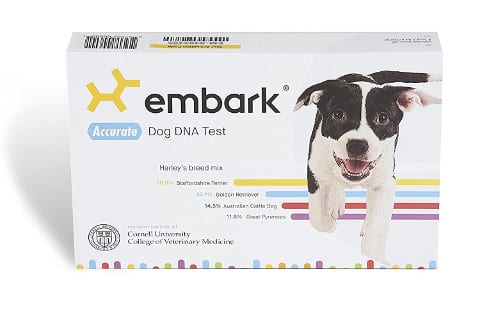 The first dog DNA test kit on our list is by the Embark company, and this kit is able to trace over 200,000 of your dog's genetic indicators as well as over 160 different diseases including MDR1 sensitivity, dilated cardiomyopathy, PRA blindness, and more. It also gives pet parents breed identification testing along with ancestry results.
This test comes from a partnership between Cornell College of Veterinary Medicine, and it is certified by the Orthopedic Foundation for Animals. Your results come from an interactive guide that you can view on any internet-ready device, and you can also download and print your results.
People who purchased this product were very happy with how in-depth the results were, and they commented again and again on how excellent this company is at explaining any negative results or genetic predispositions that may appear on your dog's testing results. They did say that the test took a long time to come back, but they were updated along the entire process.
Things We Liked
Very In-Depth and Accurate Results
Tests for Over 160 Genetic Disorders and Predispositions
Test Includes a MDR1 Multi-Drug Sensitivity Test
Things We Didn't Like
May Not Give the Answers Pet Parents Are Looking For, But This is a Common Complaint With all DNA Tests
More Expensive
Results Take Longer to Come Back
2. Wisdom Panel 3.0 Breed Identification DNA Test Kit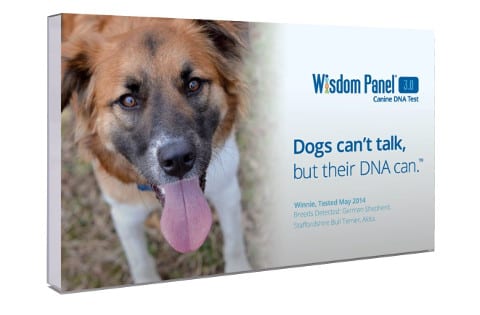 The second dog DNA test kit we have is made by the Wisdom company, and this kit tests over 250 different dog breeds. It allows you to test your designer dog, mixed breed, or purebred ancestry back for three generations.
In addition to this, Wisdom Panel Health is the only officially licensed canine DNA test in the United States to offer the MDR1 drug sensitivity screening at no extra cost to the dog owner. The results come back within three weeks, and the easy cheek swab is sent away in a prepaid envelope.
Pet parents who purchased this particular DNA test were pleased with the level of accuracy they received with their results as well as how quick the results came back. They also stated that customer service was very helpful in answering any questions or concerns they had.
Things We Liked
Kit Comes With a Free MDR1 Drug Sensitivity Screening
Tests Over 250 Different Breeds
Kit Gives Ancestry up to Three Generations
Things We Didn't Like
May Give a Large Percentage to an "Other" Category for Mixed Breeds
Might Not Give the Results Owners Want, But This is Common With Almost all Dog DNA Tests
Results May be Difficult to Read Through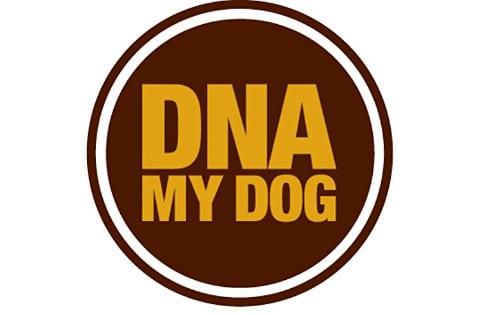 The final dog DNA test kit we have is by DNA My Dog and this test includes a list of your dog's breed percentages. It is also an easy-to-use at home test kit that gives you the results within 2 to 3 weeks from the date you send it in. 
The profile you get back will give you an outline of each breed of dog that was found in the DNA test. This can help you find out if your dog is prone to any genetic health problems as well as give you the personality traits of each dog so you can match your dog's temperament. 
Pet parents who purchased this dog DNA test kit said that the breed profiles along with the genetic health problem sheet were very helpful in giving them a starting point to watch for possible health problems. They also liked that the test results came back quickly, and customer service was very helpful addressing any concerns. 
Things We Liked
Results Give You a Certification With Your Breed's Identification on It
You Get an Outline of the Breeds the Test Finds With Personality Traits
Quick Results in 2 to 3 Weeks
Things We Didn't Like
Might Not Give the Results People Expect, but This is Common with DNA Tests
Only Tests Against 84 Different Breeds
Requires a Photograph of the Dog, May Skew the Results
Our Top Dog DNA Test Pick
The results are in and we've picked the Embark Dog DNA Test Kit as the best dog DNA kit currently available. This dog DNA test kit has one of the most in-depth testing procedures of the three kits we reviewed and it screens for over 160 different diseases including MDR1 sensitivity.
This kit is also an easy-to-use cheek swab kit so you can do it in the comfort of your own home. Pet parents get breed identifiers as well as ancestry results so you can tell if your dog is a purebred, mixed breed, or a designer dog, and you also get temperament indicators so you can help your dog live a happy, healthy life.