Our mission at PuppyWire is simple...
"We want to help dog owners make confident buying decisions for their dogs."
We strive to accomplish that by producing buying guides, product reviews, and other high quality information for you.
PuppyWire was started in 2013 as a hobby to help dog owners avoid buying "bad" products that waste money. Since that time we have helped over 1,312,000 dog owners through our articles and guides.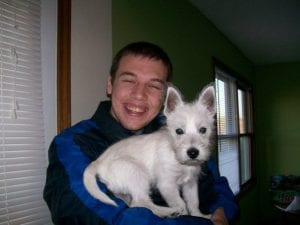 Founder
Dan is our dog loving founder who grew up around two hunting beagles named Pee-Wee and Jake. He currently is dog parent to two West Highland White Terriers (whom are the canine inspiration behind PuppyWire) named Lily and Lola.
After buying some "not so good" dog products found around the internet Dan decided to create PuppyWire to help dog owners avoid wasting money on terrible products like he did shortly after Lily came into his life.
Editor-In-Chief, Community Manager
Ashley is our other resident dog lover and Dog Mom to Lily and Lola. She wears a lot of hats at PuppyWire, specifically as Editor-In-Chief, Community Manager and main contributor.
Ashley has also grew up around dogs all her life, and is a big dog advocate as well. She also shares in the frustration that comes when receiving a terrible or faulty dog products. Through her personal experience she can help you avoid making the same mistakes.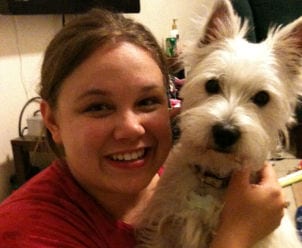 How Does PuppyWire Make Money?
When you purchase one of the many products we recommend, we receive a small commission for the sale through affiliate links (at no additional cost to you).
This creates a win/win situation between PuppyWire and you.
How is that possible?
Simple... if we recommend a product that doesn't work out for you and you happen to return that product we don't get compensated for that product. That means if we promote junk products to you then we don't get paid.
Other Important Points
The product recommendations we provide are purely editorial. We have complete control over what we publish and our opinions are our own.
We do not accept free products from manufacturers to review and we do not sell placements on our product reviews.
Products that make our lists have to go through a tough vetting process to make sure we only promote extremely high quality products that will work great for our readers.
We also have banner ads and display ads on the website which also brings in revenue but has no influence on our editorial content.
How Our Reviews Are Crafted
1. In-Depth Product and Category Research
Our team of researchers and writers spend countless hours covering many different resources to get down to the truth about the products and categories we review. We don't just take what the manufacturer says about the product at face value, we dive deep in our research.
2. See What Customers Are Saying
We then start scouring the internet seeing what actual owners of the products say about them. We dive deep across many different resources to get the bottom of the quality of product, how well it works, and any other things that actual customers say is important. If a product has nothing but terrible reviews from customers we won't recommend it.
3. Write Our Review
Finally our team of writers take all of the research and craft it into a review of the product. This is the result that you see on our website as a published article. We work hard to help you make the right buying decision for your dog.
4. Updating Reviews When Needed
After the review is written we are not finished with it. We all know of some products that used to be great but over time something better comes out. We keep our ears to the ground to be sure all of our product recommendations are solid. We also update the reviews and our other content when new information comes to light and even if our readers find something not quite right.