Our mission at PuppyWire is simple...
"We want to help dog owners make confident buying decisions for their dogs."
We strive to accomplish that by producing buying guides, product reviews, and other high quality information for you.
PuppyWire was started in 2013 as a hobby to help dog owners avoid buying "bad" products that waste money. Since that time we have helped over 950,000 dog owners through our articles and guides.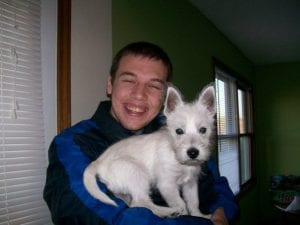 Founder
Dan is our dog loving founder who grew up around two hunting beagles named Pee-Wee and Jake. He currently is dog parent to two West Highland White Terriers (whom are the canine inspiration behind PuppyWire) named Lily and Lola.
After buying some "not so good" dog products found around the internet Dan decided to create PuppyWire to help dog owners avoid wasting money on terrible products like he did shortly after Lily came into his life.
Editor-In-Chief, Community Manager
Ashley is our other resident dog lover and Dog Mom to Lily and Lola. She wears a lot of hats at PuppyWire, specifically as Editor-In-Chief, Community Manager and main contributor.
Ashley has also grew up around dogs all her life, and is a big dog advocate as well. She also shares in the frustration that comes when receiving a terrible or faulty dog products. Through her personal experience she can help you avoid making the same mistakes.