Best Dog Food for Cavachons: Top Picks for Adults, Puppies, Seniors and More

By Ashley Turner     Last Updated January 25, 2022

We independently research and recommend the best products; Learn more here. We may receive commissions on purchases made from our product recommendations.
Cavachons are a spunky, loyal, and friendly designer dog that make wonderful companions, but these dogs have unique dietary needs because they come from two different breeds of dog. Finding a food that they'll like that meets all of their nutritional requirements can be challenging, especially if this is your first time shopping.
We want you to have confidence when you shop for your dog, and this is why we picked out six of the best dog food for Cavachon for you to compare side by side. Our buyer's guide will outline what you want to see in your dog's food, and it'll also show you what you want to avoid.
Our Top Picks for the Best Dog Foods for Your Cavachon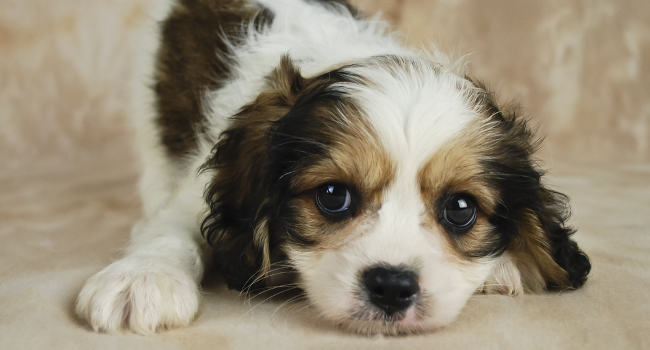 This is a mixed breed dog that is a cross between the Cavalier King Charles Spaniel and Bichon Frise. When you cross these breeds, you end up with a smaller, energetic, friendly, and loyal dog that is full of life and has a beautiful disposition.
However, mixing two breeds makes the puppies prone to picking of characteristics of both parent dogs, and this can make finding the right diet tricky. These dogs are prone to developing allergies, eye problems, chronic ear infections, and hot spots on their skin. Food can aggravate these symptoms, especially if your dog has a reaction.
Important Ingredients in Your Cavachon's Dog Food
There are several ingredients you want to see in your dog's food. If you don't see them, you can easily add them to their food once or twice a week. These ingredients include but are not limited to:
Vegetables - Your dog's food should contain several different vegetables, especially dark green ones because they have a higher antioxidant content. Green beans, bok choy, broccoli, okra, and Romaine lettuce all make great additions to your dog's food, and several dog food companies add them in.
Fruit - Fresh or dried fruit are excellent additions to your dog's food, and things like blueberries are very common in several formulas. Apples and watermelon are great occasional treats, and they give your dog nutrients and antioxidants.
Healthy Oils - Healthy oils are essential is any dog's diet, but they're even more important in dogs who have skin or coat issues because they can help heal them. Your dog food should have Omega fatty acids to boost their immune system, and formulas with fish for the protein are excellent sources.
Squash and Pumpkin - Pumpkin and squash add potassium and fiber to your dog's diet, and it can help regulate their digestive system. If your dog food doesn't come with either of these ingredients, you can feed your dog a small amount every few days to help regulate them. Canned pumpkin is a great alternative.
Sweet Potato - Sweet potatoes are a healthy carbohydrate that many companies are starting to incorporate into their dog food formulas. They add a boost of minerals, vitamins, and fiber to support your dog.
Ingredients to Avoid in Your Cavachon's Food
Unfortunately, there are ingredients you don't want to see in your dog's food because they're not very healthy. They usually provide very little nutritional value for your Cavachon, but they're useful filler for the pet food companies. These ingredients include:
Artificial Colors, Flavors, and Preservatives - The first ingredient on this list is for pet parents because dog's don't care what their food looks like. Artificial flavors are additives that use ingredients to increase the food's flavor profile, and the preservatives make the food last longer than they should.
By-Products or Meals - Meat by-products or meals are the undesirable parts of the meat like ground and mixed leftover fat, skin, and more. It's healthier to have whole meat on the label because it more nutritionally-sound for your dog.
Corn, Wheat, or Soy - Corn, wheat, and soy are popular filler ingredients that provide little nutritional value for your dog when they eat them. They're cheap, and they help companies round out their dog food formulas without driving costs up.
Our Top 6 Picks for the Best Dog Food for Cavachon
Best for Adults - Blue Buffalo Life Protection Formula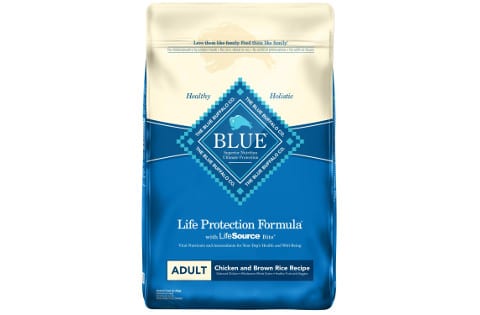 You get the choice of chicken, lamb, or fish and brown rice for the formula, and it comes in three sizes that allow you to choose the size and flavor that suits your dog. The first ingredient is the protein, and it's whole meat over by-product meals.
This food has essential carbohydrates and proteins to support lean muscles and healthy growth, and fatty acids promote healthy skin and a nourished, shiny coat. The food comes packed with LifeSource bits that give you dog an extra boost of antioxidants, minerals, and vitamins.
Your dog will get no poultry or chicken by-product meals, wheat, corn, soy, artificial preservatives, or artificial flavors. This makes the food healthier for your dog to eat, and it reduces the risk of making them have an upset stomach after they eat.
People who bought this dog food for their pets were happy that each serving came with LifeSource bits, and this ensured their dogs got immune support. People did mention that the kibble is slightly larger, and this could make it difficult for very young or old dogs to eat it.
Things We Liked
Contains Blue LifeSource Bits
Has a few different protein sources
Has fruits and vegetables as well as healthy carbohydrates
Things We Didn't Like
Kibble is slightly larger
Has a higher carbohydrate content
High protein can cause weight gain in less active dogs
Best for Senior Cavachons - Purina ONE SmartBlend Vibrant Maturity Senior 7+
Purina ONE's dog food comes in wet or dry formulas in either chicken or turkey and barley flavors, and you can buy four dry food sies or a case of cans. The high-quality protein source is the first ingredient on the bag, and it helps to build your dog's muscles while supporting their heart health.
This senior food encourages a healthy mind and skeletal system support for dogs over seven years old, and it comes packed with fatty acids and antioxidants to protect cell health. There is also a high amount of glucosamine, and this is essential for supporting your dog's joint health and flexibility.
The smaller kibble has meaty morsels, and these small shreds can help to keep your dog interested in their food. Your dog will get a highly digestible formula that is easy on your dog's stomach, and it's great for senior dogs who have issues with digestive upset or gas.
People who bought this food for their senior dog liked that it had a mix of kibble and meaty shreds to give their dog interesting texture and taste to keep them food motivated. Senor dog parents did say that the food could leave a greasy residue on the bag.
Things We Liked
Has shredded meat with kibble
Formulated with antioxidants and glucosamine
Smaller kibble size
Things We Didn't Like
Can leave a greasy residue
Not a lot of meaty bits per bag
Can cause minor upset in certain dogs
Best for Cavachon Puppies - IAMS Proactive Health Puppy Dry Dog Food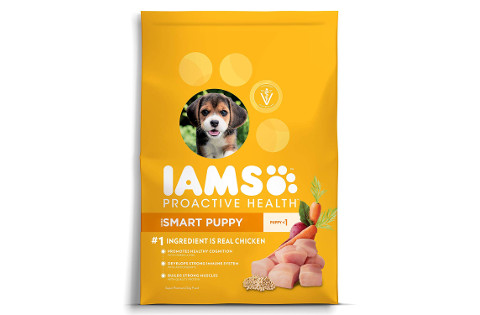 When you buy this food for your puppy, you get the choice of three different styles and six different sizes, and the smaller sizes let you experiment and see if your dog likes it without paying a lot for it. The first ingredient is farm-raised chicken, and this lean protein source helps support growing dogs.
There are 22 key ingredients in this dog food by Iams, and these ingredients mimic the nutrients your puppy gets from their mother's milk. There are also wholesome grains and beet pulp to make the ingredients highly digestible for your puppy's system.
Your puppy will get fatty acids and DHA in every serving, and these ingredients promote healthy brain growth, healthy coats, nourished skin, and energy production. There is no wheat, soy, or artificial flavoring in this food, and this makes the formula much healthier for your puppy to eat.
People who purchased this food for their puppy were happy that it had a healthy amount of DHA and fatty acids to promote brain growth and development. Puppy parents did say that this food may not be suitable for puppies that have very sensitive stomachs because it can cause a mild upset.
Things We Liked
Has 22 ingredients that mimic mother's milk
DHA supports healthy brain growth
Beet pulp and whole grains are healthy filler agents
Things We Didn't Like
May not be gentle enough for very sensitive stomachs
Kibble tends to get hard if left out
Kibble may be too large
Best Wet Food - Pedigree Chopped Ground Dinner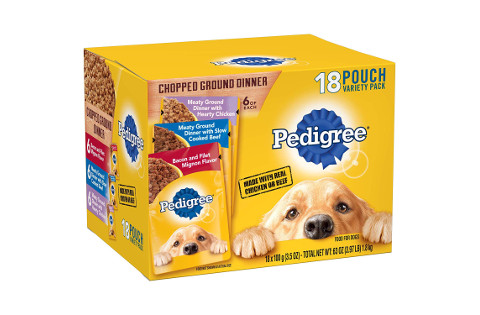 When you purchase these pouches of wet food, you can buy one flavor per case, or you can get a variety case with either 16 or 18 pouches in a single order. It comes in a chopped texture with gravy, and this can entice your dog to eat at mealtimes.
The formula for each pouch of food comes with 100% balanced nutrition for your dog's need to keep them healthy, and you can serve it by itself or split it and mix it into their kibble for variety. All of the ingredients for this food come sourced from places around the United States to ensure quality.
The hearty recipes ensure that your dog gets full between meals, and it has a high enough level of protein to help build healthy muscles and give your dog energy. Once you open it, a package will last up to three days in the refrigerator without going stale.
Dog parents who bought these pouches of dog food for their pets liked that they got a large variety in very order with several pouches. Dog parents did say that this food worked better mixed with kibble than it does by itself.
Things We Liked
Has a meaty and rich texture
Available in several formulas
Can give it plain or mixed with kibble
Things We Didn't Like
Every flavor has chicken by-product meal
Has a strong smell associated with it
May cause diarrhea
Best for Allergies - Natural Balance L.I.D. Limited Ingredient Diets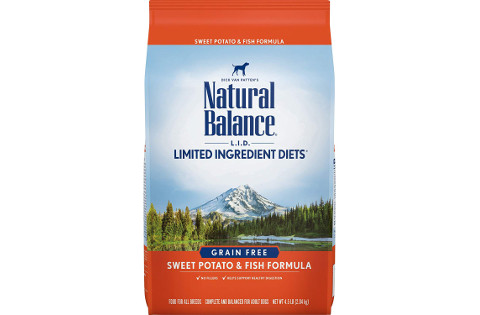 This food comes with seven different lean protein sources that includes duck, venison, beef, lamb, chicken, bison, and fish with a mix of healthy carbohydrates like sweet potato or legumes. With six different size options, it's quick and easy to customize your order based on your dog's needs.
This is a grain-free dog food that has a very short list of ingredients, and this is excellent for dogs that suffer from allergies because it's easy to see if your dog will tolerate it or not. There are no artificial colors, flavors, or preservatives to make this a healthier option.
The sweet potato is highly digestible, and the protein gives your dog a boost of needed fatty acids, amino acids, and protein to support a healthy dog inside and out. Each serving is balanced to give your dog everything they need to maintain a healthy weight.
People who purchased this limited ingredient dog food liked that it had so many protein sources to choose from, and they liked that they could tell if their dog would tolerate it at a glance. They did say that the price is slightly higher for the amount of food you get.
Things We Liked
Has several unique protein sources
Sweet potato makes up the carbohydrates
Smaller and flat kibble is easier to pick up
Things We Didn't Like
Kibble can get hard if you leave it out
Recent price increase across the board
Comes with a short expiration date
Best for Sensitive Stomach - Hill's Science Diet Sensitive Stomach & Skin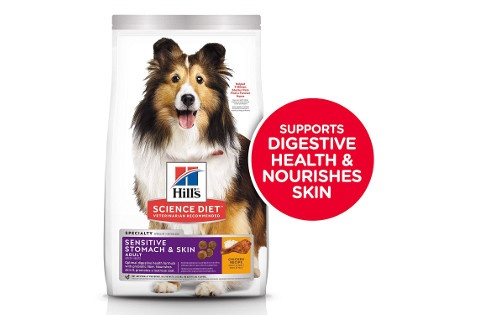 Hill's Science Diet promotes digestive health while improving your dog's skin and coat at the same time with a targeted formula. It comes in chicken, grain-free chicken and sweet potato, and a variety bundle with the choice of five sizes with a split bundle with wet and dry food.
The food has a high amount of fiber to help regulate your dog's digestive system while preventing upset stomach or discomfort after they eat. Your dog will have optimal nutrient absorption each time they eat, and it'll make it easier for you to pick their stool up.
The food comes packed with fatty acids and vitamin E to support your dog both internally and externally, and the vitamin E can help heal damage to the skin and coat from previous allergy issues. The manufacturer sources ingredients from around the world from trusted sources to create healthy food.
Dog parents liked that it had a host of natural ingredients that were easy for their dog to digest without upsetting their stomachs. They did mention that it could be a long transition period to this food to avoid upsetting their dog's stomachs.
Things We Liked
Has a large amount of fiber
Packed with vitamin E and fatty acids
Uses global ingredients from trusted sources
Things We Didn't Like
Can have a long transition period
May cause your dog to have gas
Has higher vitamin D levels
What is the Best Food for Cavachon?
Our pick for the best Cavachon dog food is Blue Buffalo Life Protection Formula because your dog gets the nutrients from the kibble, but they also get an extra boost from the LifeSource Bits in every serving. We also liked that the formula contained a high amount of vegetables, fruits, and healthy carbohydrates.
There are no artificial colors or preservatives, and it had fatty acids to promote a shiny coat and healthy skin. Finally, we chose it because all of the ingredients come from verified sources, and this gave us the peace of mind that came with knowing we were feeding our dogs high-quality food.
Other Breed Specific Dog Food Guides You May Like