Best Dog Food for Goldendoodles 2019 Buyer's Guide and Reviews

By Ashley Turner     Last Updated October 22, 2019

We independently research and recommend the best products; Learn more here. We may receive commissions on purchases made from our product recommendations.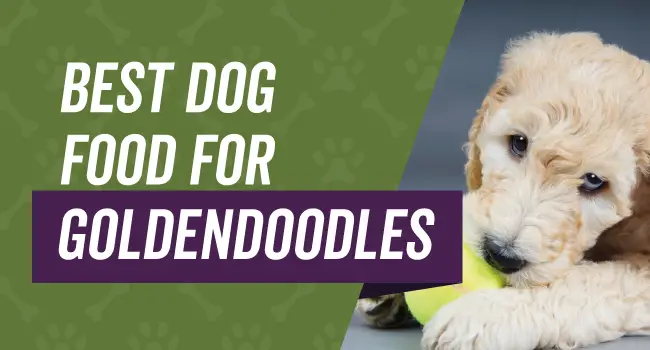 Our guide will lay out important considerations that you want to keep in mind when you're shopping for the best dog food for Goldendoodles, and this can help ensure that you pick out a food that is going to meet your dog's nutritional requirements. We've also rounded up the top six types of dog food for this breed so you can compare them side by side.
Our Top Picks for the Best Dog Foods for Your Goldendoodles
Understanding the Goldendoodle Breed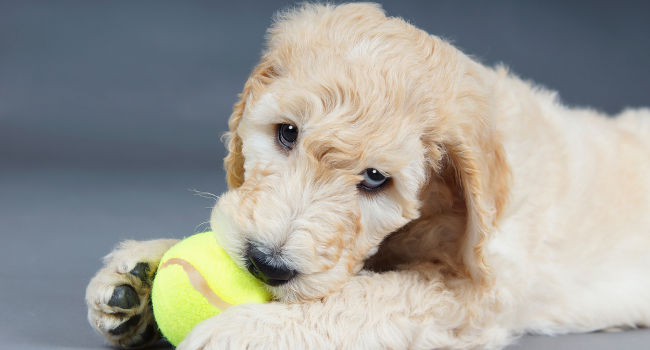 Before we get to what you want to look for in your dog's food, you have to have a good understanding of the breed in general. A Goldendoodle is a hybrid dog that is a cross between a Poodle and a Golden Retriever, and they come in three different sizes because Poodle's come in three sizes that include:
Standard Goldendoodle: The Standard version of this dog comes from breeding a Standard Poodle with a Golden Retriever, and it's one of the most popular sizes. This Goldendoodle can weight between 45 to 100 pounds, and it can stand around two feet tall at the shoulder.
Medium Goldendoodle: The second size is the medium Goldendoodle, and you get this size from crossing a Golden Retriever with a medium-sized Poodle or a small Standard Poodle. They weigh around 30 to 45 pounds and stand just shy of two feet tall at the shoulder.
Miniature Goldendoodle: The final size is a Miniature Goldendoodle, and you get this size from breeding a Miniature Poodle with a Golden Retriever. They weigh between 15 and 30 pounds, and they stand 13 to 20 inches tall at the shoulder.
Goldendoodle Energy Levels
This breed is considered to be one of the more energetic breeds available, and this is especially true when they're a puppy and a younger dog. Your dog food must have enough protein to support their energy levels, and you may find yourself adjusting what you feed them as their energy levels fluctuate.
Health of Goldendoodles
This mix is considered to be a widely healthy breed that rarely has food allergies or intolerance, and they're also hypoallergenic. However, each dog is different, and one may develop food sensitivities or allergies as they age, and this is why it's important to keep an eye on your dog when they eat.
Feeding Your Goldendoodle
You want to feed your dog age-specific food to help ensure that they get all of the nutrients, minerals, and vitamins they need to support healthy growth and immune system maintenance. Puppy food usually contains fatty acids to help support brain growth and development, young adult food contains higher protein levels to support energy, and senior dog food usually has a formula that helps to ensure healthy joints and bones.
You also want to pay attention to how much and how often you feed your dog because puppies usually eat more often than adults, and a senior dog may need to eat less because they're not as active. The dog food bag will most likely have a good feeding guideline listed, and you can always call your local veterinarian and ask if you're not sure.
Important Food Characteristics for Goldendoodles
Depending on which size Goldendoodle you get, you may have slightly different food characteristics to watch for. However, our list can span all sizes with minor modifications.
Carbohydrates
Carbohydrates can help to keep your dog feeling full, and they can also give them the energy they need throughout the day by stabilizing their blood sugar. You want to pick a dog food that is lower in carbohydrates, and it should also have alternative sources of carbohydrates like sweet potatoes, peas, and brown rice.
Fats
Healthy fats are key ingredients to help your Goldendoodle's immune system perform well, and they can also benefit your dog's skin and coat if they have allergies. Good sources of healthy fats include things like flaxseed oil, fish oil, chicken fat, and canola oil.
Fatty Acids
While animals can produce some fatty acids, it's essential that they get others from their diet because their bodies can't naturally make or distribute them. Your dog's food should contain Omega-3 and Omega 6 fatty acids, Glucosamine and Chondroitin, as well as DHA to support healthy brain growth and development in puppies and young dogs.
Fillers
Even though this breed isn't necessarily prone to having food allergies or sensitivities, you may want to avoid food that comes packed with them because they're typically not as healthy as other choices. You want to ensure that the dog food you choose doesn't contain corn, wheat, corn, artificial colors, artificial flavors, preservatives, by-product meal, or an excessive amount of any one vitamin or mineral.
Protein
Protein from a quality source is important for your dog because they tend to burn a lot of energy, and your dog food should list a protein as the first ingredient if it's possible. You want to look for things like salmon, turkey, chicken, lamb, beef, or other fish, and it should be whole and not a by-product.
Our Top Six Picks for the Best Dog Food for Goldendoodles
Best Adult Food: Hill's Science Diet Large Breed Dry Dog Food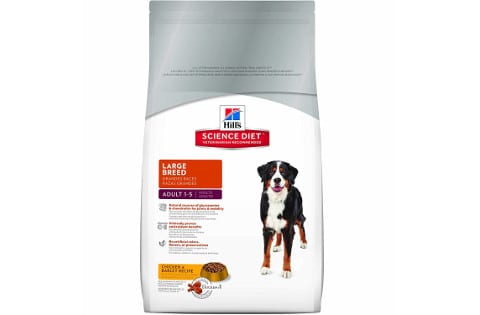 This adult dog food comes in three different styles ranging from large breed dry to light, four different flavors including chicken, lamb, or chicken and barley, and four different size options. This multitude of options allows you to quickly and easily tailor your purchase to suit your needs and your dog's tastes.
Your dog will get great sources of Chondroitin and Glucosamine to help support their joints and bones as they get older, and it is also packed with Omega-6 fatty acids, antioxidants, vitamin C, vitamin A, and a variety of nutrients to help support a healthy immune system and a healthy coat. There is no artificial flavors, preservatives, or colors for a healthier formula, and a lean protein source is the first ingredient listed on the package.
Goldendoodle parents who bought this adult dog food liked that there were several flavors, size, and styles to choose from that they could customize to fit their dog, and they also liked that a lean protein was the first ingredient. Goldendoodle parents didn't like that it can cause stomach upset and loose stools, or that it left a slightly greasy residue.
Things We Liked
Comes in several size, flavor, and style combinations
Contains nutrients, vitamins, and fatty acids for internal and external support
No artificial flavoring, colors, or preservatives
Things We Didn't Like
Can have a slightly greasy residue
May cause loose stools
Might cause minor stomach upset in certain dogs
Best for Seniors: Blue Buffalo Life Protection Formula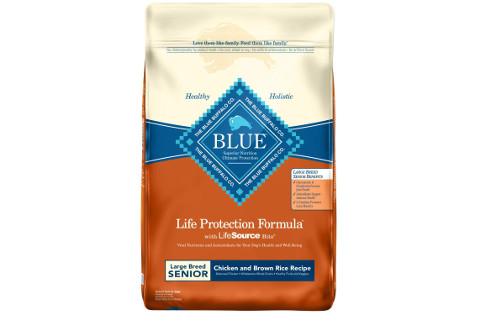 This dog food is formulate with a senior dog in mind because it contains real meat as the first ingredient combined with L-Carnitine to support your dog's muscles and joints as well as a healthy blend of fruits, vegetables, and whole grains. Your dog will also enjoy the benefits of Glucosamine and Chondroitin to help support their joints and allow them to move easier.
This food comes with a blend of LifeSource Bits that are packed full of antioxidants, minerals, and vitamins to help reduce oxidative stress on your dog's body, support their immune systems, and fill in any gaps in their nutrition. There is no poultry by-products, artificial flavoring, soy, wheat, or preservatives in this formula either.
Senior dog owners liked that their dog gets LifeSource Bits along with a great blend of Glucosamine, Chondroitin, and L-Carnitine to support joint and muscle health, and they were also pleased that real meat was the first ingredient. Senior dog owners were not happy that it only comes in one flavor and size, and you really can't customize it.
Things We Liked
Contains Blue LifeSource Bits with antioxidants
Formulated with L-Carnitine, Chondroitin, and Glucosamine
Contains no artificial flavors, by-products, wheat, or soy
Things We Didn't Like
Only comes in one flavor
Doesn't have different sizes available
Kibble may be too hard for older dogs to chew
Best for Puppies: Iams Proactive Health Puppy Dry Dog Food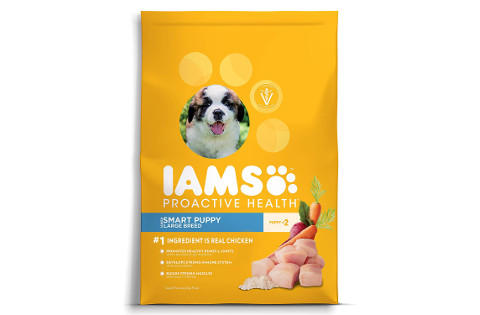 Iams puppy formula gives you the choice of six sizes ranging from a small 3.3 pounds up to a larger 38.5 pounds, and you can also choose from three different styles including medium breed, large breed, and toy or small breed. Your puppy will enjoy real chicken as the first ingredient, and there are also 22 other essential nutrients that are naturally found in mother dog's milk.
This food is designed to help your puppy build healthy muscles, bones, joints, immune system, and cognitive function because it is formulated with Omega-3 DHA which can support brain growth and memory. Your puppy will also get beet pulp to improve their digestion, whole grains for energy, and no artificial preservatives, soy, or wheat that could upset their stomachs.
Puppy owners were happy that this food came in smaller bag choices so they could try and see if their puppy liked it before committing to a larger bag, and they also liked that there are 22 essential nutrients in this formula to support healthy growth. Puppy owners didn't like that this food may be too harsh on more sensitive stomachs, and they also noted that it could cause runny stools.
Things We Liked
Contains Omega-3 DHA for brain growth
Comes in a broad range of sizes
Has 22 essential nutrients formulated in
Things We Didn't Like
Can cause upset stomach
May have a strong smell
Kibble may be too large
Best Grain Free: Rachael Ray Nutrish Zero Grain Natural Dry Dog Food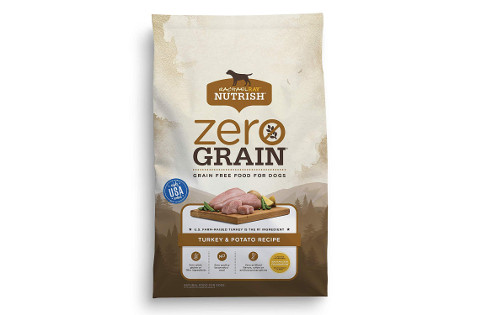 Grain free dog food is an excellent choice for dogs who have sensitive stomachs, and this food comes with real turkey as the first ingredient followed by peas, whole potatoes, and tapioca for alternative carbohydrates, beet pulp to aid in digestion, and whole flaxseed to support healthy skin and coat. It starts with six pound bags and goes up to 28 pound bags.
This recipe is gluten and grain free as well as free of filler ingredients, colors, preservatives, flavors, or by-product meals, so it's healthier for your dog. Your dog will get vitamins and minerals to help support their systems inside and out, and the kibble is designed to be smaller and easier for your dog to digest.
Dog parents who bought this grain free dog food were happy that it contains alternative carbohydrates, whole flaxseed, and beet pulp to aid digestion, and they also liked that it was packed with vitamins and minerals. Dog parents weren't happy with the price of this food, and they didn't like that the kibble pieces were still slightly large.
Things We Liked
Grain and gluten free formula
Contains healthy alternatives to traditional carbohydrates
No filler ingredients or by-products
Things We Didn't Like
Kibble may be too large for some dogs
Price can fluctuate
May have a lingering smell when you first open the bag
Best for Miniature Goldendoodles: Wellness Core Natural Grain Free Dry Dog Food Small Breed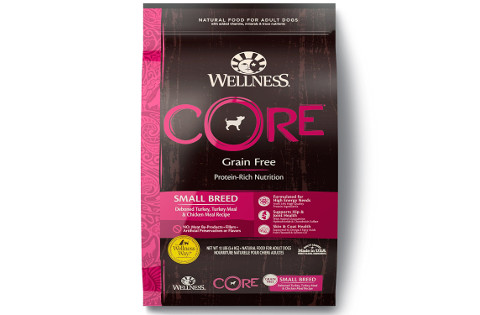 This food contains an optimal blend of fat and protein to help support your dog's higher energy levels along with their joints and hips. Your dog will get a good amount of Omega-3 fatty acids for skin and immune support from the salmon oil and flaxseed oil that is formulated in.
This miniature dog food also comes with probiotics that help to support your dog's digestive health and help to ease the digestion process each time your dog eats. There is no wheat, soy, eggs, corn, preservatives, artificial colors, artificial flavors, or gluten in this food for a healthier formula.
Miniature Goldendoodle parents who bought this food were happy that it has higher protein and fat to help support their dog's higher energy levels while also helping them to maintain a healthy weight. Goldendoodle parents were not happy that this miniature breed dog food was on the more expensive side or that it has a slightly stale smell.
Things We Liked
Comes with a higher fat and protein content
Has probiotics to support digestion
Has a formula free of grains, wheat, gluten, and more
Things We Didn't Like
May be difficult to get picky eaters to like it
Kibble can be extremely hard
Recent price changes
Best for Sensitive Stomachs and Allergies: Purina Pro Plan Focus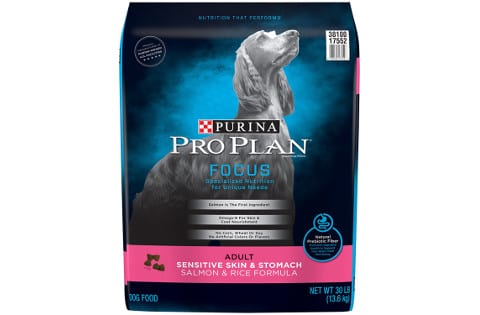 You get lamb and oatmeal or salmon and rice flavors when you order this food for your dog, and it also comes in six size choices with either all breeds or small breed formulas. Your dog will get a good amount of prebiotic fiber that helps to help support their digestive tract each time they eat this food.
Purina Pro Plan also contains a formula that is easy on your dog's stomach including no soy, wheat, or corn as well as no by-products, artificial flavoring, or artificial colors. The first ingredient is real meat, and they pair this with easily digestible carbohydrates like brown rice and fish oil for a healthy coat and skin.
Dog parents who bought Purina Pro Plan Focus liked that they could choose from two different flavor profiles and each had prebiotics to support a healthy digestive system, and they were happy that the carbohydrates were designed to be easily digestible. Dog parents weren't happy that this dry dog food had a very crumbly texture.
Things We Liked
Contains a high level of prebiotics
Has lean protein as the first ingredient
Contains easily digestible carbohydrates
Things We Didn't Like
May have a very crumbly texture
May take a month to see results
Can have a strong smell when you open the bag
Our Top Goldendoodle Food Pick
Our pick for the best food for Goldendoodles is Hill's Science Diet Large Breed Dry Dog Food because it comes in several different styles, sizes, and flavor profiles that allows you to tailor it to suit your dog's needs. It also comes formulated with Chondroitin, Glucosamine, Omega-6 fatty acids, vitamin C, vitamin A, and essential nutrients.
We also chose this food because it contains a natural formula that is healthier for your dog including no preservatives, artificial colors, or artificial flavors. All of these things combined helped us choose this food as one of the best available on the market for your Goldendoodle.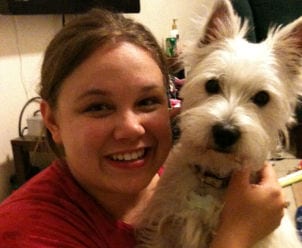 Ashley Turner has been a passionate Dog Mom to 2 West Highland White Terriers, Lily and Lola, for over 10 years. She now makes a living doing research, writing, and editing of dog-related content for PuppyWire.
Other Breed Specific Dog Food Guides You May Like