Super Foods for Your Canine Companions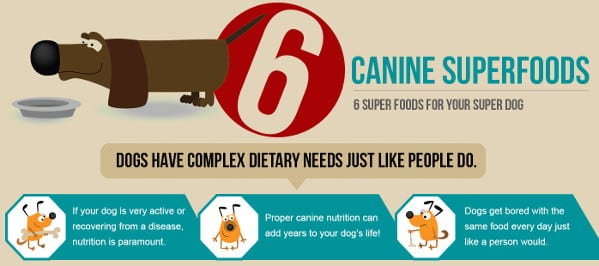 There's a great quote that goes, "A dog is the only thing on earth that loves you more than he loves himself." Make sure you reciprocate your love for man's best friend by integrating canine-friendly superfoods to ensure the optimal health of your pet!
It's important to keep in mind that the nutrients found in our pets' food play a vital role in promoting good health and longevity. Dogs – just like people – have complex, dietary needs. Proper nutrition is essential for everyone, but paramount to our pets, who rely on us (as the owners) to pony up the good eats.
Believe it or not, proper nutrition can add years to your dog's life. If your dog is active, ailing, or allergy-prone, appropriate dietary needs are essential in maintaining the health and happiness of that darling Dachshund.
Interested in finding out the best superfoods for your pet? Add some zest to your pet's next dish! Whether you've got a new pup or a senior in her golden years, our latest infographic highlight the top superfoods, best-suited for your canine companion!