Best Dog Food for Pitbulls to Gain Weight and Muscle

By Ashley Turner     Last Updated January 25, 2022

We independently research and recommend the best products; Learn more here. We may receive commissions on purchases made from our product recommendations.
Do you have a hard time finding food that will allow your Pitbull to bulk up, build muscle, or gain weight? Your Pitbull needs a specific ratio of ingredients like fat, protein, antioxidants, vitamins, and minerals, and they won't gain or keep a healthy weight and muscle mass if they don't have it.
This can make it very confusing when you first start shopping for your dog's new food, and it's why we picked out the five best dog food for Pitbulls to gain weight and muscle. Not only will we lay them out so you can compare them side by side, but we'll highlight the important components you want to see in your Pitbull's food.
Helping your Pitbull gain weight and maintain healthy muscle growth can be very challenging due to the breed's turbulent history and inbreeding. However, offering them food that has a higher calorie content is the key to successfully helping your Pitbull bulk up. To do this, they need a higher fat and protein content.
Our Top Picks for the Best Pitbull Food to Gain Weight and Muscle
How to Determine Your Pitbull's Healthy Weight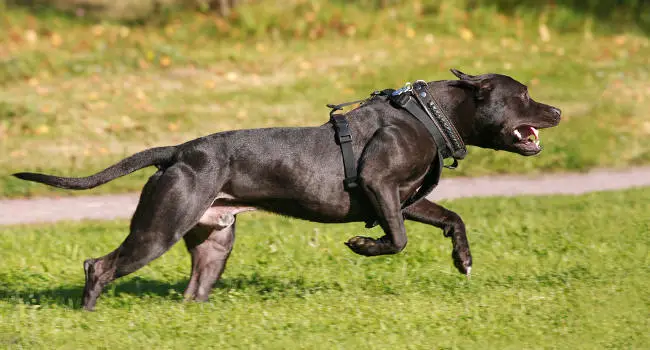 It's very easy to overfeed and underfeed your Pitbull, and this is why you have to know what your dog's healthy weight is before you settle on a specific type of food. Luckily, there are a few ways you can go about it. Pitbulls differ with their coat density, muscle mass, and skeletal size.
Your Pitbull's abdomen should be higher up than their ribcage, and you want to see a slow upwards incline that starts at your dog's front legs and goes up toward their rear. If you have a steep incline, your dog is underweight. If you have a very shallow include, it's a good indicator that your dog is overweight. Lower yourself so you're able to look at your dog from the side to get accurate measurements.
A second thing you can do is to check your dog's ribs. Place both of your hands over your Pitbull's ribcage with your thumbs on their spine. If your dog is at their peak weight, you should be able to feel their ribs under a thin layer of skin and muscle. If you can feel your dog's ribs with no fat, they're underweight. If there is a layer of fat, they're overweight.
Buying Considerations for Your Pitbull's New Food
Now that you know whether your dog is at an ideal weight, overweight, or underweight, you're ready to get a list you can use to compare various dog food brands and styles. This will help you narrow your choices down until you find the perfect one to help your Pitbull build muscle.
Quality
The goal when you switch out your dog's food is to pick quality over quantity, and this is what you get when you pick a high-quality food. This specific muscle-building food has up to 600 calories of premium ingredients, and this means that you'll feed your dog less at each meal. In turn, this can reduce the chances of your dog having stomach upset.
Protein
If your dog isn't gaining weight or if they're having trouble keeping weight and muscle mass on their frame, they're most likely not getting enough protein. In order to be a protein-dense food, the formula should have at least 20% to 25% protein because this helps your dog pack on the muscle.
No Filler
Filler is content dog food manufacturers add to their formulas to bulk it up, but it doesn't add any nutritional value for your dog. It's usually things like bran, rice bran, soybean hulls, and modified corn starch. You should see a formula with fruits and vegetables instead.
Fat
The fat content is another important component of this type of dog food because fat is what gives your dog energy to run around and build up their muscle strength. It should be a minimum of 10% to 15%, and you'll see it on the label as chicken or pork fat, cottonseed oil, vegetable oil, fish oil, more.
Healthy Carbohydrates
Your dog doesn't need a lot of carbohydrates in their diet, but you want to make sure the food has healthy alternatives instead of things like corn, soy, or wheat. Instead, look for a dog food that lists things like chickpeas, beans, potatoes, peas, pumpkin, sweet potatoes, and tapioca.
Fiber
Fiber is an important ingredient that stops your dog from having loose stool or getting constipated. It helps reduce digestive upset, helps maintain a healthy weight, and improves some health conditions. Common sources of dietary fiber are pumpkin, carrots, broccoli, kale, apples, and kelp.
Our Top 5 for the Best Dog Food for Pitbulls to Gain Weight and Muscle
1. Bully Max High-Performance Dog Food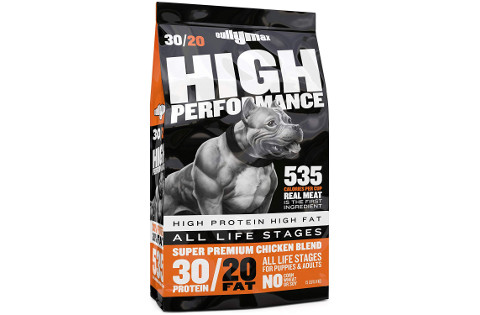 The Bully Max dog food comes specially designed to help Pitbulls bulk up and gain a lot of muscle and healthy fat with 30% protein and 20% fat. This is the only meat-based dry dog food in its class, and your dog will get a higher amount of calories per cup.
Since your dog gets more calories in every serving, you have to feed them less to help them maintain their muscle volume. Real meat is the first ingredient on the label, and this helps to ensure that your dog gets a high-quality formula each time they eat it.
You can feed this dry food to your dog throughout their lives, and this helps to prevent digestive upset like they'd get if you switched their food out as they advanced through their life stages. The food goes through a triple-check system to ensure every batch meets strict quality standards.
Pitbull parents who bought this food liked that it was calorie dense that they could feed their dog less food and still hit their daily calorie needs. Pet parents did point out that this food is very expensive for the amount you get per purchase.
Things We Liked
Uses a meat-based formula
Gives 535 calories per cup
Has no corn, wheat, or artificial colors
Things We Didn't Like
More expensive
Can cause loose stools
May take months to work
2. Purina Pro Plan SPORT Formula Dry Dog Food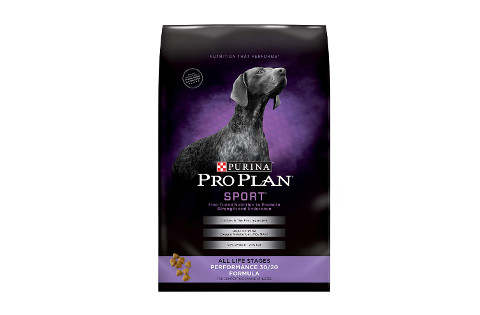 This sport breed dog food has 30% protein and 20% fat to help your dog gain muscle and weight in a healthy way. The first ingredient is real chicken, and the formula comes packed with enough nutrients to help keep your dog healthy.
The amino acid content in the food supports healthy growth and muscle repair after exercising, and the antioxidants ensure your dog stays healthy by supporting their immune systems. The glucosamine and EPA improve your dog's joints as they age, and it'll help them move better with less pain.
You can feed your dog the same food from the time they're puppies up to seniors, and it uses high-quality ingredients that are easy for your dog to digest. The fatty acids will improve your dog's skin and soften their coat while repairing any existing damage.
People who bought this food for their Pitbull liked that it came with a higher fat and protein content to help support muscle growth and maintenance. They didn't like that this food had a slightly crumbly texture that tended to get hard when they left it out.
Things We Liked
Has a 30% protein and 20% fat ratio
Packed with antioxidants and minerals
Available in several styles and sizes
Things We Didn't Like
Kibble has a crumbly texture
Can dry out quickly once you open it
Has a strong smell when you open the bag
3. Purina ONE SmartBlend True Instinct Canned Wet Dog Food
This wet dog food is highly digestible with a mix of high-quality ingredients, and it has four sources of antioxidants that that help to boost your dog's immune system. You can choose from ground or gravy, and this food comes in eight flavors.
The protein source is the first ingredient and the most plentiful thing in the food, and there are no poultry by-products to take away from the nutritional content. The crumbled formula is easy for dogs of all ages to eat, and you can store this food in the refrigerator after you open it.
There are no fillers in this food, and each ingredient contributes to helping your dog build muscle and gain weight. You can feed this wet formula to your dog by itself, on top of dry food, or mixed into the dry food.
People who bought this wet food for their dog liked that it comes in several different flavors and styles that allowed them to mix it up to keep their dog interested. They did say the food had a very strong scent that lingered around after they opened it.
Things We Liked
Uses a grain-free formula
Contains no poultry by-products
Meat is the first ingredient
Things We Didn't Like
Dries out quickly after you open it
Has a strong smell
Takes a lot of food per serving
4. Pedigree High Protein Adult Dog Food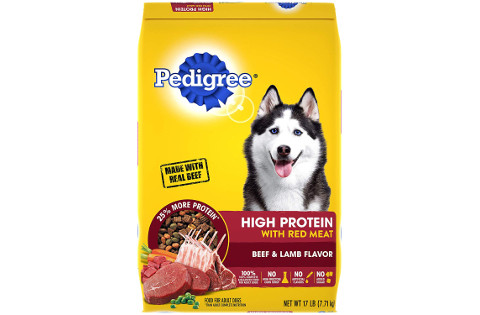 This high-protein dog food contains lamb and beef as the meat in the formula, and this protein provides your dog will all of the energy they need while building lean muscles. Your dog will get 100% complete and balanced nutrition with every meal with 27% protein and 12% fat.
There is no added sugar, no artificial flavors, and no high fructose corn syrup, and each ingredient in this dry food comes from reputable sources to ensure quality. Carrots and peas make up the highly digestible and healthy carbohydrates, and it rounds out the formula.
You can choose from beef and lamb or chicken and turkey in four different sizes, and these choices allow you to tailor your purchase to your dog's needs. The food is made in the United States, and the formula goes through rigorous product testing to ensure each batch meets high-quality control standards.
People who purchased this dry dog food for their Pitbull were happy that it has easily digestible carbohydrates with lean protein sources to form a balanced diet. People did say the kibble could be too large for smaller or older dogs to eat comfortably.
Things We Liked
Available in two styles
Made in the US to strict quality control standards
Gives your dog 100% balanced nutrition
Things We Didn't Like
Kibble is on the larger size
Have to feed your dog a decent amount at every meal
Can leave a greasy residue
5. Gorilla Max 31/25 Ultra Performance Dog Food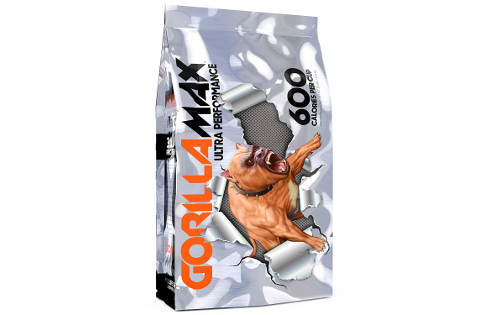 This dog food boost growth and packs on muscle by giving your Pitbull around 600 calories in every cup of dog food. It has 31% protein and 25% fat with a mix of ingredients sourced from trusted suppliers around the United States.
There are no empty fillers or artificial ingredients in this food, and this makes it much easier for your dog's body to break down and use to build muscle and extract the nutrients. There is no wheat, corn, or soy, and the formula uses healthy carbohydrates and ingredients instead.
This is a food designed for all life stages, and this means you don't have to switch it out as your dog grows. The kibble pieces are slightly smaller and more crumbly, and this texture makes it easy for your dog to pick it up and eat it.
People who purchased this protein-packed food for their Pitbull liked that it had a higher protein and fat content that helps the dog build muscle. Pitbull parents did say that it was easy to overfeed their dog and allow them to gain too much weight.
Things We Liked
Has slightly more limited ingredients
Uses healthy carbohydrates that are easy to digest
Offers up to 600 calories per cup
Things We Didn't Like
Easy to overfeed your dog
Can take a while to work
More expensive for the amount you get
Our pick for the best dog food for Pitbulls to gain muscle and weight is the Bully Max High-Performance Dog Food because it has a unique meat-based formula, and the formula has real meat listed as the first ingredient on the label.
We were happy that you could feed your dog this food from the time they were puppies up until they are adults and seniors without having to switch it out. Finally, the kibble is a good size and texture for dogs of all ages and sizes.