5 of the Best Calming Treats for Dogs to Reduce Anxiety and Stress

By Ashley Turner     Last Updated January 25, 2022

We independently research and recommend the best products; Learn more here. We may receive commissions on purchases made from our product recommendations.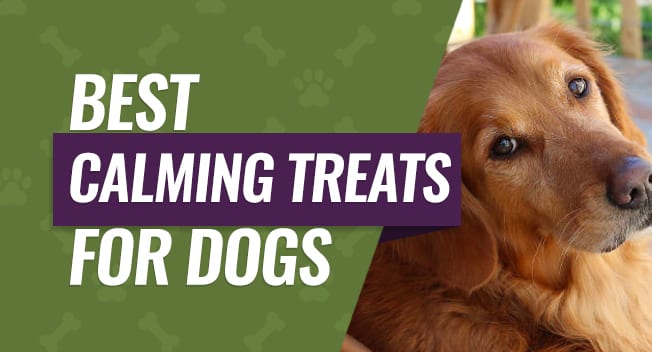 Every pet owner experiences a time when it is hard to keep their pet is not acting like themselves, whether their pup's behavior is due to situational anxiety, a possible illness, or a plethora of other reasons. During these times, many owners have calming treats for dogs on hand to keep them healthy and happy.
Calming treats contain ingredients, such as hemp oil and chamomile, that help with digestion, anxiety, general health, stress, and nausea. We curated a list of the top 5 best calming treats for dogs and produced a buyer's guide so that you have the tools to choose the best calming treat for your dog.
Our Top Picks for the Best Dog Calming Treats
Is There Anything I Should Look For While Purchasing a Dog Calming Treat?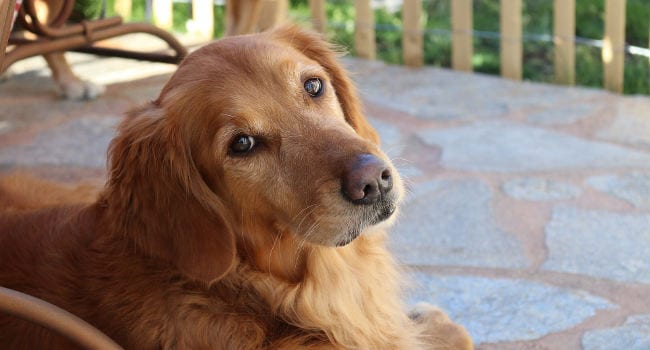 As pet owners, we have to monitor our dog's diet and intake. Managing your dog's food is a significant responsibility, and new owners may find it quite overwhelming.
After all, the plethora of choices is astonishing, and a multitude of brands seems to have a prominent history backing their company's success. It is essential to purchase a calming treat based on your dog's individual needs.
Visit your local veterinarian before and after choosing a product, so that you ensure your four-legged best friend is provided the best anxiety treatment to suit their needs.
While browsing the aisles of your favorite pet store, you may feel puzzled by the confusing lingo listed on treat packages. We researched common ingredients included in dog calming treats and listed them below so that you fully understand their specific properties before making an informed decision.
Packaging
Packaging is a critical part of every product, as it attracts the customer and often lists information need for the customer to make an informed decision. The packaging should be pleasantly displayed and provide a concise ingredients list so that the customer is sure of what their pup is consuming.
Reputable brands include the full break down of ingredients on the back of the packaging while listing a few benefits and main components on the front. It is essential that brands be transparent about all the ingredients they use in their chews.
Nutrition
Most treats are designed to ease any stress and fear that your dog is battling; however, there are treats meant to keep our dogs healthy as well.
Many brands aim to avoid using a heating process when creating chews, ensuring that all the vitamins and nutritional value remain at their optimal amount within the treat before consumption. Getting the most nutritional value out every kibble ensures that your dog remains anxiety-free.
Filler Products
By carefully investigating the packaging before making a purchase, you are ensuring that you won't be paying for low-quality products that contain fillers ingredients such as wheat, soya, and sugars.
Some of these ingredients may not harm your dog; however, they do not have any positive nutritional value. Filler ingredients fill your dog's tummy without providing any nutrients.
Many reputable brands do not use any filler by-products, ensuring that your dog only gets the most nutritious ingredients that help calm anxiety.
Flavor
Some chews have specific flavors, while others do not. It all varies depending on the brand, as some companies want to preserve the nutritional content of the anxiety medication for dogs instead of adding a layering of flavors.
Some brands choose to alter the flavor of their calming chew as it may help to trick our four-legged friends into devouring them. Potent herbal smells typically make dogs weary, which is why substituting that smell with a duck or bacon flavor is proven to be incredibly helpful.
Companies typically make a multitude of flavoring options such chicken, pork, bacon, duck, and other meats. If your treats have a neutral flavor that your dog is not fond of, try to hide the chew in peanut butter to trick your pup into gobbling the kibble.
Common Ingredients Used in Calming Treats
Most ingredients found in calming dogs treats are fairly similar. They all typically contain common herbs that aid in the reduction of anxiety and aggression such as ginger root, valerian root, and chamomile flower.
Here is a prompt summary of each ingredient to help give you a better idea of how they help your pup.
Ginger Root
Ginger root infused products help prevent nausea and upset tummies. If your dog experiences motion sickness often or has a sensitive stomach, dog anxiety remedy treats that incorporate ginger may greatly reduce those types of incidents.
Typically, ginger is used to aid in digestive issues, which is why owners tend to buy treats that include ginger before traveling with their dogs.
Ginger reduces bloating, which is induced by the build-up of vapors in the abdomen after consuming food. Bloating can be very dangerous, especially for large breed dogs, as the gases do not expel for some reason.
Ginger is also anti-inflammatory, making it ideal for preventing cancer and inflammatory joint diseases. Providing your dog with a calming treat with a proper dosage of ginger can better their health substantially.
Chamomile Flower
Chamomile flower is a go-to herb that even humans take when they are feeling unwell. It aids in reducing stress, an upset stomach, and nerves.
This specific flower helps rid the body of bacteria or worms, calm aggressive behavior, heal wounds, and sooth the digestive system.
Chamomile is a mild herb that does not pose any threats; however, dogs can have allergies to this flower. It is essential to start with small doses when introducing your dog to a new calming treat so that you can ensure they are not allergic to it.
Valerian Root
Valerian Root is a popular herb that is used in anxiety medicine as it has superior anti-anxiety properties. Studies have also shown that this root aids in treating conditions such as epilepsy, as it has anti-convulsive properties as well.
Keep in mind that it may not be proper for every dog, as some dogs have unfavorable effects while others react better to this root. Unfortunately, it all depends on your pup.
Valerian root is ideal for dogs with upset stomachs; however, it is not so great for dogs who experience itchy skin often or run hot, as it is a warming herb.
This root is not dangerous, yet some dogs feel better after taking it while others may feel worse. The worst thing that could happen after consuming this root is an unsettled tummy for a few days.
Are Calming Treats Safe for Dogs?
Calming treats for dogs made in the USA go through third-party inspections, tests, and even safety checks that are very rigorous, ensuring that your pup receives only the best, high-quality ingredients for their overall health.
Keep in mind that you should give your dog a small dose of a treat before moving on to a higher dosage. Some dogs experience allergic reactions to organic ingredients often found in calming treats, such as ginger or chamomile, so it is better to be safe.
After a week of use, it is safe to increase the dosage if your dog does not show any signs of an allergy. Many owners notice an improvement in their four-legged friends' behavior within a few weeks of feeding their dog's treats, which is why it is vital to stay patient.
How Do I Know How Many Treats To Feed My Dog?
Determining the dose your pet needs may be tricky at first since the size of treats varies as well as the size of your pet. Typically, companies list the suggested dosages for their chews depending on your pet's size on the back of the container; however, you may also find this information on the brand's website as well.
Typically, dogs under 25lbs should receive two chews, dogs between 25lbs and 75lbs should receive three chews, and dogs over 75lbs should receive four chews.
It is essential to keep in mind that the bigger your pup is, the more treats they will need per month, resulting in a more substantial investment.
Do Dog Calming Treats Actually Work?
Most owners experience significant results with calming dog treats; however, some dogs may not react to them depending on a plethora of factors. It may depend on your dog or even the treats themselves, which is why it is important to explore your options before deciding if calming treats are not working for your dog.
Our Top 5 Picks for the Best Dog Calming Treats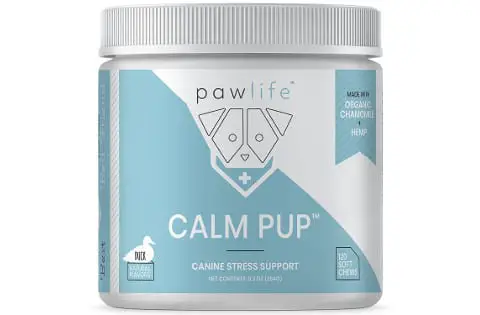 Pawlife Calm Pup treats come in a duck flavor, and use quality, organic ingredients such as hemp and chamomile. These ingredients are known to relieve stress and frustration in pets and humans.
The bite-sized treats also include passionflower, organic ginger root, valerian root, and l-tryptophan, which are all excellent anti-anxiety ingredients. This product comes in a simple package with roughly 120 treats inside, and all the main ingredients are listed explicitly on the label.
The combination of these ingredients helps alleviate symptoms of aggression and anxiety that may be caused by strangers, nervous encounters, and loud sounds.
This treat is made in the United States of America and does not contain any fillers. Pawlife has a 100% money-back guarantee if either you or your dog are not satisfied.
Pet owners rave about this product as it is affordable, and it a unique natural flavor that their pets happily gobble up. One customer stated that these treats are inconsistent as they work in certain situations, and then not in others.
Things We Liked
Contains organic hemp, organic chamomile, organic ginger root, passionflower, and valerian root - all anti-anxiety ingredients
Affordable, and contains about 120 treats per container
Does not contain any fillers
Comes in a duck flavor to mask the natural ingredients
100% money-back guarantee
Things We Didn't Like
One customer stated that the effectiveness of the chews were inconsistent
Pup must be over 12 weeks before consuming these chews
Some dogs do not like the duck flavor
2. KarmaPets Calming Treats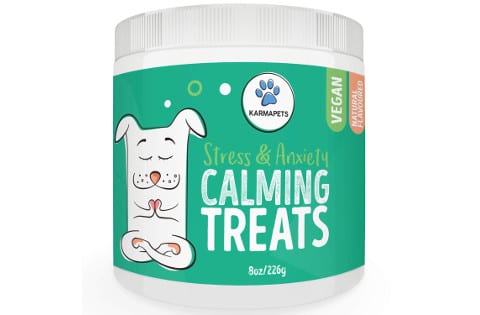 KarmaPets Calming treats are 100% vegan and organic, containing natural anti-anxiety supplements such as chamomile extract, valerian root, hemp oil, and passion flower. These ingredients help reduce stress and calm down pups without causing them to feel drowsy or fatigued.
These treats come in an 8 oz. container, which equals to roughly 105 chews or approximately a month worth of supplements. The jar is recyclable and is easily resealable to promote a longer shelf-life.
These treats help prevent barking, whining, scratching, and biting while your dog is distressed whether in a social setting or while traveling. Since these treats are organic, the ingredients come from GMO-free environments, which ensures that your pup will not ingest any additives, herbicides, or pesticides.
Many customers rave about this product as it is affordable, organic, vegan, and helps reduce their pups stress which is a hard combo to find. A few customers stated that this product did not work for their dog; however, Karma Pet offers a 100% money-back guarantee with no questions asked.
Things We Liked
Organic, healthy ingredients
Roughly a month supply of treats depending on the size of your dog, in a recyclable container
100% money-back guarantee
Affordable, vegan treats
Things We Didn't Like
May not work for all pets
Contains chamomile extract, which your pup may be allergic to
Natural flavored, which may be harder to trick your dog into eating
3. Zesty Paws Calming Bites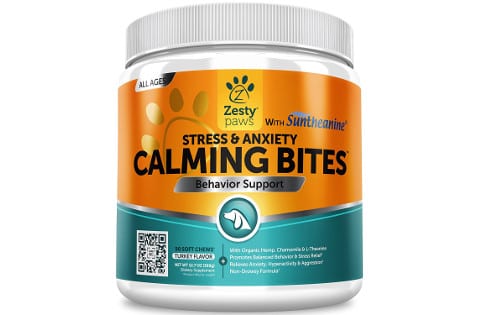 Zesty Paws Calming Bites come in a light turkey flavor as well as a peanut butter flavor and made with ingredients that are organic and safe for all dogs to gobble up. These soft chews come in a round package that contains roughly 90 chews, or approximately a one to two month supply.
Zesty Paws soft chews use suntheanine, an ingredient that aids in stress relief and anxiety. It is a pure, natural ingredient that stimulates brain waves to keep your pet calm.
These chews prevent barking stimulated by anxiety, aggression, other hyperactive behaviors and may work as an alternative to a bark collar. Unlike some other anti-anxiety treats, your dog will not feel drowsy after consuming these treats.
If your dog gets anxious hearing firework sounds, during car rides, or at dog parks, these treats may help your dog remain calm and collected during such events. The chews are 100% safe for your dog to consume.
Many pet owners love how these chews reduce the anxiety and fear that their pups experience in certain situations, as well as calming hyperactive behavior. A few customers have stated that their dogs either love the taste of the chews, but it does not help with their anxiety, or their dogs will not go near the chews as they hate the flavor.
Things We Liked
Contains pure suntheanine, an excellent anti-anxiety ingredient that stimulates brain waves to keep your pup calm
Comes in two flavors: turkey or peanut butter
Made with organic flavoring ingredients
Prevents barking, aggression, and other hyperactive behaviors
Backed by a 100% money-back guarantee
Things We Didn't Like
May finish the pack quickly if using the suggested dose of 2 chews per day
Chew may not reduce your dog's anxiety
Dog may not eat it if they do not like the flavor
4. Healthy Shelby All Natural Calm My Dog Chews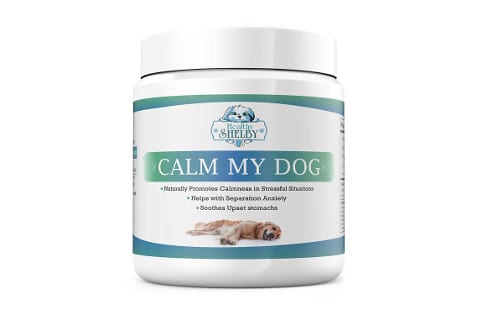 Healthy Shelby calming chews are packed with a lot of vitmains to keep your pet healthy while also reducing their anxiety. A plethora of anti-anxiety ingredients, including ginger root and chamomile, calm your pup without causing drowsiness.
Healthy Shelby treats come in a container with roughly 100 calming chews, or approximately one month worth of calming treats. There is a guide on the back of the packaging that states the proper dosages for your dog's weight.
These chews help prevent your pooch from feeling shaky, unwell, terrified, or even aggravated due to stressful encounters. These anti-anxiety chews claim start working within thirty minutes, so you can give them to your pup thirty minutes before a known stressor occurs to help prevent anxiety.
These natural treats are made in the United States of America. Healthy Shelby offers a 100% money-back satisfaction guarantee as well.
One customer stated that the anti-anxiety effects do not last long for her dog, sadly. Some owners also reported that their pets did not enjoy the taste of the treat.
Things We Liked
Relieves anxiety and promotes calm behavior
100% satisfaction guarantee
Packed with vitamins and anti-anxiety ingredients
Contains 100 chews per package
Things We Didn't Like
One owner stated that the effects do not last long for her dog
May take a few weeks to see regular results
Pet may not like the taste of this chew
Petipet Calming Bars include a combination of herbs, vegetables, fruits, and other safe ingredients, that aid in reducing your pup's anxiety and aggression. The dog-friendly ingredients used are carrots, apples, passion flower, baobab trees, and organic hemp.
These vegan calming bars come in a plastic bag that you can toss in any purse or dog backpack before heading outside. Each pack contains roughly 180 human grade bars or approximately a two month supply.
It relieves separation anxiety, aggressive behavior, barking, and fears of loud noises.
Many pet owners prefer PetiPet bars since they keep their dogs calm, while not making them feel drowsy. A few pet owners reported that their dogs did not like the flavor and that the bar did not calm their anxiety.
Things We Liked
No fillers or by-products included
Human grade, vegan treat
180 chews per bag
Prevents aggression and anxiety
Things We Didn't Like
Some dogs may not like the flavor
Might not last two months for larger dogs
No money-back guarantee
Overall, Pawlife Calm Pup is the best calming treat for dogs. Made from high-quality natural ingredients, it helps alleviate symptoms of aggressive behavior, anxiety, and agitation. The duck flavor helps mask the natural ingredients, ensuring that your pup gobbles the chew right up. It contains no fillers so that your dog is only getting the best ingredients. There are roughly 120 treats inside each container, making it an excellent investment. If you or your pooch do not like this treat, it is backed by a 100% money-back guarantee with no questions asked.