Top 5 Choices for the Best Bark Collar for Dogs
Last Updated: January 25, 2022
We independently research and recommend the best products; Learn more here. We may receive commissions on purchases made from our product recommendations.
As much as we love our dog, there is nothing more bothersome than listening to them bark because of a noise that is practically inaudible. It can be nearly impossible to train your dog not to bark if you have a million other obligations that need to be taken care of.
Luckily, anti bark collars were designed to break your dog's habit of incessantly barking when you are not able to tell your dog "Stop it!". Since it can be a hassle to sort through a variety of different anti bark collars, we have set out to find the best bark collar for your ideal needs.
Our Top 5 Picks for the Best Bark Collars for the Money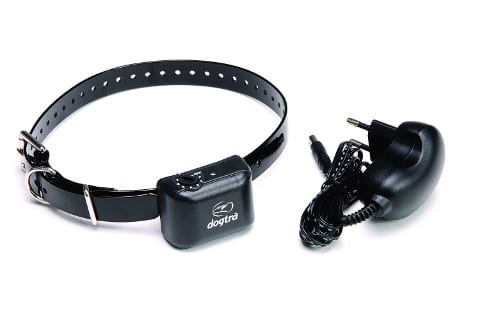 This unique collar provides convenient and useful features that will make training your dog to stop barking that much easier. It even has a micro-processing system that can differentiate and recognize your dog's voice from any background noise so that your dog only receives a shock when he barks.
Dogtra YS300 has 7 correction levels so that if your dog is not responding to a level, you can raise it to the next one. This product also rapid charges in 2 hours, which is a much shorter time than any other electric bark collar.
This collar also has a non-electrical stimulation vibration warning prior to the shock so that your dog quickly associates the negative stimulus to his barking. It is on the expensive side as well, but does not require the additional purchase of batteries or sprays.
A customer with a serial barker stated that she had tried this product after the batteries in her last bark collar died, and she isn't going back. She loves the fact that it provides the vibration warning her dog now knows that if he barks, it will shock him.
An individual who has used YS300 and YS200 said that she prefers YS200 as it is much more gentle. A few other individuals said that the amount variation between certain levels meant that there wasn't a perfect setting for their dog.
Product Features / Specifications
Fits dogs 10 lbs. and larger
6 intensity levels
Vibration warning before stimulation
2 hour charge Lithium Polymer Battery
Waterproof
Things We Liked
System that can distinguish your dog's bark from background noise
Multiple levels of correction
Vibration warning prior to shock
Things We Didn't Like
There is not a gradual variation between certain settings
Not as gentle as the previous model
Can cause anxiety and pain if the setting is too high
2. PetSafe Elite Little Dog Citronella Spray Bark Collar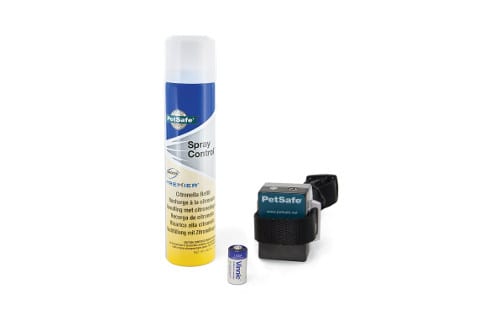 The PetSafe Citronella bark collar, the second product on the list, sprays the smell of citronella whenever your dog barks. Since dogs do not like the citrus-smelling liquid, they will begin to correlate barking with the bad smell.
However, the product's spray can be substituted for one with no fragrance and it will still work accordingly as your dog will correlate barking with the annoyance of being gently sprayed in the face. Citronella bark collars work really well with small dogs like Yorkies, Chihuahuas, and even some toy breeds.
This product provides a water-resistant collar, a spray can with 30-40 uses, and a PetSafe RFA-188 battery (that lasts about a month) while remaining the second most affordable of the bunch. It is also designed for dogs over 8 pounds with necks up to 16", which makes it a great choice for small dogs.
One reviewer was pleased by her results as her dog quickly grasped that in order to stop being sprayed gently in the face he would need to stop barking. It only took him two barks to figure it out.
Another reviewer said that while she loved the product, it was most certainly for dogs who occasionally bark. Since she has a "serial barker", he is much more stubborn and the product did not phase him. So, for more stubborn dogs you should probably go with a different collar.
Product Features / Specifications
Fits dogs up to 55 lbs.
Neck sizes up to 16 inches
Includes citronella spray can and PetSafe RFA-188 battery
Patented Perfect Bark Control (only activates when dog barks)
Average battery life is 2 to 4 months
Things We Liked
Gentle way to train your dog to stop barking
Great for the sensitive, small dogs and the occasional barker
Can be used with an unscented spray
Long-lasting battery
Things We Didn't Like
Doesn't work well for stubborn dogs
Some dogs get used to the smell over time
It's water-resistant, but not waterproof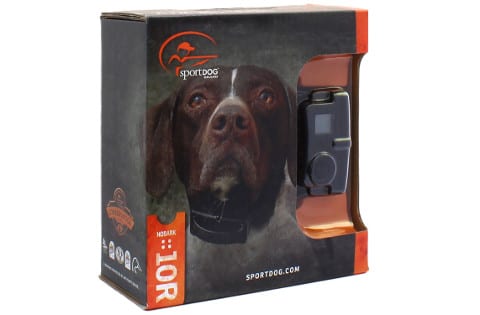 Without a doubt, SportDOG NoBark collar is first on our list as it combines a plethora of the top training tools to create an overall noteworthy product. This product uses a patented sensory system to detect barks, easily making it one of the most unique and effective anti bark collars available.
Since this anti bark collar only sends a static correction if both vibration from the vocal cords and the sound of the bark are detected, this product will not trigger a shock due to another dogs bark. This product may be a good fit for you if you have one dog with behavioral issues within a multi-dog household.
It offers 3 modes. It has an additional built-in safety feature that automatically turns the device off for 3 minutes if your dog barks more than 15 times in 50 seconds on any mode.
This rechargeable, waterproof collar comes with a dog whistle that only your dog can hear so that you can alternate between training tools, so that your dog does not get used to one technique. It also brings a clicker so that you can enforce positive behavior while eliminating bad habits.
Nonetheless, this product should not be used on any dogs that weight less than 8 pounds or have a neck size below 6 inches. This collar works well with dog breeds such as Labrador, Pitbull, German Shepherd, and other similar sized breeds.
An overwhelming amount of individuals who have purchased SportDOG NoBark testify that this product does exactly what it's supposed to. This collar is on the expensive side retailing, however, it still remains much cheaper than hiring a dog trainer.
One reviewer stated that after one day on the low setting, no one complained that his two boxers were barking incessantly while he was at work. He even went as far as putting a video camera up a few days later to see if his pups really stopped barking, and they had.
Some individuals claim that the low setting is too strong for their dogs. Others also criticize that while this product states that it only will shock your dog when both vibration and a bark are detected, their dogs are being shocked when both are not present.
Product Features / Specifications
Fits dogs 8 lbs. or larger
Neck sizes: 5" to 22"
10 levels of static stimulation
Perfect Bark sound and vibration sensors
Waterproof and submersible to 25 feet
Things We Liked
Waterproof
Rechargeable - it takes four hours to charge and holds a charge for 1-2 months
Quickly breaks the habit of excessive barking
Vibration and bark must be detected before shock is delivered
Things We Didn't Like
Low setting is too strong for some dogs
Some individuals claim it burned their dog's skin and fur on low
A few reviews mention the product dying after a few months of use
4. PetSafe Basic Bark Collar
This collar by PetSafe, a well-known brand in the pet supply community, is designed to only detect your dog's bark and no other noises. With 6 levels of static electric stimulation, the collar auto-increases from the lowest level to the 6th until your dog stops barking.
This collar, that was designed for dogs over 8 pounds, can be submerged in up to five feet of water and it also has a safety feature when it automatically turns off after 50 seconds. In addition to this being the least expensive of all, you also are given information to contact pet health experts at PetSafe customer service online or through email at your leisure.
Customers love the fact that this product is waterproof so that they do not need to worry if it starts raining while their dog is wearing the collar. A review stated that it only took her dog two zaps before he figured out that in order for the zapping to stop, all he had to do was stop barking.
One customer stated that the collar only adjusted to 18", while it says online that it adjusts to 28". A few customers had issues with the batteries dying quickly, and the fact that they could only buy the batteries from PetSafe.
Product Features / Specifications
Fits dogs 8 lbs. or larger
Fits neck sizes up to 28"
6 levels of progressive static correction
Automatic safety shut off
Waterproof
Things We Liked
Can be submerged in up to 5 feet of water
Easy to use and affordable
Auto-safety feature that turns off collar after 50 seconds
Things We Didn't Like
Batteries die quickly
Batteries can only be purchased through PetSafe
Sizing issues
5. Garmin Barklimiter Deluxe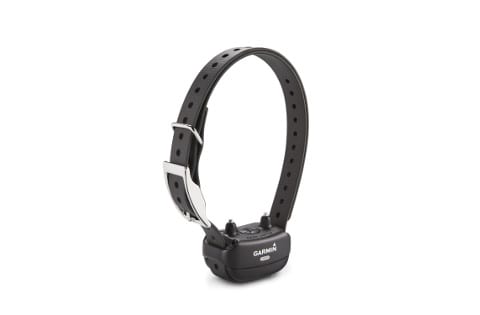 Lastly, we have a stylish bark collar that has a multitude of features that other collars just cannot compete with. It does, however, have the ability to detect your dogs bark along with increase strength automatically with continued barks.
The Bark Limiter, the most technologically-advanced as well as the most expensive, has a bark odometer that counts the amount of times your dog barks so that it can effectively reduce false and over corrections. Unlike all the others, you can choose between a vibration and an electricity mode so that you can train your dog on your terms.
This collar is designed to provide proper training to your dog. The Bark Limiter also provides a rechargeable battery that lasts for 3 months per charge.
Many individuals who have tried this product state that it their dogs don't bark for days after removing the Bark Limiter. One individual also stated that his dog quickly learned the first time using the Bark Limiter Deluxe and he didn't bark for the rest of the night.
However, some say that the product does pick up background noise and emits a static shock but the odometer helps to reduce the amount of times that happens.
Product Features / Specifications
Bark Odometer (counts number of barks)
Fits all dog breeds and all coat thicknesses
7 levels of correction vibration and manual
Stainless steel contact points
Fully charged battery lasts 3 months
Things We Liked
Bark Odometer to reduce false shocks
3 months in between each charge
7 levels of correction
Can choose between vibration and electricity mode
Things We Didn't Like
False shocks
Customer stated it didn't shock when his dog would bark
Most expensive
Buying Guide to Help You Find the Right Bark Collars for Your Dog
How Do I Know If My Dog Needs A Bark Collar?
Dogs bark for a plethora of different reasons such as stress, boredom, fear, hunger, and excitement.
Yet, all sensible owners should make it their duty to reduce their dogs' barking when it starts to become disruptive.
If any slight noise makes your dog howl for extended periods of time, an anti bark collar will definitely help correct this behavioral issue.
Not only do bark collars reduce your dog's barking in an effective and safe way, but your dog will be more receptive to your commands as they won't be as absent minded due to their own barks.
Just keep in mind that bark collars are specific for barking, if you need something for training see our guide on dog training collars.
How Exactly Does a Bark Collar Work?
A microphone within the collar detects barking, growling, and any other noise your pouch may make. There are also collars that are capable of associating your dog's body vibrations with their bark.
Once the bark is emitted and recognized by the collar, a negative stimulus is a trigger which can either be a static shock for electric bark collars, a citrus-scented spray for citronella collars, and a high-pitched noise for ultrasonic bark collars.
Make sure that the collar you purchase is working properly so that your pup does not get punished for other dogs.
So, What Types of Bark Collars Are Available?
There are many types of bark collars that it can seem overwhelming during your initial search. At the end of the day, it comes down to the needs of you and your dog.
Designed to produce a tiny, harmless shock when your dog barks.
Since it is a static shock, it will feel similar to rubbing your feet on carpet and "shocking" someone.
It will not hurt your pooch unless it is configured incorrectly.
Also known as spray collars because of how they function
Each time your dog barks, the collar releases a mist of Citronella which dogs hate the smell of.
Safe, gentle option as the liquid is plant-based and do not harm the dog in any way.
Effective for dogs who are too sensitive for a shock collar or aren't that stubborn.
May not work well for dogs who are very stubborn or who get used to the smell.
Studies have shown that citronella spray collars work just as well if not better than other types of bark collars.
Releases a high-pitched sound when barking is detected that can only be heard by dogs.
Your dog will not be harmed in any way, they will just become bothered by the noise causing them to bark less.
Designed for sensitive and small dogs
Inexpensive compared to hiring a dog trainer
Will not need to worry about neighbors complaining to landlord if you live in an apartment
Safe for all breeds and sizes
Easy instructions to set up any of the collars
Fast results as your dog will quickly associate the negative stimulus with their barking
Promotes positive behavior as your dog will be more receptive to learn commands and listen to you
How Do I Choose the Best Anti Bark Collar For My Needs?
Not all bark collars are created equally. The first step is ensuring that it is a noteworthy product from a credible brand that has plenty of positive, high rated reviews.
From there, make sure that the collar will fit comfortably on your pup while also determining how long the collar is going to be worn for.
Always examine your pet's behavior, breed, and size when searching for the best bark collar. One collar may be the best for small dogs but does absolutely nothing for larger dogs. The best collar may vary whether your dog is stubborn or sensitive.
Keep in mind that ultrasonic collars may not be the best option if you have a multi-dog home as they may also hear the high-pitched sound.
Also, try to steer clear from collars with single-level settings as they can either be too extreme or not effective enough as your dog gets used to the negative stimulus.
Do Bark Collars Work for Howling or Whining?
For dog owners who are desperate to get some peace and quiet, a bark collar can be a life-saver. If your dog is prone to whining or howling rather than barking, you may be wondering if these collars will work for you. Let's take a look at how bark collars work and how you can use them to curb these unwanted sounds.
Bark collars detect when your dog barks and then provide some type of negative consequence, such as a slight electronic shock, a spray of citronella or a high-pitched sound. How they detect the sound matters, however, when it comes to determining whether they can work for a howling or whining dog.
Vibration Sensor: These collars pick up on the sudden and strong vibration in your dog's throat that occurs during barking. This is how they determine that the dog is barking rather than growling. This also prevents the collar from picking up on any background noise.
Sound Activation: This type of collar picks up on sound waves rather than vibrations. This means that they are more likely to pick up on whining or howling, but they're also more likely to accidentally activate due to other sounds.
Do Bark Collars Work for Howling?
Bark collars are more likely to work for howling than barking, simply because the sound levels are more similar to barking. Howling may not activate vibration sensor devices due to the difference in tone, but it will likely set off sound-activated devices.
Do Bark Collars Work for Whining?
Finding a bark collar that works for whining is more tricky. Every dog has a different style of whining, some of which are more high-pitched or quiet than others and thus are less likely to be picked up by bark collars.
If your dog is a vocal, loud whiner, then investing in a sound-activated bark collar may be a good idea. You'll have to do some testing to figure out which collar has the right level of sensitivity, however. Too much sensitivity and the collar will become set off accidentally; too little sensitivity and the collar won't react to any whining sounds.
Using a Bark Collar to Stop Whining and Howling
For the above reasons, we recommend a sound-activated collar to help curb excessive whining and howling.
We also recommend a collar that comes with citronella spray or a high-frequency sound rather than an electric collar — bark collars aren't designed to pick up whining or howling, and the risk of accidentally shocking your dog isn't worth it. By contrast, citronella spray and high-pitched sounds are relatively harmless.
Keep in mind that bark collars are designed to be one component of a multifaceted approach to re-training your dog. Whining and howling are symptoms of larger problems that, if ignored, will simply reappear in other forms.
Slowly introduce the collar to your dog to avoid discomfort.
There are bark collars that have absolutely nothing to do with barking and are essentially just an invisible fence.
Always reward with positive reinforcement when your dog stops barking whether it is with a belly rub or a treat.
Since your dog is barking for a reason, make a conscious effort to uncover the real reason he/she is barking so that it can be addressed.
Puppies under 6 months or 8lbs should never wear a bark collar.
Any dog with a history of abuse or high levels of anxiety should never wear a bark collar.
Do not put a bark collar on any dog who is ill or has poor health, mentally or physically.
Never use a bark collar on a cat or any other animal.
Only use bark collar that is the correct size for your dog.
Keep an eye on your dog while they are wearing the collar to ensure optimum safety.
What is the Best Bark Collar to Buy?
Overall, the Dogtra YS300 is the best overall product as it is technologically advanced like Bark Limiter Deluxe while not as expensive. Because the collar provides a vibration warning prior the static shock, your dog is being conditionally trained twice per bark.
The multiple settings allow you to adjust if your dog is not responding to one setting. It can also be rapidly charged in 2 hours, unlike SportDOG NoBark that takes four hours. Dogtra Y300 is the best bang for your buck as well as the best bark collar overall.