Top 5 Best Dog Training Collars
Latest Update November 11, 2018
Finding the Best Dog Training Collar for Your Dog
Purchasing a collar that is cheap or is not the best dog training collar for your dog can result in injury if the wiring malfunction. Below, we have curated a list of the top 5 training collars to help you find the right fit for your four-legged friend.
Quick Look: Top 5 Picks for the Best Dog Training Collar
So, What Is A Dog Training Collar?
This type of collar is specifically designed with electronic parts that allow it to be controlled through a handheld remote that should be placed around the neck of your dog. Training collars can either use shock, citronella solution and ultrasonic sounds.
How Exactly Do Training Collars Function?
Training collars have an electronic receiving collar that is worn around the neck of your dog and a wireless control that allows you as the owner to use different types of stimuli while correcting your pet. You are also able to adjust the strength of the correction stimulus to ensure that it is not too strong or too weak.
Each collar has two prongs that produce the correction when you utilize the remote, which allows pet owners to correct their dogs efficiently at home.
Are Shock Collars Safe for Dogs?
The shock that these collars produce is enough to get the dog's attention and make them feel brief discomfort, but they do not cause any short or long term injuries if used properly.
Numerous studies of the physical and psychological effects of electric collars have been done with little to no significant adverse results.  For more information check out the Electronic Collar Manufacturers Association.  If you are still unsure of using an electric dog collar then you might want to check them out. They are tasked to make sure that the collars are safe and humane following the Animal Welfare Act.
Benefits of Training Collars For Dogs
Stops Your Dog From Jumping
Dogs love to show affection by jumping onto people that they are comfortable with. However, sometimes they may do this on people who are small or fragile, like a child and senior, and can pose a potential injury.
Their paws also carry particles from the outdoors that you might not want to be deposited onto your clothes. A dog training collar can assist in stopping this behavior by using the remote.
Reduces The Amount Your Dog Barks
Some dogs bark insistently over almost impossible-to-hear sounds. In this case, training collars can provide to be an easy and effective way to limit this behavior as you can utilize the remote when necessary.
If your dog does not bark often when you are home, plenty of dogs excessively howl the second their owner's go off to work in the morning. Neighbors may not like to hear the barking throughout the day and it may pose a problem if a neighbor complains to your landlord.
But, how can you correct a problem if you aren't home? Training collars can reduce this issue as some are designed to pick up the sound of your dog's barking and trigger a static correction each time it is heard.
Prevent Destructive Behaviors
We all know dogs love to chew, but there are times when your dog might begin to deviate from bully sticks and bones to furniture, important documents, and footwear. This behavior can be controlled by stimulating the static correction when you notice your dog beginning to chew on anything besides the items that are intended for him to chew on.
Just like chewing, dogs are famous for burying treasures all around the yard, only to dig them up and hide them again. This damages in the lawn can result in a lot of money lost if you are someone who has invested in their landscape and property.
Over time, destructive chewing and digging will stop after your dog realizes that it will only result in an uncomfortable feeling.
Dogs that suffer from aggression can make it uncertain to determine if they are every going to harm the owner or close individuals. A dog collar can help prevent this behavior over time as it shows the dog that forceful behavior will not be tolerated.
This can also be used as a safety measure when walking a dog with aggression.
Factors to Consider Before Purchasing A Dog Training Collar
Keep Your Dog Comfortable
While this may be your first time using a training collar, it is important to remember this is the first time your dog is wearing this type of product. Comfort is paramount as your dog will potentially be wearing this collar for the majority of their day.
Through research, you will be able to determine which collar will be best suitable for the width of your dog's neck. Some breeds might need a collar geared to their head shape so that it properly sits on their neck.
It is also important to keep in mind that no matter how good a collar is, it will not work properly and even can be harmful if it does not accurately fit your dog's neck.
When researching online, always be sure to check out websites that allow verified customers to review the product. This may help you find a collar that is great for your dog's breed as most customers will state their dog's breed whether they love or hate the product.
Just become one individual receives a faulty product or the product does not work well for a customer's breed, that does not mean that overall the training collar is not great.
If people do comment about that they received a product that doesn't do what it is supposed to, try to find out if and how the manufacture handled this issue.
Your Dog's Specific Needs
Take note of whether your dog is relaxed or forceful as a dog that is relaxed will need less stimulus than a dog that is aggressive. A dog's size will factor into what type of collar will be best for him as some are designed for small dogs in mind while others are meant for large, powerful dogs.
Puppies under 6 months or under 8lbs along with dogs that have high levels of anxiety or have a history of abuse should NEVER wear a training collar. This is also true for any dog with an injury, illness, or overall has poor health.
It is important to keep in mind the environment you plan on using the collar in. An ultrasonic collar might not be best at a dog park or within a home of multiple dogs as they might also hear the sound and might falsely think that they are being punished.
Create a budget and try to find the best dog training collar within your price range. Some training collars cost a fortune, but will not be the perfect fit for your dog while others might be excessively cheap and fit your dog's neck size but not your dog's overall needs.
Other Questions You May Have About Dog Shock Collars
Do Shock Collars Work on Aggressive Dogs?
Shock collars are traditionally used as a training tool, whether this means that you use it to curb unwanted behaviors like leaving a designated area or barking, you can also use it to help curb your dog's aggression. Shock collars work so well not because they cause your dog pain, but they redirect your dog's attention away from whatever has their aggressive tendencies coming out.
You do want to ensure that your dog knows basic obedience commands before you try to curb their aggressive behavior because you won't be hitting the button to send a shock each time they display aggressive behavior. Instead, you'll send a quick shock when your dog ignores your obedience command due to them being distracted by whatever brings out their aggression.
For example, if your dog reacts negatively to other dogs, use your shock collar to reinforce a command to "heel" and walk politely away or around the dogs. If they don't listen to your command, you use the collar to prompt your dog to pay attention to you instead of using it because they reacted.
Where Do You Put a Shock Collar on a Dog?
Although you may want to put the shock collar on your dog's neck with the prongs resting under your dog's chin, any folds or hanging skin can prevent the prongs from making contact. This can lead to random of inconsistent shocks that confuse your dog, and they can shake it loose when they shake their head.
Instead, you may want to consider placing the pronged portion of the shock collar on one side of your dog's neck one day and switching it to the other side the other day. This will give the point of contact spot time to rest and heal between days.
Your dog's neck is shaped vaguely like a cone with the more narrow part being close to your dog's skull and widening as it gets closer to their shoulders. Put the shock collar up high on their neck because it'll slow work down and settle on their neck as they move around from day to day.
Can Dogs Swim with a Shock Collar?
This depends entirely on your specific shock collar model because some are completely waterproof and some are resistant to water. If the dog collar is waterproof, you can safely submerge it into the water like it would be when your dog swims.
However, if your shock collars claim that it's water resistant instead of waterproof, this means that it's designed to be alright if your dog goes out in the rain or in damp conditions. This type of shock collar wouldn't be safe for your dog to swim with, but if you have one that says it's waterproof, it is safe for your dog to swim with without any problems.
It is a very good idea to double check your manual before you let your dog go swimming with it because this can be an expensive investment and you don't want to ruin it by submerging it in water if it isn't waterproof.
How Much Range is Needed for a Remote Training Collar?
Different shock collar brands have different range capabilities, and it all depends on how far you want to be able to allow your dog to go when they're out with the collar on. Many shock collars have at least a range of a half of a mile, and this is plenty of room if you're just using the collar as a training tool and you don't intend to allow your dog to roam without your around.
However, other shock collars have ranges that start at half of a mile and go to one or two miles at their maximum point, and it's usually better to have larger range capabilities than it is to be too short. Ideally, your new shock collar should have a range of a half of a mile to a mile for training purposes.
Will the Electric Stimulation from a Shock Collar Hurt my Dog?
As long as your purchase your new shock collar from a reputable company, and you follow the instructions, the short answer is no. However, if you buy a low-end product from a non-reputable company, there is a good possibility that the shock collar could actually hurt your dog when it goes off.
A good shock collar produces a pulse that goes through your dog's skin and into their muscle, and this acts like a static shock a human would get when they drag their feet across the carpet and then touch something metal. While it is unpleasant, the resulting "shock" tends to scare your dog more than it actually hurts them.
As your shock collar's pulses go up in range, the pulse will get slightly stronger and strong. However, it should never get strong enough to actually damage any of your dog's skin cells, and it shouldn't leave any visible marks that you can see in your dog's coat or on their skin.
Our Top 5 Picks for the Best Electric Dog Training Collar for the Money
1. Garmin Delta XC Bundle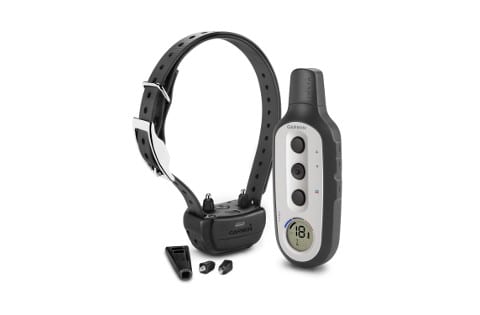 This affordable training bundle can be used on up to 3 dogs and has a range capacity of 1/2 mile. It also has 3 correction configurations for a variety of behavioral issues and 18 levels of momentary and continuous stimulation, plus a tone and vibration feature.
The remote is incredibly durable, waterproof, and only has 3 buttons to remain compact.
It also has a lanyard so that you can wear it easily around your neck.
One customer mentioned that he loved this product as he only needed to use it during the initial training week on levels 12-14 and now, he only needs to use it intermittently because his dog responds to the tone feature and his voice.
Another customer received a collar that had a battery that died within the first day of use and wouldn't charge. Garmin responded quickly and helped resolve the issue.
Things We Liked
Affordable bundle that can be used on up to 3 dogs
Remote is waterproof, discrete, and has 3 buttons
Capacity to reach a range of 1/2 mile
Garmin responds quickly to replace faulty products
Things We Didn't Like
A few people have received products that don't work or stop working within a few months
Only 18 levels of stimulation
Does not have the Barklimiter feature like the Delta Sport X and Delta Upland XC models
2. Dogtra ARC Remote Training Collar System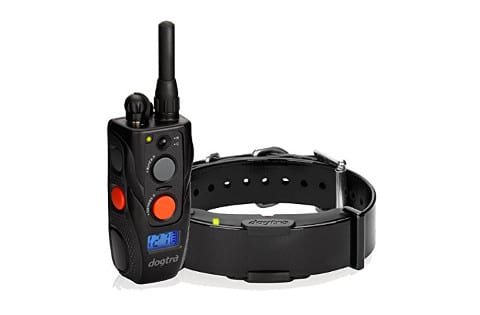 The Dogtra ARC can be used by pet owners for up to two dogs per device who are as small as 15 lbs. and have medium to soft temperaments. This collar is not bulky whatsoever, making it comfortable to wear around most dog's necks, while the wireless remote is slim and curved so that you can discretely train your dog in public.
This device provides a "nick" and a "constant" stimulation so that you can select a setting based on specific preferences and circumstances as well as having a vibration/pager setting simply to get your dog's attention. In addition, it is equipped with 127 levels of static correction on a dial so that you can increase or decrease the amount your dog receives gradually.
While the Dogtra ARC is on the expensive side, it is waterproof, has a 3/4 mile range, and charges within two hours. The remote has an LCD screen that displays the amount of stimulation being given and the remaining battery life.
One customer loves that this product is weatherproof and has a 3/4 mile range so that it works perfectly while training his dog outdoors. However, turning off the device took him a while to figure out.
He did realize that he could turn the collar off by plugging it into the charge or realigning the red dots on the collar and receive and then holding them until the collar flashes red. He also noticed that the knob on the remote moves sometimes and changes the setting of the transmitter.
Things We Liked
Multiple levels of stimulation
LCD screen on remote so that you can see the level of the stimulation and battery life
Can be used on up to 2 dogs and with a 3/4 mile range
Designed discretely so that only you know you are training your pet
Things We Didn't Like
Can only be used on dogs 15 pounds and up with low to moderate temperaments
Knob can change the setting of the transmitter
Can be confusing to turn off the collar when not in use
3. SportDOG FieldTrainer 425
This training collar has 7 levels of low to medium stimulation and can be used on dogs that are 8 pounds and up.
Weighing only 3.3 ounces, the collar is super lightweight, can be submerged in up to 25 feet of water, and also has a strap so that you can fasten it to accurately fit your dog's neck. You can utilize the remote from up to 500 yards away from your dog, as well as it can be expanded for up to three dogs.
One customer who raved about this product stated that his dog figured out in one day that a tone meant a shock, so now he rarely needs to give her stimulation and mainly uses the tone feature. He also stated that one charge typically will last him anywhere from 4 to 8 days of use.
A somewhat dissatisfied customer stated that while this product does not transmit up to 500 yards, but can transmit from around 300 yards after being taken off the charger. A few customers also had issues with the battery completely dying after a month.
Things We Liked
Lightweight and can be submerged in up to 25 feet of water
Can be used on up to 3 dogs with purchase of additional collars
Includes a training manual and DVD
Has a tone feature
Things We Didn't Like
Low/medium stimulation might not work for stubborn dogs
Some customers claim that it can only be used up to 300 yards away
A few customers reported that the battery completely died after a month
4. Dogtra IQ Remote Trainer
Not only is Dogtra IQ completely waterproof, it has three vibration modes with 100 precise levels of stimulation so that you can find the exact level that is right for your dog. It can also be fully charged in up to 2 hours and has a 400-yard range.
This training collar is specifically designed for smaller dogs that weigh at least 10 pounds. The receiver has a magnetic on/off switch so that training is easy to begin and end.
One customer with an incredibly stubborn Rat Terrier/Jack Russel mix transmitted three shocks in a two-hour span when she first got the device, and now her dog is much more obedient because she has realized that when she is bad, she will get shocked.
Another customer stated that while they enjoyed the product, it would work intermittently and was inconsistent with administering a stimulation.
Things We Liked
Completely waterproof design and has 100 levels of stimulation
Quickly charges in up to 2 hours
Has a 400-yard range
Designed with small dogs in mind
Things We Didn't Like
Inconsistently transmits stimulus
Only can be used on one dog at a time
Might not work well for a medium sized aggressive dog
Expensive considering it can only be used on one dog
5. Educator E-Collar Remote Dog Training Collar
This is collar is designed to be used on one dog allowing for a 1/2 mile range. It is ideal for small and large dogs as it can be used on any dog that is 5 pounds and larger.
Since it has a mini "stopwatch" transmitter, this product will work well for individuals with small hands or for discreetness while training in public. The stimulus delivers a tapping sensation which is similar to standard vibrations but is more intense, which makes it more effective.
It only takes 2 hours to fully charge the collar and it has up to 100 stimulation levels with an additional 60 boost stimulus selections. It can be expensive to buy this product for multiple dogs.
One customer stated that while this product proves to be as good as high-end Dogtra and SportDog collars, it still has plenty of issues that they do not. He stated that the battery life is poor so that he has to charge it daily and that it is difficult to plug in when charging.
He also stated that he has issues with the tapping sensation stimulation as he tried it on himself and it felt exactly like vibrations.
Things We Liked
Rapidly charges within 2 hours
Mini transmitter can be used discretely in public
Can be used on dogs of all sizes
Things We Didn't Like
Can only be used on one dog at a time
No variation between tapping and vibration settings
Battery dies quickly and the product is difficult to plug into the charger
Overall, the Garmin Delta XC Bundle is the best dog training collar for the cost. If you have a multi-dog household, you can effortlessly train three dogs on one handheld device whereas Dogtra IQ can only train one.
Customers have reviewed the product and stated that the battery dies quickly, like the Educator E-Collar, but Garmin does their best to respond to customers as soon as possible and replace the product or issue a refund.
Buyer's Guide to the Best Dog Training Collar for Dogs
PuppyWire
Buyer's Guide to the Best Dog Training Collar for Dogs