Best Wireless Dog Fence for Your Canine Escape Artist with Reviews & Top Picks

By Ashley Turner     Last Updated June 14, 2022

We independently research and recommend the best products; Learn more here. We may receive commissions on purchases made from our product recommendations.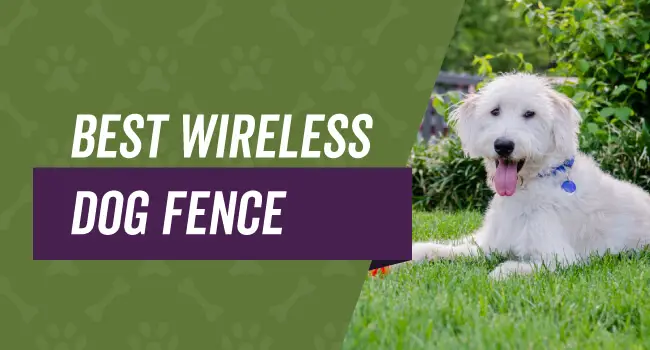 If your dog is an escape artist and you're worried about them running off and getting lost or hurt, a wireless fence may be the answer to your problems. Not only will it keep your dog contained, but it'll save your yard from having to have an actual fence, which can be an eyesore.
However, there are hundreds of different wireless dog fences to choose from, and it can be difficult to find a high-quality one to suit your needs. We're going to give you comprehensive wireless dog fence reviews along with the criteria you want in your next wireless fence so you can ensure that you're choosing the right product to contain your canine escape artist.
Our Top Picks for the Best Wireless Pet Fence
Wired vs. Wireless Dog Fences
Traditionally, there are two different types of dog fences and they fall into the wired or wireless categories. Both types of dog fences work with the aid of a special collar, but there is one big difference.
A wired dog fence will require you to bury a wire around the boundary you want your dog to be able to roam in. If said dog crosses the buried boundary wire, the collar will beep to warm them, and give them a light shock if they don't get back inside the perimeter quickly.
A wireless dog fence also involves using a special dog collar, but you don't have to bury a wire. Instead, you place the collar's transmitter inside of your home, and it creates a boundary for your dog to roam around in. If your dog goes outside of the permitted area, the collar will give them a shock until they get back in the boundary.
So, the main difference between a wired and a wireless fence is the fact that one requires you to bury a wire to set the boundary physically, and one requires you to turn on a transmitter, and it sets the boundary.
Wireless Dog Fence Considerations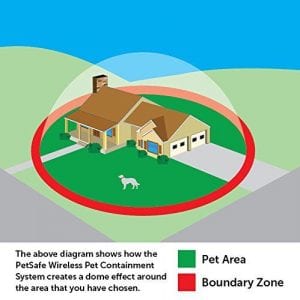 Now that you're aware of the difference between a wired and a wireless fence, there are a few important things you have to consider before you buy one, especially if this is your first wireless pet fence.
Area Size
Your wireless fence comes with a few limitations, and these limitations may impact how you choose your next fence. You have to decide just how big of a safe zone you want to give your dog to roam around in.
Your wireless fence will only allow for so big of a coverage area, and you really can't reshape it or adjust it to your liking. This means you may end up moving the transmitter, so it's in the center of your chosen containment area.
Battery
There really are only two options when it comes to your battery, and they are normal batteries and rechargeable batteries. It all comes down to personal preference, and if you don't mind changing batteries every once in a while, normal batteries may be the better choice.
If you want a more convenient battery, you may want to go with the rechargeable ones. However, you should know that you'll most likely pay more for them, they may be harder to find, and they may not work correctly in your wireless fence of choice.
Installation Ease
As this is a wireless system, it is going to be relatively easy to install without the use of additional tools like hammers or ties. You can get your wireless fence up and running by taking it out of the box and setting it up with your computer and the manual, and this typically takes under one hour.
Wireless Fence Dog Collar Considerations
Your wireless fence dog collar is another important piece to ensure that your dog stays safe and sound inside of their wireless fence. The fence collars are very similar to dog training collars and bark collars as they both have different levels of correction and have built in contact points.
Durability
Many dogs are very energetic and tend to run, fall, and tumble around as they go about their days. This can be very hard on any collar, and this is why it is so important that your wireless fence dog collar is made of durable materials.
If you're trying to decide between two different systems and you have a stubborn dog, look at the collar's build. If it seems weak and flimsy, you may want to skip that fence altogether because it'll be useless if your dog breaks the collar.
Lightning/Surge Protection
Your dog fence will use an electric signal to operate, and it should have a built-in failsafe in the event of a power surge or a storm. The lightning protection isn't there because your dog is prone to them, it's put in place as a countermeasure for the entire wireless fence system.
If static electricity builds up in your system, you want a fencing system that is going to be able to counteract it, so the entire thing doesn't overload and shut down. Should this happen, the fence will be rendered useless, and your dog will be free to roam around as they please.
Water Resistance
Today, many systems are waterproof, buy it is still a good idea to look at the packaging to double check. Although this may seem irrelevant to anyone who lives in a dry climate, it's still an important feature.
As electricity and water simply don't mix well together, the last thing you want is for your system to short circuit and be useless because of one accidental meeting with water.
On/Off Options
A collar that comes equipped with an option on/off feature can be a very useful tool when you're training your dog where the boundaries are to their new wireless fence system. If you find that they're getting far too many shocks, you can switch the collar off for a while to give your dog a short rest period before you continue to show them where the boundaries are.
Common Questions About Wireless Dog Fences
How Do the Wireless Dog Fences Work?
Wireless dog containment systems have two main parts, the receiver and the transmitter.
The transmitter is the center radius point of the system. With most models you can adjust how far out you want to set the boundary. This is the area your dog can play in.
The receiver is a collar that is placed on your dog and works much like a shock collar.
When the receiver goes out of the boundary you set it will give your dog a shock until your dog crosses back over into the boundary.
What is the Best Dog Fence to Buy?
After doing extensive research, we have chosen the PetSafe Wireless Pet Containment System as our top pick. This is because it is durable, waterproof, and user-friendly. It covers a radius of 90 feet and has built-in safety feature to save your dog from over-correction measures if they cross the boundary.
How Much is a Wireless Dog Fence?
Wireless dog fences vary in price but tend to be in the $100-$300 range. Of course, this fluctuates and a good general rule of thumb is to remember that you get what you pay for. So some of the cheaper models may not be the best quality.
What is the Best Wireless Dog Fence for Large Dogs?
We also have chosen the PetSafe Wireless Pet Containment System to be the best wireless dog fence for large dogs as well. This is due to multiple customers stating that it has worked well for their large dogs ranging from 50 lbs. to over 100 lbs. with many different large breeds including Great Danes.
Our Top 4 Picks for the Best Wireless Dog Fence
1. PetSafe Wireless Pet Containment System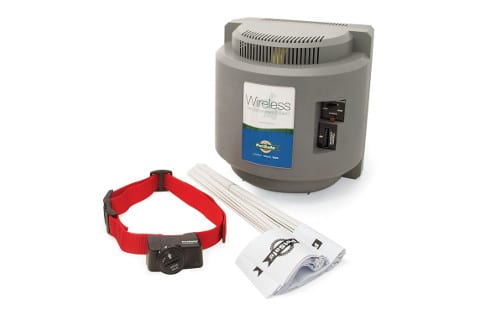 The first wireless fence on our list is by PetSafe, and this wireless fence covered a huge 0.5 acre span. This system allows you to quickly and easily adjust your pet's boundaries by up to 90 feet in all directions.
The collar itself is waterproof, and it has five different shock levels plus a tone-only mode that is the perfect training device to teach your dog the boundaries. You can choose from three different systems, and the largest system comes with an additional receiver collar that is adjustable from neck sizes six to 28 inches.
Your dog will hear a warning tone as they come close to the boundary, and should they cross the boundary the collar will transmit a shocking stimulation for 30 seconds before it shuts off for five minutes and repeats the cycle.
People who purchased this wireless fence said that it was a great training tool because the five levels of correction and tone-only options were perfect for teaching their dogs were the boundaries are. They also like the fact that the system comes with a low battery warning light.
Things We Liked
Easy to transport and set up
Comes with a low battery indicator
Waterproof
Things We Didn't Like
Can't define a specific fence shape
May not work well in a multi story home
Needs a flat yard to work properly
2. Perimeter Technologies Wire-Free Wi-Fi Dog Fence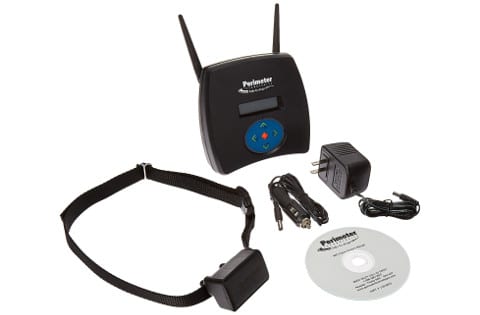 The second wireless fence system comes from Perimeter Technologies, and it has five different correction levels. The system is also entirely waterproof so you won't have to worry about it if it gets wet.
This system also comes with two rechargeable batteries, and it has an advance wire-free base station you can set up in your home. The signal chip will link your dog's collar with the base station, and it has a durable nylon collar that is more prone to stand up to wear and tear.
This system comes with 50 boundary flags so you can quickly and easily establish the perimeter for yourself and your dog. The base of this unit comes acts as a smart station, and it has a variety of options you can set with the push of a button.
People who purchased this wireless electric dog fence said that they liked the fact that this unit was very easy to operate. However, if you have a metal roof or a metal door, it'll interfere with how well the system operates.
Things We Liked
Very user-friendly setup and use
Comes with a rechargeable battery
It is Waterproof
Things We Didn't Like
Metal will interfere with how well it works
You might have dead spots along the perimeter
Price
3. Havahart Wireless Radial-Shape Select Fence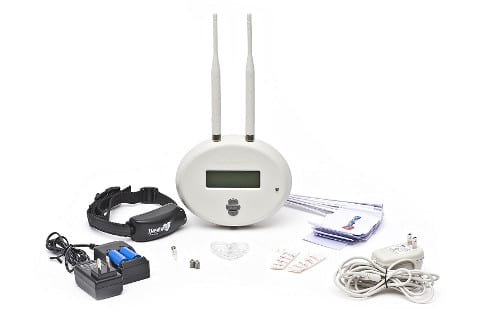 The Havahart Wireless fence comes with a control area that extends up to 11 acres. It is very easy to install, and the base of this system will alert the owner if your dog breaches the fence's boundary.
You can have multiple dogs at a time on this system, and you can have separate settings for each collar that allow you to set different static levels. The waterproof collar fits dogs with neck sizes that range from 14 to 26 inches, and the dog must weight at least eight pounds, so not ideal for small dogs.
There is also a built-in safety feature that stops correcting your dog after the first 30 seconds. Additionally, if your dog is on its way back to the boundary the collar won't correct them on the way.
People who bought this product loved how easy it was to set up, and they also liked the fact that it came with such an extensive range. They didn't like that it has a weight limit and that their dog has to be at least eight pounds to use it.
Things We Liked
You can set up this system very quickly and easily
The built-in safety option stops correction after 30 seconds
This system can have boundaries up to 11 acres
Things We Didn't Like
The collar isn't very durable
Your dog may hit a dead zone and the collar won't work
Can only contain two dogs over eight pounds
4. PetSafe Stay + Play Wireless Fence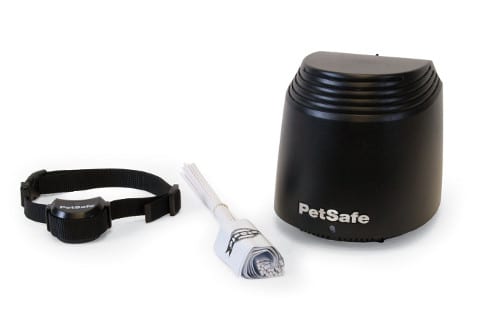 This wireless electric dog fence has an adjustable range that goes up to 105 feet in all directions from the fence's base. You can also contain an unlimited number of dogs as long as you purchase additional collars.
This system has a five-level static setting that includes a training mode that uses tone-only setting so you can teach your dog the fence boundaries. This wireless fence system is portable so you can take it with you if you like to travel, and it sets up easily and quickly.
You can use this on your dogs from five pounds and up that have neck sizes that range from six to 28 inches. The system also has rechargeable batteries that have a battery life that can last up to three weeks on a single charge.
People who bought this wireless pet system liked how easy it was to set up, and they liked that they could have an unlimited number of dogs on the system. They didn't like that system didn't seem to cover the entire range it advertised.
Things We Liked
This system lets you have an unlimited number of dogs
You get five levels of static correction and tone-only mode
Batteries are built-in and rechargeable
Things We Didn't Like
The fence may have dead zones or 'holes'
Customers report the battery doesn't last as long as advertised
Customers report it doesn't cover the entire advertised area
What is the Best Wireless Dog Fence?
Now that we've gone over the best wireless dog fence reviews, our winner is the PetSafe Wireless Fence Pet Containment System. We chose this system because it is durable, waterproof, and very user-friendly.
This wireless dog fence will also keep your pet safe and contained as they roam outside, and it is portable. It also covers an area up to 90 feet in all directions, and it has a built-in safety feature to save your dog from over-correction measures if they cross the boundary.