5 of the Best Dog Backpacks for Your Next Hiking or Camping Trip

By Ashley Turner     Last Updated January 25, 2022

We independently research and recommend the best products; Learn more here. We may receive commissions on purchases made from our product recommendations.
Your dog likes to go on outdoor adventures, just like their human does. However, your dog's supplies can add a lot of additional weight, so why not let them carry their own food, toys, and supplies?
A dog backpack is an easy and convenient way to let your dog carry their own supplies. This guide will make selecting the best dog backpack an easy experience because we'll do all of the research for you and provide in-depth reviews of each item.
Our Top Picks for the Best Dog Backpacks
Choosing a Backpack for Your Dog
Before you start shopping for your new dog backpack, there are several things you have to consider. Most people typically use dog backpacks for medium to large sized dogs.
The backpack's material and how it sits on your dog's chest and back are essential factors. Your dog's physical condition, their age, and how well they behave with a harness or leash are also important to consider.
In addition, there are a few more factors you should consider when you're choosing a backpack for your dog. We've listed them below for your convenience.
Fitting a Dog Backpack
How Much Weight to Put in It
Backpack Material
Additional Features
How to Fit a Dog Backpack
Before you pick start to pick out your dog's new backpack, talk to your veterinarian. Usually, there will be no problems with your dog carrying a backpack.
However, if your dog has health problems or they're a little older, getting the okay from your vet is critical. They may also have recommendations or tips to help you.
The backpack should fit securely around your dog, but it shouldn't be tight or restrictive. A secure fit will prevent the backpack from moving from side to side and causing chafing.
To accurately measure for the backpack, you measure your dog's neck, length, and their chest or girth. You want to measure from the largest part of their chest to get the most accurate measurements.
Girth - Largest part of the ribcage
Neck - Lower part of the neck and chest area
Back - Length from between the shoulders to the base of the tail
Here's a helpful video that demonstrates how to measure your dog to find the a well fitting backpack:
How Much Weight Can a Dog Carry in a Backpack?
You want to start with a lower weight and ease your dog into carrying more. A good rule of thumb is around 10 to 12 percent of your dog's body weight.
Weigh out the materials, and don't attempt to guess or estimate to get an approximate weight. Over time you can increase the weight in the pack, but don't go over 25 percent of your dog's body weight.
When you load the backpack, put most of the weight on your dog's shoulders. Don't put any weight on the back of the backpack, and limit the weight on your dog's back.
Most dog backpacks are designed to be forward loading saddlebags. This helps to balance the load out where it is most comfortable for your dog to carry it.
The backpack's material should be durable and made to withstand the elements like nylon. It won't tear or snag on rocky terrain, and it is lightweight and breathable.
Your pack's straps should be padded to reduce any possible discomfort or chafing. It should be outfitted with a sturdy handle so you can help lift your dog over obstacles.
Packs with a y-shape strap design will help to stabilize your dog's backpack further and reduce strain on their back. Additionally, removable saddlebags are an easy way to make it easier for your dog to rest.
A brightly colored pack or a pack will make it easier to see your dog if they get ahead of you. Also, a pack with reflective tape will help you see your dog in the low or poor light.
Benefits to Using a Backpack for Your Dog
When it comes to using a dog backpack, several key benefits stand out. A backpack can be a useful training tool, and almost any dog can use it.
Exercise and Energy Management
For high energy dogs, a backpack can provide more of a physical challenge. It might be a good idea to only go on shorter walks with heavier weights, at least in the beginning.
This physical challenge could be an excellent way to drain some of the excess energy away. It has the potential to make it easier for your dog to focus on commands as well.
Almost any breed of dog can use a backpack, regardless of their size, weight, age, or physical condition. The act of simply wearing the pack may be enough to challenge your dog mentally.
You're also able to load it as lightly as you want and need to suit your dog. If you're still unsure, you can always ask your veterinarian for recommendations.
Many dog breeds need to be mentally and physically stimulated or have a job to be happy. A backpack can put your dog into a working mindset, and this can be calming.
It can give your dog something to focus on, and this will drain them faster than just running around would. It might also be a good option if your dog pulls on their leash or harness.
Important Things to Look For in a Dog Backpack
Aside from the more obvious features we've listed, there are several more important things to consider. All of these will add to your dog's comfort as they use their backpack.
Breathability. The backpack's fabric should breathe because your dog will exert themselves when they wear it. Fabrics like nylon, cotton, or polyester can work well in this area.
Lightweight. The pack itself should be lightweight and around under a pound when it's empty. Your dog will be carrying his supplies in addition to the pack's weight.
Padded Straps. The pack's straps have the potential to rub when your dog wears it. By having padded straps, your dog will be more comfortable and less prone to chafing, sores, and hot spots.
Tapered Saddle Bags. If possible, your saddlebags should taper toward your dog's rear. This will help put the bulk of your dog's load on their shoulders.
How to Use a Dog Backpack Correctly
It is a good idea to start out slowly when you introduce your dog to their backpack. They may be resistant at first because it's a new experience.
Once your dog allows you to put the backpack on, start going on short walks. This can let them get used to carrying it and start building up their muscle mass.
When you load your dog's backpack, water bottles can make a great weight adding device. They usually won't shift around too much, and you can make them as light or as heavy as you want.
Your dog can also carry their treats, poop bags, food, or any other supplies you'd like to bring with. If your dog is carrying things like your keys, it is a good idea to wrap them and make sure it's not causing your dog discomfort.
Prerequisites to Using a Dog Backpack
Before you purchase a dog backpack, there are several prerequisites you should consider. Things like any preexisting medical conditions, age, disposition, and what your vet recommends will all come into play.
Your Dog's Age and Physical Condition
Before you purchase a dog backpack, there are several prerequisites you should consider. Things like any preexisting medical conditions, age, disposition, and what your vet recommends will all come into play.
Your dog may have a medical condition like something wrong with their back or their hips. If you think a backpack would add more strain to an existing medical condition, consult your veterinarian.
Also, skin conditions might get more irritated by the backpack rubbing on them. A secure fit should help alleviate this and prevent further irritation.
Our Top 5 Picks for the Best Dog Backpacks
1. Outward Hound Kyjen Dog Backpack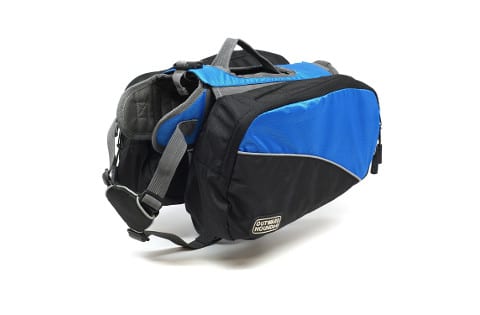 This dog backpack by Outward Hound comes with large, roomy saddlebags. The saddlebags are removable, so you can lift them off without removing the entire backpack.
It features dual zippers for added durability and several mesh pockets with large openings. Additionally, there is an elastic water bottle holder attached to the inside of the backpack.
Durable nylon makes up the outside material, and it will survive rugged terrain. There is reflective material running along this pack, and it has bright colors, so your dog remains visible even in poor light.
This backpack comes in small, medium, large, and extra large for an added convenience. Each of the straps is adjustable so you can get a good fit and the backpack won't slide around.
There is a secure, padded handle attached to the top of this backpack which enables you to lift your dog. The straps are padded as well to prevent hair loss and chafing with extended use.
Things We Liked
Extra large saddle bags with low profiles
Bright, durable material
Saddle bags lift off without removing the entire backpack
Things We Didn't Like
Strap on the back of the pack isn't overly padded
Saddlebags are held on by velcro
Difficult to get the straps to stay secured
2. Kurgo Baxter Dog Backpack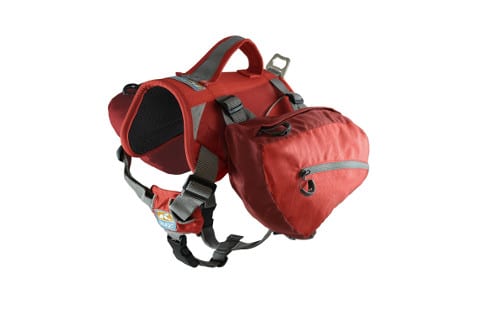 The Kurgo Baxter backpack features a rugged design but it is lightweight. It comes with eight different adjustment points so you get a secure fit.
There is a large padded handle sewn onto the back of this backpack that you can use for additional control. The low profile saddlebags are situated so the weight will shift to your dog's shoulders.
Kurgo Baxter has lined the interior of this pack with a mesh material that makes it breathable. There is also a reflective material that can make it easier to spot your dog.
It comes in a variety of bright, bold colors which may make it easier to find your dog on the trail. The zippers on the saddlebags and leash clip are made to be heavy duty and durable.
They have reinforced the top of this pack so it can support your dog's spine and mold to their body. This reinforcement also provides weight distribution to the saddlebags.
Things We Liked
Spinal support that molds to your dog's back
Mesh lined material for added breathability
Comes with eight adjustment points for a secure fit
Things We Didn't Like
You cannot remove the saddlebags from the pack
The handle may not be sturdy enough
Does not come in an extra small or small size
3. Ruffwear Approach Full Day Hiking Pack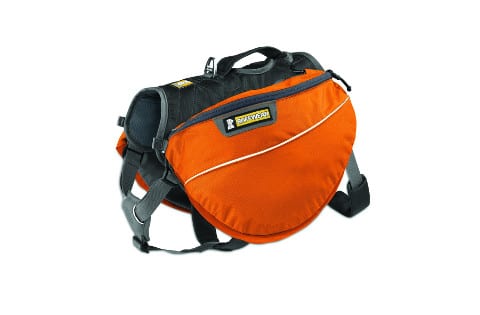 This pack by Ruffwear comes with an integrated harness with a V-ring for your leash to attach to. There is also integrated trim stitched onto the edges.
The no-slip straps and sheltered buckles are easy to adjust, and they can provide additional security. The five-point adjustment system lets you tailor this pack to your dog's body.
It comes in five sizes from extra small to extra large, and the adjustable straps make it easy to get a snug fit. This pack features larger pockets so you can easily pack your dog's essentials.
This pack sits forward on your dog's shoulders, and this can take the pressure off of their spines when you use it. It is also lightweight, and the material is breathable and durable.
Things We Liked
Forward riding saddlebags to alleviate spinal pressure
Five point strap adjustment system for a snug and secure fit
Comes with a tow eye, V-ring, and handle so you can lift, walk, and pull as needed
Things We Didn't Like
Bags may be too large for smaller dogs
The zippers may not stand up to repeated use
Can be difficult to load properly to prevent shifting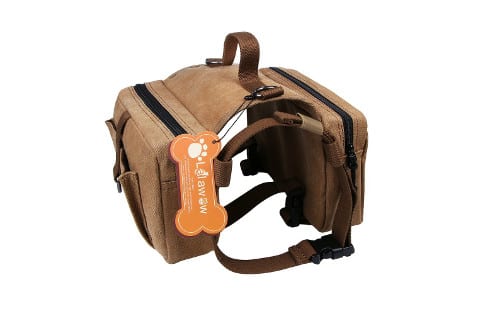 This pack comes with two main saddlebags and two smaller bags for even weight distribution. It is lightweight and the material is breathable.
Each saddlebag has a metal ring that you can attach your leash to or clip smaller bags onto. Lalawow constructed this pack with a lightweight cotton material that is easy to wash and comfortable.
It is versatile, and you can use it when you take your dog hiking, walking, running errands, or just wearing it out in the yard. Each of the straps is padded to reduce the friction your dog may feel when they wear it.
Every strap on this backpack is adjustable, so you can get a secure fit without worrying about them slipping. The rings are sewn directly into the backpack for added security.
Things We Liked
Saddlebags each have additional rings to attach smaller bags
Constructed out of breathable cotton material
Adjustable straps and clasps are no-slip
Things We Didn't Like
May need to reinforce the handle so it doesn't tear
The ring the leash attaches to may not withstand heavy pullers
The saddlebags are on the smaller side and don't fit a lot of things
5. OneTigris Dog Pack Hound Travel Camping Hiking Backpack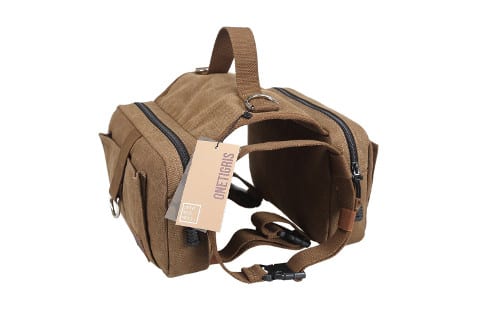 You'll find one large zipper pouch on each side for easy balancing. It has adjustable webbing that you can tailor to your dog's shape.
The zippers are larger than normal and made of a durable material. Once it's fitted correctly, it is supposed to sit up on your dog's shoulders.
OneTigris constructed this backpack with lightweight cotton canvas for a breathable but durable build. This also makes it a comfortable option for your dog to wear while on a hike.
It ranges from medium to large sizes, and the straps are easily adjustable. There is a center handle for easy control, and it has double stitching.
There are four D-rings attached to this pack so you can add additional bags or hook your leash to them. The straps are padded to prevent rubbing or hair loss.
Things We Liked
There are four D-rings to attach bags or a leash to
Saddlebags are large with overly large zippers
Center handle is double stitched for added durability
Things We Didn't Like
Does not come in smaller sizes, only medium and large
This pack isn't waterproof
The buckles may not stay in place, and tend to slip
What's the Best Dog Backpack?
The winner for our choice of the best dog backpack is the Outward Hound Kyjen Dog Backpack. This backpack comes with mesh-lined pockets for added breathability. It is lightweight but constructed out of a durable nylon fabric.
The large, tapered saddlebags sit low on your dog, and the straps are all fully adjustable for added security. This backpack outstrips the other four because its functional, and it allows you to remove the saddlebags without removing the whole harness.
Finally, this pack comes in several bright and bold colors for easy visibility. The trimming is a reflective material for an added safety measure.