5 of the Best Dog Cooling Vests: Keep Your Dog Cool During the Summer Heat

By Ashley Turner     Last Updated June 14, 2022

We independently research and recommend the best products; Learn more here. We may receive commissions on purchases made from our product recommendations.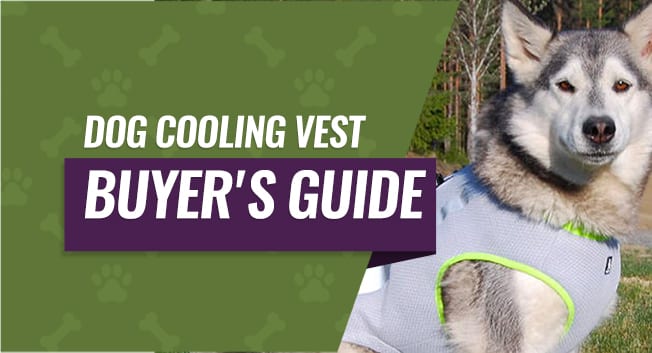 Summer is coming, and it brings humid and hot weather that can send both people and animals looking for cover. Your dog may love the warm weather and running around outside, so you want to help them beat the heat, and you can do this by getting them a dog cooling vest.
It can be difficult to find one of these cooling vests if you've never bought one for your dog before because there are dozens of different brands and styles. We're going to help you by rounding up the top five cooling vests along with an introduction to these vests, so you know exactly what to look for when you shop.
Our Top Picks for the Best Dog Cooling Vests
What is a Cooling Vest for Dogs?
During the warmer weather, your dog can overheat very quickly especially if they're running around or playing outside. Heatstroke is a huge health concern, and it occurs when your dog's body temperature reaches 109 degrees or higher.
If it's over 90 degrees outside, you should keep your dog indoors if it's possible, but if it's not, a cooling vest is a great tool to have. Simply put, a cooling vest is a vest that you get wet and strap on your dog when they're out in the sun or heat.
These cooling vests come in a variety of shapes and sizes, and they usually have multiple attachment points, so it's easy to secure to your dog. They help to improve airflow and evaporate water to keep your dog cool and damp as they go about their activities.
How Do Dog Cooling Vests Work?
A cooling vest is specifically designed to speed up the evaporation process and lower your dog's body temperature by cooling of the air immediately surrounding them. A lot of them have several conductive layers, and these layers make the evaporation process even quicker.
The vests do work better with a dry and arid environment because evaporation naturally happens quicker here. If you live in an environment with very damp and humid weather, evaporation will still happen, but it'll happen very slowly.
These vests are very easy to work, and you simply dip them and water and strap them on your dog before they go outside or for a walk when it's hot out. If the vest dries out before they're ready to come back in, you just pour more water over the top of the vest, and it'll continue to work.
What to Look for in a Good Canine Cooling Vest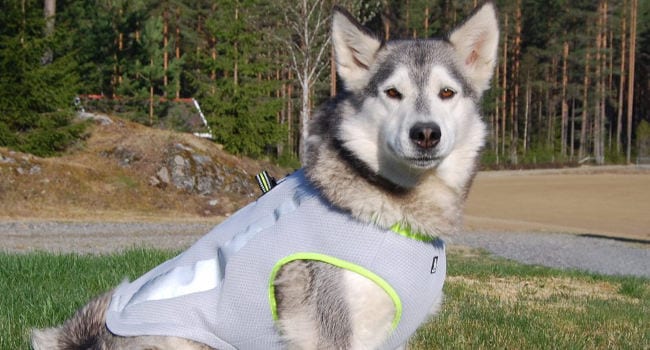 Choosing a good cooling vest is an important part of protecting your dog from having heatstroke or getting sick as they're out and about in the summer. There are a few things you want to look for when you pick out your vest to ensure that your dog is protected.
Evaporating Capabilities
The goal of the cooling vest is for your dog to stay damp when they're outside, and you don't want the vest to retain enough water that it soaks your dog's fur entirely. Wet or saturated fur can lead to skin and coat problems like chafing and sore spots.
Avoid vests that seem to retain far too much water, and look for ones that keep your dog slightly damp to dry and cool. This will increase their comfort level and help to ward off any heat stroke symptoms.
Function Time
Ideally, your cooling vest should work for at least 15 to 20 minutes before you have to apply more water. The longer it cools, the longer your dog can safely be outside and enjoying the summer weather.
Your vest's cooling time will be directly influenced by how arid and dry the surrounding air is, and more arid climates will dry the vest out quicker because there's less water in the air. So if you live in this climate, you may find yourself wetting the vest more often, but it still should last at least 10 to 15 minutes.
Material
When you're looking at cooling vests, buying one with a more durable outer layer may be a good idea, but this largely depends on the terrain your dog will wear it on. Most of the inner layers are made out of cotton because it's soft, lightweight, and it can absorb an impressive amount of water due to its porous nature.
Cotton is less likely to rub or cause any friction sore spots on your dog, a lot of it is hypoallergenic, so it's safe for your dog if they have sensitive skin. However, the very inner layer should semi-repel water, so it doesn't soak all of the ways through and sit on your dog's coat.
Proper Fit
Some dogs don't mind wearing coverings or clothing, but some dogs can't stand it. In order to make it more comfortable for your dog to wear their cooling vest, you want to make sure that it has a good fit and isn't rubbing anywhere.
If the vest is too small, it'll be tight and uncomfortable for your dog, but if it fits loose, it the vest won't work as it's supposed to and your dog will get hot. It's best to measure your dog and read the manufacturer's recommendations to make sure you buy a vest that fits well.
If your dog still can't seem to stand wearing a cooling vest than you might want to check out our page about dog cooling pads instead.
Reflective Capabilities
Although the vest does a good job at cooling your dog down by evaporative cooling, it's nice to get a vest that protects your dog's legs and back by reflecting the sun's rays. This can help to keep your dog cooler overall, and that's a great feature when it's really hot outside.
The various straps and buckles should have some sort of reflective strip or layer to them as well to prevent them from heating up when the sun beats down on them. It can stop them from being hot to the touch or rubbing on your dog as they move around.
Safety Features
You want your dog to stay safe when they're wearing their cooling vest, and picking out a vest that has durable attachment points and study buckles is a good idea. The attachment points will let you easily hook a leash up to the vest, and the buckles can withstand repeated usage and slight tugging or pulling.
This is also where the reflective strips come in because it makes it easier for you and other people to see your dog when you're outside after dusk. These should run the length of the vest and be very easy to see.
Our Top 5 Picks for the Best Cooling Vest for Dogs
1. Ruffwear Swamp Cooler Cooling Vest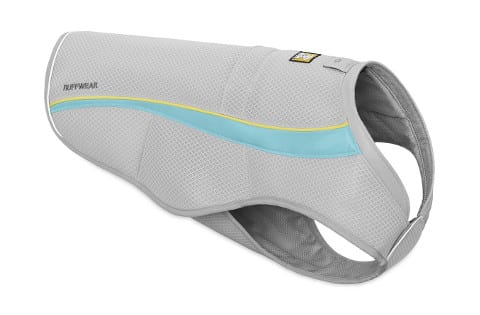 This cooling vest comes in five different sizes ranging from extra-extra small up to extra large so you can find a good fit for your dog. The outer layer is designed to be reflective so you can easily see your dog after dusk and the sun's rays will reflect off it to keep your dog cool.
It has an easy on and off feature with large side clasp buckles so you won't have to waste time tightening it to fit your dog each time you want to put it on. There is also a leash portal, and this vest is compatible with a front-leading harness or a web master harness so you can keep your dog secure.
Pet parents who have purchased this harness said that they liked how absorbent the middle layer is as it stores water to keep their dog's cool and damp. They didn't like that it could be difficult to add water to the harness when they were out and about because they had to take it off and wet the inside of the vest.
How Do You Use a Ruffwear Cooling Vest?
It's really easy to use one of the Ruffwear cooling vests. It's easiest to submerge the vest in the bathtub and let it soak up all the water, then wring it out and put it on your dog. If it dries out before your dog is done wearing it, then pour some water on it while your dog is still wearing it. Here's a video to help.
Things We Liked
Features a very easy on and off clip
Is compatible with a leash or harness
Has a reflective coating and reflective trim
Things We Didn't Like
Have to take the vest off to re-wet it
Can be difficult to get a good fit
Best for walking your dog and not running around
2. SGODA Dog Cooling Vest Harness Cooler Jacket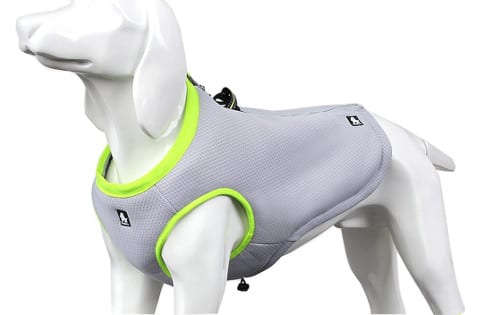 This cooling vest comes in five different sizes, and two different color combinations with bright accent colors so it's easy to keep an eye on your dog. It has three layers of cooling fabric that absorbs and locks water in to keep your dog cool as they play outside.
This vest comes with lightweight and soft material and larger leg holes to prevent chafing, rubbing, or sore spots. It also has a UV reflective layer on the outer layer of the vest, and this helps to keep your dog cooler for longer periods when you combine it with the evaporation properties.
Pet parents who bought this vest liked that it had a built-in zipper that allowed for easy size adjustment so they could get a great fit, and they liked the durable leash attachment point. They didn't like that it the velcro didn't seem to stay closed for extended periods, and the adjustable zipper wasn't very durable.
Things We Liked
Designed to reflect heat and UV rays
Color combination have very bright edges
Can easily adjust it with the zipper and velcro
Things We Didn't Like
Adjustable zipper was made out of a plastic material
Can be slightly difficult to get on and off
May be hard to fit to a dog that's between sizes
3. Ruffwear Jet Stream High-Performance Cooling Vest for Dogs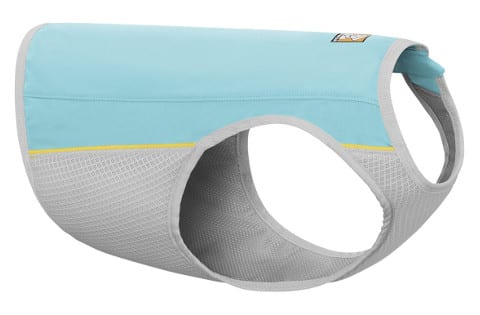 This shorter cooling vest comes in two different color patters and six different sizes that let you get a good fit for your dog. In addition to using evaporation to cool your dog, this vest also gives UPF 50+ coverage to protect your dog's skin from the sun.
It has a single zipper closure with the wider leg and neck holes to give your dog maximum range of movement without rubbing and causing chafing, and it's very easy to put on and take off. It's very easy to use, and you can easily wet it when your dog plays by pouring water over the top.
Pet parents who bought this cooling vest liked that it had a single zipper closure so they could take it on and off quickly and easily. They didn't like that the vest didn't have reflective properties along the top of it so it could get slightly warmer.
Things We Liked
Has a durable three layer construction
Vest provides up to UPF 50+ shade protection
Has two different colors with bright patterns
Things We Didn't Like
Can be difficult to get the vest zipped once it's on
Can be difficult to fit to dogs with large chests
May not be able to keep active dogs cool enough
4. PupPal Pet Cooling Vest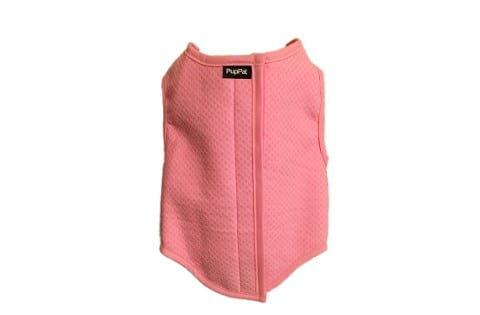 This simple and soft cooling vest comes in two different bright colors and it has extra stitching around the neck and legs holes for added durability. You can choose from medium, large, and extra large sizes so it's fast and easy to get a comfortable fit for your dog.
This vest is very easy to use, and you just get it wet, wring out the excess water and put it on your dog, and it'll keep them cool for a few hours depending on their activity levels and the environment. It has an easy zipper closure that runs along the back of the vest, so it's very easy to put on and take off.
Pet parents liked that this vest could last for several hours even in hotter weather and that it has a very soft and pliable design. They didn't like that it seemed to run small to size or that they only offered three different size choices.
Things We Liked
Made with a very soft and pliable cotton and mesh fabric mix
Very easy to put on and take off
Can last for several hours depending on the activity level
Things We Didn't Like
May run small to size and only has three sizes
Might be too short for longer bodied dogs
Leg holes may be spaced too far apart for smaller dogs
5. Hurtta Cooling Dog Vest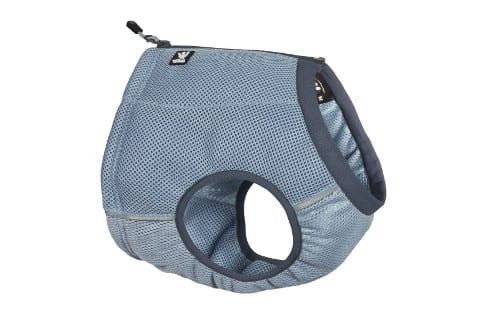 This breathable mesh cooling vest allows for optimal airflow, and you can choose from several sizes ranging from extra-extra small up to extra-extra large. The leg and neck holes have additional padding and stitching to make them durable but comfortable for your dog to wear for extended periods.
This vest sits further up on your dog, and it is specially designed to help regulate your dog's heart region temperature to keep their entire body cool. It features a zipper opening that runs along the back and makes it easy to remove or put this vest on.
Pet parents who bought this vest liked that fact that it sat further up on their dog and concentrated on keeping their heart region cool. They didn't like that the larger sizes didn't come with a durable leash attachment point, and they didn't like that it didn't seem to last long before they had to apply more water.
Things We Liked
Changes color as it dries out for easy monitoring
Extra layer of padding around the neck and leg holes
Sits higher up on the dog
Things We Didn't Like
Zippered closure tended to slip with a lot of activity
Seemed to dry out quickly
Did not offer protection for a lot of the dog's back
Our pick for the best cooling vest for dogs is the Ruffwear Swamp Cooler Cooling Vest. We liked the fact that it came in several different sizes so it was very easy to get a good fit.
It has a reflective surface that helps to keep your dog cooler for longer, and it has reflective edging to keep your dog safe if they go out after dusk. We also liked how it was compatible with different harnesses, and it has large side buckles that make it easy to put this vest on and take it off.