Top 5 Best Dog Car Seats to Keep Your Dog Safe While Traveling

By Ashley Turner     Last Updated January 25, 2022

We independently research and recommend the best products; Learn more here. We may receive commissions on purchases made from our product recommendations.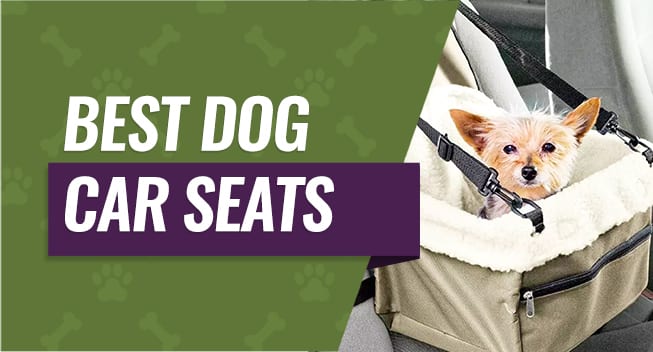 If you've ever had to wrangle your dog during a long car ride, then you understand why traveling with a dog sometimes requires a little special planning. Car seats are a great investment for pet owners because they provide a safe, comfortable spot for your dog to spend the entire ride.
There are many different types of car seats on the market, though. How can you decide which dog car seat is best for your own special friend? This article will cover everything you need to know to make a smart buying decision.
Our Top Picks for the Best Dog Car Seat
Why Use a Dog Car Seat for Travel?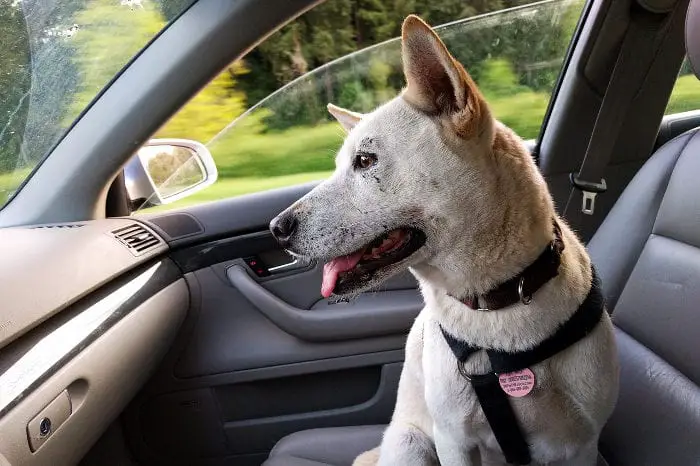 Car seats are ideal for preventing simple accidents, anxiety and other issues that commonly pop up during car rides. A surprising fact is an unrestrained dog shares the same characteristics as texting while driving. A few of the benefits that a car seat can offer you and your dog include:
Car seats keep your dog safe. While it may seem like fun to let your dog roam around the car or stick his head out of the window, he could easily become harmed by sudden stops or turns. A well-designed car seat keeps your dog stable instead.
Car seats make you a safer driver. Having to focus on managing your dog's movements while you drive is a significant distraction. It's not safe to take your hands away from the wheel to handle your dog, for example. A proper car seat removes this issue and allows you to focus on the road.
Offer your dog peace of mind. Many dogs become anxious while riding in cars, indicated by panting, pacing back and forth or whining. Riding in a dog seat provides a physical sense of safety and security for your dog.
Boost your dog so that he can see the road. If your dog is like most others, he loves to be able to look out the window and see what's going on during the car ride. Small dogs have an especially hard time being able to see.
How Do Dog Car Seats Work?
Since car seats are more commonly associated with children than with fur babies, you might be wondering how exactly a dog seat for dogs even works. They look quite a bit different than regular car seats — in fact, they look more like a dog bed. However, they're uniquely designed to offer many of the same safety benefits for your dog.
Car seats aren't intended to keep your dog completely safe during a car accident like a human car seat would. For that purpose, you'd need a special dog crate designed for travel. Instead, car seats keep your dog much more stable and secure than he would be if he were loose in the car, keeping him safe during everyday car rides.
These car seats attach to your regular car seat, with harnesses to strap your dog into place. They usually consist of a soft, comfortable base, surrounded by higher walls to prevent your dog from jumping out.
The car seats are roomy enough that your dog isn't forced to stay in one position the entire time, but they're small enough that your dog can't move around enough to hurt himself.
Choosing a Car Seat for Your Dog
Here is a list of 6 important features you should look for when choosing a car seat for your dog.
Safety features: Without adequate safety features, a car seat is hardly worth the money. Look for a car seat that securely attaches to the car seat and that holds your dog tightly in place. Most high-quality models use the car's built-in seatbelt to securely hold the car seat in place, and they have some sort of leash or harness to comfortably buckle your dog into place.
Usability: Ease of use is high in importance because a car seat needs to be easy enough to use that you're willing to set it up each time your dog rides in the car. It's best to buy a car seat that's a cinch to set up and take down.
Size: This may seem obvious, but it's crucial to buy the proper size seat for your dog. Smaller dogs will appreciate bucket-style booster seats that allow them to see out of windows, while for larger dogs the more important issue is comfort and stability.
Material: Many dogs will be more likely to appreciate their car seats if they have some comfortable padding. It's also important to look for a durable material that is easy to clean and resists wear and tear.
Convertibility: Some car seats for smaller dogs can double as a carrying bag, making them a great option for regular travelers.
Extra features: Aside from the important points above, different car seats may offer other bonus features, like extra storage compartments for treats and doggy bags.
How to Correctly Use a Car Seat
Using a car seat can make life on the road a lot easier for dog owners. These simple steps will make it easy and comfortable for your pooch, too.
Choose the Right Placement
Decide whether you want your dog to ride in the back seat, which may be better for convenience's sake, or in the front seat where you can keep an eye on him more easily.
Some car seats are designed to fit right onto your console so that your dog can be directly next to you during travel. However, keep in mind that riding in the front seat is more dangerous for your pet during car accidents.
When tethering your dog into his new car seat, attach the leash to your dog's harness rather than a collar. The tension on your dog's collar could result in accidental choking and is not safe.
Finding and setting up your car seat is just the first part of the battle. For your purchase to be worthwhile, your dog has to be willing to consistently use the car seat each time he rides in the car.
Depending on your dog's temperament, that may require a bit of training and positive reinforcement. By taking it slow and remaining positive, you can encourage your dog to love and use his car seat.
One method is to gradually increase the amount of time that the dog is in the seat. This way, they don't associate it with long, dreadful car rides. For particularly hesitant dogs, you can even begin by using the seat in a neutral setting, like the ground or inside your home.
When your dog gets near the seat, reward him with a positive verbal cue. Every time your dog gets into the seat, offer a treat. With enough consistency, your dog will eventually go into the seat of his own accord.
Related: Best Motorcycle Dog Carriers
Our Top 5 Picks for the Best Car Seats for Dogs
1. K&H Bucket Booster Pet Seat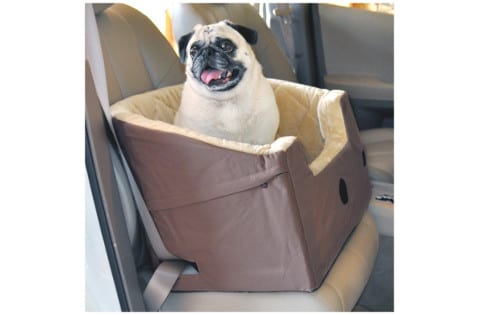 It's difficult to find car seats that can accommodate medium- to large-sized dogs since it's much easier to design a safe compact seat than a large one. Yet, owners of larger dogs can benefit from car seats too, and the K&H Bucket Booster is a great choice.
This car seat comes in two spacious sizes and could work for dogs up to 30 to 40 pounds, depending on their physical shape. Smaller dogs can enjoy this car seat too.
It's a higher-end seat, as reflected in its price, but we think it's a worthwhile investment. The seat is sturdy and well-made, with an easy installation method. It attaches to the car's seatbelt, so you can trust that it won't slide away, and it includes two tethers rather than one to keep your dog securely in place.
Since there are two tethers, you could also use this seat to travel with multiple smaller dogs rather than one medium-sized dog.
The cover is removable, and the seat itself is washable, which is perfect for owners who want an easy and convenient option.
Dog owners say this seat is roomy and comfortable for their dogs. It stays securely in place, yet is easy to remove when the time comes. Some users say it's inconvenient that it takes up the entire car seat, but that seems like a necessary trade off if you want a car seat that's large enough for your dog.
Things We Liked
Two adjustable tethers for security
Easily attaches to car seat
Spacious enough for medium-sized dogs
Comfortable and durable
Things We Didn't Like
Large size may not leave a lot of room to spare in car
2. Snoozer Luxury Console Car Seat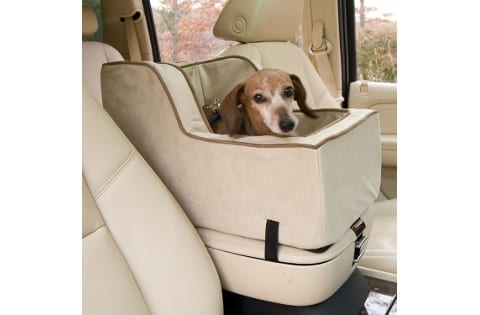 Though some pet advocates say riding in the front seat isn't worth the possible dangers, certain dogs benefit a great deal from being right next to their owner during car rides. This can reduce anxiety and the many undesirable behaviors that it can produce. If that sounds like your dog, then we recommend a console car seat like this Luxury Pet Car Seat from Snoozer.
Though it's on the more expensive side, this car seat is beautifully made, with a removable microsuede cover and comfortable, plush lining that your dog will likely appreciate during long car rides. It comes with one security strap, ideal for protecting your dog from minor jolts and turns.
Since every car has a differently-sized console, this car seat won't work for every car. It's important to measure first to make sure that it will fit snugly onto your console.
This car seat is also washable, which is always a relief after pet accidents or stains.
The straps themselves are easily adjustable, according to pet owners. The straps attach to the console to hold the seat into place. Users say it's easy to install and feels quite sturdy.
As for the dogs who use this car seat, they seem to find it spacious, comfortable and reassuring. Owners say their dogs had no problem getting used to the soft, fluffy seat.
Since this seat is designed to fit into a pretty snug space, it's ideal for dogs under about 15 to 20 pounds. We recommend it for anxious dogs, who will have a much more pleasant car ride when they're able to be right next to their beloved humans.
Things We Liked
Removable microsuede cover
Fits snugly onto console
Security tether
Washable and easy set-up
Things We Didn't Like
Does not work in all cars
Smaller size limit
3. Solvit Tagalong Pet Booster Seat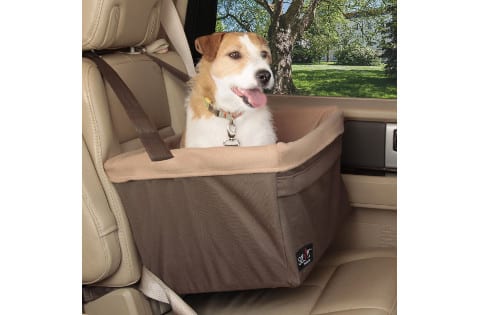 For dog owners on a budget, we love the Solvit Tagalong. It's affordable, safe and comfortable, and it comes in a range of sizes to accommodate small- to medium-sized breeds.
The jumbo size can hold up to 30 pounds of weight. Since there's just one safety tether, we recommend using this for just one pet, rather than multiple small pets.
This car seat is easy to install, and it keeps your dog sturdy and secure. The liner is made of a thin but comfortable material, which is removable and washable.
Owners of this car seat say it's extremely easy to set up and remove, making it ideal for those who may need to store it in the trunk when it's not in use. It straps securely onto the seat, and the security tether works well for keeping dogs in place.
The lining isn't particularly plush or thick, which is actually ideal for some dog owners because it doesn't get excessively hot in the summer. However, for extra comfort, many dog owners like to add another layer of their own to the bottom of the seat.
Another important note is that this seat gives your pup a rather high boost, useful for looking out of the window. On the other hand, your dog may or may not be able to climb into the seat himself — owners of older dogs found that their pups had a hard time reaching the height of the seat. Also, some owners found that the security tether was a bit too short for their liking.
Overall, we like this model because of its simple, reliable design. It's great for dog owners who want an affordable, no-frills car seat for a small or medium dog.
Things We Liked
Works for both small and medium dogs
Boosts pets high enough to see out of the window
Washable liner
Easy installation
Things We Didn't Like
Padding is on the thin side
Safety tether is short
4. Snoozer Lookout Car Seat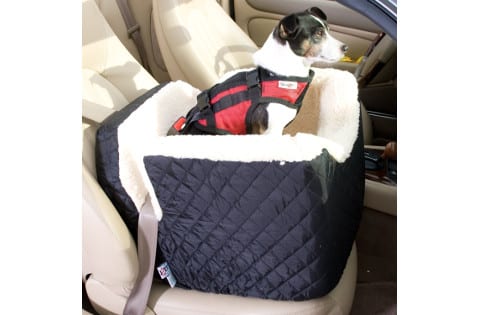 This sizable, comfortable car seat is mid-range in terms of price but high-end in terms of quality. It has a soft foam construction with imitation lamb's wool that's especially ideal for keeping your pup warm and cozy during cold weather.
As the name implies, this seat is designed to help shorter and smaller dogs have an easy way to look out of the window while riding in your car. However, it's useful for more than just pleasure. It securely attaches to the car seat and includes one security strap that keeps your dog from jumping out of the seat.
Owners of this car seat say that it makes a noticeable difference in their dogs' enjoyment of car rides — rather than pacing around anxiously, pups can ride securely and comfortably in the Lookout seat and gaze out of the window. It's also great for dogs that tend to get carsick.
While this car seat certainly isn't difficult to use, some pet owners had to install it a couple times before feeling that it was completely secure. The seat attaches directly to your car's seat belt, but it seems that the seat belt needs to be fully extended during installation for a tight fit.
Additionally, though the fluffy material is great for keeping your pet warm, it may actually be too hot for some breeds during summer months.
Users say the medium sized version is best for dogs above ten pounds, while the small size is perfect for tinier ones.
Things We Liked
Sizes can fit a variety of dogs
Removable and washable cover
Security tether
Cozy material
Things We Didn't Like
Lamb's wool may be too hot during summer
Installation may require some extra care
5. Kurgo Rover Booster Seat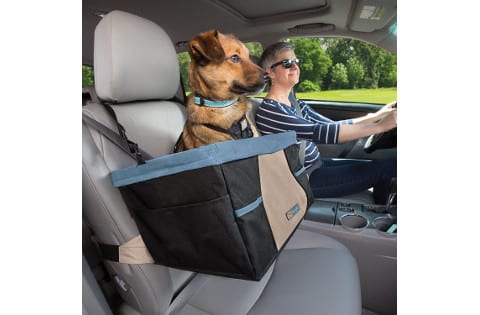 This booster seat from Kurgo can accommodate dogs up to 30 pounds, but it's ideal for dogs on the smaller side due to the compact size of the seat. It's easy to install and quite comfortable for dogs.
The Kurgo seat is a great value for the price — it's affordable, but still well-made with a sturdy design that easily collapses for storage. It straps securely onto a front or back seat and includes an adjustable tether to clip onto your dog's harness.
Since the lining is washable and the exterior is waterproof, this car seat also gets points for easy cleaning.
Pet owners say their dogs take to this seat quite easily, since it's comfortable and — if your dog is the right size — roomy enough that dogs can sit or lay down. However, it's best for dogs 20 pounds and under. Otherwise, it'll be a tight squeeze.
Users say this pet seat is extraordinarily easy to install, taking around one minute. The seat allows smaller dogs to easily see out of the window while riding and it keeps them safe and secure, which significantly cuts down on anxiety.
This car seat also includes pockets to store treats or other pet supplies. All in all, it's a good option for owners of smaller dogs who need a simple, easy-to-use and reasonably priced option.
Things We Liked
Collapses for storage
Includes an adjustable tether
Waterproof exterior and washable liner
Easy to install
Things We Didn't Like
A bit compact, depending on how long your dog is
Of course, not all dogs are the same, so not all car seats will work well for every pooch. However, our above picks provide a range of high-quality options for dogs of all sizes and temperaments.
Our top pick? The K&H Bucket Booster. It has two tethers rather than one, keeping your pup ultra-secure, and it's easy to install or remove so pet owners are likely to use it consistently. This model can also work well for dogs of most sizes, making it a reliable all-around choice.