Top 5 Best Motorcycle Dog Carrier Reviews to Let Your Dog Ride in Style

By Ashley Turner     Last Updated January 25, 2022

We independently research and recommend the best products; Learn more here. We may receive commissions on purchases made from our product recommendations.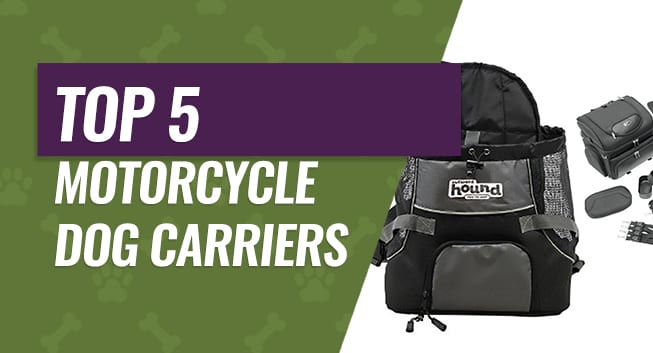 For any pet parent who enjoys riding their motorcycle or taking trips, you know that it can be fun to take your dog with you on your adventures. But, a motorcycle dog carrier is an easy way to ensure your dog stays safe while they're on the open road.
Choosing the correct carrier can be a challenge, especially with all of the choices available. We've rounded up the top five dog carriers so you can compare them, and we've also outlined important factors to consider when you're shopping for your new carrier.
Our Top Picks for the Best Motorcycle Dog Carrier
Types of Motorcycle Carriers
Your dog's carrier is broken down into two different types, and the first step is deciding what type is going to work best for your dog and your needs.
Crate Style
The first type of dog carrier for your motorcycle is a crate style carrier that mounts onto the back or on the tank of your motorcycle. This style does offer more protection for your dog in the event of an accident, from debris, and it can shelter from the wind.
However, a downside to this carrier is that you won't be physically close to your dog while you ride. Some dogs may feel better if they're strapped directly to you instead of separated while they ride.
Wearable Style
The second type of dog carrier for your motorcycle is the wearable style that allows you to strap your dog directly to your body. They fit you like a backpack, and your dog goes in the pack portion before you strap it to your body.
These types of carriers allow your dog to be extremely close to you when you ride. However, they offer less protection if you crash and from any floating debris or from the wind.
Important Motorcycle Carrier for Dogs Considerations
You want your dog to be safe and comfortable as they come with you, and there are several important aspects to keep in mind to ensure you choose a safe and effective motorcycle carrier.
Absorbent Flooring
Accidents happen, and you don't want your dog to be stuck in a crate or carrier with a puddle of urine. Having a carrier with an absorbent flooring can help to alleviate this until you can stop and clean it, or you can look for a carrier with a removable flooring to make it easier to clean.
Comfort
Your dog should be comfortable when they're in their carrier, and it should be large enough for them to turn around easily without bumping into anything. A slightly padded flooring is also a good idea, especially if you plan to take your dog on long road trips.
Durable Materials
This motorcycle carrier is going to be an investment that's designed to keep your dog safe for several adventures. You want your carrier to be made out of durable materials including heavy-duty plastic or a thick mesh, and a lot of them are also reinforced with an aluminum framework for added protection and durability.
Locking Mechanisms
A lot of motorcycle carriers have multiple openings that allow your dog to stick his or her head out and enjoy the ride. However, you want to ensure that your dog can't get out of these openings and that any doors are securely locked before you take off. It's also important to make sure that your dog can't accidentally open any of the doors from the inside.
Portability
Is your dog carrier going to stay strictly attached to your motorcycle or do you plan to use it as a crate when you rest? Portability is a big thing to remember on long trips, and you want your carrier to have things like handles and easy ways to detach it from your motorcycle.
Strong Attachment Points
Your carrier should attach securely to your bike or your body if you're using a wearable carrier, and it should balance and not tilt to either side. You also want to make sure that your dog can't wiggle free, and that it doesn't have any obvious openings for your dog to slip through and get out.
Ventilation
It's a good idea to check your carrier to make sure that it has proper ventilation and that it allows for a good airflow rate. Mesh openings allow for great airflow, and they'll help to keep your dog cool while they ride. They're also safer for your dog because they can't get out through these openings.
Weatherproofing
The weather is unpredictable, and you want your dog to stay dry and comfortable no matter what weather conditions you find yourself riding through. Looking for a carrier or a crate with a waterproof coating is a smart idea, as well as insulation if you plan to ride in colder climates or weather.
Additional Considerations
There are a few other things you want to make sure you have with you when you take your dog for a ride in his or her new motorcycle carrier.
Goggles
It's a good idea to outfit your dog with a pair of goggles before you take them on your motorcycle to protect their eyes from dust and debris. You may also want to consider strapping a helmet on them so that there is a reduced chance of injury in case you get in an accident.
Permit or Paperwork
Some states require that you have a permit when you ride with your dog on a motorcycle, even if they are in a crate style carrier. You can call your local DMV to see if you have to have a special permit or paperwork with you, and some states require that you have proof that your dog's rabies vaccine is up to date.
Our Top 5 Picks for the Best Motorcycle Dog Carriers
1. Outward Hound Kyjen PoochPouch Front Carrier for Dogs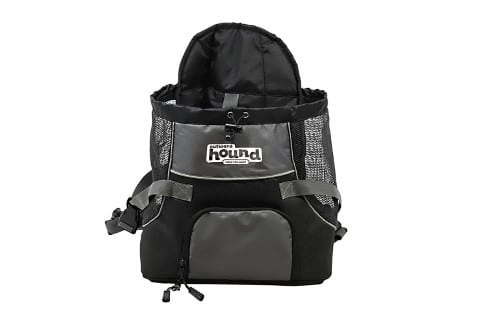 This dog carrier comes in two different colors and a medium or large size so you can find a good fit for your dog. It comes with a built-in inside safety harness so you can ensure that your dog stays in the bag, even if it should happen to open.
It features a very lightweight construction that is easy to carry, and it has full mesh panel sidings to ensure that your dog enjoys a good airflow and plenty of ventilation. There is a small storage pouch that's great for storing your dog's paperwork, leash, a small bag of food, and more.
You can wear this pack in the front or in the back, and the front of the pack is solid so your dog can duck down to avoid the heavy wind. The straps are easy to adjust, so you can get this pack to fit a variety of body sizes and types without a problem.
Things We Liked
Able to wear this pack in the back and front
Has a built-in harness to secure your dog
Bottom and sides have a slightly thicker padding for comfort
Things We Didn't Like
Best suited for dogs up to 20 pounds and no larger
Lightweight and won't withstand cooler climates
Straps may slide around or off your shoulders
2. Kuryakyn 5288 Grand Pet Palace Bag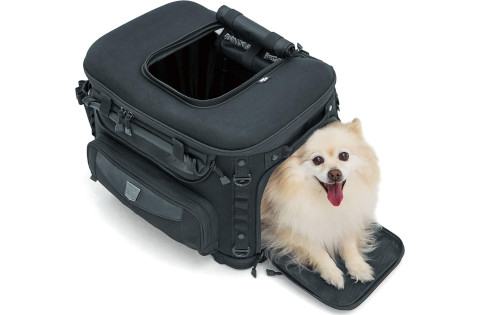 This durable and fully contained dog carrier comes with a thicker material on the outside that wicks moisture away and it is waterproof. It has thick metal zippers and zipping mechanisms so you dog stays secure and safe when they're riding with you and they can withstand repeated use.
There are several small mesh windows you can unzip to allow for good ventilation and airflow, and they're located all around the bag so your dog can see out in all directions. The bottom of the carrier is made out of hard plastic, and this makes it easier to secure to your bike.
The bag is built for your dog's comfort in mind, and it comes with a faux fur comfort liner that is removable so you can clean it easily. This bag also has carrying handles and several large compartments that allow you to store your dog's leash, food, toys, and anything else you'd like to bring with you.
Things We Liked
Carrier comes with a built-in food and water holder
Has a leash attachment inside to keep your dog secure
Hard bottom makes it easy to transport
Things We Didn't Like
Might be difficult to zip and unzip the compartments
Attachment clips and straps may not be long enough
Can run small to size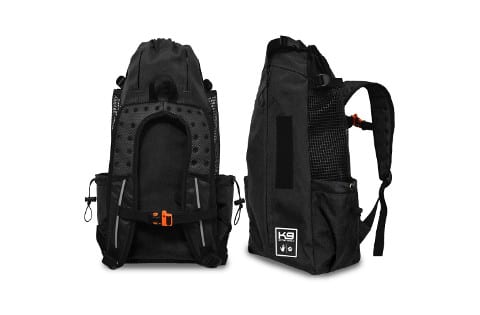 You can choose from four separate colors and four different sizes ranging from extra small to large so you can customize it to fit your dog's size. This pack is designed to be worn like a backpack, and your dog can sit up in it and be secured by the metal D-ring hook for extra security.
The sides of this carrier are made out of mesh panels, and this lets your dog enjoy good airflow while the solid front ensures that they're not too cold when they ride with you. This pack also doubles as an airline-approved carrier so you can use it to transport your dog as well.
You'll get soft velcro closures along the sides that can hold your dog's leash, tags, waste bags, and more. The straps have a soft padding to increase your comfort level, and the inside of the bag has padding on the bottom and up along the sides to ensure your dog is comfortable as well.
Things We Liked
Comes in four different colors and four different sizes
Has an easy close zipper for a safe and secure fit
Padding along the sides and on the bottom for comfort
Things We Didn't Like
Can only safely support dogs up to 30 pounds
Chest straps are not padded and can rub
May not fit larger builds very well
4. Saddlemen 3515-0131 Pet Voyager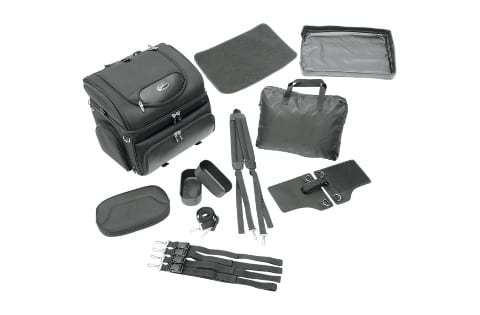 This compact dog carrier doubles as a cargo crate so you can use it on an airline as well as on your motorcycle without an issue. It comes with a removable bottom tray for easy cleanup and a padded pillow that sits in the tray and ensures that your dog is comfortable as they ride.
It comes with two different mounting hardware setups so you can try them both and decide which one fits more securely onto your motorcycle. The bag as several small vent flaps that you can zipper open or closed and these areas allow for good airflow while keeping your dog safe inside the bag.
You get included food and water trays that fit into your dog's compartment, and they stack neatly away in their own compartment when they're not in use. The fabric isn't completely waterproof, but it does have a water-resistant coating to help keep your dog dry and warm as they ride with you though unfavorable weather.
Things We Liked
Bottom features a removable tray for easy cleaning
Comes with several small mesh windows
Get two different mounting systems for a good fit
Things We Didn't Like
Company does not accept any returns
Built-in tether may be too long
Does not retain its shape very well, especially under pressure
5. NICREW Legs Out Front Dog Carrier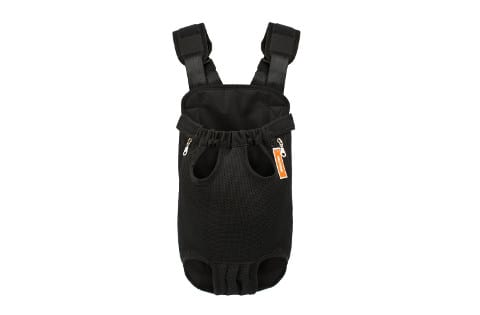 This dog carrier comes in three different colors or patterns and four different sizes starting at small and going up to extra large. It features an easy in and out design with long zippers along the sides that open the bag wide and a velcro closure around your dog's neck area.
Your dog will enjoy several mesh panels along the sides of this carrier that allow them to stay cool and have good airflow throughout the bag when they're in it. The shoulder straps have a wider padded section that you can easily adjust to get a comfortable fit even with extended wear.
The inside of this dog carrier has padding along the bottom, and up the sides, so your dog stays comfortable and cool. This carrier was designed to give your dog ample leg and tail room, and it has slightly oversized leg and tail holes so your dog can sit comfortably.
Things We Liked
Features an easy in and out side zipper
Has additional padding along the sides and bottom
Very easy to adjust the wider shoulder strap pads
Things We Didn't Like
Zippers aren't very durable and are prone to slipping
Velcro closure may not be sturdy enough
Does not have a lot of padding in the shoulders
What's the Best Motorcycle Dog Carrier?
Our pick for the best motorcycle dog carrier is the Outward Hound Kyjen PoochPouch Front Carrier For Dogs because it comes in small and large sizes for a good fit. This dog carrier also has a built-in safety harness to ensure that your dog stays inside the carrier at all times.
There are several mesh panel areas that allow for great ventilation, and you get a small pouch for carrying your dog's papers, leash, treats, or other items. It also has a solid front so your dog can duck down to avoid the wind, and you can wear it in the back or in the front easily. All of these reasons allowed this carrier to beat out the competition and be our top carrier pick.