Protect Your Car Seats with the Best Dog Car Seat Covers
Latest Update: August 30, 2018
Whether you are running errands around town or headed to the local dog park, it is always fun to bring your pup along for the ride.
Despite how much joy your dog feels when they are cruising with their head out the window, your upholstery may suffer greatly. Removing fur from your car's seats may be an all-day event depending on your dog's breed.
There is an easy and affordable solution to this problem; invest in a dog car seat cover. High-quality car seat covers protect seats from dirt, fur, mud, debris, stains, and your pet's claws.
We curated a list of our top five picks for the best dog car seat covers along with a buyer's guide designed as a tool to assist you in your decision-making process.
Our Top Picks for the Best Car Seat Covers for Dogs
Things to Consider When Choosing a Car Seat Cover
There are significant differences between high-quality car seat covers and decent ones. Most of the time, you can identify the best models for your dog from the not-so-great models by their characteristics and features.
Type of Car Seat Cover
There are plenty of options depending on what the type of car seat you have and what area you are protecting. There are backseat covers, the front passenger seat covers, door covers, and also cargo truck covers. We will touch base on the types of car seat covers available in a separate section.
Material
There are many options in terms of the material used to fabricate a car seat cover. It is important to make sure that your dog car seat cover possesses the following qualities:
Waterproof
Durable
Scratchproof
Comfortable
Functionality is as important as comfortability. It needs to protect against scratches and spills while remaining soft, since your dog will spend many car rides laying and standing on the cover.
A lot of dog car seat covers are made from a blend of cotton and polyester, leaving a smooth finish. However, this blend is not always ideal because your pup may not be able to grip well onto the surface.
Cotton and polyester are not the best water-resistant materials. Try a cover made from neoprene materials if you are looking for an excellent waterproof option.
All materials have their weaknesses and strengths, which is why manufacturers combined elements from multiple fabrics to create a soft spot for your pet to lay that is also waterproof.
Weight is one aspect many pet owners forget to factor in when choosing a car seat cover. Some people buy covers for their puppies while they are still growing and do not think about the maximum weight for their breed.
Always take note of the maximum adult weight for your dog's breed. For example, if your puppy is 40 pounds and is expected to grow to 70-80 pounds as an adult, purchase a car seat cover with a weight limit of 80 pounds rather than one that is 40 pounds.
Adjustable Straps
It is best to look for models with adjustable straps, giving you the best chance of finding one that fits your car perfectly.
Sliding car seat covers cause much frustration and fail to protect your seat throughout the car ride. Adjustable straps rank pretty high on our car cover checklist; without adjustable straps, the cover may not function as best as it was intended.
Machine-Washable
Dog parks can be a messy adventure, especially after the rain.
Overall, pet seat covers must frequently be washed to eliminate odors, remove debris, and last for years to come. Finding a machine-washable product allows for a quick clean up process.
Some options are dryer-safe as long as you toss them in the dryer on a low-heating setting. Be sure to check with your manufacturer before placing the product into the dryer to avoid damaging the material.
Non-Skid Bottom
Non-slip bottoms provide an extra layer of protection so that your car cover does not slip while your pup is on it.
Keep in mind that your upholstery will determine how well the non-skid bottoms work. They occasionally slip on fabric seats, yet move much less often when placed on vinyl or leather seats.
Foam Protection
Add foam provides comfortability and protection for your four-legged family member. Some products offer quilted tops and a minimum of 2 inches of foam to protect your dog in the event of an accident or an abrupt stop.
Multiple Configurations
Some car seat covers have multiple different ways to install them. The different options provide your seats with additional coverage, which can be ideal when you take your dog swimming or if your dog runs into the mud.
What Type of Car Seat Cover To Use
The type of car cover you should purchase may vary depending on where you plan on installing it and where your pet rides in your vehicle. There are four main types of dog car covers.
Back Seat Covers
As the name implies, back seat covers are for installation over your vehicle's backseat. It is ideal for pet owners with dogs who prefer riding in the back.
There are a few different backseat models such as a bench seat cover, shorty models, hammocks, and extended models.
Bench seat covers protect the surface of the back seat, including the backrest. Hammocks cover an even greater surface area as they form a hammock in the back of the car, protecting the floor and the small regions that might be missed by a bench seat cover.
Shorty models have unique features such as cup holders and armrests, while extended models cover large surface areas such as SUVs and trucks.
Front Seat Covers
Front seat covers are ideal for small to medium-sized breeds who enjoy riding in the front passenger seat. It is not ideal for large dogs to sit in the front seat as they can obstruct your view.
Car Door Covers
This product protects your car door from dogs that love to chew, scratch marks, dirt, and other debris. Place car door covers in either the back seat and the front.
Use car door covers in combination with a seat cover. Some hammock-style seat covers have side flaps to use as car door covers.
Cargo Covers
Install cargo covers in the trunk space of large vehicles and SUVs. It is ideal for pet owners who prefer fur and debris to stay in the back.
Our Top 5 Picks for the Best Dog Car Seat Covers
1. 4Knines Rear Seat Cover for Cars, Trucks and SUVs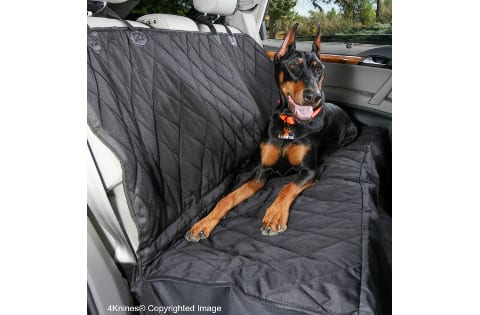 This back seat dog car cover by 4Knines is an excellent product for dogs who enjoy riding in the back. It provides comfortability while trapping dog fur and debris.
It comes in two sizes and three colors; black, tan, and gray. The material has a 190 GSM rating, which measures the quality, the weight of the article, and density.
This sturdy product has three layers of water-resistant material and additional padding for comfort. The adjustable straps attach to the headrests, keeping the cover positioned adequately.
Customers rave about this car seat cover, as it is elegant and functions exceptionally well. Unlike some back seat covers, many customers state that this one stays in place as it has a non-slip bottom surface.
Customers with larger vehicles wish that the XL size was a bit wider; however, are side flaps to help eliminate any gaps.
Things We Liked
Comes in regular and extra large as well as three colors which are black, tan, and gray
Can also be used as a hammock
Non-slip bottom surface
Made with water-resistant material
Things We Didn't Like
Some customers wish the XL size was wider
Non-slip bottom may slip a little on fabric upholstery
Both sizes are fairly expensive
2. Epica Deluxe Pet Bench Car Seat Cover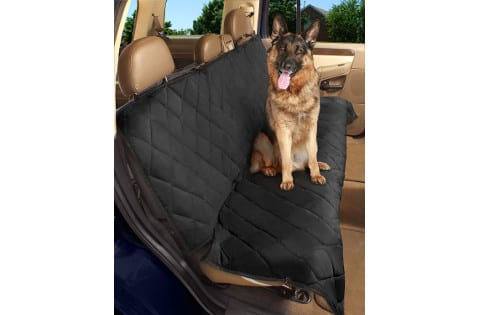 Epica's Deluxe Pet Bench Car Seat Cover is an affordable option that provides excellent results. Epica is a well-known brand in the pet supplies industry, producing high-quality products for quite some time.
This quality car seat cover is easy to install. Customers reported that it looks better than most expensive car seat covers once it is in the car.
This quilted product is machine-washable, making it simple to clean your car after adventures with your pup. It is also backed by a 100% money back guarantee if it does not suit your needs.
Some customers have stated that while it is a quality product, it does not fit their specific needs. However, this is not always avoidable before purchasing a product.
The main complaint is that this "standard" bench seat cover does not protect your vehicle's floor or the backside of the front seats. Others have stated that they have to adjust the car seat cover a little each time they go for a drive with their dog.
Things We Liked
High-quality, water-resistant material
Machine-washable
Inexpensive
Things We Didn't Like
Needs a little adjustment prior to car trips
Does not protect the backside of the front seats
Does not cover the floor
3. Plush Paws Pet Seat Cover
Plush Paw's Pet Seat Cover protects your vehicle's seats against scratches, fur, and debris while keeping your pup comfortable and secure.
It comes in two sizes and three colors. The regular size is 55 inches wide and 58 inches long.
The material is nonporous and highly durable. This product has stretchable scraps, seat anchors, and a non-skid silicone backing to prevent slippage.
Unlike other covers, it has openings for seat belts, side flaps for extra coverage, and a hammock option. Two harnesses and seat belt adapters are included as additional freebies to keep your pup secure.
Customers reported that while other covers move around often, this product stays in place with the help of the seat anchors. Customers stated that they worry less about paw damage to the interior of their car because of the durable material.
A few buyers were confused on the placement of the straps and wished that there be an instructional video available online.
Things We Liked
Available in two sizes and three colors
Includes stretchable straps, seat anchors, and silicone backing to prevent slippage
Features side flaps, a hammock option, and seat belt openings
Two dog harnesses and seat belt adapters are included for free to keep your dog safe
Things We Didn't Like
A few consumers had difficulty installing the dog set cover
Manufacturer does not provide a detailed instructional video
Somewhat expensive
4. BarksBar Front Seat Cover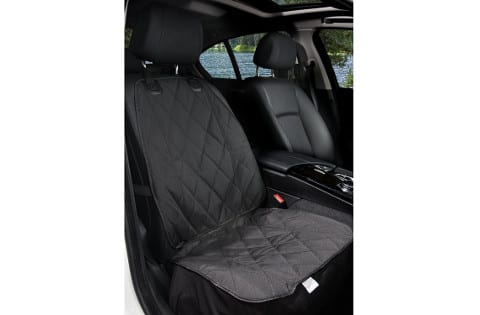 BarksBar's Front Seat Cover is an excellent choice for owners whose dogs enjoy riding in the front passenger seat. It is made to fit most cars, SUVs, and trucks and is relatively easy to install.
Seat anchors and the textured bottom prevents slippage and holds the cover in place.
This waterproof seat cover is made from polyester and is very durable.
This quilted fabric's colors do not bleed and look brand new after even years of wear and tear. It is machine washable on a gentle cycle; however, it must hang dry.
Customers rave about how natural this product is to install. While rare, a few customers stated that the fabric and stitching were weaker than they thought.
Things We Liked
Affordable
Ideal for dogs that enjoy riding in the front
Safe to throw in the washer on a gentle cycle
Waterproof
Things We Didn't Like
Only available in one size
Does not protect the floor or door
Some customers reported tears in the fabric and weak stitching
5. Arf Pets Cargo Liner Cover for Dogs
The Arf Pets Cargo Liner Cover is a dog car cover designed for use in the cargo area of SUVs. However, it can be used in the back seat as well. This sizeable protective shield includes side flaps, offering maximum coverage against any messes.
This cargo cover 82 inches long and 55 inches wide. With seat anchors and quick release headrest straps, installing this product is a breeze.
It is waterproof and has a textured backing to prevent slips. Use the gentle cycle to wash this product, while using the air-dry setting when placed in the dryer.
While many customers adore this product, some buyers had issues with the buckles breaking after a few uses. A few customers reported weak stitching and fabric tears due to their dogs' nails.
Things We Liked
Easy to install
Covers a large space and has side flaps
Use in cargo space or backseat
Textured backing prevents slippage
Things We Didn't Like
Might be too big for the backseat of a small car
Some buyers had issues with the buckles breaking
Customers reported weak stitching and fabric tears
What's the Best Dog Car Seat Cover?
Overall, Plush Paw's Pet Seat Cover is one of the best dog seat covers of all time. It has stretchable scraps, seat anchors, and a non-skid silicone backing to prevent slips. This product is made from high-quality materials so that it is waterproof and machine washable. The price is moderate compared to all the options, but it provides the most bang for your buck.
Protect Your Car Seats with the Best Dog Car Seat Covers
PuppyWire
Protect Your Car Seats with the Best Dog Car Seat Covers