5 of the Best Dog Nail Clippers for Grooming Your Dog at Home

By Ashley Turner     Last Updated March 3, 2021

We independently research and recommend the best products; Learn more here. We may receive commissions on purchases made from our product recommendations.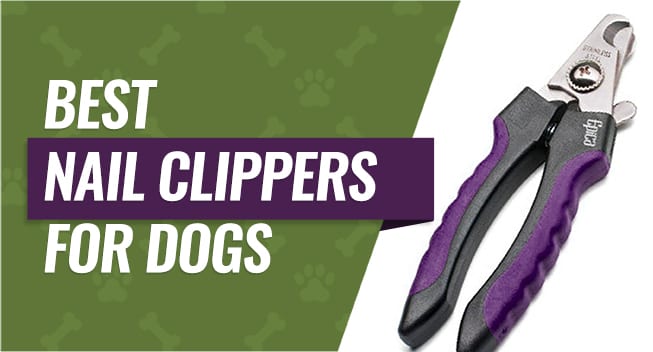 Some people let professional groomers trim their dog's nails, but with the right tools it's easier than ever to do at home. To help you pick the best dog nail clippers, we've put together a list of 5 top picks, as well as some tips for picking the right tools.
Our Top Picks for the Best Dog Nail Trimmers for Your Dog
With so many options on the market today, picking the right product can be overwhelming. To make things easier on you, we'll look at some of the most important criteria for picking your pup's nail trimmers.
Ideal for small to medium-sized dogs (such as Beagles), these clippers work like a tiny guillotine to slice off the end of the nail. Place the end of your dog's nail through the ring and squeeze the handle. A cutting blade will move up to slice off the end of the nail.
Although these are the most popular choice for most dog owners, they can crush the nail when used incorrectly. Some professionals recommend using guillotine clippers only if you are experienced with nail trimming.
To use:
Secure your dog and hold one paw
Squeeze the paw's center pad to extend each toe
Inspect the nail for the quick line
Place nail through opening and cut in a smooth line
Important:
Always clip perpendicular to the nail (top to bottom), as cutting from side to side can crush the nail
Clip with the clipper blade facing toward you, never toward the dog
For large dogs, scissor clippers are the safest and most effective nail trimming tools. Easier to use and more forgiving than guillotine clippers, scissor clippers are ideal for the average dog owner.
Most scissor clippers have an included quick guard to prevent from accidentally clipping the nail too far.
To use:
See steps 1-3 for guillotine clippers
Set the quick guard
After locating the quick, place the tip of the nail through the scissor opening and cut in a smooth motion
The most important feature of any nail clipper is the quality of the steel used for the blades. Look for something made with high quality stainless steel, which will stay sharp and rust-free for safe trimming.
This is imperative because sharp blades will create a clean, painless cut for your dog. If you choose trimmers that dull easily, you risk crushing the nail.
Choose something with a handle that will be comfortable for you to hold. Look for something with a rubberized or anti-slip grip.
In general, longer handles provide more leverage to help cut through the nails easily.
Some scissor clippers come with a quick guard to prevent from overtrimming the nails. Some users prefer the quick guard, while others think it prevents them from trimming accurately.
Whether you use a guard or not is a matter of personal preference. However, it is recommended if you are nervous or new to trimming your dog's nails.
Tips for Trimming Your Dog's Nails
Create a Positive Experience
If possible, start familiarizing your dog with nail trimming from a young age. This will help it to become a routine experience rather than a frightening one.
If your dog is nervous about trimming, approach the process slowly:
Before introducing the clippers at all, spend some time getting your dog used to having his or her feet touched
Introduce the clippers in a closed position, holding them near your dog's feet and nails
Praise your dog and give him or her a treat
Repeat several times before stopping
The next day, repeat the process but begin to open and close the clippers so they make a noise
Praise and treat your dog when they relax
Repeat this process several times until you feel comfortable to start clipping
Before you ever clip your dog's nails, you should be familiar with where their quick starts. In dogs with light colored nails, this is easy as the quick is visible from the outside.
However, the quick will be hidden in dogs with dark nails. To identify it, flex the paw so that you can see the underside, where the vein should be visible.
Alternatively, look at the paw from a side profile. You should be able to see a place in the nail where it gets thicker; the quick is located in the thick part.
While they can be helpful, quick guards are not foolproof.
The safest way to avoid clipping the quick is to familiarize yourself with where it is in your dog's nails. Use the guard as a guide, but always know where the quick starts and double check before you clip.
Help! I Cut My Dog's Nails Too Short
If you happen to cut your dog's nails too short you can expect there to be some blood. The bleeding is caused by cutting into the quick. To stop the bleeding quickly you can use styptic powder on the nail. If you do not have any styptic powder on hand the paw may bleed for a bit, but it will eventually stop.
Can Dog Nail Clippers Be Sharpened?
The short answer is yes, dog nail clippers can be sharpened. This leaves you with two choices, do you sharpen your current dull pair or do you just buy a new pair (since they are fairly inexpensive)?
It's a pretty straightforward process to sharpen the clippers. Most of the time it is easier to sharpen them by taking them apart first. Most of the scissor style clippers can be taken apart by taking out a screw holding them together.
Once you get them apart and cleaned then you can take a sharpening rod (or grinding stone) to it to get them sharp. Here's a helpful video showing you how to sharpen the Miller's Forge scissor nail clippers:
Other Common Questions About Dog Nail Clippers
What dog nail clippers do groomers use?
Dog groomers tend to stick with high quality brands when it comes to dog nail clippers such as Millers Forge, Rescoe, Epica, and many others. With these high quality clippers it really comes down to personal preference. We recommend the Epica Professional dog nail clippers (which you can learn more about below).
How do you cut a dog's nails that are black?
The only difference with cutting black dog nails is the difficulty in finding the quick. Just like with regular nails you want to clip off a little bit at a time and avoid cutting the quick. To identify the quick, flex the paw so that you can see the underside, where the vein should be visible.
Can a dog die from cutting the quick?
No, your dog won't bleed to death if you happen to cut the quick. It does look like a lot of blood but it will usually clot before it becomes a life or death situation. The worst part is how painful it is for your dog and it's good to give them a treat (or two) if you happen to nick the quick.
How do you cut overgrown dog nails?
Overgrown nails can be tricky to cut. The key is to cut off small parts of the nail slowly, over time. The reason behind this is the longer the nail gets, the longer the quick gets. You can't just chop off the nail as you will cut the quick. Cutting a small amount off each time encourages the quick to recede. This can usually be done once a week until your dog's nails are no longer overgrown.
Where is the quick on black dog nails?
To find the quick with black nails you will want to flex the paw so that you can see the underside and the vein should be visible. Alternatively, look at the paw from a side profile. You should be able to see a place in the nail where it gets thicker; the quick is located in the thick part. Lastly, you can take a flashlight and shine it into your dog's nail and you should be able to see the end of the quick (it'll be red under the light).
Are guillotine nail clippers better?
There isn't one type of nail clipper that is strictly better than the others. They each have their own pros and cons. Guillotine nail clippers are better suited for smaller dogs with thinner nails. This type of nail clipper can have trouble slicing through thicker nails on large dogs. With that said, if you are newer to cutting your dog's nails the scissor clippers are easier to use and better suited to beginners. The scissor clippers also are much better at cutting the thick nails on large dogs.
Our Top 5 Picks for the Best Pet Nail Trimmers
1. Epica Professional Pet Nail Clippers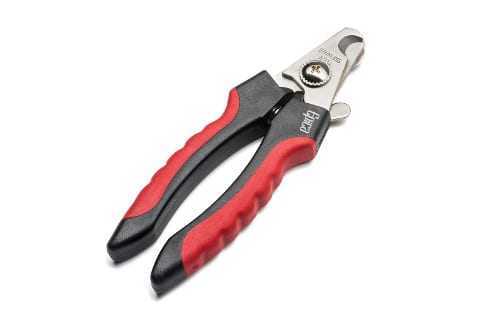 Our first pick are these scissor style clippers from Epica. Constructed from high quality stainless steel, the super-sharp blades slice through the nails easily for a quick and painless trim.
The blade cuts cleanly, eliminating the need to file away rough edges after clipping.
Users across the board were impressed with the ergonomic rubber-coated handles. The handles are shaped to fit your fingers and are coated with anti-slip rubber.
The attached quick guard allows you to trim your dog's nails with confidence. Simply trim in small increments until you have reached the desired length.
When you're ready to put them away, these clippers will lock into a closed position. This prevents you from accidentally cutting yourself as well as protecting the blade from other objects it's stored with.
Epica makes these popular clippers in two different sizes: small/medium or medium/large. Accurate spacing between the blades ensures that you are able to clip your pup's nails safely and effectively.
Reviewers were overall very pleased with the quality construction and effectiveness of these clippers. One user in particular said that the Epica clippers are exactly like the ones their vet uses, and provide comparable results.
Things We Liked
Super-sharp stainless steel blades for quick, smooth cutting
Ergonomic slip-resistant handles
Quick guard for safe trimming
Available in different sizes for different dogs
Things We Didn't Like
Quick guard sometimes becomes loose and doesn't stay in place
Some users found that the spring weakened after several uses
Clippers make a loud noise when clipping, which irritated some dogs
2. Millers Forge Nail Clippers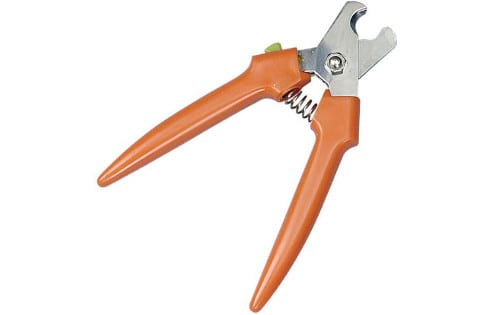 One of the top names in pet grooming supplies, Millers Forge is known for durable, high quality products. Their scissor-style nail clippers come in at #2 on our list.
With super-sharp stainless steel blades, these clippers make easy work of even the toughest nails. They cut cleanly and easily through the nail for a quick, stress-free experience.
The handles unfortunately are not constructed with the same care as the blades. The orange plastic isn't outfitted with any sort of anti-slip material to increase grip, which was a drawback for some users.
Unlike Epica's clippers, these trimmers are not outfitted with a quick guard, so they are better suited for people who are already comfortable with trimming nails. Many users actually prefer to not have a quick guard, as it can obscure the view of the nail when trimming.
A locking mechanism allows you to secure the blades in a closed position for storage.
These clippers come in one size and are recommended for dogs 40 lbs and up.
For the most part, reviewers were very impressed with the Millers Forge trimmers. They cut quickly and cleanly, with no fraying or bending of the nails.
Things We Liked
Sharp blades to cut through thick nails easily
Long-lasting and durable construction
Locking mechanism for storage
Things We Didn't Like
Handles feel somewhat cheaply-made
Blade is somewhat thick, which doesn't allow for precision clipping
Blades lose their sharpness more quickly than some others
3. Resco Original Deluxe Clippers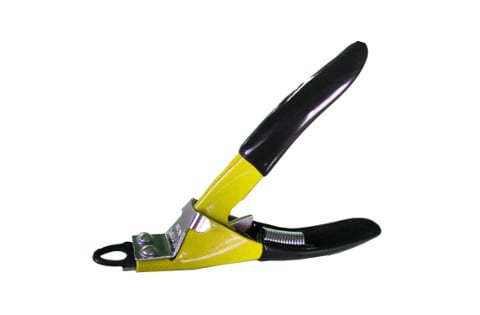 Resco's original deluxe clippers are the first guillotine-style clippers on our list. Since 1937, Resco has produced top quality grooming products, and these clippers live up to their reputation.
Clinical grade American steel blades slice through nails with ease for a clean cut every time. Their specially engineered micro-honed cutting blade system ensures that each trim is quick and painless.
Resco's blade replacement technology allows you to replace the blade when it becomes dull instead of investing in a new set of clippers.
For added comfort and ease of use, the handles are outfitted with powder-coated grips, ensuring a no-slip grip.
Unlike most scissor type clippers, guillotine clippers are not outfitted with a quick guard, so be sure to identify your dog's quick and take care when trimming.
Choose from small or large sized clippers depending on your pet's size. The small/regular size typically suits dogs up to 50 lbs., while the large is suited to dogs 50 lbs. and up.
Users with giant breeds, like Great Danes or Saint Bernards, were impressed with the slicing power of these guillotine clippers. They enjoyed the ability to trim precisely, trimming either a small sliver or a larger piece as needed.
Resco backs up their deluxe clippers with a lifetime warranty.
Things We Liked
Clinical grade steel for durability and sharpness
Replaceable blades
Comfortable, slip-resistant handles
Multiple sizes available
Lifetime warranty
Things We Didn't Like
Blade replacement is somewhat difficult
Blade ejector tab is inconveniently placed, sometimes causing accidental blade removal
Requires extra caution as no safety guard is available
4. Safari Professional Nail Trimmer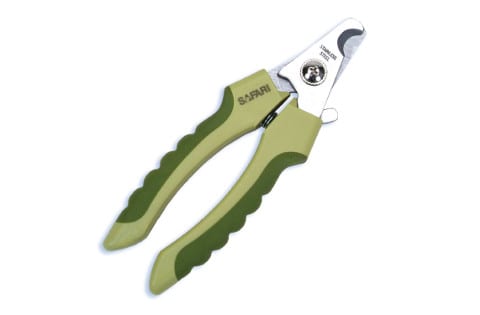 Safari's scissor-style nail trimmers are constructed with fine stainless steel for a sharp and effective trim.
Users said that the blades were sharp enough for even the thickest, toughest nails. The result is a clean, precise cut every time.
The large rubber-coated handles are slip-resistant and crafted with grooves on the side for added comfort. Users with small and large hands alike reported that these clippers were comfortable to use, even on multiple dogs at a time.
A quick guard prevents you from accidentally cutting into the quick, so these are ideal for those who are nervous or new to trimming nails.
The standard size is ideal for most dogs, while the large size can be used on giant breeds. One user with an 80 lb. German Shepherd said that the standard size was just right, while the large was somewhat too large.
When you're ready to store, simply activate the locking mechanism to lock the blades in closed position.
Things We Liked
Quality stainless steel blades provide a clean cut
Ergonomic, comfortable handles
Quick guard and locking mechanism for added safety
Things We Didn't Like
Quick guard often becomes loose and moves out of place
Safety guard is much deeper than necessary; exercise caution when locating the quick
Steel goes dull faster than many other clippers
The GoPets nail clipper is made with 3.5mm thick stainless steel, perfectly sharpened for clean cuts. They claim that the steel stays sharp for years, even with regular use.
Right out of the box, the blades are sufficiently sharp for most nails. However, giant breeds or dogs with particularly tough nails might need something a bit more heavy duty.
The large plastic handles are made with rubber insets for added grip and comfort. Because the handles are longer than most, they provide extra leverage to make cutting even easier.
The built-in guard helps prevent cutting too much at once. If you prefer to use it without the guard, it can be rotated to stay out of the way.
A locking mechanism allows you to store the blades in a closed position. However, many reviewers reported that the locking mechanism often locks while clipping.
Two sizes are available for use on dogs of any size. The small size can even be used on cats if desired.
As an added bonus, the GoPets nail clippers include a separate nail file to smooth any rough edges left over after trimming.
Things We Liked
Long-lasting, rust-resistant steel
Long handles for added leverage
Included nail file
Packaging includes helpful instructions on safe trimming
Things We Didn't Like
Not sharp enough for use on giant breeds or dogs with tough nails
Safety lock sometimes locked up even when in use
Quick guard too deep
When it comes to your beloved pooch, we know health and safety are a top priority. That's why we recommend Epica Professional Nail Clippers as the best dog nail clippers.
From the highest quality steel to the ergonomic no-slip handle, it's the most solidly constructed product on our list. Add to that its safety features, like a quick guard and locking mechanism, and it's suited to both experienced and novice pet owners alike.
Whether your dog is large or small, Epica's nail clippers can assure that you and your pup enjoy a stress-free nail trimming experience.