Top 7 Best Dog Nail Grinders for Large and Small Dogs

By Ashley Turner     Last Updated March 14, 2022

We independently research and recommend the best products; Learn more here. We may receive commissions on purchases made from our product recommendations.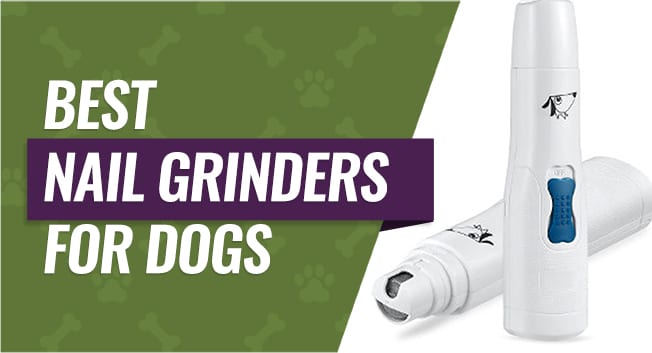 Finding the best dog nail grinder for you and your pet can help make trimming toenails easier and less stressful than using nail clippers. However, your success will depend on picking the right combination of tools and grinding tips.
Dog nail grinders are widely available, but you'll need to decide how powerful a motor you require and will need to choose from a variety of brands with varying features and accessories. Below, we'll take a closer look at how to select the best grinder for your dog and review some of the most popular models currently available.
Our Top Picks for the Best Nail Grinder for Your Dog
How to Select the Best Dog Nail Grinder
Avoiding nail trims may seem like the best way to prevent pain and stress, but neglecting this task can cause big problems.
There are two main reasons to use a nail grinder rather than nail trimmers and both concern your dog's comfort. First, many owners find that using nail clippers - especially if they are old and dull - creates an uncomfortable amount of pressure on the dog's nail and can leave jagged splintered edges behind.
Second, it can be difficult to accurately judge where the quick inside the nail ends, and it's more difficult to gradually trim to the correct spot with clippers. Grinders, on the other hand, do not put excessive pressure on the nail and make it easy to gently trim your dog's nails to exactly the right place.
Nevertheless, grinding tools are noisy and can create vibrations that some dogs find unpleasant. It's, therefore, important to select a grinder that is as quiet and as gentle as possible but which can still effectively grind your dog's nails.
If you aren't sure how to train your dog to accept nail trims, or if you would like to see an example of proper nail trimming techniques, this video will help you grind your dog's nails successfully without causing stress or pain.
Many owners find grinding their dog's nails to be simpler than clipping them but finding a tool that is easy to use will help make the process even easier and faster. This will help your dog accept the practice, and will encourage you to trim their nails more often.
Look for a grinder that is easy to hold and manipulate. Avoid tools which are too heavy or cumbersome, and you should find a grinder with an ergonomic shape and rubbery grips if possible.
A good quality grinder will have multiple grinding stones and grit bands, and it should be easy to switch out components. If it requires batteries, they should be able to be replaced or recharged without a lot of fuss or waiting around.
Grinder Power and Grit Strength
If you own a large dog with tough nails, try to find a grinder that has at least two speeds and which runs on powerful batteries or which uses a cord to ensure it can handle the job. But if the grinder is too powerful, the friction of the grinding stone can burn your dog's nail, so you should always work in short bursts.
It's also important to be aware of the different grinding tips which are available. Grinding stones are solid and come in a variety of shapes and are best for tough nails while grit bands come in both coarse and smooth textures but aren't as long lasting.
Here's a Few Dog Nail Grinder Tips
Not all dogs are immediately comfortable having their toenails trimmed with a grinder. Here are a few tips to make the process easier for you and your canine companion.
If your dog's nails touch the ground when they walk, it's time to trim
Familiarize your dog with the grinder beforehand, both the sight and sound of it
Offer plenty of positive rewards and praise for their cooperation
Learn about dog nail anatomy, and avoid hitting the quick of the nail
If your dog's nails are badly overgrown, you can push back the quick over time
Do not use a grinder that is too powerful for your pet's size to avoid damaging their nails
Replace the grinding tip as soon as it starts to become worn
Questions About Dog Nail Grinders
Can I use a regular Dremel for dog nails?
Yes, you can if you are careful. The regular Dremel has a bigger handle, bigger grinding element and tends to have a lot more power which might make it more difficult to use properly for your pet's nails especially for a smaller dog. If you already have a regular Dremel you might give it a shot, but if you don't you will want to get the pet Dremel.
Are pet nail grinders any good?
Yes, pet nail grinders are a great alternative to nail clippers. Many people find it easier to use a nail grinder especially when nervous about hitting the quick. It really comes down to your unique dog for which is better. Some dogs don't like the humming of the nail grinder, so nail clippers might work better for them.
How often should I grind my dog's nails?
With grinding you will want to stay on the same routine as clipping. The time frame is usually around every 1-2 months but that will depend on how fast your dog's nails grow. One good way to tell if it's time is if you hear your dog's nails clicking on the floor when they walk.
Reviews of the Best Dog Nail Grinders
1. Dremel 7300-PT 4.8V Pet Nail Grooming Tool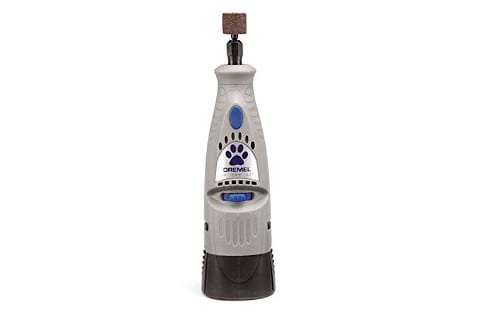 Dremel grinders are the gold standard when it comes to hand tools. With 4.8 volts of power, they are strong enough to work on any size of dog, yet will not cause damage to your dog's nails when used properly.
The Dremel 7300-PT 4.8V Pet Grooming Tool is cordless and is powered by a rechargeable battery. This makes it more portable and easy to use when compared to other grinders, but also adds some extra weight to the end of the tool which can make it feel unbalanced at times.
This grinder has two speed settings making it a great choice for both large and small dogs. Best of all, the grit bands used on the tool's tip are available in several degrees of coarseness and are easy and inexpensive to replace. This makes the Dremel an affordable option over time in spite of its higher than average initial purchase price.
Things We Liked
Two speeds make effective yet precise grinding faster and easier
Works for every size of dogs, and even dogs with hard nails
Rechargeable battery pack makes it more powerful than other cordless options
Things We Didn't Like
Instructions on assembly are unhelpful
Some buyers report receiving grinders with poorly made collets
While more powerful than some brands, the louder motor may scare some dogs
2. Oster Gentle Paws Premium Nail Grinder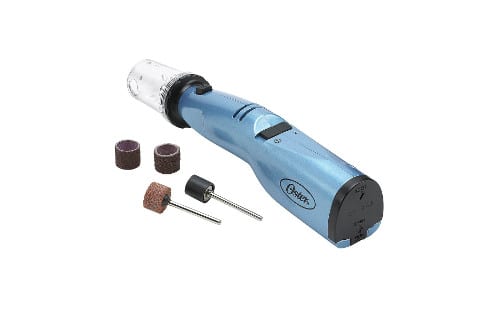 The Oster Gentle Paws Premium Nail Grinder has several features which make it ideal for nail trims. It's an especially good choice for small dogs since the protective safety guard will prevent you from trimming too closely to your dog's quick.
Perhaps the most notable thing about this tool is its quiet motor. If your pet is sensitive to loud noises and has had problems coping with more powerful tools in the past, the Oster Gentle Paws may be a perfect choice.
The tool is ergonomically curved and is comfortable to hold while trimming your dog's nails, but using the safety guard can be a bit cumbersome at times especially if you have a wiggly dog. Overall, this is an affordable and safe option for owners of small to medium sized dogs.
Things We Liked
Safety guard keeps dust down and sheilds your dog's sensitive quick
A great choice for small dogs and dogs with dark toenails
Relatively inexpensive, and takes standard batteries
Things We Didn't Like
May not be effective for large breeds or dogs with tough nails
Grinding stone and bands are poor quality and must be replaced often
3. Dremel PawControl 7760-PGK Nail Grinder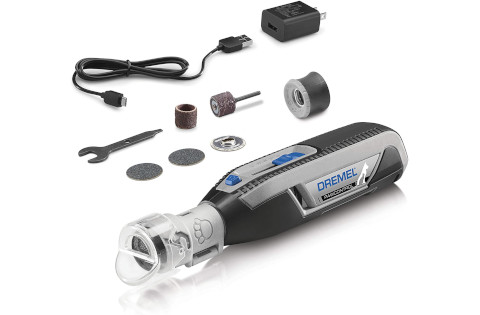 You know how much we like the Dremel at #1, what would happen if Dremel went back to the drawing board and redesigned it's popular grinder? You would get the Dremel PawControl.
It includes everything you like about the #1 rated nail grinder but also includes many new features that you have come to love on other grinders such as a 45-degree nail safety guard, ergonomic design, and 4 speeds to choose from ranging from 8,000RPM up to 25,000RPM.
It's important to remember that you get what you pay for which is why the Dremel is a bit more expensive than the other choices. If you are like me then you are okay with spending a bit more upfront if it works extremely well for a long time. With that said, it does include a rechargeable 4-volt Lithium-Ion battery and USB charger.
Things We Liked
4 available speeds for all nail sizes
LED battery charge light
Rechargeable battery with USB charger
Things We Didn't Like
Hard to get correct angle with included nail guard
Can be loud at higher speed settings
4. Conair Pro Dog Nail Grinder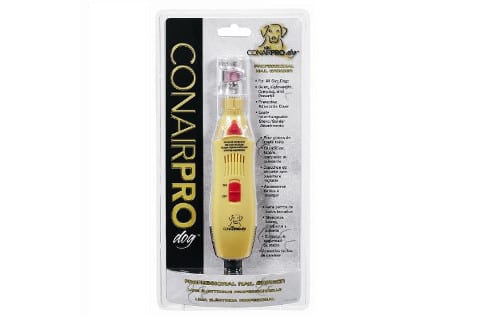 The Conair Pro Dog Nail Grinder relies on corded power rather than batteries. While this can limit where you are able to use this tool, it is both quieter and more powerful than similar battery powered grinders and won't run out of power halfway through a trim.
The simple tip attachment is intuitive to use, and you can attach a wide variety of grinding stones or grit bands making it easy to pick the correct level of coarseness for your dog's nails.
The two issues which keep the Conair Pro grinder from being ideal are its safety guard and top motor speed.
Despite being a plug-in model, the motor is not as powerful as it could be, and the safety guard does not keep dust at bay and is harder to use than other brands.
Things We Liked
Will not run out of power like battery powered brands
Works well for both small and large dogs and all kinds of nails
Can be used with a wide variety of grinding tips
Things We Didn't Like
Not as portable as battery powered grinders
Safety guard is less effective than other brands
5. Furminator Nail Grinder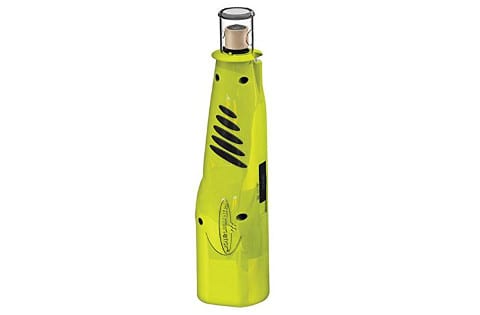 The Furminator Nail Grinder is another ideal option for owners looking for a two-speed battery powered nail grinder that isn't too loud.
Like the Oster Gentle Paws, it is a good fit for families that have dogs who are sensitive to the loud noise of more powerful grinders, but owners with large breeds should note that trimming large or thick nails takes some time.
This grinder has several helpful features like a clear nail guard and two-speed motor that are fairly standard for pet nail grinders.
But it also has a LED light at the tip of the tool which makes it much easier to see your pet's nails, making grinding safer and easier.
It's less expensive than many other brands, yet it does an acceptable job of trimming most dogs nails. However, because the motor isn't as powerful as grinders such as the Dremel, you may find it takes longer to trim hard or overgrown nails.
Things We Liked
Among the least expensive dog nail grinders available
Clever LED light is useful for precise work
Kit comes with everything you need to get started including AA batteries
Things We Didn't Like
Poor instructions for setup and use
Underpowered motor makes trimming strong nails time consuming
6. Amir Gentle Paws Premium Pet Nail Grinder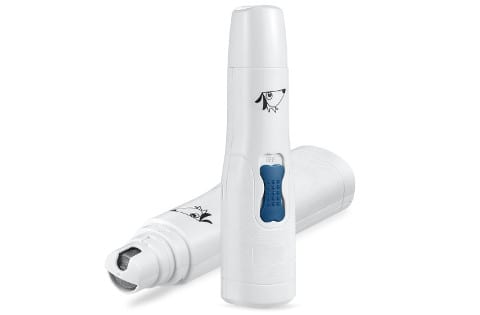 The Amir Gentle Paws Premium Pet Nail Grinder is the least expensive grinder on this list and is probably best suited for smaller dogs or for families that are new to nail grinding and aren't sure if their dog will accept the practice.
It runs on just two AA batteries making it less powerful than other brands but this also means it is lightweight and comfortable to hold.
One thing that is truly useful about the Amir Gentle Paws is that it makes use of a diamond bit grinder instead of sanding bands. The diamond tip never needs replacement because it is much more durable than sandpaper.
Unfortunately, this also means that there is no way to alter the coarseness of the grinding tip. Along with the weak motor, this makes it hard to use on the nails of large dogs.
Things We Liked
Durable diamond bit grinder does not need to be replaced
Inexpensive option if you aren't sure how your dog will react to a grinder
Small and lightweight enough to be truly portable
Things We Didn't Like
Weak motor will bog down if used on hard nails
No option to use finer or coarser grinding tip
7. Casfuy Dog Nail Grinder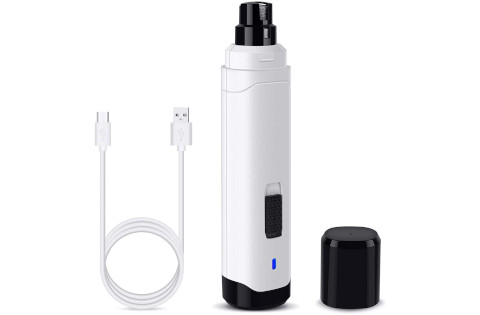 The Casfuy dog nail grinder has been a pretty popular grinder throughout the year and for good reason. Many people enjoy how small and quiet it is which makes it great for travel. It has a built-in battery that lasts for 2 hours and is rechargeable with it's USB charger.
This grinder will work well with you if you have a small or medium sized dog who also gets spooked by the loud noise from other nail grinders. It's important to note that it doesn't work very well for larger dogs and it can take awhile to grind down larger nails.
Overall, it's a great grinder which is why it was added to our list.
Things We Liked
Low Noise
Cordless with a USB charger
Small, lightweight with 2 grinding speeds
Things We Didn't Like
Not powerful enough for large dog nails
Takes awhile to grind the nails down
Our Top Pick for the Best Nail Grinder for Dogs
The best dog nail grinder for you and your pet will largely depend on their size. Smaller dogs with softer nails will be able to benefit from all of the grinders listed here, but owners of large dogs should consider investing in a more powerful tool even if it costs a little more.
Overall, the top choice for most pet owners is the Dremel 7300-PT 4.8V Pet Nail Grooming Tool.
While it is pricier than the Furminator, Oster, and other brands, the Dremel is more powerful than almost any other battery powered cordless grinder, and it has a wide array of grinding tips so you can pick the most effective option in terms of strength and smoothness for your pet.