Best Dog Raincoats to Keep Your Dog Comfortable and Dry in the Rain

By Ashley Turner     Last Updated March 31, 2019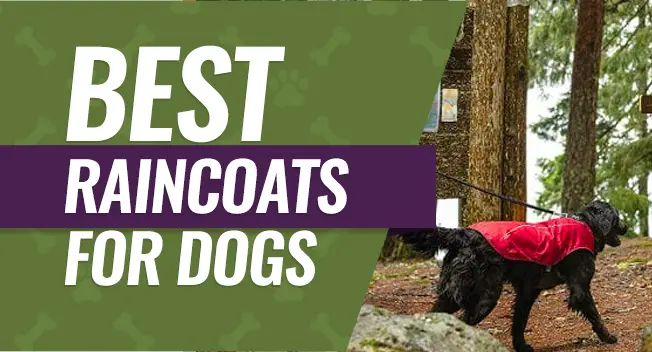 Buying the best dog raincoat available can be an excellent solution for keeping your dog dry and warm while still being able to ensure that they get their exercise. We've rounded up the top five doggy raincoats available, so you know what to look for when you're shopping, and we'll also help you decide if your dog needs a raincoat at all.
Our Top Picks for the Best Dog Raincoat
Does Your Dog Actually Need a Raincoat?
Before you go out and buy a new raincoat for your dog, you should decide if they really need one or if you're projecting your likes and wants onto your dog. A dog with a thick undercoat or double coat like a German Shepard and a Siberian Husky don't necessarily need raincoats because they have a think enough coat and undercoat to keep them warm and semi-dry.
Smaller dogs or dogs with short coats may enjoy a raincoat, but it's important to monitor them when you first put it on them for signs of stress or overheating. If you notice these signs, you may want to reconsider having a raincoat for your dog or introducing it very slowly.
Why Use a Raincoat for Your Dog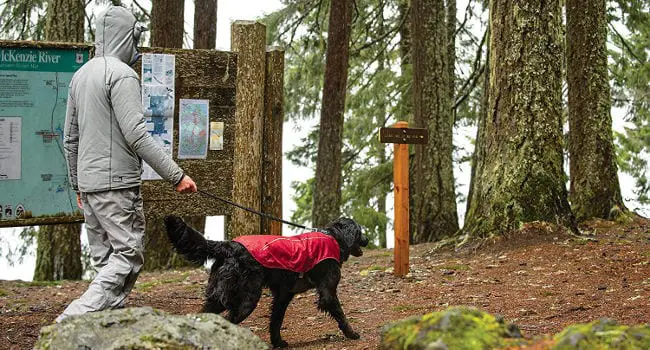 Buying a raincoat for your dog isn't a new trend, and there are several reasons why you may want to consider purchasing a raincoat for your furry friend.
Keep Your Dog Dry
Keeping your dog dry and warm is an obvious reason why pet parents would want to buy a raincoat for their dog in the first place. They're especially handy if you have a smaller dog breed that refuses to go outside once it starts to rain, and a good raincoat can cut down on that lingering smell of wet dog that seems to sink into everything.
Keep Your Dog Clean
In addition to your dog getting wet when they go out in the rain, they can also splash around or walk through mud, and a raincoat can act as a barrier between your dog's coat and the dirty water or mud. In turn, this can help to keep your home cleaner as well because you won't have to worry about cleaning your dog off as much each time they come inside.
Improves Visibility
When it's wet, overcast, and rainy out, visibility can be difficult for people and dogs, especially if your dog is smaller or has a darker coat. A raincoat with a bright color or a bold pattern can help your dog stand out even when you take them on walks at dusk or through the rain.
Keeps Your Dog Warmer
Your dog may get cold when they're outside in the damp weather, and this is especially true if they have shorter coats or if they don't have a thick coat. The added raincoat layer can help keep your dog warmer as they go along on their walk.
Things to Watch for in a Quality Dog Raincoat
Now that you've decided if your dog needs a raincoat or not, and why it may be a good idea to get one, we can go over important considerations that you want to keep in mind. These key parts will help to ensure that you pick out a good raincoat that lasts for several years.
Closures or Straps
Take a look at how your raincoat closes, and make sure that the straps or closures are firmly anchored to the fabric of the raincoat. Velcro straps are very popular closing mechanisms because it's quick and easy to secure them, and you can also adjust the size without a big hassle.
Durability
Look for a raincoat that is made out of a durable material, and possibly find a raincoat that has a slightly thicker material as well. Also, you want firm attachment points with double stitching around the edges of the coat because this helps to ensure that it'll stand up against wear and tear or rips.
Extra Features
Take a good look and see what your dog raincoat comes with when you buy it because some of the extra features could be uncomfortable for your dog. These features include things like a hood, leg warmers, and an umbrella that attaches to their leash or harness.
Leash Access
You want your dog to stay secure when they're out on their walk in their new raincoat, and this means that you have to note where the leash attachment points are. This is especially important if your dog wears a harness instead of a leash because you want it to be able to attach securely while still being comfortable for your dog.
Lining
A thin raincoat may provide a buffer against the wind, but it won't do much against the cold if your dog has a short coat or no fur. Some raincoats for dogs feature a warm but lightweight fleece or synthetic material liner that is designed to retain your dog's body heat and keep them warm.
Machine Washable
Your dog's raincoat is going to get dirty, and you may find yourself washing it every two or three days depending on the weather and how much your dog likes to play in the mud. Ideally, your dog raincoat should be machine washable and dryable, and the liner should come away from the outer shell quickly and easily because you may want to wash it separately.
Reflectivity
If you're walking in the rain, chances are you're walking in poor visibility. If this is the case, you want passing motorists to be able to see your dog quickly and easily to avoid any injuries.
It's a good idea to look for a raincoat that comes in a bright color, bold pattern, or with a reflective edging that'll catch any lights that come by. These simple choices can help to ensure that your dog stays safe, even if they manage to get away from you while you're out and about.
Size
When you're shopping for a new raincoat for your dog, it's very important that you pay attention to the size of the raincoat. If it's too small, you run the risk of choking your dog, and if it's too big, it can slide around or fall off when your dog walks or runs around.
Ideally, you want to find a raincoat that is the perfect fit for your dog, but this may not be possible. If you can't find an exact size, it's a good idea to try and size the coat a little larger because this ensures that your dog will have enough room to move around comfortably.
Weight
While most dog raincoats are relatively lightweight, you want to be sure that they stay that way after they get wet. You don't want your dog to get weighed down by their raincoat because this can make it uncomfortable for them and they may start not liking their walks.
Our Top 5 Picks for the Best Raincoats for Dogs
1. RC Pet Products Packable Dog Rain Poncho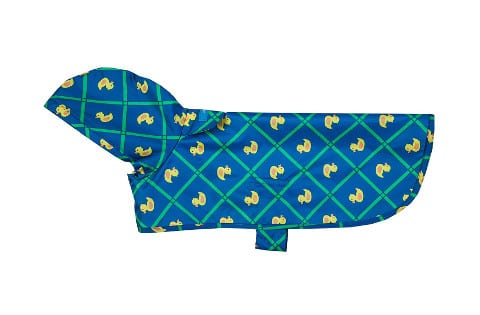 This lightweight but durable dog raincoat comes in 17 different colors or patterns and 12 different sizes ranging from small to 3x, and this helps to ensure that you get a great fit for your dog. You get a built-in hood that is lightweight, durable, and made out of a Taffeta material.
When you buy this raincoat, you get a carrying case that allows you to neatly, quickly, and easily fold and store your dog's raincoat away when it's not in use. It comes with two secure button closures that go around your dog and attach in front of their neck, and there is also a durable velcro strap that runs under their stomachs for a secure fit.
Pet parents who purchased this raincoat liked that it came in several different sizes with almost 20 different bright patterns and colors. They didn't like that this raincoat isn't suited to keep their dog warm, and they also didn't like that you have to hand wash it.
Things We Liked
Comes in a wide range of sizes
Has two different places to secure the raincoat
Leash hole has an optional storm flap
Things We Didn't Like
May not fit larger dogs well
No reinforcement around the collar or leash hole
Does not come with a warm liner
2. Ellie Dog Wear Yellow Zip Up Dog Raincoat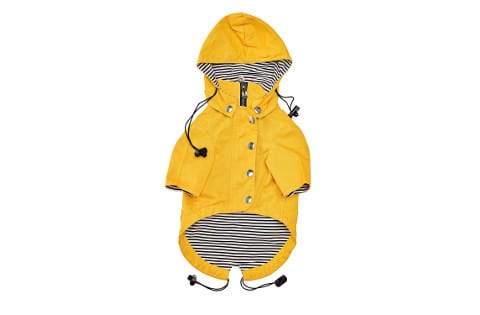 This dog raincoat comes in a bright yellow color with reflector buttons, and you can choose from five different sizes ranging from extra small up to extra large. You'll get a removable hoodie along with multiple pockets that make storing small treats or waste bags quick and easy.
This lightweight raincoat features a double layer design with a large zipper makes this raincoat easy to put on or take off your dog, and the inner liner is a warm material. There is a small opening in the upper back of this coat that is great for both leash and harness attachments, and each raincoat comes inspected for quality by a third-party source so you can ensure that it lasts.
Pet parents who purchased this doggy raincoat liked that it is a very bright color that comes with reflector spots, and they also liked that the raincoat features an optional hood. They didn't like that this raincoat is slightly more difficult to size correctly for your dog and that the zipper can catch your dog's skin when you close it.
Things We Liked
Very bright color with a double layer design
Hood is easy to remove or put back on
Comes with small pockets for storage
Things We Didn't Like
Zipper can catch your dog's skin when you close it
Can be difficult to get it secure to your dog
Can be difficult to size
3. Ethical Pet Fashion Rainy Days Slicker Yellow Raincoat
This bright yellow dog raincoat is available in six sizes ranging from extra small up to extra-extra large. It's made out of lightweight and warm polyester with a lightweight PVC outer shell that will repel the rain and keep your dog dry when they're on a walk.
There are three reflective stripes that run around your dog's body and help to ensure that you and any passing motorists can see him when you're out and about. This raincoat also comes with an adjustable strap that attaches around your dog's belly for a snug fit, and you get an ergonomic hood design.
Pet parents who bought this dog raincoat liked that it came in a bright color with reflective stripes, so it was easy to see their dogs, and they also liked that the outer shell was made out of durable PVC material. They didn't like that this raincoat was shorter in the back, and they also didn't like that the stomach strap was short.
Things We Liked
Very bright colors with reflective striping
Hood has an ergonomic design
Designed to be very warm but lightweight
Things We Didn't Like
Velcro strap is on the shorter side
May not be long enough for some dog breeds
Too long for dog breeds with short legs
4. RUFFWEAR Sun Shower Waterproof Rain Jacket for Dogs
You get the choice of six different sizes when you order this dog raincoat ranging starting at extra-extra small and going all of the way up to extra large, and it also comes in four very bright color choices. This raincoat features a vest style build that helps to minimize how dirty or wet your dog gets, and it also has a storm collar that you can flip up for added protection.
It features a waterproof but non-insulted design that is very lightweight, and you can layer it over other coats or sweaters if you're worried about your dog getting cold. It comes with side release buckles that are easy to open and close, and there is also an additional light holder built into the front of this vest.
Pet parents who bought this dog raincoat liked that it comes in very bright colors with reflective trim and a built-in light holder. They didn't like that this raincoat doesn't cover all of the ways down their dog's sides and that the raincoat can be slightly difficult to size.
Things We Liked
Side buckles make it easy to remove
Comes in several very bright colors with reflective trim
Easy to clean and maintain
Things We Didn't Like
Does not come with an insulation layer
Style does not cover the whole dog
Back tends to flip up in windy weather
5. Topsung Dog Raincoat Waterproof Puppy Jacket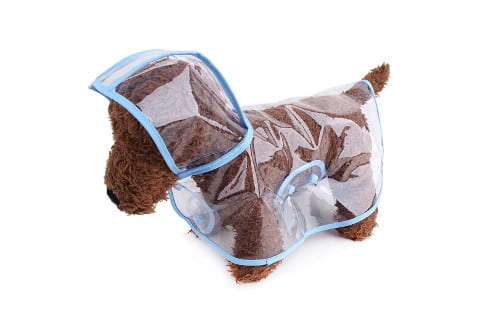 This simple transparent dog raincoat starts at size extra small and goes up to extra large, and it has an ergonomic hood that works to keep your dog dry when they're outside. You'll get a button loop that goes under your dog's stomach, and these buttons help to create a snug and secure fit.
You can choose from four different colors, and this plastic raincoat folds up small to store in the included storage pouch when it's not in use. It has a slightly slanted design that starts lower to the ground around your dog's front legs and slowly angles toward their back, so it doesn't restrict their movements when they walk.
Pet parents who bought this raincoat liked that it was very easy to put on and store, and they also liked that it had a button clasp around their dog's belly and neck that help the coat in place. They didn't like that this coat was made out of a lighter plastic, and they didn't like that it could be tricky to fit.
Things We Liked
Folds up and stores in a small pouch
Very easy to put on and take off
Slanted design covers more of the dog
Things We Didn't Like
See through design makes visibility difficult
Can be difficult to get the correct size
Edges tend to fray and rip
Our pick for the best dog raincoat is the RC Pet Products Packable Dog Rain Poncho. We liked that it came in a broad range of colors and patterns that made it very easy to keep track of the dog, and that it came in several size options.
We also liked that it was made to be very lightweight and durable and that it had a built-in hood to keep your dog dry. Finally, we liked the attention to detail and the reinforced leash attachment points on this raincoat.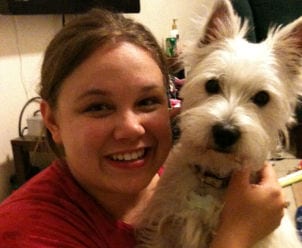 Ashley Turner has been a passionate Dog Mom to 2 West Highland White Terriers, Lily and Lola, for over 10 years. She now makes a living doing research, writing, and editing of dog-related content for PuppyWire.