Top 5 Best Dog Boots That Stay On Your Dog's Feet

By Ashley Turner     Last Updated June 14, 2022

We independently research and recommend the best products; Learn more here. We may receive commissions on purchases made from our product recommendations.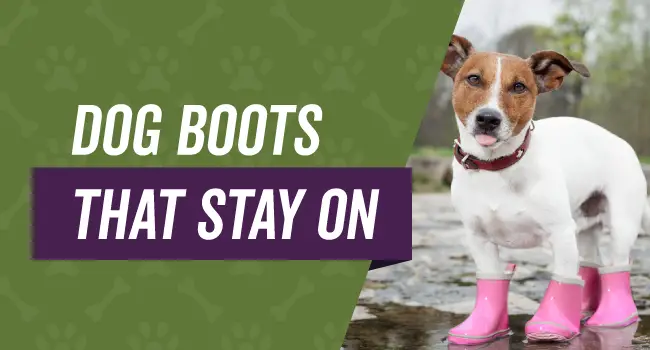 You want to be able to take your dog outside in all weather conditions ranging from sleet, ice, and snow to mud and hot pavement without hurting their paws. You can accomplish this by buying a pair of the best dog boots that stay on for your furry friend.
However, since there are thousands of different types of dog boots available in a variety of fabrics and fits, it can be difficult for you to comb through them and find the best ones. However, we've rounded up the top five dog boots for you to compare, and we've also put together a buying guide so you know why you'd want to get your dog boots and what to look for when you shop for them.
Our Top Picks for Dog Boots That Stay On
Understanding Why Your Dog Should Wear Boots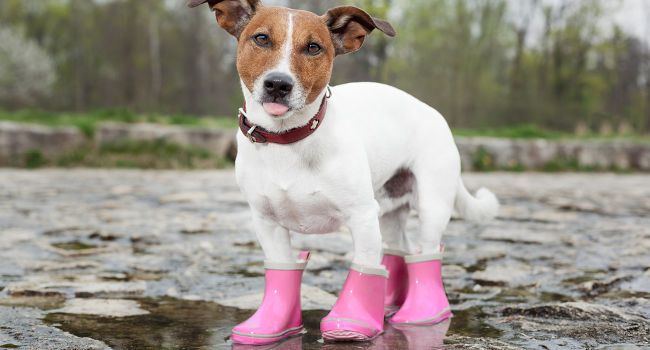 Did you know that the pads of your dog's feet are very sensitive and it's relatively easy for your dog to injure itself by walking on rocks, hot surfaces, or just by accidentally stepping on sharp edges? This is especially true if your dog spends most of its time indoors and doesn't expose their pads to rugged conditions.
You can get away without buying boots for your dog, but a lot of veterinarians recommend that you buy the boots at a precautionary measure and get your dog used to wearing them. It's time-consuming and difficult to heal your dog's feet if they get cuts or get hurt, so prevention is important, and dog boots can help.
Different Types of Dog Boots
While dog boots do come in a variety of styles, they generally fall under three broad categories. Once you narrow down the category that works best for your dog, you can start comparing the different boots to find the best ones for your dog. The categories include:
Boots: Actual dog boots come with a rugged and anti-slip sloe attached to a breathable fabric that slides onto your dog's foot and secures around their legs with velcro or straps. You can usually choose from a few different sizes and additional features to customize your dog's boots.
Socks: Dog socks are also a popular choice, and they look and feel a lot like human socks. These socks simply slide over your dog's feet and up their legs, and they don't have straps to secure them or an anti-slip bottom.
Wax: If your dog won't tolerate socks or boots on their feet, wax is another alternative that you rub onto their paws to provide a protection layer against the snow, ice, and cold. This is popular with people who use sled dogs because it stays on for hours at a time and there's no chance of your dog accidentally losing it.
Dog Boot Buying Considerations
No matter which dog boot you end up buying for your dog, you want to make sure that it has several key points covered to give your dog the best protection possible. These important points are as follows:
Adjustability
Dog boots usually come in a broad range of sizes, so you may not find a boot that specifically fits your dog's foot size, and this is where adjustability comes in. Make sure that whatever dog boot you choose makes it fast and easy to adjust the size to give your dog's boots a secure and snug fit.
Anti-Slip Bottoms
Your dog boots should give your dog good traction when they walk around, and you can help ensure this by making sure that your choice has anti-slip bottoms or additional traction coating. This can help prevent falls and injuries when your dog is walking or running around on ice or slippery surfaces.
Attachments or Straps
Make sure that you pay close attention to how your dog's boots secure to their feet because this dictates how well the boots stay on when your dog walks or runs. Some boots have button attachments, some slide on, and other boots have velcro strips that wrap around the tops of the boots.
Breathable
If you don't plan to let your dog wear their boots for extended periods of time, breathability isn't a huge deal. However, you do want the boots to breathe because this can help to keep your dog comfortable if they wear them for all day or for long walks or runs.
Flexibility
Some boot designs are more rugged, but this can also make them more difficult for your dog to walk in because they don't bend or flex with your dog's foot. This rigidity can make it uncomfortable for your dog to wear, so make sure that the boots flex and that they're bendable.
Indoor and Outdoor
Some people don't let their dogs go outside that much, and this means that they don't need extremely rugged boots to help protect their dog's feet. Look for indoor or outdoor boots and match the type of boot with what you plan to do with your dog to ensure that they have adequate protection.
Reflector Strips
If your dog likes to go outside after dusk or in low light conditions, reflector strips can help you see them as well as any passing vehicles or people out and about. These strips are typically on the velcro straps, and they're an additional safety measure that gives your dog a greater visibility.
Shape
Take a look at your dog's foot and try to find a boot that looks similar because they come in a variety of different shapes. This is especially important if your dog's boot is more rigid because it can help them stay comfortable and avoid pressure points or rubbing that can lead to sore spots.
Waterproof
Your boots should have a waterproof coating or a waterproof fabric to help keep your dog's feet warm and dry the entire time that they wear them. You can also purchase waterproofing spray to apply to the boots, but this can interfere with the traction, so it's better to get waterproof fabric from the start.
Our Top Five Picks for the Best Dog Boots That Stay On
1. Pawz Waterproof Dog Boots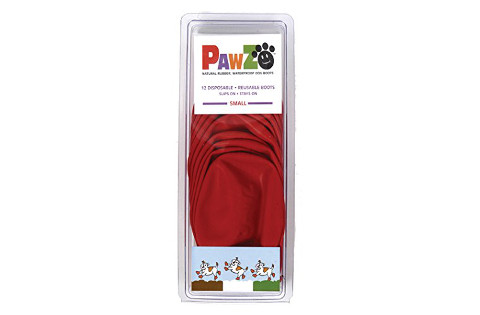 These durable and reusable dog boots come in eight different colors ranging from classic black to bold red, and these dog boots give you the choice of eight different sizes ranging from tiny to large, so you can customize your boots to fit your dog's size. The boot itself is made out of a natural rubber that is flexible enough to bend with your dog's foot and tight enough to stay on.
The rubber coating is 100-percent biodegradable and safe for the environment as well as your dog, and this boot is designed to provide protection against ice, snow, lawn chemicals, salt, hot surfaces, and allergens. These boots also give your dog more traction when they're out and about, and this can help to ensure that they stay safe and don't slip and injure themselves when they're on slick surfaces.
Dog parents liked that this product was made with all natural materials like 100-percent biodegradable rubber that you can dispose of or reuse, and they were happy that this boot bent with their dog's natural movement for additional comfort. Dog parents didn't like that it was thinner material or that it doesn't come with straps to secure to your dog's feet.
Things We Liked
Made with natural and 100-percent biodegradable rubber
Designed to bend and shift with your dog's natural movement
Protects your dog's foot from a variety of surfaces
Things We Didn't Like
Made with a thinner material
Not able to secure the boot to your dog's foot
May not last for more than one use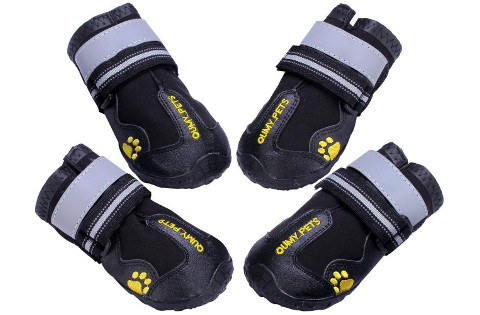 QUMY's dog boots come in four different sizes and classic black or bold red that makes it easy to customize your selection to suit your needs, and these dog boots feature a slightly lighter and shorter design that is intended to go just over your dog's foot. These boots also come with a wide split seam that allow you to adjust the fit and slip these boots on and off your dog quickly.
Your dog will get excellent traction on several different surfaces including ice and snow because of the anti-slip coating, and the boots are sewn together out of breathable, waterproof, and durable material that can last through repeated use. The bright yellow embroidery paw prints on the side of the boots make them easy to locate and keep track of when your dog is out and about.
Dog owners who bought QUMY's dog boots liked that they got more than one color and size choice to help ensure that they get a comfortable fit for their dog, and they were happy that the boots were easy to put on and take off. Dog owners were not happy that the boots don't come up their dog's legs, and the boots can slip if your dog gets extremely active with them on.
Things We Liked
Has brightly embroidered paw prints
Designed to slip on and take off easily
Has a non-slip coating for great traction
Things We Didn't Like
Boots do not come up your dog's legs
Slightly more expensive option
Boots may be too rigid to bend with your dog's feet
3. Ultra Paws Durable Dog Boots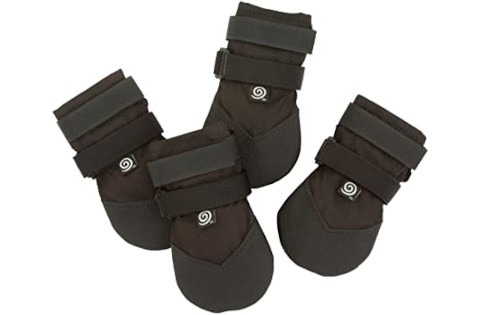 These dog boots come with a very durable and skid-resistant bottom combined with a waterproof outer layer and the choice of three different colors and five different size options so you can get a secure fit. It's fast and easy to put these boots on because they come with a wide split seam opening that allows you to slip your dog's paw in.
These boots secure by two long strips of material that have velcro attached to one side that wraps around your dog's leg and fastens for a secure fit. The soft outer material is safe for your dog to wear for extended periods of time, and they're also flexible enough to bend with your dog's foot when they walk.
Dog parents who bought these flexible dog boots were happy that they could tighten or loosen the velcro closures to get a snug and secure fit each time they dog wore them, and they were also happy that the boot comes with a wide side split that makes it easy to slip the boots on. Dog parents did note that sizing could be tricky and that the boots tended to run small to size.
Things We Liked
Works in wet or dry, hot or cold conditions
Has a durable and waterproof material
Tighten or loosen quickly and easily with velcro straps
Things We Didn't Like
Can be difficult to get the correct size
Velcro strips may snap or fray
May be hard to put on some dogs
4. LONSUNEER Paw Protector Dog Boots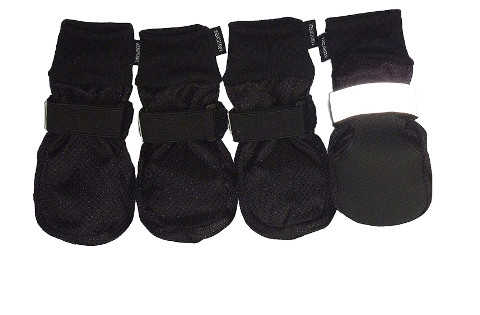 These soft boots come with Oxford fabric that is breathable but waterproof and a soft lining that helps to keep your dog's feet dry, warm, and comfortable, and these boots start in an extra small size and go up to an extra large. These boots slid on your dog's foot and secure with a velcro strap that has reflectors to keep your dog safe after dark.
The soles are designed to be flexible and provide extra traction all year round in snow, sleet, ice, or on hot or slick surfaces, and your dog will get boots that flex and bend with their feet for maximum comfort. The tops of the boots feature a slight elastic edge that helps to hold the boots up on your dog's legs as they walk around.
Dog parents really liked that the soft Oxford fabric was breathable enough for year-round use, and they liked that these boots came with a soft inner lining to keep their dog comfortable. They weren't pleased that these boots tended to slide around their dog's feet as they walked or that the top of the boots tended to slide down their dog's legs.
Things We Liked
Comes with a breathable and soft Oxford fabric
Velcro strap has reflectors
Light enough for use all year round
Things We Didn't Like
Top of the boots can slip down your dog's legs
May not stay on very active dogs
Might not fit very large dogs
5. PUPWE Waterproof Dog Shoes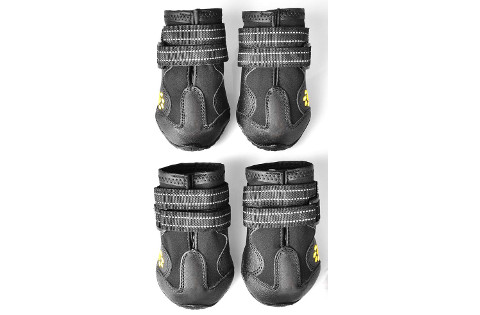 These dog boots come with water-resistant material that is supported by a thicker fabric along the sides to support your dog's feet as they walk, run, or play, and these dog boots are soft and breathable enough for everyday wear. Your dog will enjoy a comfortable fit that bends and flexes with their feet, and they come with a tough, anti-slip sole that allows your dog to have sure footing.
The materials and construction of these dogs boots ensure that they're lightweight and easy for your dog to walk in, and they also feature a wide seam and large opening that allows you to slip your dog's foot in and pull them off. The velcro straps wrap around the top of the boots and secure for a snug fit, and the bright yellow embroidery makes these boots easy to see and keep track of if your dog gets one off.
Dog parents who purchased WUXIAN's boots were happy that they got to pick from seven different sizes to get a comfortable fit, and they were happy that the velcro straps wrapped around the top of the boot. Dog parents did say that these boots tended to fray at the seams.
Things We Liked
Has a flexible build with breathable fabric
Designed to be lightweight
Velcro straps wrap around the dog's leg to hold the boot on
Things We Didn't Like
Can fray around the seams
Plastic connector for the velcro may not last
Runs large to size
Our top pick for the best dog boots that are designed to stay on is the Pawz Waterproof Dog Boot because you get the choice to reuse them or dispose of them after your dog wears them, and these boots come made out of 100-percent biodegradable materials. It's supposed to provide protection for your dog's feet against hot surfaces, ice, salt, snow, mud, and more.
Pawz boots also provide your dog with more traction as they walk, and this can help to prevent slips, falls, and injuries. Finally, these boots are incredibly flexible and designed to bend with the natural movement of your dog's foot for a comfortable experience.