Nutramax Dasuquin for Dogs with MSM Review

By Ashley Turner     Last Updated June 14, 2022

We independently research and recommend the best products; Learn more here. We may receive commissions on purchases made from our product recommendations.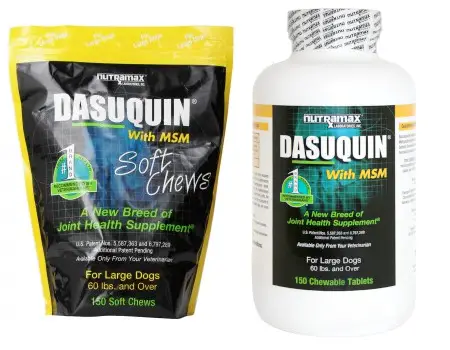 As your dog ages, you may notice them slowing down and having stiffness and problems getting around due to their joints. There are also several dog breeds that are prone to hip problems due to genetics, breeding, or their skeletal structure, and Dasuquin for dogs is specially designed to help with these issues.
If you allow this natural joint deterioration to go on without any treatments or supplements, your dog's quality of life could be negatively impacted. It could get to the point where they simply can't get around anymore, and they may feel pain on a constant basis.
What is Nutramax Dasuquin?
Nutramax Dasuquin MSM for dogs is a healthy combination of nutritional components and natural supplements. They all work to strengthen your dog's immune system, and at the same time, they'll help to improve your dog's overall joint health.
If you give this supplement to your dog on a regular basis, you may see improvements in your dog's mobility, flexibility, and a reduced level of joint pain. This joint health supplement features an excellent mix of chondroitin and glucosamine and this mix promote overall joint health as your dog ages.
You'll also find avocado and soybean unsaponifiables (ASU), and these ingredients can help to protect your dog's joint cartilage, natural support repair, and maintain your dog's comfort levels. You'll typically find ASU in human-grade joint supplements in Europe, and now they're available to your dog.
As this joint supplement contains safe and natural ingredients, you can give this supplement to your dog along with other joint supplements they may already be using. It is a good idea to always check with your dog's veterinarian before you introduce a new supplement or a change in their diet because your veterinarian is better suited to tell you if Dasuquin is the best thing to help with your dog's joint problems.
Different Types of Nutramax Dasuquin
Dasuquin comes in a few forms, because some dogs don't tolerate pills, but they'll take other forms of supplements. You can choose a capsule form or a soft and chewable treat.
Capsule. Many people find it easy to give their dogs a capsule a day and be done with it. The capsules dissolve quickly and deliver the nutrients to your dog's system in an effective manner.
Soft Chews. The more popular method people use to give their dogs this joint supplement is the soft chews. They come in several sizes, and they're soft enough for almost any dog to easily eat.
How This Supplement Works
When your dog begins to take this joint supplement, the avocado and soybean unsaponifiables (ASU) begin working to repair your dog's joint cartilage breakdown and it will also start to reverse any damage that has already been done to your dog's joints. You might also notice reduced inflammation levels and improved mobility that comes with conditions like arthritis, or simple wear and tear from age.
While this is happening, your dog's immune system will get a healthy boost of vitamins and nutrients, and these components can help to lubricate your dog's joints and make it easier for your dog to move. The glucosamine hydrochloride will work to keep your dog's existing cells healthy and working at their optimal levels for better overall health.
A balanced amount of glucosamine and chondroitin are important components to supporting your dog's overall immune health, and their skeletal systems and joints as they age. When you give your dog this supplement as directed, you may be able to help reduce or alleviate these common conditions:
Elbow Dysplasia
Joint Cartilage Damage
Joint Inflammation and Stiffness
Osteoarthritis
Weakened Immune System
Benefits of Using Dasuquin
Along with all of the benefits for your dog's joint health, they can also work on your dog's immune system at the same time. When you give your dog a new supplement, it is important to know about all of the benefits they're getting, not just the obvious ones.
The MSM found in Dasuquin helps to boost your dog's immune system by making it easier for your dog's cells to absorb essential vitamins and nutrients. Your dog may receive an influx of Vitamins A, C, D, E, and B12, along with amino acids, calcium, and magnesium.
There are powerful antioxidants in this supplement as well, and they all work together to alleviate several problems in aging dogs including:
Declining Cognitive Function
Helps Regulate the Immune System
Calms Itchy Skin Due to Allergies
Provides a Barrier Between Cells and Allergins
Blocks the Transfer of Electrical Pain Impulses
Common Questions About This Supplement
1. What is Dasuquin used for in Dogs?
If you notice your dog slowing down during playing or walking, or if they seem to be having trouble moving around, it may be a good idea to ask your local veterinarian if they recommend it. They'll typically examine your dog and tell you if they think Dasuquin is the right choice.
2. What is the Ingredient ASU, and What Does it do?
ASU or avocado/soybean unsaponifiables is a powerful blend of avocado and soybeans that helps promote joint health. It slows down the components that attack and weaken joint cartilage, as well as improve overall joint function.
3. Is Dasuquin a Prescription?
No, this vet recommended natural joint supplement is available on an over the counter (OTC) basis. You can purchase it online, at pet stores, or your veterinarian's office.
4. Does Dasuquin come in one size fits all or are there different formula guidelines?
5. What is the MSM in Dasuquin?
MSM is short for Methylsulfonylmethane, and this component helps to build healthy bones and joints in your dog's body. This natural nutrient can be found in foods, and larger quantities can be found in oceans. MSM has been used for both humans and animals with little to no negative effects.
It also acts as a powerful immune system boost, as it helps your dog's cells absorb vitamins and nutrients more effectively.
Whenever you introduce a new supplement to your dog, you'll notice that there are always pros and cons to each one. If you're not sure, talk to your veterinarian because they'll be able to answer any questions you may have or address any concerns.
One of the biggest pros with this supplement is how quickly it works, along with how effective it is in improving the overall joint health in dogs. There are also very few side effects associated with giving this product to your dog.
A downside of this supplement is the price and the minor side effects. Your dog may experience things like dizziness, loss of appetite, and minor stomach upset but these side effects usually go away within a few days.
Dasuquin with MSM Ingredients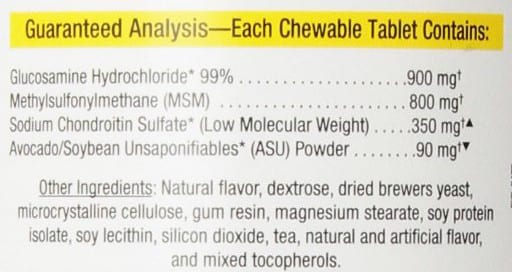 The chewable tablets contain the exact same active ingredients and dosage as the soft chews, except they have a different texture. All of the ingredients in this joint supplement for dogs are completely natural and therefore do not come with any adverse side-effects like other supplements you may have given your dog in the past.
The ingredients that are used in Dasuquin (glucosamine, chondroitin sulfate, MSM, and ASU) are perfectly safe and each of them work together to effectively minimize pain and discomfort caused by joint problems in dogs.
Recommended Dasuquin Dosage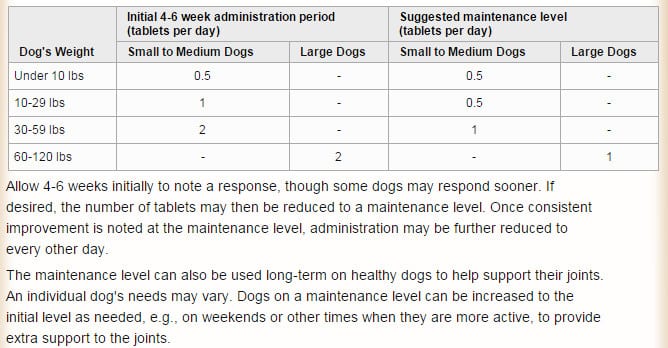 To get your dog started on this supplement, you give them higher dosages for the initial four to six weeks.
Dogs Under 10 Pounds: 0.5 Tablets Daily
Dogs 10 to 29 Pounds: 1 Tablet Daily
Dogs 30 to 59 Pounds: 2 Tablets Daily
Dogs 60 to 120 Pounds: 2 Tablets Daily
Once the initial four to six weeks are up, you can reduce the amount you give your dog to the maintenance level.
Dogs Under 10 Pounds: 0.5 Tablets Daily
Dogs 10 to 29 Pounds: 0.5 Tablets Daily
Dogs 30 to 59 Pounds: 1 Tablet Daily
Dogs 60 to 120 Pounds: 1 Tablet Daily
Both Dasuqin and Cosequin are made by the same company, Nutramax Laboratories. They're also both used to improve your dog's joint health and boost their immune systems.
The main difference between these two joint supplements is that Dasuquin contains a third ingredient that the Cosequin supplement does not. You will find ASU in the Dasuquin supplement, and this may help to improve your dog's mobility and pain levels better than the plain Cosequin formula.
In short, Dasuquin is the superior formula over Cosequin because Dasuquin has ASU, and this can help to provide relief at a faster pace. It typically costs more, but you're paying for more nutrients and a more powerful formula.
Dasuquin vs Dasuquin Advanced
Both Dasuquin and Dasuquin Advanced are made by Nutramax Laboratories, and they're both natural joint supplements. However, Dasuquin Advanced has a formula that includes omega-3 fatty acids, turmeric, and frankincense. Another key difference is Dasuquin Advanced is also only available from veterinarians.
These three additives are designed to have additional therapeutic effects on your dog, as well as promoting joint health. For more advanced arthritis cases, Dasuquin Advanced may be the better alternative for your dog than traditional Dasuquin.
Here's What People are Saying About Dasuquin
For the most part, people are excited about this joint support supplement. They say that they notice a marked improvement in their dog's mobility levels, and their dogs seem more alert and ready to play.
Their dog's immune system seemed to be more balanced, and this helped to improve their digestive health. Also, the supplement also helped to calm the problems that can come with an overactive immune system like itchy skin, hives, and a dry coat.
One of the primary downsides of this product that was mentioned was the temporary side effects. People stated that some of their dogs went through a short period of upset stomach and mild diarrhea while they adjusted to the supplement.
Infinite Pet Supplies All-Natural Hip & Joint Supplement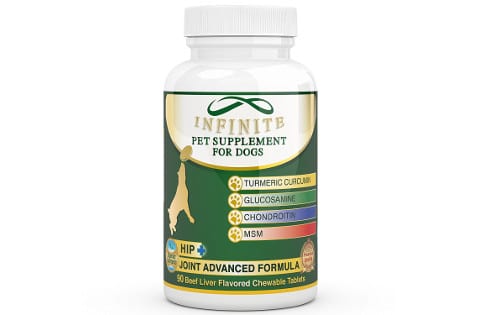 These all natural joint supplements are made with human-grade ingredients, and they're designed to help rebuild joint cartilage, decrease inflammation, and improve your dog's mobility. This joint supplement is less expensive than Nutramax Laboratory's Dasuquin with MSM.
Any dog owner that would like to help improve their dog's quality of life as they age should try this product. It's an all-in-one supplement that supports joint health, skeletal structure, immune health, and gives a boost of vitamins and nutrients.
Comparing Nutramax Dasuquin to Infinite Pet Supplies
Infinite Pet Supplies is the Less Expensive Option
There is More Supplemental Value with Infinite Pet Supplies Including Turmeric
Dasuquin Comes in Capsules and Soft Treats
Doggie Dailies Advanced Hip and Joint Soft Chews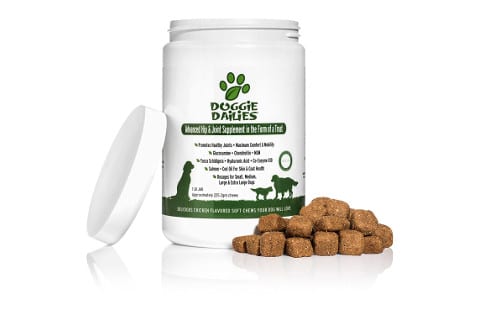 These small soft chews come in chicken flavor, and they're packed with glucosamine, MSM, Omega-3s and Omega-6s, vitamins, and minerals. They were made in the USA following strict quality guidelines, and they come in a one pound jar.
If you've had trouble getting your dog to eat capsules and you've noticed them slowing down, this product may be a good alternative.
Comparing Doggie Dailies to Nutramax Dasuquin
Doggies Dailies has More Supplements in Their Forumla
Dasuquin Comes in Different Packaging Sizes, so It's Easier to Test Without Buying Large Amounts
They're Both Formulated to Help With Joint and Immune Health
Final Verdict on Dasuquin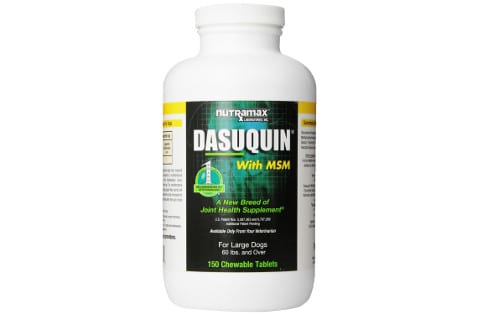 As your dog ages, you may notice them slowing down and experiencing stiffness or pain when they become active. If this is the case, they may benefit from taking a joint supplement like Dasuquin because you want to reduce these problems before they become worse.
Dasuquin for dogs works not only to support joint care, but it also works to support your dog's cognitive function and their immune system as a whole. They are specially formulated with advanced ingredients like MSM, ASU, chondroitin, and glucosamine to help reduce your dog's pain and stiffness.