Nom Nom Dog Food Review (2022 Update)

By Ashley Turner     Last Updated January 25, 2022

We independently research and recommend the best products; Learn more here. We may receive commissions on purchases made from our product recommendations.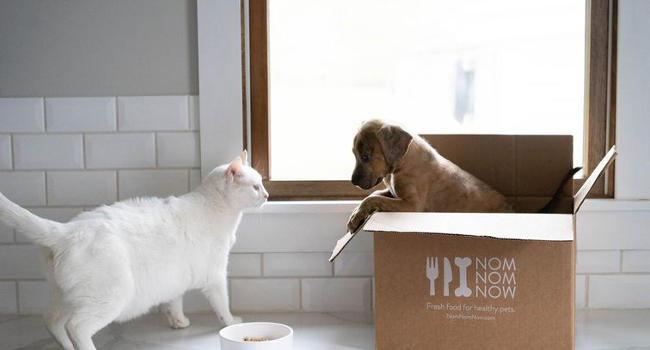 Do you want to order fresh food for your dog, but you have no idea where to start or which company offers the best choices? If so, we want to help by putting together this Nom Nom review that goes over every aspect of this dog food delivery service.
The goal of our review is for you to be able to tell quickly and easily if this is the right plan for your dog. Since there are so many dog food delivery services available, we'll help you get a good look at the most popular ones starting with Nom Nom.
Quick Summary
Nom Nom is a dog food delivery service that takes your pet's health seriously. They work to ensure your dog gets a balanced meal each time they eat it, and it is a good idea to try for your dog's health.
Nom Nom is a subscription dog food delivery company that promises to provide restaurant quality, human-grade ingredients in every meal, and it focuses on delivering completely customizable dog meals straight to your door.
Nom Nom allows dog parents to have a big say in what ingredients go into every portion of dog food, and there is a certified veterinarian ensuring the ingredients add up to a healthy meal.
Dr. Justin Shalmberg has direct input each time Nom Nom releases a new formula, and he gives advice to the company's executives to ensure that every formula is a balanced and healthy choice that fills all of your dog's nutritional requirements.
This allows you to feed your dog Nom Nom exclusively without worrying about them becoming deficient in any vitamins, nutrients, or proteins and carbohydrates.
Additionally, Nom Nom donates at least 1% of all of the money they get from the subscription service to pet nutrition research. In turn, pets can live healthier, happier, and longer lives.
How Does the Nom Nom Delivery Service Work?
To start, you set up your initial account and fill in your dog's age, height, weight, and health goals to get your perfect portion size. Depending on your location, Nom Nom will then allow you to choose weekly, biweekly, or monthly packages or raw, high-quality food straight to your door.
There are four options to choose from, and you can order a sample pack that contains a small portion of each of the food categories to see which one your dog likes more.
You pay the week before your order goes out, and you have until the Wednesday before your order ships to change your portion sizes or food choices. You can also skip orders for whatever reason in your dashboard.
Nom Nom Meals and Recipes
As we mentioned, Nom Nom has four great options available for your dog to try, and every one contains fresh and high-quality ingredients that give you dog a balanced diet. The recipes are as follows: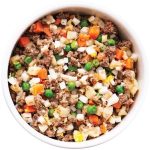 This all-natural and gluten-free dog food recipe contains 100 grams of protein per serving, 48 grams of fat, and 71 carbs.
The video below explains why the Nom Nom team chose the following recipe for their Heartland Been Mash. It contains:
Ground Beef
Potatoes
Carrots
Peas
Egg
Fish Oil
NomNomNutrient Mix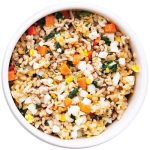 Another gluten-free meal option for your dog that uses high-quality ingredients, the Tasty Turkey Fare contains 84 grams of protein, 44 grams of fat, and 96 carbs in every portion.
You can watch the short video below to see why they decided to include the following ingredients:
Ground Turkey
Brown Rice
Carrots
Spinach
Egg
Fish Oil
NomNomNutrient Mix
Arguably one of the more colorful dishes on Nom Nom's menu, the Chicken Cuisine option contains a host of diverse and tasty ingredients your dog will love. Each portion contains 84 grams of protein, 59 grams of fat, and 59 carbs.
You can take a look at the video below to discover why they chose the following ingredients:
Diced Chicken
Sweet Potato
Yellow Squash
Spinach
Fish Oil
NomNomNutrient Mix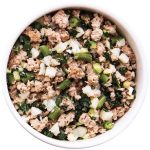 Nom Nom's Porkalicious Potluck comes packed with colorful and tasty ingredients that contain 75 grams of protein, 55 grams of fat, and 78 carbs per serving.
The video below explains why they decided on the following ingredient combination:
Pork
Potatoes
Kale
Green Beans
Yellow Squash
Mushrooms
Fish Oil
NomNomNutrient Mix
A variety pack contains 150 grams of each of the four recipes. You don't need a subscription to order it, and it's only $15 per order.
If you want to order it to see which recipe your dog likes before you buy it, it's a cost-effective way to do so.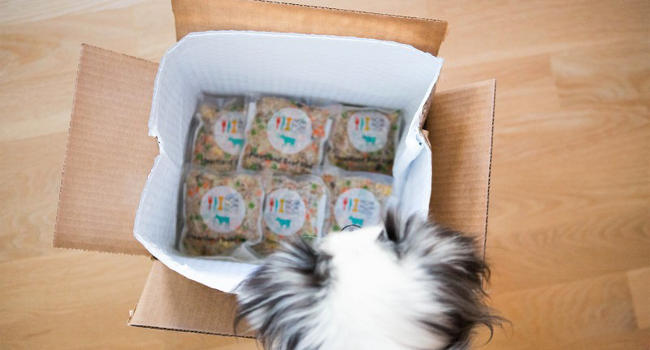 Nom Nom ships to 48 states, and you get free shipping on every order they send you. They make every order just a few days before they ship it out, and every order comes with individually portioned meals that you can choose to have delivered every week, two weeks, or four weeks.
All of Nom Nom's meal boxes, insulating liners, and meal packs use either recycled materials, or they're recyclable. They come specially designed to keep your dog's meals frozen and fresh during transit, and each food portion comes vacuum-sealed in flat packaging for easy storage.
Things We Liked
Able to order more than one meal option per order
Has flexible delivery options
Can skip weeks for whatever reason
Things We Didn't Like
Price - You'll pay more per box for both large and small dogs
You have to email customer service to cancel your orders
There are no vegetarian options for dog meals
What Customers Think of Nom Nom
Overall, most dog parents like what they find when they order Nom Nom's lineup of high-quality meals.
They liked that each meal came with the NomNomNutrient Mix to balance it out, and the nutrient mix contains Vitamins B1, B2, B12, E, and D along with Iron, Zinc, Iodine, Copper, Selenium, Choline, Manganese, and Taurine.
They also liked that they could order sample packs and mix and match the meals.
Customers did have a problem with the price because there is such a broad range for pricing quotes.
For example, a middle-aged dog weighing 25 pounds with a target weight of 20 pounds would cost approximately $36.18 per week, $28.30 per two weeks, and $24.36 per four-week delivery schedule.
They also noted that there are only two options for cats.
Common Questions About Nom Nom
Customers have several common questions about NomNomNow. Since we want you to get all of the answers you need in one place, we've picked out the most common questions and answered them all in one place below.
How Do I Store Nom Nom Food After Receiving It?
You'll receive NomNomNow frozen in vacuum-packed containers that they try to freeze flat. The food should be frozen when you get it, and all you do is pop it into your freezer or refrigerator until you need it.
You can leave it in your refrigerator for up to seven days before putting it into the freezer. You should let the food defrost in the refrigerator for 24 to 48 hours before you need it, and simply serve it to your dog cold out of the refrigerator. It lasts up to six months in the freezer.
Yes! The video below explains why NomNomNow is an excellent food source to help keep your puppy at an ideal weight as they grow. Your puppy gets a great balance of nutrients every time they eat a serving of NomNomNow, and it comes carefully portioned with the ideal levels of protein carbs, fats, and nutrients to support your growing puppy.
While all of the recipes at NomNomNow are gluten-free, most of them are also grain-free for maximum convenience. The only grains you'll find in NomNomNow's food are whole grains like brown rice, and this is in the Tasty Turkey Fare recipe.
If you want to be safe, the Heartland Beef Mash, Chicken Cuisine, and Porkalicious Potluck contain tapioca or potato as the starch instead of grains. So yes, three of the four meal choices you can get for your dog at NomNomNow are grain-free. Simply avoid the Tasty Turkey Fare.
How Good is Nom Nom's Customer Service?
The reviews for the customer service level have been very good to date with quick response times, and you can call or email them for answers to your questions.
They're happy to help create your dog's customized meal plan to help them gain weight, maintain their weight, or lose weight while getting balanced meals.
When you email the NomNomNow team, they usually get back to you within 24 hours on normal business days. Their customer service hotline hours are Monday through Friday from 9 in the morning until 5 in the afternoon.
Where is Nom Nom Located?
Nom Nom opened in 2015, and the company headquarters is in San Francisco, California. Their processing plant is in Pittsburg, California.
In 2018, Nom Nom opened a new 67,000 square foot facility in Nashville, Tennessee, to help meet the demand for their food on the East Coast, and this facility is seven times bigger than the facility in California.
Does Nom Nom Have Any Other Products Besides the Delivery Service?
Yes! Nom Nom offers quite a few different products that customers can purchase when they buy their dog's food. You can also skip ordering the food and just order their products, and the products include:
Microbiome Kit - The Microbiome Kit allows you to test your dog's microbiome in their digestive tract to see if they have any imbalances that could cause digestive problems. You'll get a detailed analysis of your dog's bacteria levels, and Nom Nom will even give you suggestions to improve these bacteria levels to give you a healthier dog.
Supplements - There are three different supplements available to give your dog full digestive support, GI support, or joint and mobility support. The full-spectrum support and GI support come in a powder form that you mix into your dog's food while the joint support comes in a soft peanut butter flavored chew.
Treats - You can pick from chicken or beef jerky and flavor flakes to put on your dog's food to entice them to eat more of it. The jerky comes USDA-certified in two or four-ounce bags, and you can reseal the bags between uses to keep the jerky fresh until your dog eats it.
Nom Nom is a dog food delivery service that takes your pet's health seriously. They work to ensure your dog gets a balanced meal each time they eat it, and this Nom Nom review showed you that it is a good idea to try for your dog's health.