Seresto Flea Collar Reviews for Small and Large Dogs

By Ashley Turner     Last Updated January 25, 2022

We independently research and recommend the best products; Learn more here. We may receive commissions on purchases made from our product recommendations.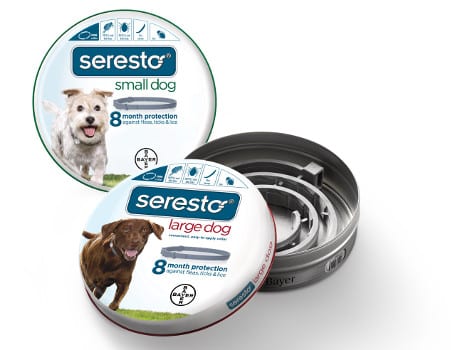 Fleas and ticks are a problem every pet owner might come into contact with sooner or later, and fleas and ticks can lead to more severe problems like diseases and anemia if they're not treated quickly and effectively. Additionally, once fleas get into your home, they can be even harder to get rid of.
The Seresto Flea and Tick Collar is one way to help prevent your dog from becoming a flea and tick carrier. Several key points set this collar apart from traditional flea and tick collars, and this can mean better protection for your dog.
What is the Seresto Flea and Tick Collar?
This flea and tick collar is an alternative option to regular flea and tick collars as it is said to provide up to eight months of all over protection. In addition to killing the existing fleas, this collar is also supposed to repel any additional fleas or ticks from invading your dog's coat. 
This flea and tick collar is veterinarian recommended, and you can purchase it for large dogs, small dogs, and cats as well. Finally, it contains a slow release formula that goes from the collar to your dog's coat, and onto their skin over the span of several months.
Types of Seresto Collars for Dogs
This particular flea and tick collar comes in two different sizes with one for large dogs and one for smaller dogs. It is very important that you select the correct size collar for your dog as a large might be too powerful for smaller dogs to handle.
How the Seresto Flea and Tick Collars Work
Once you apply the Seresto Flea and Tick collar, it starts releasing an odorless insecticide that goes to work penetrating your dog's coat to their skin. This insecticide starts to kill fleas within 24 hours and ticks within 48 hours, and a single collar can last up to eight months. 
When the fleas and ticks come into contact with the insecticide, it slowly starts to shut down their immune systems until they're dead. The Seresto collar is also water-resistant, so you won't have to remove it every time you want to give your dog a bath or every time they want to swim. 
Benefits of Using the Seresto Collar on Your Dog
There are several benefits that come with using this particular flea and tick collar, and they include:
Long lasting and slow release formula
Collar acts as a barrier to prevent additional fleas and ticks from attaching
Water resistant
Break away design so your dog can get free if they get caught on something
Reflector clips make it easy to see your dog after sunset
How Long Does it Take Seresto to Start Working?
As soon as you apply the flea and tick collar, it starts working to kill any ticks and fleas that are present on your dog. The first 48 hours are when this collar is most active, as it has to spread the insecticide along your dogs' coat and down to their skin.
Once the collar is completely in your dog's coat, it begins to form a barrier that repels any additional fleas or ticks. It will also work to kill any larvae or eggs that may be hiding in your dog's coat.
How Effective is the Seresto Collar?
Researchers performed studies by putting a group of dogs that were infested with fleas and ticks in flea and tick collars. Over an eight-month period, the researchers compared the results to find out how effective the Seresto collar could be.
The study found that the Seresto Flea and Tick Collar was effective in treating ticks up to 90 percent of the time, and it also reduced the appearance of fleas up by to 95 percent. They concluded that this particular collar might be a good choice to prevent fleas and ticks throughout the season. 
How Do You Put the Seresto Collar on Your Dog?
It's pretty simple to put on your dog. Just put it around your dog's neck like any other collar and size it up to make sure it isn't too loose or too tight.
Next you will want to cut off any excess beyond an inch after the collar is on. Here's a great video I found that walks you through the process if you are a more visual person.
Ingredients and Possible Side Effects
There are two main ingredients in the Seresto collar, and they are Imidacloprid and Flumethrin.
Flumethrin. This ingredient has been used for years by veterinarians to repel and to control ticks. It works together with Seresto's other key ingredient to provide long-lasting, powerful support.
Imidacloprid. The second active ingredient in the Seresto collar is Imidacloprid. This ingredient acts as a neurotoxin, and it targets fleas to kill both adults and larvae quickly.
It is important to note that there are a few side effects that your dog could experience while they have the Seresto Flea and Tick Collar on. They are rare, but side effects can crop up in certain dogs.
Itchy skin or rash
Diarrhea
Vomiting
Hair loss
What We Thought About Seresto Collars
Things We Liked
Easy to use
Long lasting means you can save money in the long run
Collars come in different sizes for both small and large dogs
Things We Didn't Like
Collar only works when it's on your dog
Might not work well if your dog has a thick coat
Collar will wear out faster if it's exposed to water on a consistent basis
Common Questions About Seresto
1. Are Seresto Collars Safe for my Dog?
Unless your dog has a sensitivity or an allergy to the ingredients, Seresto shouldn't have negative side effects. It is safe, but you may want to consult your veterinarian before you try it on your dog. 
2. Do Seresto Collars Come With a Scent?
No, Seresto is an odorless flea and tick collar. 
3. Do Fleas and Ticks Have to Eat the Chemicals in this Collar to Die?
No, the chemical makeup of this collar kills the pests on contact. There is no need for the fleas or ticks to ingest it for it to work.
4. Can You Get the Seresto Collar Wet?
While this collar is water-resistant, you should only be bathing your dog once a month with it on. If they're exposed to water on a more regular basis, the collar may not work as long.
What Customers Have to Say About Seresto
People who have purchased this product claimed that this was one of the best flea and tick collars they've ever used because it works quickly and produces long-lasting results. They also said that the quick release function gave them peace of mind because they didn't have to worry about their dog getting stuck somewhere. 
Other people said that their dogs were too sensitive to the ingredients in the collar, and this made the dogs break out in hives until they removed the collar. They also said that the price for this collar is pretty high, and it takes longer to work then the manufacturer advertises.
Hartz Ultraguard Plus Flea and Tick Collar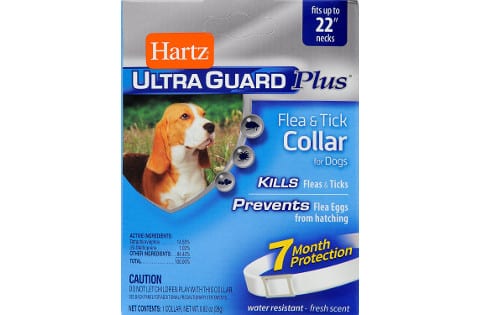 Hartz Ultra Guard Plus Flea and Tick Collar is a less expensive alternative to the Seresto collar. It differs from the Seresto collar as it offers seven-month protection instead of eight, and it comes in one size fits all. 
Anyone who had their dog break out in hives or had a dog that had a reaction to the Seresto collar may benefit from using this one. It works to repel fleas and ticks, and it works to break the cycle as it kills eggs and larvae as well. 
Comparing Hartz Ultraguard to Seresto
Hartz Ultraguard is the less expensive option
You get a size choice with Seresto
Seresto works for eight months instead of seven
Customer reviews of Seresto are much better than Hartz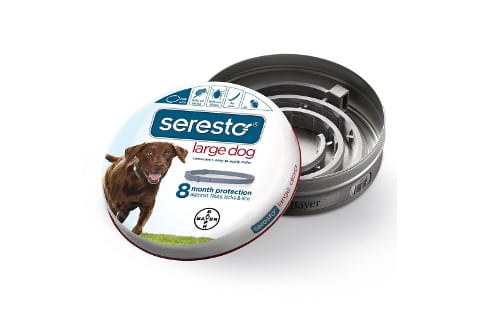 As a pet parent, you want your dog to be healthy, happy, and pest free all year round. Seresto Flea and Tick Collar not only kills fleas and ticks but it repels them for up to eight months. 
The ingredients in the Seresto collar are safe for your dog, and you can bathe your dog with this collar on as well. It's one of the best rated flea and tick collars and we can see why. Yes, it can be a bit expensive but it works. Click the "Check Price" button above to learn more about Seresto collars for dogs.