11 of the Most Expensive Luxury Dog Accessories in the World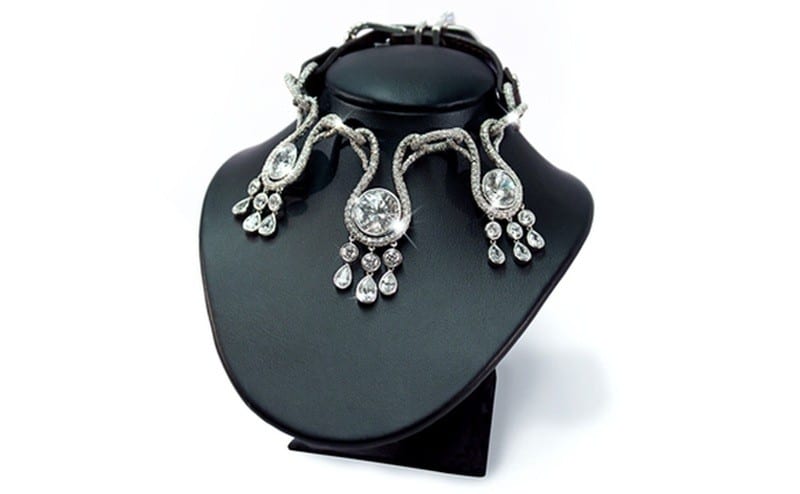 If you're like us, your pup is your best friend. There's nothing we won't do to make sure they are happy, healthy and comfortable. But sometimes you want to take things to the next level to let them know just how loved they are. Luckily, there are a whole slew of luxury dog accessories on the market to help your dog feel like royalty. We're going to look at some of the best-of-the-best in doggy luxury.
1. Couture Domed Pavilion Dog Bed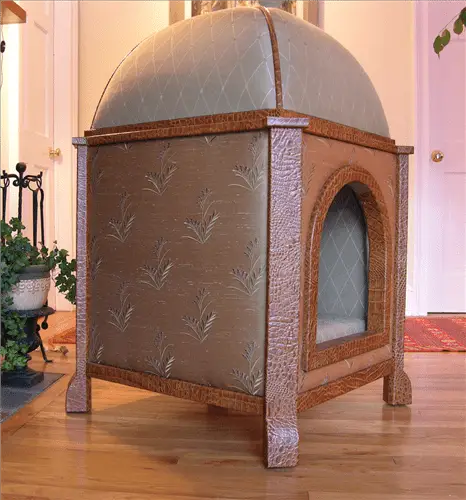 Channel your dog's inner sultan with this domed pavilion dog bed. It's called a dog bed but it looks more like an indoor dog house. Fine linen lines the inside and the top of the dome, complemented with imitation crocodile leather trim. Embroidered silk panels are intricately decorated with delicate ferns. At $3,900, it's a small price to pay for your pup to feel like a Middle Eastern prince or princess.
2. La Jeune Tulipe Diamond Dog Pet Collar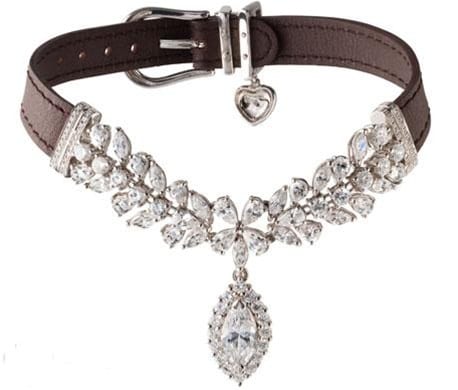 If the name itself isn't enough to tip you off, this is one fancy dog collar. Crafted from an arrangement of diamonds – the centerpiece of which is a radiant 1.52-carat diamond – it's a sure way to bring attention to your fancy Fido.
Each collar is custom fit, and while the process can take up to 8 weeks, we're sure you'll find that it's worth the $150,000 price tag.
3. Michels VIP Parfums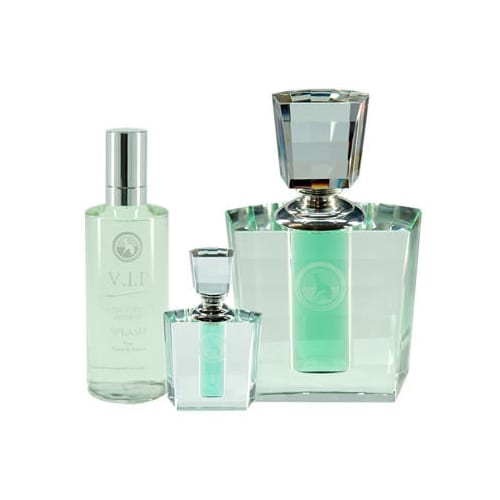 There's nothing that screams "low class" like the pedestrian smell of a normal mutt. Set yours apart from the crowd with the beautiful scent of Michels VIP Parfums for dogs. You might need to take out a second mortgage, but you can rest easy every time you get a whiff of your Mandarin Blossom and Pink Grapefruit-scented pooch.
These fragrances are offered by invitation only, and cost $4,000 per 4 oz.
4. Ruby & Walter Royal Crown Derby Dog Bowl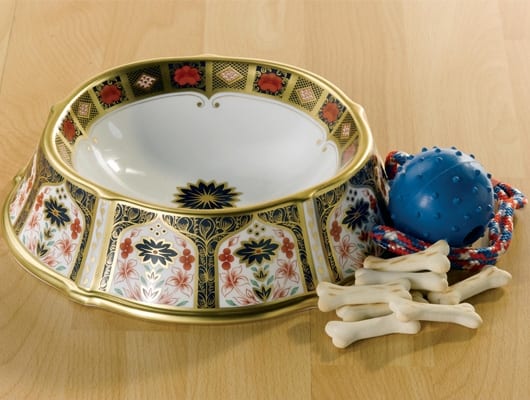 Does the thought of your fabulous dog eating out of a normal dog bowl make your hair stand on end? Fear no more. The Royal Crown Derby dog bowl is hand gilded with 22-carat gold. Its intricate design will ensure that nobody who enters your house can think of your pooch as anything less than perfectly pampered.
For only £500.00 (about $650 US), this beautiful bowl can be yours to fill with golden kibbles. (You do feed your dog golden kibbles, right?)
5. Luxury Versace Style Designer Pet Bed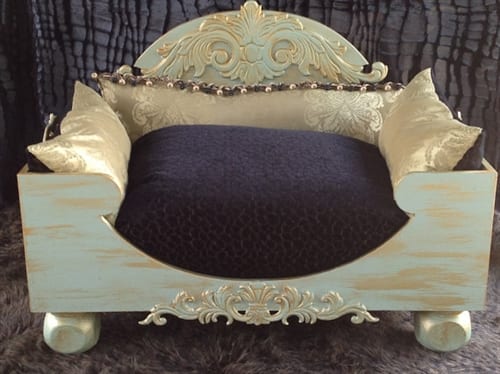 Even though your dog is probably going to sleep on the floor, you just aren't a pampered pet owner if you don't own a Versace style designer pet bed. From the gold leather duvet to the lush black faux fur, these handmade beds are crafted with your impeccable sense of style in mind.
For only $1,750, you can watch your dog sleep on the floor right next to this gorgeous bed. Hey, it's probably a good thing if they sleep on the floor, since the beds are dry clean only.
6. Couture Futuristic Royal Harness Dress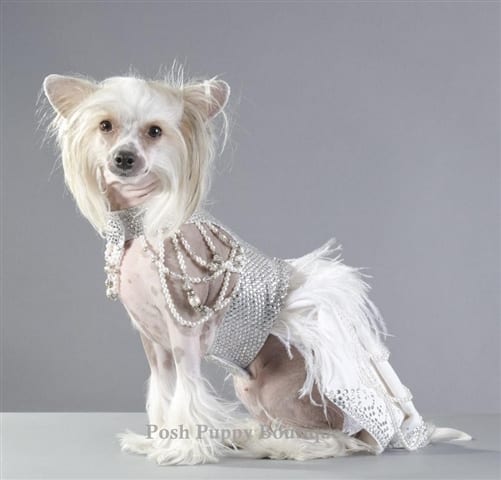 Do you love to watch couture models stumble down the runway in outlandish futuristic costumes? Have you ever looked at an ordinary dog harness and thought, "if only that were actually a dress?" If you answered yes to either of these questions, this harness dress is for you.
It's crafted from rich velvet, bridal silk and over 2,000 Swarovski crystals. If you're still not convinced of its luxury, the waist is adorned with white ostrich feathers and crystal pearls. Best of all, your dog can look like a space model for only $6,600.
7. Couture Paisley Armoire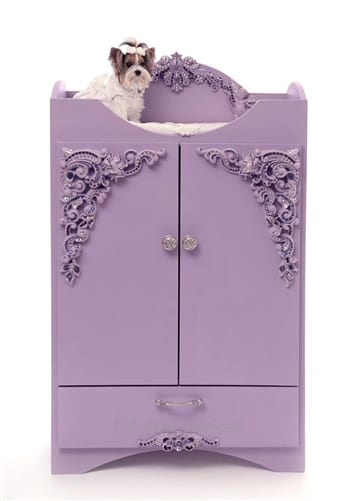 Have you found yourself with a dire lack of space to store all of your recently-acquired luxury dog items? The Couture Paisley Armoire is here to help. Between the Swarovski crystals, pearls and semi-precious gemstones, your pooch is sure to appreciate their outrageously blinged-out storage space.
For only $12,000, this custom-made armoire can house all of your other luxury dog items.
8. Small 18k Gold & Silver Leash with CZ Jewels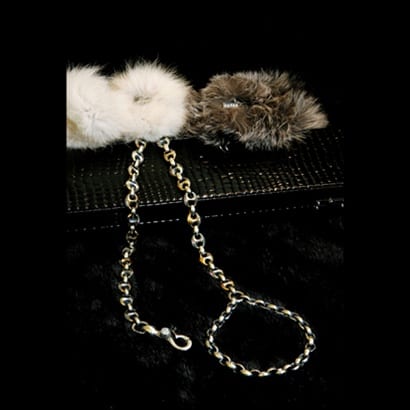 A blinged-out collar is simply not enough for the most pampered pets. Luckily, this leash is the perfect solution. Made with exotic snake, crocodile and ostrich skin and 18-carat gold and silver, it's the perfect complement to your pooch's diamond collar. It even comes with a detachable blue fox fur cuff holder, all for only $300,000.
9. Couture Luxury Dog Bed with Hood and Draperies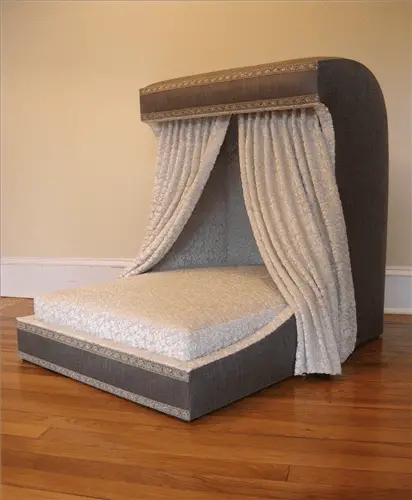 Make sure your puppy princess sleeps in style in this made-to-order luxury dog bed. Silver-gray velvet silk makes up the luxurious removable curtains and fluffy cushion. Finally, a dog bed that keeps your dog's privacy needs in mind! It can be yours for only $3,900.
10. Amour, Amour Luxury Dog Collar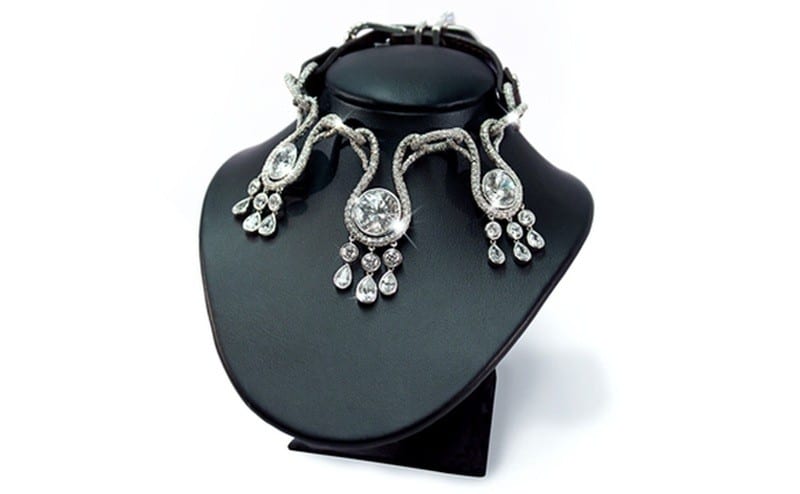 If there's simply nothing too good for your precious pooch, the Amour, Amour luxury dog collar is for you. It's made with a whopping 1600 hand-set diamonds, totaling 52 carats. Diamonds not luxurious enough? The strap itself is made from 18-carat white gold and crocodile leather.
At $3.2 million a piece, one thing's for sure: any pup who leaves the house in this is worth more than its weight in gold.
11. Dog Tiara by Riwin Jirapolsek
By now, your dog is outfitted with the works: a fancy collar, gorgeous dog bowl, harness dress, and a bed fancier than your own. But there's still something missing. Enter: the royal dog tiara. Diamonds simply aren't enough on their own, so this tiara has been embellished with emeralds to finish the look. Crafted from top-quality titanium, it's a one-of-a-kind piece valued at a cool $4.2 million.
Your Dog in Luxury
Dressing, feeding and bedding your dog in total luxury is the best way to show the whole world how much you love your dog. After all, nothing says "I appreciate you" like selling your home to afford the most luxurious collars and tiaras that money can buy.