Best Indoor Dog House: Top 5 Affordable Picks & Reviews

By Ashley Turner     Last Updated January 25, 2022

We independently research and recommend the best products; Learn more here. We may receive commissions on purchases made from our product recommendations.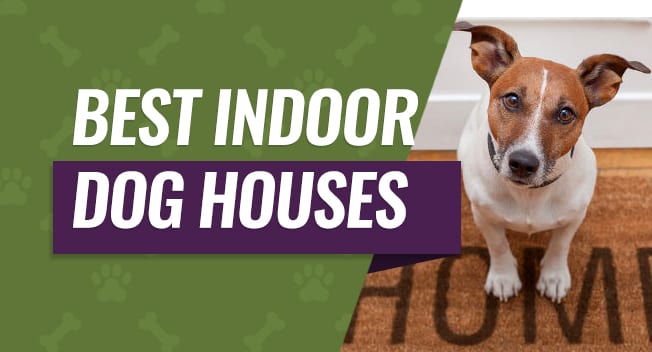 Buying your furry friend an indoor dog house is a great way to give them a space of their own to relax in, and you don't have to worry about it standing up to the elements like you would with an outdoor dog house.
Quality is still very important though, and this is why we've rounded up and reviewed the top five indoor dog houses for you to compare against each other. We've also put together a buyer's guide that will give you a good understanding of the important points that you want to keep in mind when you're shopping for the best indoor dog house.
Our Top Picks for the Best Indoor Dog House
Why Should You Get an Indoor Dog House?
Your dog already lives in the house, so why would you bother buying them an indoor dog house? The answer is because your dog has the inherent need to have a space of their own or build a den-type structure to feel secure when they get stressed out.
If the indoor dog house comes with a latching door, it's also a place where you can put your dog when you're out of the house, and they won't have as much anxiety because they'll be surrounded by their home. Just make sure that it's big enough for your dog to stand up and turn around in comfortably.
Choosing a Material for Your Indoor Dog House
You want to narrow your search down right away because there are hundreds of different indoor dog houses available, and picking one style will help you quickly and easily compare them and pick out the one that suits your dog's needs.
Canvas - Canvas dog houses are popular for people who like to travel or take their pets with them. They usually come with steel tubing for a frame, canvas with large wish windows for the walls, zippered closures, and a carrying handle.
Plastic - Another popular indoor dog house material is plastic because plastic is lightweight but durable enough to withstand a lot of wear and tear. It usually comes preassembled or in several large pieces that snap together.
Wood - Wood is another popular indoor dog house building material because it's sturdy and durable, but you won't have to worry about having it exposed to the elements like you would if it was outside. Make sure that the wood is sanded smooth to avoid splinters.
Important Indoor Dog House Buying Points
If you're ready to start shopping for your new indoor dog house, take a look at our buying points. These easy points will give you a good idea on what's important to watch out for and what you don't have to worry about as much.
Cleaning
You'll eventually have to clean your dog's house, even if it is indoors. You'll want this to be as easy as possible, so look for things like washable surfaces or the ability to toss it in the wash if it's a canvas or cloth house.
Durability
Even though this may not be a very expensive investment depending on the brand, type, and size of your indoor dog house, it's important that you find a durable option that will withstand wear and tear. Consider how your dog acts and buy the house that is going to be durable enough to last them for at least a year or two.
Latching Door
Not all indoor dog houses come with latching doors or doors at all, and this is essential depending on what you plan to use your indoor dog house for. Obviously, if you plan to use it for training or safety purposes, you want a dog house with a door that latches, but if you're just giving your dog a space to lounge, they don't necessarily need a door.
Limits
A lot of indoor dog houses will give you exact size and weight limits that they'll be able to support without endangering your dog when they get into the house. Check these limits and check your dog's height and weight before you buy anything, so you're sure that it'll easily support your dog and keep them safe.
Size
Size is one of the most important factors to keep in mind when you're buying an indoor dog house, especially if your dog is younger and they aren't done growing yet. You want to measure your dog's height and length and then be sure to leave a few inches of room either way for your dog to move comfortably. If you're still not sure, the video below shows you exactly how to get the correct size.
Smooth Surfaces and Rounded Edges
Your dog should be safe the entire time they're in or around their indoor dog house, and you want to make sure that there are no sharp corners or areas that can splinter and get in your dog's feet if they happen to walk on it. This is especially important for wood indoor dog houses because they tend to wear out and crack or splinter.
Storage
Check to see how easy your dog's house is to put together, take apart, and get ready for storage. A few indoor dog houses simply collapse in on themselves and fold flat for easy storage while others require you to take it apart piece by piece and store it somewhere without a bag.
Ventilation
Ventilation is essential with your dog's new indoor house, and this is especially true if it comes with a door and they spend a lot of time relaxing inside of it. Some indoor dog houses come with mesh windows that are very breathable, others come with no door and small windows to allow good airflow, and other houses have ventilation vents built right into the home's design.
Weight
If you plan to get a larger dog house for your dog to grow into and you plan to move it around a bit, take a good look at the house's weight when it's assembled. If the house is too heavy, you won't be able to move it around in your home without help, and if it's too light, your dog will be able to knock it over.
Our Top 5 Picks for the Best Indoor Dog Houses
1. Casual Home Wooden Pet Crate
Casual Home Wooden Pet Crate is a furniture-style indoor dog house as it doubles as a beautiful end table. The design features slats that provide proper ventilation and air flow for your pet.
This furniture dog house is available in black, taupe gray, espresso, and white, and it also comes in four sizes ranging from small to extra-large. Made from solid Hevea wood, it is a durable piece that withstands scratches and looks modern as well.
In regards to dog houses, there are not many that double as a piece of furniture and comes in a variety of colors. It is easy to assemble and comes with all the tools needed to set it up.
This dog house comes with a secure lockable latch so that the pet owner can control when their pet enters and exits.
Customers love the appearance of this product; however, some customers stated that it was hard to keep up with the maintenance as it is wood and also indicated that they had to clean it often.
Things We Liked
Dog house that doubles as an end table
Comes in a variety of colors and sizes
Comes with tools needed to assemble
Provides proper ventilation
Things We Didn't Like
No insulation system
Requires proper maintenance as one would with other wood furniture
Wood absorbs water elements, so it is not ideal for pets that are not potty trained
2. Petsfit Wooden Indoor Dog House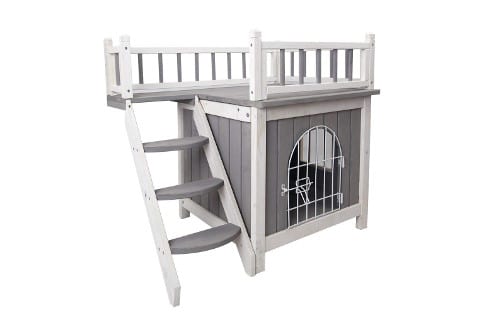 Petsfit Wooden Indoor Dog House is an adorable, luxury indoor dog house that resembles an actual house and is very aesthetically pleasing. The structure features a small condo-style house with windows and a lock, and stairs to the roof of the house.
Made from kiln-dried cedar, it is very sturdy yet lightweight, making it an excellent portable pet house. It is also easy to assemble and does not require any special tools to put it together.
Petsfit Wooden Indoor Dog House is suitable for dogs and cats under 20 pounds and is only available in one size.
You merely need to remove the roof to clean the inner sleeping space. Unlike other pet houses, this one will go well with many interior designs as it is available in painted and unpainted.
Customers loved that the windows and fenced-doorway provide optimal ventilation so that their pups are getting enough clean air. A few customers stated that while they admired the appearance of the dog condo, it was way too small for their dog to fit inside.
Things We Liked
Aesthetically-pleasing dog condo
Made from kiln-dried cedar
Easy to clean and assemble
Ideal for both small dogs and cats
Provides plenty of ventilation
Things We Didn't Like
One size only for pets under 20 pounds
Customers stated that it was too small for their dogs that they thought would fit inside
No insulation system
3. Petmate Igloo Dog House with Microban Technology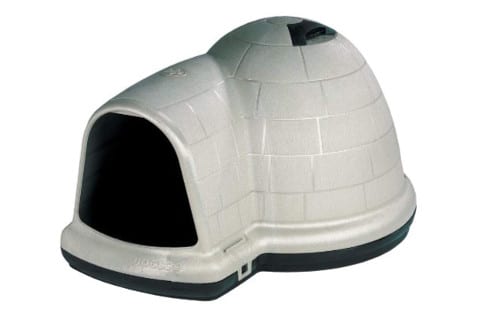 Petmate Igloo Dog House with Microban, a technology that fights odor-causing bacteria, mold, mildew, and stains, provides your pet with a clean pet house that is ideal for both outdoor and indoor use. It is excellent to use outdoors as the manufacturer used heavy construction so that it protects against extreme weather conditions.
This igloo pet house offers an extended doorway, to ensure that rain and wind stay out, along with ventilation in the roof for optimal airflow. The design slides both snow and rain off the house, while the roof holds in warmth, providing a toasty spot for your pet to stay in, even on brisk winter days.
There are three sizes available that perfect for pets that are any weight between 25 to 175 pounds. The doorway is 13x5" X 12.5", which is ideal for small to medium breeds.
This quality dog house does not require any tools to assemble it and has been made in the United States of America. The raised floors along with the moats surrounding the walls help drain water away from the house.
Customers rave that this product is simple to assemble, and easy to clean due to the Microban technology. A few customers stated that it was not sturdy for large breed dogs and that the small doorway was too low for their dogs, resulting in their dogs having to duck every time they went inside.
Things We Liked
Indoor/Outdoor User
Three sizes for dogs weighing 25 to 175 pounds
Easy to assemble and does not require any tools
Microban technology for easy cleaning
Things We Didn't Like
Not for dogs or puppies under 25
Customers stated that it is not sturdy for large brees
Large dogs may need to duck when going through the doorway as it is low
4. Merry Products Wood Pet Home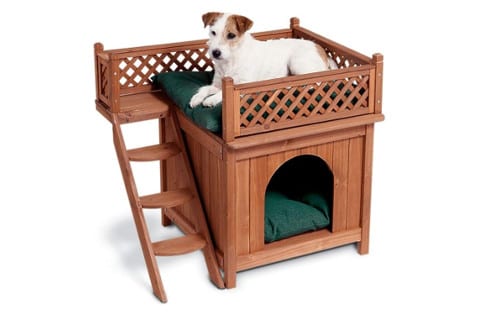 Merry Products Wood Pet Home features a unique design that includes a condo-style home, a ladder, a balcony, and a lattice fence. It is made from kiln-dried cedar for additional resiliance and strength while remaining lightweight as it is both an indoor and outdoor dog house.
This cabin-style house is ideal for small to medium dogs and does not require any special tools to set it up. The raised bottom helps keep the indoor of the dog house dry, as it prevents flooding.
All you need to do to clean this product is take off the rooftop and bottom panel.
While assembling this product is relatively easy, a few customers stated that some of the pieces have a bit of extra length and needs coaxing before assembly. Overall, customers adore the look of this product as it is modern, comfortable for their pets, and easy to maintain.
Things We Liked
Made with kiln-dried cedar
Indoor/Outdoor Use
Cabin-style house that is aesthetically pleasing
Raised bottom to prevent flooding and keep pet dry
Things We Didn't Like
Not ideal for large breeds
Available in one size
Some pieces have extra length and need to be coaxed to fit together well
5. Petmate Barnhome III Dog House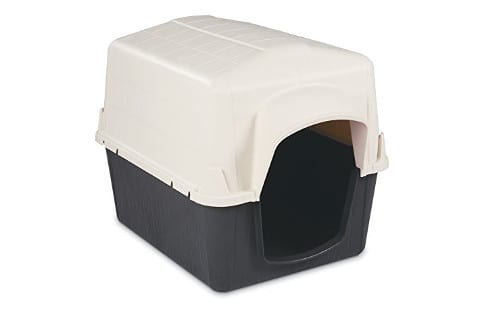 Petmate Barn Home is a wonderful indoor dog house that can also be used outdoors as it features a durable exterior material and insulation to keep the harsh weather elements out. This house will keep your pet cool during the summer months and toasty during the winter.
The two-tone colors provide a minimalist look so that it does not clash with one's interior design. It is made with a lightweight yet sturdy plastic that can be placed in any room in the house or outdoors as it resists decay and is weatherproof.
The rear vents provide optimal ventilation and air circulation for your pet. The structure also includes both a raised floor to prevent flooding and a rim that redirects rain and snow.
This dog house is available in multiple sizes for small to large breed dogs, and cats can use it as well. Since this dog house comes in only two pieces, it is easy to assemble without any tools as well as quick to clean if any messes occur inside.
Customers adore this affordable doghouse as it is the perfect basic dog house that is easy to set up and clean. A few customers stated that rain was still able to trickle in when placed outdoors and that it did not keep their pet as warm as they expected
Things We Liked
Made with durable plastic
Easy to clean
Quick assembly that does not require any tools
Available in multiple sizes for small to large breeds
Things We Didn't Like
Not as aesthetically pleasing as other doghouses
Does not have a secure lockable latch
No extended doorway, which may allow rain and snow to trickle in
Overall, Casual Home Wooden Pet Crate is the best indoor dog house as it fits well as a piece of furniture in any house, and it is a comfortable house for small to extra-large breed dogs. Unlike other dog houses, this product also comes in four different colors to match your interior while also providing proper ventilation for your pup.
It does not have an insulation system; however, that is not a problem as it is meant for indoors and the pet owner can lay down their four-legged friends favorite blankets inside. Keep in mind that this product does require maintenance like you would any piece of wood furniture, yet it is an easy task to handle while you are cleaning the room it is in.