Best Indoor Dog House: Top 5 Affordable Picks & Reviews
Latest Update: September 12, 2018
An indoor dog house is an excellent way to provide your pup a comfortable and safe spot inside your home, where they can head to whenever they want to nap, as they are unlikely to be disturbed in there. Pet homes are available in a plethora of styles, as many have different sizes, qualities, designs, and additional features.
It is essential that you consider these various factors, along with the needs of you and your pup, when searching for the perfect pet house. We curated a list of the top 5 best indoor dog houses and produced a buyer's guide so that you have the tools to choose the best indoor dog house for your four-legged friend.
Our Top Picks for the Best Indoor Dog House
What Makes The Ideal Indoor Dog House?
There are a few factors that go into determining if a dog house is the ideal indoor dog house and if it is the perfect one for you.
Design
Since indoor dog houses remain inside, it is critical to remember that the one you choose will be apart of your home's interior. For pet owners who prefer to maintain their interior design, there are several types of visually-pleasing dog houses such as furniture-style dog houses, small crates, barn-shaped, and igloo designs.
Size
If you live in a small space or prefer that your dog house takes up minimal space, you may want to purchase a small dog house such as a dog igloo house or a furniture crate. Canine houses allow your dog a space of their own, without it taking up necessary space or looking out of space.
Weight
Indoor houses are moved around often, whether to find a location that your dog prefers or to match the interior design, which makes it necessary that the dog house is lightweight. Lightweight materials, such as plastic and certain woods like oak and cedar, are easy to clean and assemble as well.
Easy To Clean
Cleaning your pup's dog house is an essential task to ensure that your pet's space is hygienic along with the environment around the dog house. The material used to make the dog house determines how easy it will be to clean.
Wood tends to absorb water, whereas plastic does not. Typically, manufacturers treat or manufacture plastic with a specific technology, such as Microban, that inhibits the growth of bacteria that cause foul smells.
What Is The Difference Between Indoor Dog Houses And Outdoor Dog Houses?
Weight
Outdoor dog houses are designed to be durable and keep your dog warm, which typically results in the use of heavy materials. Dog houses meant for the outdoors are usually stationed in one spot, and are not moved around often.
Indoor dog houses are made out of lightweight materials as pet owners may need to move them around from time to time. Since they are not protecting your dog from any weather conditions, manufacturers do not need to use heavy materials.
Durability
Typically, small breeds are kept indoors whereas larger dogs go outside more often. A small breed may only need an indoor dog house as they do not need protection from any elements indoors.
A pet owner of a larger dog who goes outside often may prefer an outdoor dog house as it is durable against all types of weather elements, and will protect the dog. Outdoor dog houses will hold up against rain and snow, whereas an indoor dog house placed outside will not.
Insulation
Insulation is a requirement in outdoor dog houses, as it keeps your pet warm during extreme weather conditions. Manufacturers install EPS foam in the walls and the panels of the room to protect your pet.
Indoor pet homes do not require insulation as they are not intended to be exposed to the outdoors. Materials such as a wood act as natural insulation, if you want your indoor home to retain heat.
What Are the Benefits of an Indoor Dog House?
There are plenty of benefits to having an indoor dog house for your pup.
House Training - An indoor dog house assists in training your dog, as they will be unable to tear up furniture or chew up shoes and electronic cables. Crate training is an excellent way to teach your dog how to respect the house rules.
Privacy - While dogs are quite social, they are also independent animals that require privacy as well. A dog house provides your dog with a secluded area where they are unlikely to be disturbed by other members of the household, including both people and animals.
Portable Use - Most indoor canine houses do not take up much space in your home, as they are fairly small. Small indoor pet homes may be used as a portable house when traveling or bringing your pet to someone's home who is petsitting them.
Proper Sleeping Arrangements - Sleeping with your pup may damage your health due to allergies, contraction of diseases, and disruption of rest when they get up and move in the night. Allowing your dog to sleep in your bed may also create an attachment that is hard to break, resulting in your four-legged friend unable to sleep without you by their side. An indoor pet home provides a comfortable place for your pet to sleep without forming an attachment to you or harming your health.
Our Top 5 Picks for the Best Indoor Dog Houses
1. Petsfit Wooden Indoor Dog House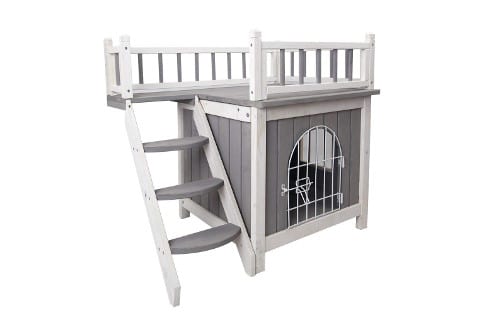 Petsfit Wooden Indoor Dog House is an adorable pet house that resembles an actual house and is very aesthetically pleasing. The structure features a small condo-style house with windows and a lock, and stairs to the roof of the house.
Made from kiln-dried cedar, it is very sturdy yet lightweight, making it an excellent portable pet house. It is also easy to assemble and does not require any special tools to put it together.
Petsfit Wooden Indoor Dog House is suitable for dogs and cats under 20 pounds and is only available in one size.
You merely need to remove the roof to clean the inner sleeping space. Unlike other pet houses, this one will go well with many interior designs as it is available in painted and unpainted.
Customers loved that the windows and fenced-doorway provide optimal ventilation so that their pups are getting enough clean air. A few customers stated that while they admired the appearance of the dog condo, it was way too small for their dog to fit inside.
Things We Liked
Aesthetically-pleasing dog condo
Made from kiln-dried cedar
Easy to clean and assemble
Ideal for both small dogs and cats
Provides plenty of ventilation
Things We Didn't Like
One size only for pets under 20 pounds
Customers stated that it was too small for their dogs that they thought would fit inside
No insulation system
2. Petmate Igloo Dog House with Microban Technology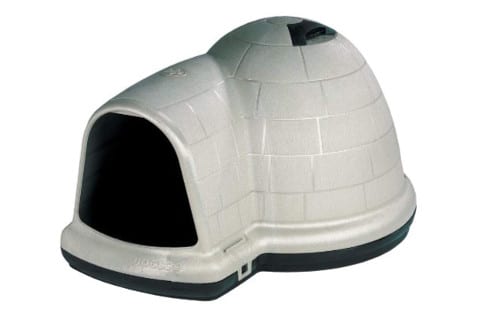 Petmate Igloo Dog House with Microban, a technology that fights odor-causing bacteria, mold, mildew, and stains, provides your pet with a clean pet house that is ideal for both outdoor and indoor use. It is excellent to use outdoors as the manufacturer used heavy construction so that it protects against extreme weather conditions.
This igloo pet house offers an extended doorway, to ensure that rain and wind stay out, along with ventilation in the roof for optimal airflow. The design slides both snow and rain off the house, while the roof holds in warmth, providing a toasty spot for your pet to stay in, even on brisk winter days.
There are three sizes available that perfect for pets that are any weight between 25 to 175 pounds. The doorway is 13x5" X 12.5", which is ideal for small to medium breeds.
This quality dog house does not require any tools to assemble it and has been made in the United States of America. The raised floors along with the moats surrounding the walls help drain water away from the house.
Customers rave that this product is simple to assemble, and easy to clean due to the Microban technology. A few customers stated that it was not sturdy for large breed dogs and that the small doorway was too low for their dogs, resulting in their dogs having to duck every time they went inside.
Things We Liked
Indoor/Outdoor User
Three sizes for dogs weighing 25 to 175 pounds
Easy to assemble and does not require any tools
Microban technology for easy cleaning
Things We Didn't Like
Not for dogs or puppies under 25
Customers stated that it is not sturdy for large brees
Large dogs may need to duck when going through the doorway as it is low
3. Merry Products Wood Pet Home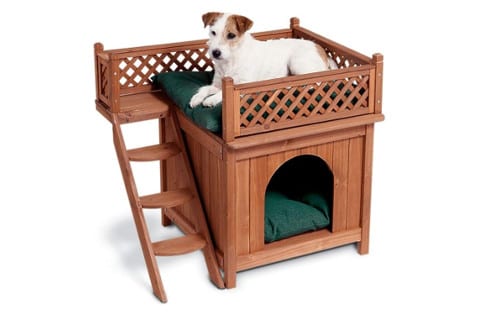 Merry Products Wood Pet Home features a unique design that includes a condo-style home, a ladder, a balcony, and a lattice fence. It is made from kiln-dried cedar for additional resiliance and strength while remaining lightweight as it is both an indoor and outdoor dog house.
This cabin-style house is ideal for small to medium dogs and does not require any special tools to set it up. The raised bottom helps keep the indoor of the dog house dry, as it prevents flooding.
All you need to do to clean this product is take off the rooftop and bottom panel.
While assembling this product is relatively easy, a few customers stated that some of the pieces have a bit of extra length and needs coaxing before assembly. Overall, customers adore the look of this product as it is modern, comfortable for their pets, and easy to maintain.
Things We Liked
Made with kiln-dried cedar
Indoor/Outdoor Use
Cabin-style house that is aesthetically pleasing
Raised bottom to prevent flooding and keep pet dry
Things We Didn't Like
Not ideal for large breeds
Available in one size
Some pieces have extra length and need to be coaxed to fit together well
4. Petmate Barnhome III Dog House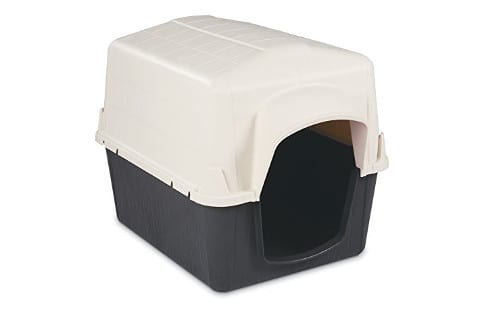 Petmate Barn Home is a wonderful indoor dog house that can also be used outdoors as it features a durable exterior material and insulation to keep the harsh weather elements out. This house will keep your pet cool during the summer months and toasty during the winter.
The two-tone colors provide a minimalist look so that it does not clash with one's interior design. It is made with a lightweight yet sturdy plastic that can be placed in any room in the house or outdoors as it resists decay and is weatherproof.
The rear vents provide optimal ventilation and air circulation for your pet. The structure also includes both a raised floor to prevent flooding and a rim that redirects rain and snow.
This dog house is available in multiple sizes for small to large breed dogs, and cats can use it as well. Since this dog house comes in only two pieces, it is easy to assemble without any tools as well as quick to clean if any messes occur inside.
Customers adore this affordable doghouse as it is the perfect basic dog house that is easy to set up and clean. A few customers stated that rain was still able to trickle in when placed outdoors and that it did not keep their pet as warm as they expected
Things We Liked
Made with durable plastic
Easy to clean
Quick assembly that does not require any tools
Available in multiple sizes for small to large breeds
Things We Didn't Like
Not as aesthetically pleasing as other doghouses
Does not have a secure lockable latch
No extended doorway, which may allow rain and snow to trickle in
5. Casual Home Wooden Pet Crate
Casual Home Wooden Pet Crate is a furniture-style indoor pet house as it doubles as a beautiful end table. The design features slats that provide proper ventilation and air flow for your pet.
This furniture dog house is available in black, taupe gray, espresso, and white, and it also comes in four sizes ranging from small to extra-large. Made from solid Hevea wood, it is a durable piece that withstands scratches and looks modern as well.
In regards to dog houses, there are not many that double as a piece of furniture and comes in a variety of colors. It is easy to assemble and comes with all the tools needed to set it up.
This dog house comes with a secure lockable latch so that the pet owner can control when their pet enters and exits.
Customers love the appearance of this product; however, some customers stated that it was hard to keep up with the maintenance as it is wood and also indicated that they had to clean it often.
Things We Liked
Dog house that doubles as an end table
Comes in a variety of colors and sizes
Comes with tools needed to assemble
Provides proper ventilation
Things We Didn't Like
No insulation system
Requires proper maintenance as one would with other wood furniture
Wood absorbs water elements, so it is not ideal for pets that are not potty trained
Overall, Casual Home Wooden Pet Crate is the best indoor dog house as it fits well as a piece of furniture in any house, and it is a comfortable house for small to extra-large breed dogs. Unlike other dog houses, this product also comes in four different colors to match your interior while also providing proper ventilation for your pup.
It does not have an insulation system; however, that is not a problem as it is meant for indoors and the pet owner can lay down their four-legged friends favorite blankets inside. Keep in mind that this product does require maintenance like you would any piece of wood furniture, yet it is an easy task to handle while you are cleaning the room it is in.
Best Indoor Dog House: Top 5 Affordable Picks & Reviews
PuppyWire
Best Indoor Dog House: Top 5 Affordable Picks & Reviews