Top 5 Best Dog Couch Covers That Actually Stay in Place

By Ashley Turner     Last Updated January 25, 2022

We independently research and recommend the best products; Learn more here. We may receive commissions on purchases made from our product recommendations.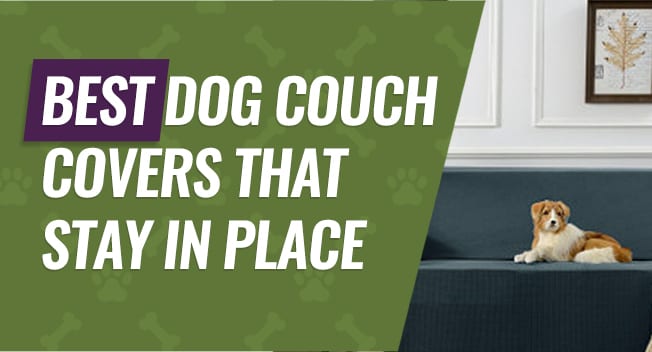 You love your dog, but you may not love all of the dog hair and damage that your dog can do to your furniture when they lay or climb on it. Buying pet couch covers that stay in place is one easy and effective way to save your furniture while allowing your beloved dog to continue lounging on it.
However, there are several things to consider, and different brands of these pet couch covers available that it can make it difficult to pick out the best one. We've rounded up the top five and reviewed them, and our buying guide makes it easy to pick the one that meets all of your needs and stays in place.
Our Top Picks for the Best Dog Couch Covers
What is a Pet Couch Cover?
Simply put, a pet couch cover is a barrier that you place over your couch to prevent damage and pet hair from getting into and on your couch. You can buy fitted couch covers so you don't have to worry about them sliding around or bunching up when your pet moves.
They're great for people who have high-energy or destructive dogs that tend to dig at or chew on the couch cushions. They're also a good idea in general because even the most well-behaved dog can shed or accidentally scratch part of your couch.
Four Reasons to Get a Pet Couch Cover
As we briefly touched on earlier, any type of dog can accidentally cause damage to your furniture, and this couch cover can help reduce or stop any damage and keep your couch looking good for years.
Alleviates Dog Hair - Dog hair tends to get everywhere in your home, especially if you have a breed that regularly sheds. A couch cover prevents the hair from embedding in your couch, and it makes it easy to clean up. This can reduce the number of allergens in your home as well.
Keeps Your Couch Cleaner - Humans and pets will all cause a couch to look dingy and dirty, even if they're clean when they sit on it. Your cover will get dingy as well, but all you have to do is toss it in the wash, and it'll look like new.
Prevents Accidents - A lot of times when small dogs get excited, they tend to have minor accidents, and a couch cover can prevent the urine from soaking all of the ways through to the couch's fabric. Then you can strip it off, toss it in the wash, and it'll be as good as new.
Prevents Chewing - When some dogs get bored or if they're not stimulated enough, they tend to tear and chew on things. Couch seams and corners are favorite spots for a lot of dogs to chew, and these areas can wear or break down quickly without an added barrier.
Important Pet Couch Cover Considerations
Now that you know a few reasons why a couch cover can be a good idea, we're going to list a few considerations you want to keep in mind when you're shopping for one. This can help ensure that you get the cover that matches your needs the best and protects your furniture.
Anti-Slip Capabilities
Even if you don't have pets, you want to make sure that your couch cover has anti-slip capabilities because it'll get very annoying if you have to readjust the cover every time you sit down. Some covers come with straps that slip around the edges of the couch, and some have velcro that fastens directly to your furniture.
These are both very effective tools to ensure that your cover stays on and that you don't have to readjust it constantly. If you have dogs, you want them to be able to move around and get comfortable without moving the cover.
Double-Sided
Double-sided couch covers usually have two neutral or complimenting colors with one on each side like a black and grey. This is a good option to have because something may permanently damage one side, and you can simply flip it over and use the other side without having to buy an entirely new cover.
Fabric
These covers come in a variety of different fabric choices, and you want something that is going to be easy to clean and maintain because they tend to get dirty quicker when you have pets. You also want your fabric to be durable so it lasts for years and it can withstand wear and tear.
You can buy covers in cotton, fabric, microfiber, wool, denim, polyester, and several different blends. This choice will largely be up to you and what your personal taste is, just make sure that it fits into your lifestyle.
Fit
Couch covers come in a variety of lengths and widths, and it's important to make sure that your chosen cover fits your couch as well as it can. Start by measuring the length of your couch, and make sure that you include the couch's arms in your measurements.
Next, take your measuring tape and measure the height from the floor to the top of the back of your couch, and then measure along the couch's arm from the front to the back. You finish by measuring from the floor to the top cushions where you sit.
If you're not sure how to measure for a good fit, you can watch this video:
Form
There are several different fits and forms of couch covers available, and again, the choice falls to personal preference. You'll want to get a seamless look if it's possible because having a cover on your couch will make more people pay attention to it.
If you don't want a tight-fitting or form-fitting cover, you can buy a hanging cover that simply fastens over your couch and hangs down the front of it. Another option would be to buy a fastening cover that you form to your couch and fasten it directly to the couch, so it stays in place.
Matching the Decor
You want your couch cover to compliment or blend into your existing decor, so it's important that you look at various color combinations and patterns when you're shopping. A lot of the covers feature neutral colors, and this makes them easy to fit into a variety of decors and color palettes without a problem.
Stitching
Your dog might test how durable your new cover is very fast, so it's important to check the seams when you buy it. Ideally, you want a couch cover that has double stitching in the seams an around all of the edges because this will add another layer of durability to the entire cover.
Our Top 5 Picks for the Best Couch Covers for Dogs
1. Sofa Shield Reversible Couch Slipcover Furniture Protector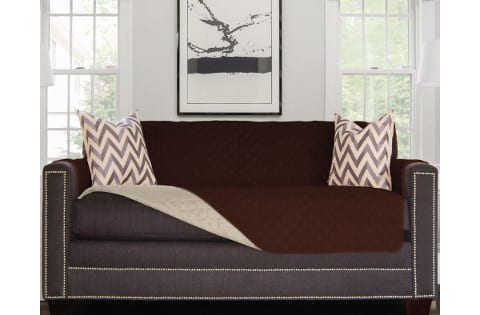 This couch cover comes in ten different colors and three different patterns all in neutral tones with a light reversible side. You get six different sizes when you order this couch protector including a chair, chair and a half, futon, loveseat, oversized recliner, sofa, and an oversized sofa.
Once you get this cover and get it adjusted where you want it on your couch, you can secure it into place with two thick elastic bands that ensure it doesn't bunch up or slide around. This cover is very easy to clean and maintain, and you can toss it in the washing machine and the dryer to clean it.
People who purchased this item liked that it came with a 10-year money back guarantee, and they liked that it was reversible so they could easily use the other side if the top side got damaged or heavily stained. The didn't like that the attachments points for the straps didn't have double stitching to secure it to the cover, and they didn't like that it doesn't have a waterproof layer.
Things We Liked
Choose from several colors and patterns
Cover is reversible
Attaches to the couch with two-inch elastic straps
Things We Didn't Like
Attachment straps may not withstand a lot of wear and tear
Can be slightly difficult to get the correct size and fit
Colors may quickly fade with repeated washing
2. Chiara Rose Anti-Slip Armless Sofa Throw Slipcover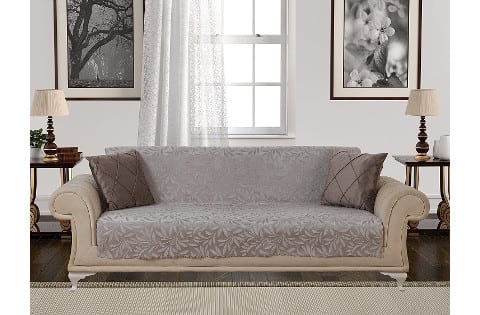 You can choose from three different sizes ranging from a chair, loveseat, or a soft size, and the cover comes in eight different colors and three different patterns. It isn't reversible, but it has light waterproof capabilities that can help to protect your couch from light water drops and accidents.
The entire back of this cover has dozens of plastic dots that adhere to your couch's fabric for a secure fit that resists slipping and bunching up. These covers are very easy to care for and maintain, and you can simply wash them in your washing machine and tumble dry them on low before you put them back on your couch.
Customers who purchased this couch cover liked that it comes with a self-sticking backing that is safe to use on a variety of fabric and upholstery without damage, and they liked how easy it was to care for and maintain. They didn't like that the back portion of the cover seemed to slip around when they sat on it, and they didn't like that it wasn't waterproof against larger quantities of liquid.
Things We Liked
Comes in a variety of colors and patterns
Back is covered with small plastic self-adhering dots
Has minimal waterproofing capabilities
Things We Didn't Like
Dog hair may stick to the cover
Backing may not adhere to leather fabrics very well
Fabric is very thin and tends to wear quickly
3. Aidear Anti-Slip Sofa Slipcover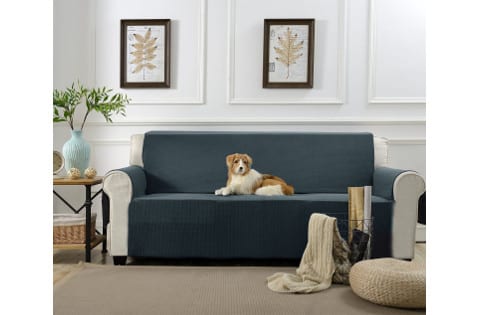 You'll get to pick from six different colors and four different sizes with this cover, and it is made with a very breathable and skin-friendly fabric so you're comfortable when you sit or lay on it. It has an anti-skidding design along the back to ensure that it doesn't move around or slid off when your pets jump or sit on it.
You also get elastic strips that run under your sofa or chair and attach to each other and anchor this cover in place, and this cover comes with two side pockets that drape over the arm of your couch and hold your remote or several smaller magazines. It's easy to take care of, and you can put it in your washing machine to get rid of stains, but you have to hang it up to dry.
People who purchased this sofa cover liked that it came with three anti-slip slaps that fixed under the cushions along with the elastic straps that ran under the couch to firmly hold it in place. They didn't like that they couldn't wash this cover with anything else and that it wasn't machine dryable.
Things We Liked
Has several attachment points to anchor it in place
Comes in several different color choices
Has two pockets to hold a remote or books
Things We Didn't Like
Not able to dry it in the dryer
Not waterproof or water-resistant
Cover isn't double-sided and reversible
4. Furniture Fresh Heavy-Weight Protector and Slipcover
This heavy-duty couch cover comes in two different colors and four different sizes ranging from a recliner chair size up to an extra-large sofa size. It features and extra thick layer of anti-slip backing that goes from the top to the bottom of the cover to ensure it doesn't move or slid off.
You'll also get an adjustable elastic strap that hooks to the back of your couch or chair to make sure it doesn't move, and this heavy-duty cover has a thick layer of waterproof material that can protect your couch from a variety of spills, pet accidents, and stains soaking through.
People who bought this couch protector liked that the entire back of the cover was an anti-slip layer, and they liked that it came with waterproofing capabilities because this protected their couch from accidents. They didn't like that it was slightly difficult to fit in over your couch and ensure that it doesn't slip, and they didn't like that the backing tended to peel off and stick to the couch.
Things We Liked
Has a thick waterproof coating
Comes with a heavy-duty design
Available in a variety of colors and sizes
Things We Didn't Like
Backing tended to peel off onto the couch
Could be slightly difficult to get a good fit
May be too bulky for smaller washing machines
5. Great Bay Home Modern Velvet Plush Strapless Slipcover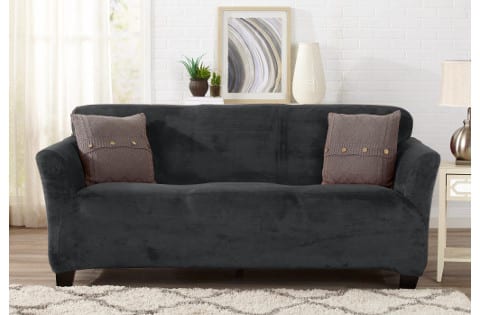 This protective slipcover goes right over your sofa, chair, loveseat, or recliner and molds right to its shape to ensure that it won't roll down, bunch up, or fall off when your dog climbs up on it. The slipcovers are made out of a soft and durable velvet fabric that is built to withstand stains and wear and tear without a problem.
It has a strapless design, and the backing features an anti-slip coating that adheres the cover to your sofa or chair quickly and easily, and the bottom is lined with elastic for a secure fit. This slipcover is easy to care for, and you can toss it in the washing machine and hang it out to dry or tumble dry on low.
Pet parents who bought this cover like the fact that it molds to their couches and has an elastic bottom the ensures a good fit. They didn't like that the velvet material shows every small spot and that this makes them wash the cover more frequently than others.
Things We Liked
Features a very durable velvet fabric
Comes with an elastic bottom for a good fit
Machine washable for easy care
Things We Didn't Like
Velvet can show every spot or stain easily
Has a one size fits most design
Fabric colors may fade or wear out in spots
What's the Best Pet Couch Cover That Stays in Place?
The winner of our pet couch covers that stay in place roundup is the Sofa Shield Reversible Couch Slipcover Furniture Protector. We liked the fact that this cover was reversible, and that it came in several different neutral shades and sizes.
It features a machine washable design, and it has two thick elastic straps to hold it securely in place. All of these reasons make this couch cover an excellent choice for anyone with dogs or kids who want to keep their furniture looking like new.