Top 5 Best Waterproof Dog Beds for Dogs That Pee in Their Bed

By Ashley Turner     Last Updated October 22, 2019

We independently research and recommend the best products; Learn more here. We may receive commissions on purchases made from our product recommendations.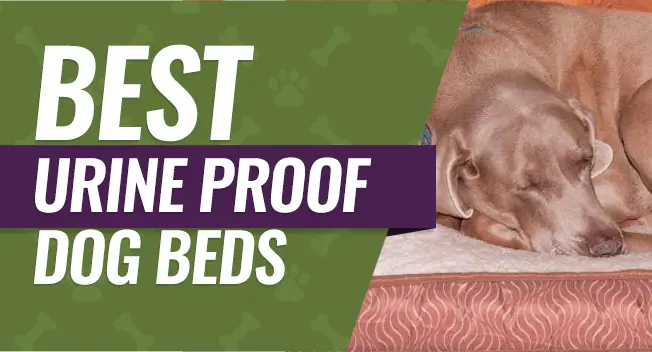 However, the best waterproof dog bed can help with this problem, and we're going to show you exactly what you want to look for when you're shopping for your new urine proof dog bed along with reviewing the top five so you don't get overwhelmed. This will help ensure that you get the best bed for your dog and that you get peace of mind knowing that the bed will survive the occasional accident.
Our Top Picks for the Best Urine Proof Dog Bed
What is a Waterproof Dog Bed?
When most people think of a waterproof dog bed, they assume that said dog bed is completely waterproof from the outside cover to the inside materials. However, this isn't true because a waterproof dog bed means that there is literally a waterproof cover that is sewn straight onto the backside of the cloth cover that catches any stray liquid.
If your dog didn't have this waterproof layer and they soiled their bed, it would either pool through the bed and onto your floor, or it would get all over your dog when they tried to maneuver around it. Additionally, if the bed were completely waterproof, it would be excessively noisy every time your dog moved.
What is the Difference Between Waterproof and Water-Resistant?
Beds are either labeled as waterproof or water resistant, and there is a big difference between the two. If a bed is waterproof, it'll typically have a cloth layer with a plastic-type fabric sewed onto the back of it to stop moisture from reaching the foam or stuffing in the bed.
However, if a bed is labeled as being resistant to water, it means that the actual outer layer of the bed has a coating that repels water. This layer can't stop a lot of water from seeping through though, and it can make the bed crinkle or make noise when your dog moves around.
Why You May Need a Waterproof Dog Bed
There are several reasons why you may want to consider buying a waterproof bed for your dog even if they're not having issues with incontinence. These reasons include:
Your dog will stay comfortable and warm but not wet from overheating.
It can improve the bed's longevity because the actual inner layer won't get wet.
Waterproof beds protect the bed from bodily fluids that can cause it to smell.
It makes cleanup easier with dogs who are incontinent or who aren't housebroken.
This type of bed doesn't allow bodily fluids to pool.
Important Criteria to Consider When Choosing a Waterproof or Urine Proof Dog Bed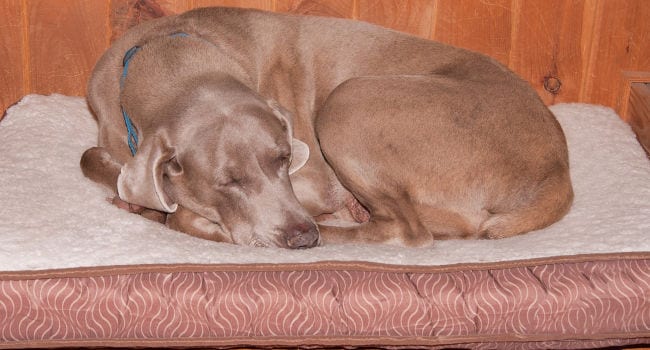 Now that you know what a waterproof bed is, we'll go over key things that you want to look for when you're shopping for your new waterproof dog bed. These small things can make a big difference, especially if your dog has a lot of accidents.
Bed Size
Before you buy a waterproof dog bed, make sure that you understand how large or small it is in comparison to your dog. It's always a good idea to buy a slightly bigger size because this helps to ensure that your dog has room to sprawl our, shift when they sleep, or get up and move around while still on the bed.
Budget
Unfortunately, your budget is going to factor in with which bed you get because some of these beds can get very expensive. Typically, a dog bed with orthopedic-grade memory foam is going to cost you more than a dog bed with regular foam or gel as a cushioning material.
Closure
Take a good look at how your dog bed's cover opens and closes because some use heavy-duty zippers and others use velcro or snaps. You should look for a heavy-duty zippered closure because this will help to keep the cover secure, and it also tends to last longer than traditional velcro or snap closures.
Cover
Your waterproof dog bed has to come with some sort of cover because this is what makes the bed waterproof. You want to make sure that this bed isn't going to make a lot of noise when your dog moves, that it's easy to clean or spot clean and that it doesn't trap in excess dog hair.
Durability
Your dog is most likely going to be spending a fair amount of time laying in and playing around their bed. You want to make sure that it's durable enough to withstand this, and you can do this by checking the seams, corners, zippers, and the fabric itself to make sure that it isn't too thin or flimsy.
Ease of Care
No matter how accident prone your dog is, you want to get a dog bed that is very easy to wash, clean, and care for. Ideally, you want a dog bed that comes with a removable cover that you can toss in the washing machine to clean and into the dryer to finish the cleaning process.
Rubber Backing
If you plan on putting your dog's bed on a hard floor like laminate or tile, it should have a rubber backing or small rubber pieces that attach to the cover to stop the bed from sliding around. This will make it easier for your dog to move in their bed, and it'll also reduce the chance that they fall or slip when they get in or out of their bed.
Structure
Some dog beds come with bolsters or walls around three sides of the dog bed to give your dog support and help them feel safe and comfortable. It's also a safety factor for small dogs if their bed is up on a raised platform or if it's the dog bed comes with a thick memory foam insert.
Stuffing
Do you want your new dog bed to have a gel insert, orthopedic memory foam insert, or just regular foam? This is important because it'll directly factor into how much you pay for your dog bed, how long it lasts, how comfortable your dog is when they lay on it, and how cool or hot they are when the temperature fluctuates.
Related: Our Top Chew Proof Dog Bed Picks
Our Top 5 Picks for the Best Water & Urine Proof Dog Beds
1. Milliard Premium Orthopedic Memory Foam Dog Bed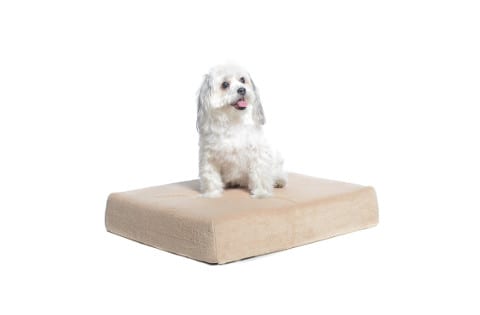 This waterproof dog bed comes with four inches of thick luxe memory foam that cradles your dog as they sleep, and it's made with a very durable material to ensure that this bed lasts through normal wear and tear. To clean it, all you have to do is zip off the removable cover and toss it in the washing machine when your dog has an accident.
You can choose from four sizes ranging from small to extra-large, and the cover has non-slip rubber grips adhered to the bottom that doesn't allow your dog's bed to slip or slide over the floor when they move around. This bed is certified to be made with only safe materials that don't contain any chemicals, and this makes this bed healthier for your dog to sleep on.
Dog owners that got this memory foam bed for their dog were happy that it is straightforward to clean and maintain, and they were also pleased that their dog got a thick four inches of foam to sleep on. Dog owners that purchased this bed weren't happy that it can be challenging to get the bed back in the case once you wash it.
Things We Liked
Very easy to clean and maintain
Comes with four inches of memory foam
Doesn't slip or slide around
Things We Didn't Like
Can be difficult to get the cover back on
Rubber grips tend to fall off
Foam may develop mold
2. PetFusion Large Dog Bed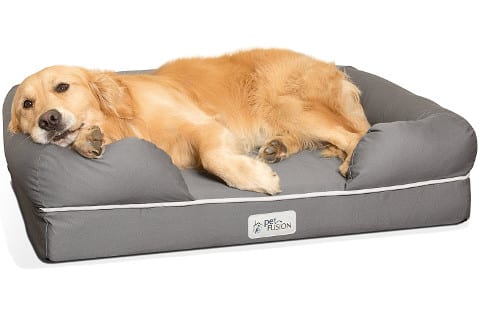 This memory foam dog bed comes with four inches of foam to cushion your dog, and it also has slightly raised walls that work to support your dog's head and neck as they lay in the bed. The waterproof cover is easy to spot clean and you can also toss it into the washing machine for a full clean.
The sizes range small to jumbo, and it comes with pre-inserted bolsters that you can toss in the washing machine with your cover when it's time to clean it. The bottom of this dog bed features non-slip rubber grips that prevent the bed from slipping and sliding around your floor when your dog gets in and out of it.
Dog owners who wanted a waterproof bed for their dog were very happy that this bed came with bolsters around the side to give their dog additional support each time that they used the bed. They weren't happy that the cover tended to bunch up or wrinkle when you put it in the wash, and this made it difficult for them to put back on.
Things We Liked
Contains supportive walls
Cover is easy to spot clean and throw in the washing machine
Comes with four inches of memory foam for support
Things We Didn't Like
Cover bunches or wrinkles
Cover traps dog hair
Cover may not prevent stains from leaking through
3. Brindle 4 inch Memory Foam Orthopedic Dog Bed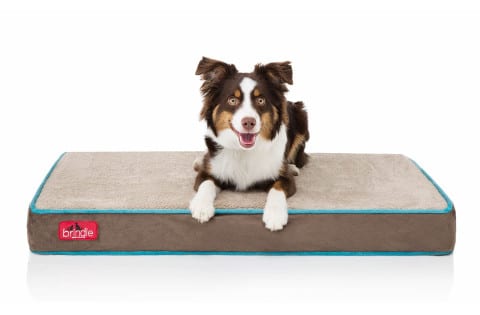 You can choose from three different sizes and three different color combinations when you choose this bed, and it comes with a completely waterproof cover that separates the foam from the urine. It comes stuffed with two inches of memory foam and another two inches of support form that is very dense and doesn't lose shape.
The cover is designed to be very soft to the touch, hypoallergenic, waterproof, and it won't trap in a lot of excess fur from your dog's coat. You'll get a warranty that is good for three years when you buy this bed, and this is great news for dog parents who have destructive or rough dogs.
Dog owners really liked that this orthopedic dog bed came with two different foam inserts for support and comfort, and they were happy that the cover doesn't trap in a lot of excess fur. Dog owners were slightly disappointed that the bed seems to sag inwards after a few months of use, and they also didn't like how hard it was to get the cover back on once they took it off.
Things We Liked
Contains two different foam layers
Designed to be hypoallergenic and waterproof
Very easy to clean and maintain
Things We Didn't Like
Zipper is prone to catching or breaking
Cover may not withstand rough use
Difficult to put the cover back on once you wash it
4. Dogbed4less Orthopedic Dog Bed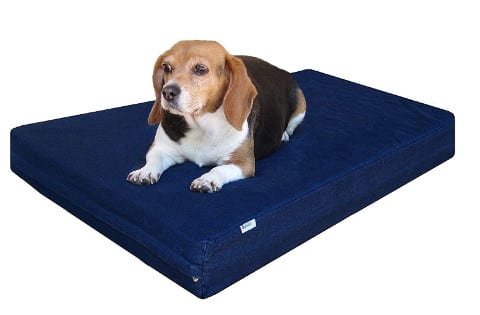 This orthopedic dog bed comes in seven different sizes so you can quickly and easily find the best size to suit your dog, and this bed comes with a waterproof liner and two external covers that allow you to switch them out when you're washing one so the bed is always protected.
Your dog will enjoy pure orthopedic-grade memory foam that provides support for your dog's joints and body. The cover zippers closed with a stainless steel zipper for durability, and the cover itself is made out of quality denim material that is capable of withstanding a lot of wear and tear without breaking or fraying.
Dog parents were impressed that this bed came is a variety of sizes with orthopedic-grade memory foam for support, and they were also pleased that the bed has a durable denim cover with a waterproof liner. They weren't pleased that the zipper could be difficult to work, and they also didn't like that the denim showed a lot of dog hair.
Things We Liked
Has a very durable denim cover
Get two covers with a waterproof lining
Filled with orthopedic-grade memory foam
Things We Didn't Like
Zipper can be difficult to operate
Denim cover traps and shows a lot of dog hair
May be too firm for some dogs to get comfortable
5. Stella Beds Elevated Dog Bed with Waterproof Liner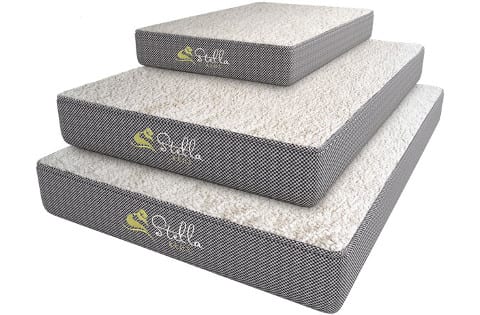 This bed has a dual-sided design that has a gel foam layer to help keep your dog cool in the warm summer months and a plush memory foam side that will help to keep your dog warm in the winter months. Each bed has a washable and waterproof cover between the foam and the cover to prevent stains or liquid from getting through.
This bed comes in three different sizes that allow you to choose the correct size to fit your dog and give them room to move around. You get a satisfaction guarantee when you purchase this bed, and this means that you can quickly send it back if it doesn't work for your dog.
Dog parents who bought this dual-sided dog bed liked that it had warming and cooling technology built in to keep their dogs comfortable, and they also liked that it's made out of quality materials. They weren't pleased that seams seemed to be weak points in the design or that the zipper tends to stick.
Things We Liked
Comes with a gel side and a foam side
Made with quality materials
Get a satisfaction guarantee when you buy it
Things We Didn't Like
Seams seem to be weaker
Zipper tends to catch
Crinkles when your dog shifts or moves around
Our pick for the best waterproof dog bed is Milliard Premium Orthopedic Memory Foam Dog Bed because it manages to get four inches of luxe memory foam packed into a waterproof case. The cover is able to go into your washing machine without an issue so it's easy to maintain.
We also liked that this dog bed came in a few different sizes and that the bed had rubber grips attached to the bottom of the bed to stop it from moving around. Finally, this bed comes certified that it only has safe and non-toxic materials because this is better for your dog.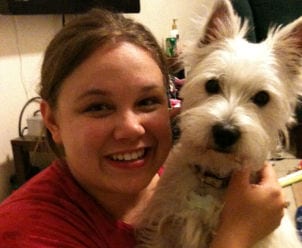 Ashley Turner has been a passionate Dog Mom to 2 West Highland White Terriers, Lily and Lola, for over 10 years. She now makes a living doing research, writing, and editing of dog-related content for PuppyWire.