Best Lick Mats for Dogs to Keep Them Occupied During Bathtime, Grooming, and More

By Ashley Turner     Last Updated January 25, 2022

We independently research and recommend the best products; Learn more here. We may receive commissions on purchases made from our product recommendations.
Mentally stimulating your dog and calming any anxiety they have can be daunting tasks, but there are several great tools available to help you through this process. A lick mat for dogs is one tool that works well at bath time, when your dog is bored, or when you want to give them something to concentrate on for a few minutes.
We've picked out and reviewed the four best lick mats available on the current market below. Additionally, our buyer's guide will outline everything important you want to know about these innovative boredom busters for your dog.
Our Top Four Picks for the Best Lick Mat for Dogs
1. Aquapaw Slow Treater Treat Dispensing Mat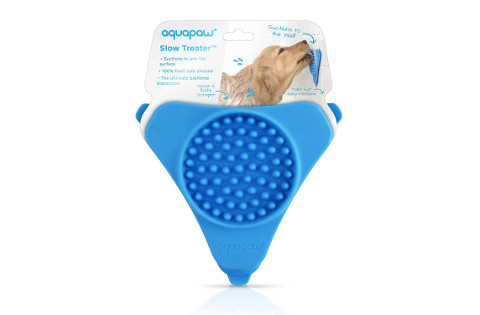 This lick mat comes made out of 100% silicone for a durable and safe material for your dog to have in their mouth. The treat dispenser suctions directly to the wall, and this makes it easy to put it at the perfect height for your dog.
The center of the mat features small raised nubs that will slow down the rate of how quickly your dog gets the treat off the mat. The nubs are far enough apart that you'll be able to easily clean out any treat residue left when your dog finishes with it.
There are three wings on this mat that make removing or rearranging it on the way a quick process, and it helps it peel away after bath time. You can freeze this mat between uses, and it's safe to put in the dishwasher to clean.
People who bought this mat for their dog were happy that it came with 100% food-grade silicone that was approved by the FDA for safety. People did say that this was a slightly more shallow and smaller mat, and this meant they could have to reload it.
Things We Liked
Uses food-grade silicone
Has wings to make removing it easy
Safe to freeze and pop into the dishwasher
Things We Didn't Like
Won't withstand chewing
May be too shallow for some dogs
Might not stick securely enough to the surface
2. Hyper Pet IQ Treat Mats Rewards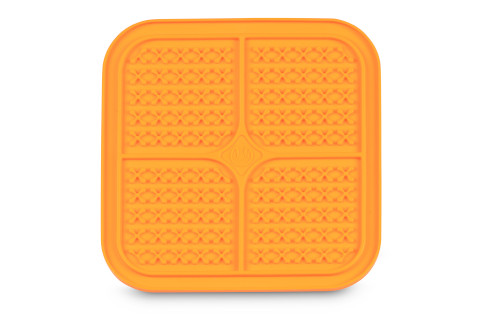 This mat comes in two different sizes, and it has a grid of smaller squares and pointed areas to keep your dog entertained. This mat comes designed to reduce anxiety, distract your dog, and it promotes gentle play over aggressive chewing.
Your dog can scrape their teeth and gums when they use the mat, and this can help remove food debris, tartar, or plaque buildup that could cause inflammation. You can choose from three bright colors, and the mat comes made out of safe silicone.
The mat comes with a full one-year warranty against defects or damage, and you get a 90-day warranty against chewing mishaps. You'll get a non-slip design that is safe for the freezer and microwave, and this mat is very easy to clean and maintain between uses.
People who purchased this mat for their dog liked that it effectively cleaned their teeth and gums each time they used it to improve their oral health. Pet parents did say the non-slip coating tended to wear off in a relatively quick manner after they washed it a few times.
NOTE: This product replaces the Hyper Pet Lickimat Buddy. The IQ Treat Mats Reward is a new product design and also made in the USA. You can also buy a two-pack that includes the IQ Treats Mats Reward and Calm.
Things We Liked
Cleans teeth and gums
Uses safe silicone for added durability
Can heat it in the microwave or freeze it
Things We Didn't Like
Non-slip coating wears off
Grooves may have sharp edges
May not be challenging enough
3. Hyper Pet IQ Treat Mats Calm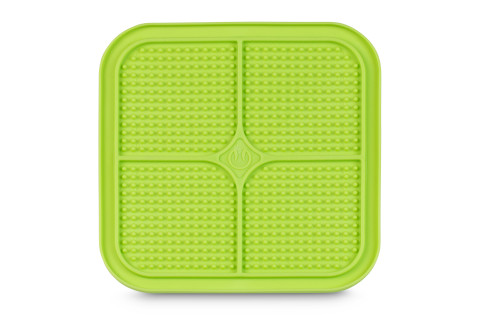 This simple lick mat has dozens of small silicone spikes sticking up that presents a unique obstacle for your dog to get around to get to their treat. The bright green design makes it very easy to spot if your dog pushes it across the floor.
In addition to being a great boredom deterrent, this mat promotes a soothing licking activity that can help alleviate anxiety and calm your dog down. You can get a single or double pack in two different sizes that you can tailor to your dog's needs.
The silicone material is a food-grade medium that is safe to freeze or pop into the microwave, and you can wash it by hand or in the dishwasher. You can freeze them with the treat on it to make the time your dog spends with the mat increase.
Dog parents who purchased this mat for their dogs liked that it can with a full year warranty against defects and a 90-day warranty against chewing. Dog parents did say this mat had a slightly more shallow design that didn't challenge some dogs enough.
NOTE: This product replaces the Hyper Pet Lickimat Soother. The IQ Treats Mats Calm is a new product design and also made in the USA. You can also buy a two-pack that includes the IQ Treats Mats Reward and Calm.
Things We Liked
Available in a single or double pack
Has a straightforward design
Can freeze it to prolong the engagement factor
Things We Didn't Like
Has a slightly thinner design
Won't stand up to aggressive chewing
Cleaning it can be difficult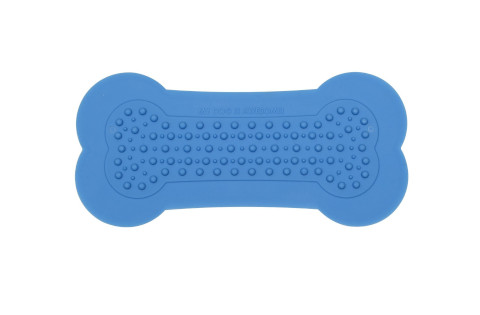 You can get this pad in two sizes and two color options that allows you to customize it to suit your preferences and needs. It will stick to any flat surface like tile, glass, granite, or porcelain without adhesive or suction cups, which means you can use this distraction device in the bath, at the groomers, or in sinks.
This device comes made out of 100% food-grade silicone that is safe for your dog to lick and chew at, and the design doesn't contain any lead, BPS, phthalates, or BPA. When you finish using this device with your dog, you can pop it into the dishwasher to clean it, so it's ready to go when you need it again.
The raised rubber knobs allow you to smear anything from peanut butter to yogurt or honey on it and let your dog spend time trying to get it all off. This pad won't leave any residue behind when you peel it off or move it, and it won't lose how sticky it is as time goes on.
Dog parents who bought this pad to use as a distraction for their dog liked that it came in several sizes that they could tailor to their dog's needs, and they also liked that it stuck to several different surfaces without leaving a residue. They did say that the bumps could be slightly higher to make it more challenging for their dogs to get the treat off it.
Things We Liked
Sticks to several shiny surfaces
Will peel off without leaving a residue
Safe to put in the dishwasher to clean
Things We Didn't Like
Raised area is relatively shallow
Adhesive may let loose
Material is on the thinner side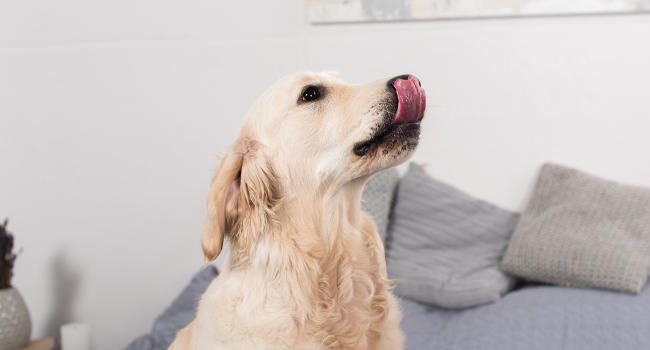 A lick mat is exactly what it sounds like. Basically, it's a flat mat with small ridges or squares that create obstacles your dog has to work around to get their treats out.
Licking can be a soothing behavior for dogs to help calm anxiety, and it's also a great way to stimulate them mentally. There are dozens of things you can put on your lick mat for your dog, and freezing it is a great way to prolong your dog's fun.
What Can I Put On My Dog's Lick Mat?
There are several tasty treats you can smear across the lick mat for your dog to create a healthy and fun treat. What you end up choosing will depend largely on your dog's preferences, but we've picked out a few fun options below.
Peanut Butter - As long as the peanut butter doesn't contain any xylitol, it can be a protein-packed treat to give to your dog. They love the slightly sweet and nutty taste, but you do want to be careful because there are a lot of calories.
Honey - Honey contains antifungal and antibacterial properties that can be useful for helping keep your dog healthy. There is a lot of sugar, so you should switch the honey out with other tasty toppings.
Bananas - Bananas are a fantastic source of potassium, vitamin C, and vitamin B6. All you have to do is smash a small amount of banana on your dog's lick mat and let them eat it.
Cream Cheese - Cream cheese has a very low fat content, and this makes it an excellent treat for your dog. Spread a dollop of cream cheese over the lick mat and give it to your dog to enjoy.
Veggies - You can add a few pieces of frozen vegetables to your dog's lick mat. All you have to do is cut them into small pieces, so your dog has to work to get them out. Popular vegetables include pumpkin, broccoli, carrots, and sweet potato.
Lick Mat Buying Considerations
Now that you know a few fun things you can put on your dog's lick mat, we'll outline the buying considerations you want to keep in mind. These things will help you narrow down your choices until you pick out the best one for your dog.
Material
Since your dog will spend a lot of time with this lick mat in their mouth, you want to make sure that it comes made out of a safe and durable material like food-grade silicone. This silicone is easy to wash, and the silicone is resistant to bacteria growth or breaking.
Design
Do you want your mat to have nubs, squares, or raised grooves? Think about which option would be more challenging for your dog to use before you settle on a final product. You may have to buy one or two different ones to see which your dog prefers.
Ease of Cleaning
Since you'll clean this lick mat each time your dog uses it, consider how easy or difficult it'll be to clean. If you're able to pop it into the dishwasher after giving it a quick rinse in the sink, this will go a long way for making sure the mat stays cleaned and sanitized.
Size
Lick mats come in different sizes, and it's important to pick the size that matches your dog's breed the best. Larger mats have bigger and deeper holes, and they may be too deep for smaller dogs to use comfortably. If you have a large dog and a small mat, it'll be too easy for them to get to the treats.
Durability
Even if your dog only uses this lick mat once in a while, you want it to be durable enough to last. Silicone is usually very durable, but it won't withstand aggressive chewing without breaking. Check how thick your mat is before you give it to your dog, and don't leave your dog unsupervised with it.
Warranty
Even though this may not be a very expensive purchase, you want it to have a warranty against accidental damage or breakage. Ideally, your mat will have at least a year warranty, but some come with shorter three-month ones. Double-check what the company covers under warranty too because some don't cover chewing.
Common Questions About Lick Mats
Are Lick Mats Good for Dogs?
There are several different benefits to using a lick mat. One of the main benefits is the soothing benefits it brings to anxious dogs through the repetitive licking.
This is why lick mats are fantastic to use when grooming your dog, clipping your dog's nails, and bath time. They will be more focused on licking the mat clean than on what you are doing. Other benefits are mental stimulation, increased salivation, and even dental health.
Are Lick Mats Safe for Dogs?
Yes, all of the lick mats we have listed above are made out of food-safe silicone and are non-toxic. The only thing to keep in mind is some dogs do end up trying to chew on the mats instead of just licking them clean. That's another reason why we prefer the lick mats that suction onto the bath tub, floors, etc.
What Do You Use On a Lickimat?
You can use your dog's favorite soft treat. Some great ideas that many dog owners use are peanut butter, yogurt, bananas, honey, cream cheese and many other things. It's good to keep in mind that soft treats work best as they can get into the pattern and they have to work to get it out.
Our choice for the best lick mat for your dog is the Aquapaw Slow Treater Treat Dispensing Mat because it can stick to almost any flat surface without a problem. We liked that it came with small nubs that encouraged your dog to lick all of the treats out slowly.
The FDA-approved silicone was another selling point, and we liked that the wings made it easy to peel off. We invite you to check out our product reviews and look at our buyer's guide to get a good idea of how valuable of a tool a lick mat can be for your dog.