Top 5 Best Manual & Automatic Dog Ball Launchers: Reviews and Buying Guide

By Ashley Turner     Last Updated January 25, 2022

We independently research and recommend the best products; Learn more here. We may receive commissions on purchases made from our product recommendations.
Exercising your dog gets more comfortable and easier as technology continues to evolve more and more each year. Dog ball launchers let you bond and play with your dog while they still get a lot of exercise because you can throw the ball further with very little or no effort.
There are a few things you want to consider before you purchase your dog their new ball launcher, and this is where we come in. Our comprehensive buyer's guide will give you a good idea of the essential things you want to look for when you're shopping, and our reviews will provide you with several high-quality options to compare.
Our Top Picks for the Best Dog Ball Launchers
Types of Dog Ball Launchers
For the most part, ball launchers fall into two broad categories. You can buy an automatic or a manual version.
Automatic
The automatic dog ball launcher runs on a power source, and it'll automatically throw the ball when you or your dog load it into the base. It requires minimal effort to use, and you may just have to reload the balls into it for it to throw them again and again for your dog to chase.
Manual
The cost-effective alternative to an automatic ball launcher is the manual dog ball launcher. This is usually a base that you hold in your hand, and you have to physically throw the ball each time your dog brings it back to you. This makes it more work for you, but it allows you to get the ball further distances with each throw.
Power Sources for Ball Launchers
AC Power Cord
The dog ball launcher with the AC power cord usually runs on batteries as well so you can use the cord when you're inside to save the batteries and use the batteries when you're away from a power source. This gives a lot of flexibility when you want to bond and play with your dog in a variety of settings without restrictions.
Battery Power
Another popular choice for ball launchers run on batteries so you can use them inside or outside without issues. You will have to keep an eye on the battery level and switch them out when you notice that the ball launcher isn't performing as it should, but you get a good degree of flexibility with this model.
Manual Power
A manual dog ball launcher is exactly what it sounds like. It doesn't have any internal power source, and it is powered by you when you throw the ball using the sling.
Health Benefits of Using a Dog Ball Thrower
You want what's best for your dog, and a good exercise routine can keep them healthy, fit, and happy throughout their lives. There are several health benefits that come with using a ball launcher, and they include:
Bonding - You'll be able to bond with your dog even if you have an automatic ball launcher. You'll be playing with them for a short time each day.
Exercise - Ideally, you want your dog to spend between 30 minutes to two hours exercising each day to ensure that they stay at their optimal weight. A ball launcher is a great way to accomplish this task.
Mental Stimulation - Your dog will have to focus on their coordination levels when they try to get over and around objects to bring the ball back to you. This is great for helping them learn new things and for keeping their focus sharp.
Things to Consider Before Buying a Dog Ball Launcher
Before you settle on a ball launcher, you want to go through your tops picks and look for important considerations to make sure that your choice will have and do everything you need it to do.
Ball Sizes
Many ball launchers are designed to launch a standard size tennis ball. This is great news for people with medium and larger dogs, but it can be bad news for people who have smaller dogs.
You want your ball launcher to be able to accommodate a variety of ball sizes so that all of your dogs can play at or around the same time. If you can't find one and you have a smaller dog, you may want to consider buying one with smaller balls because larger dogs can adapt to them.
Budget
Your budget is going to play a key role in what type of dog ball launcher you end up purchasing. The manual dog ball launchers are the most cost-effective options available, but they're also the most simple and they require a more effort from you.
The automatic dog ball launchers can start at around $30 and go up to well over $100, so it's essential that you look through all of them in order to find one that doesn't break your budget. The automatic dog ball launchers are generally less labor-intensive because all you have to do is load or reload the ball.
Customization Options
Do you want a fixed dog ball launcher or do you want a launcher that lets you switch up the distance and angle that the ball flies? People who are worried that their dog will get bored with the same thing may benefit from choosing a launcher that lets you adjust multiple settings to keep your dog entertained.
If you buy a handheld automatic dog ball launcher, you can adjust the angle by adjusting where you aim it and how you aim it. A manual model lets you choose how fast and far the ball flies by how hard you throw it.
Dog Breed
Pet parents who have dogs with short legs or smaller mouths have to consider their dog's sizes because you want your dog to be able to quickly and easily scoop up the ball and bring it back to you. Depending on the breed, some smaller dogs generally don't have to run as far as larger dogs to get their recommended exercise in.
Indoor and Outdoor Use
Do you plan on using your ball launcher inside, outside, or both? Knowing this will help you narrow down how far you want or need the ball to fly when the ball launcher sends it through the air.
You can get a ball launcher that flies shorter distances if you mainly plan to use it inside because there is less of a chance that it'll hit and break something. If you plan to use it outside, you may want one that sends the ball further distances so your dog can run.
Quality
You want to find a ball launcher that is made out of durable and quality materials because this helps to ensure that it'll last for a few years and that your dog gets a lot of use out of it. It may work out better if you spend a little more upfront for a higher-quality ball launcher instead of replacing a lower quality one more frequently.
Our Top 5 Picks for the Best Automatic and Manual Dog Ball Launchers
1. iFetch Interactive Ball Launcher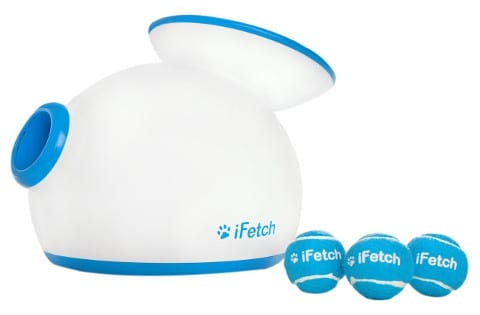 This automatic dog ball launcher is specially designed for smaller dogs because it comes with three 1.6-inch in diameter tennis balls. You can quickly and easily adjust the launcher to shoot the tennis balls 10, 20, or 30 feet to give your dog a workout.
It features a wider opening that is lower to the ground so your dog can reload the tennis balls and chase them as much as they want without struggling to place them. This launcher also comes with a one-year warranty that protects you against damage or defects.
Pet parents who bought this dog ball launcher liked that it is specially designed for smaller dogs with the shorter distances and the smaller tennis balls. They didn't like that the balls were tossed very low or that they could hit the dog very easily if they were by the cannon.
Things We Liked
Comes with smaller tennis balls for smaller dogs
Has three different shorter distance settings
Loading area has a wider and lower design
Things We Didn't Like
Balls tend to come out at a lower trajectory
Can be way too small for medium or large dogs
More expensive than others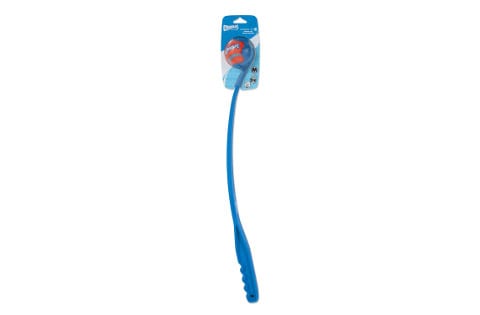 This manual ball launcher comes in seven different style and color options so you can customize it to suit your dog's needs. It's made from a flexible and lightweight plastic that grips the ball and allows you to throw it faster and further with each throw.
There is a range of sizes to choose from that starts with the smaller balls and goes up to the larger sizes so you can get the right size for your dogs. The longer handle also stops you from having to bend down and pick up the ball when your dog returns it.
Pet parents liked that this manual ball launcher was able to help them throw the ball over three times further then they would usually throw. They didn't like that the flexible plastic couldn't withstand a lot of wear and tear before it broke.
Things We Liked
Very user-friendly design in several sizes
Allows you to launch the ball up to three times further
Stops you from bending down to pick up the ball
Things We Didn't Like
Thin plastic handle can be prone to breaking
Tapers at the base and it can be difficult to grip
Can take time to pick up the ball before each throw
3. Hyper Pet K9 Kannon Ball Launcher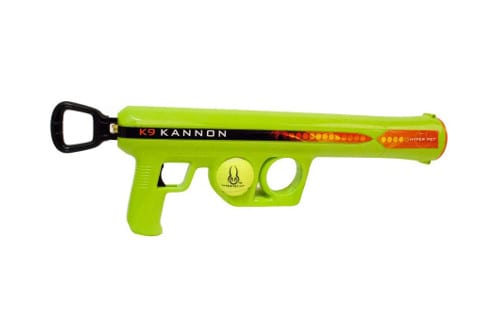 This dog ball launcher comes in a large or mini version with four different bundle options so you can quickly and easily customize your order for your needs. You'll get hands-free pickup with this launcher, and it's very easy to use and reload.
It comes with storage space for two extra balls so you can take it with you to the park or play with your dog outside for an extended period. This dog ball launcher has a maximum distance of 75 feet so you can tire your dog out quickly.
Pet parents who bought this item liked that it came with storage space built into the launcher because it made it easy to carry additional balls around. They didn't like that the internal trigger mechanism was made out of plastic and it was prone to malfunctioning after a few uses.
Things We Liked
Very easy to load, launch, and reload
Comes with space to carry two extra balls
Has a launching distance of up to 75 feet
Things We Didn't Like
Trigger mechanism is prone to failing
May not shoot the full 75 feet
Not designed for larger ball sizes
4. iFetch Too Interactive Ball Launcher for Dogs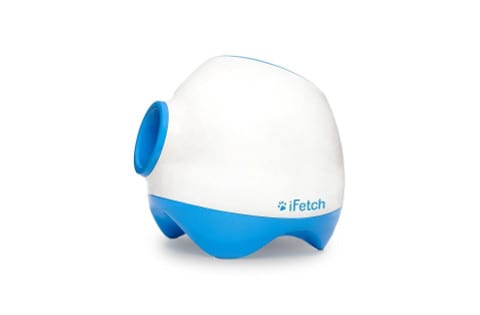 Bigger dogs can play with this automatic ball launcher because it shoots larger balls 10, 25 or, 40 feet. You can also put it on a random setting so your dog will have to work harder to catch the ball when it fires.
You get three larger tennis balls when you purchase this product, and it comes with a safety lock that allows you to set and secure the distance at 10 feet for indoor use. This launcher runs on a built-in rechargeable battery, and this means that you can always have it charged and ready to go.
Pet parents who bought this dog ball launcher liked that it was very easy to use with the push of a button and that it has a safety slide lock to lock in a 10-foot distance. They didn't like that it doesn't have a safety sensor to warn the dog to get out of the way.
Things We Liked
Easy to set up and use
Comes with rechargeable battery built in
Has a random setting to keep your dog entertained
Things We Didn't Like
Doesn't come with a safety sensor
Can take a few hours to charge
No battery indicator light
5. Nerf Dog Tennis Ball Blaster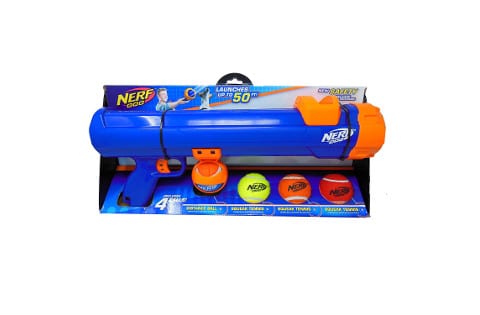 You'll get a ball launcher that is capable of sending balls up to 50 feet away, and it comes with the ability to use it with different size tennis balls ranging from standard and smaller. You also get hands-free pickup that reduces your bending and reaching.
It allows you to quickly and easily adjust the shooting power so you can keep your dog engaged and entertained. This launcher comes with a very user-friendly design, and all you have to do is pull back the handle, load your ball of choice, and let it fly.
Pet parents who bought this launcher liked that it was compatible with several different sized tennis balls so all of their dogs could play. They did mention that the entire thing is made out of plastic, and this can lead to durability issues if you plan to use it regularly.
Things We Liked
Works with different tennis ball sizes
Can throw the ball up to 50 feet
Easy to adjust the distance and power
Things We Didn't Like
Everything is made out of plastic
May jam if debris gets caught inside
Can take a while to reset between throws
What's the Best Dog Ball Launcher?
Our pick for the best dog ball launcher is the iFetch Interactive Ball Launcher. You can buy two different designs for small and large dogs, and it has several distance settings.
You get a wider opening that makes it quick and easy for your dog to drop the ball in again and again. We also liked that this launcher had a built-in sliding lock so that you could play with your dog inside and outside without an issue.