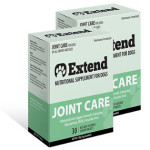 QUICK LOOK
This supplement is natural and works by supporting the connective tissue function and promoting joint comfort, so your dog can be happy, healthy, and active even in its old age.
Many dog owners have noticed a significant improvement in their pet's mobility after giving them this supplement.
The efficacy of this supplement depends on a number of factors, including the age of the dog and the overall condition of their joints.
Extend Joint Care has a number of different ingredients in it, including MSM, Glucosamine, Type II Chicken Collagen, and Ascorbic Acid.
Easy to administer to dogs, sprinkle one packet over your dog's food either dry or mixed with water once per day.
It is important that you avoid the free trial of this product, as you will automatically be billed each month on your card even after the trial period has concluded.
Best place to buy is from Amazon for this supplement
PROS / CONS
Helps Strengthen Joints in Older Dogs
Money Back Guarantee
Powder Comes in Prepackaged Tubes
Free trial autoships every month if bought from their website
VERDICT
Extend Joint Care has shown to be a pretty solid joint supplement for dogs.  One of the major complaints is about their free trial on their website.  If you sign up to the free trial you will be automatically billed and autoshipped a new box every month until you cancel.  If buying from Amazon, you can totally avoid the autoship.  It is a bit different than the other glucosamine products we have reviewed since it is a powder.  That makes it pretty easy to give your dog if they don't like the chewable tablets.
Extend Joint Care for Dogs Review
It is extremely important for all dog owners to take care of their pets and more specifically their joints. Over the years a dog's joints have a lot of pressure put on them and in many cases become very weak, causing discomfort and immobility. If you want your dog to enjoy a long and happy life, you will definitely want to do everything you can for them.
Although there are many supplements on the market that are designed specifically for the purpose of maintain dogs' joints, Extend Joint Care for Dogs is one of the more popular choices available.
What is Extend Joint Care for Dogs?
Extend Joint Care for Dogs is a nutritional joint supplement that is designed specifically to nourish, strengthen, and heal joints and cartilage in older dogs. This supplement is natural and works by supporting the connective tissue function and promoting joint comfort, so your dog can be happy, healthy, and active even in its old age.
The Advanced Joint Support Formula comes with an instant money back guarantee, so you can get all of your money back if you are not satisfied with the results you are seeing in your dog after giving it to them for a while. This supplement is widely regarded as being one of the best solutions for aging dogs because it is both natural and safe.
Does it Work?
The primary question people want answered before purchasing Extend Joint Care for Dogs is whether or not this supplement actually works, and the short answer is yes. Many dog owners have noticed a significant improvement in their pet's mobility after giving them this supplement. While Extend Joint Care for Dogs is not guaranteed to work on the same level for all dogs, many owners have had great success with it.
The efficacy of this supplement depends on a number of factors, including the age of the dog and the overall condition of their joints. A majority of people who have given their dogs this joint supplement claim that they start seeing noticeable results within the first two to three weeks, which is excellent, especially when compared to other supplements on the market.
Side Effects
No major side-effects have ever been observed in dogs that have been given Extend Joint Care, though it does include glucosamine as one of its ingredients, which has been associated with gastrointestinal upset and increased urination in some dogs. Those who observe any of these side-effects in their dogs should stop giving them this supplement immediately.
Ingredients
Extend Joint Care for Dogs has a number of different ingredients in it, including methylsulfonylmethane, which supports proper maintenance of connective tissue function and provides dogs with increased joint comfort. There is also glucosamine, which is responsible for hydration as well as increasing the dog's overall mobility and comfort level.
The ascorbic acid that is found in this supplement increases the production of collagen and glycosminoglycans such as chondroitin sulfates and hyaluronic acid. The Type II Chicken Collagen that is included in this joint health supplement is an essential building block for maintenaning healthy articular cartilage, which every dog needs to stay mobile and active.
Dosage
You will only be required to give your dog one dose of Extend Joint Care each day, and there is absolutely no loading dose necessary. Those who purchase this supplement for their pet should not give them more than a single dose each day. You can always ask your veterinarian about dosage information, but it is recommended that dog owners do not give their pets more than one does within a 24 hour period.
Where to Buy
If you are looking to purchase Extend Care for Dogs because you want to give your pet the longest and healthiest possible life, you will want to visit Amazon to get the very best deal. Amazon.com offers the lowest price that you will find on this supplement, so you can get what you need for your pet without spending more money than necessary. It is important that you avoid the free trial of this product, as you will automatically be billed each month on your card even after the trial period has concluded.