Best Winter Dog Jackets to Keep Your Dog Warm This Winter

By Ashley Turner     Last Updated January 25, 2022

We independently research and recommend the best products; Learn more here. We may receive commissions on purchases made from our product recommendations.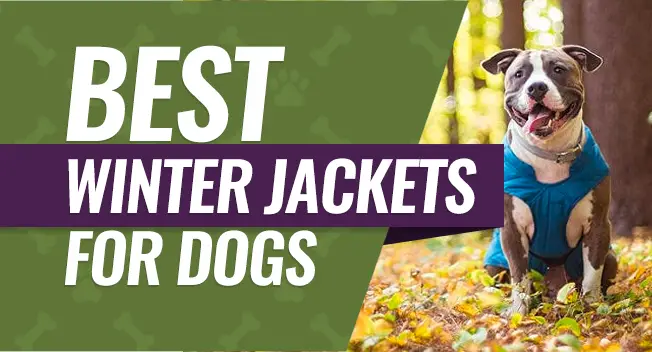 You may get overwhelmed when you first start shopping for the best winter dog jackets available because there are hundreds to choose from and compare to ensure you find the right one. However, we've put together a roundup of the top five winter dog jackets along with a buying guide to give you a general idea on things you want your dog's coat to have.
Our Top Picks for the Best Winter Coats for Dogs
Why Your Dog May Need a Jacket for Winter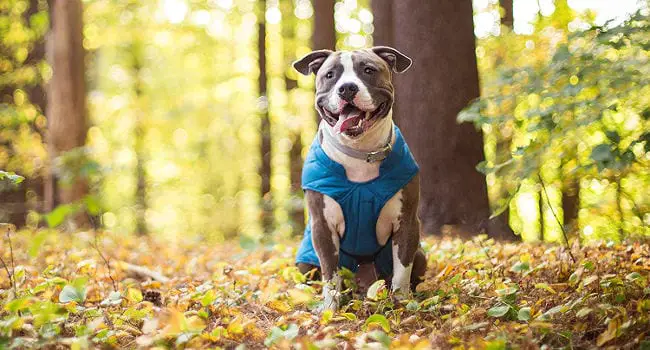 Yes, we understand that putting a jacket on your dog instantly boosts their cuteness factor, but do they really need a jacket when it starts to get colder out since they have fur already? Depending on your dog's age, breed, coat length, and the climate, they just might benefit from one when the weather starts to turn colder. Other reasons include:
Age: When your dog starts to get older, they'll start to get colder much faster than they used to just like people do. This could be caused by poor circulation to their legs and feet as well as to their ears, and the fact that they really can't regulate their body temperature as well anymore.
Low Body Fat: Dogs that are thin and don't have a lot of extra body fat to keep them warm could use a coat when it gets cold or damp outside because they're more susceptible to the cold in general. These thinner dog breeds include the whippet, greyhound, Afghan hound, and the tiny chihuahuas.
Short Coat: Dog breeds with short coats tend to get chilled much quicker than dogs with thick double coats or even long coats because the moisture and wind can go right through their fur and into their skin. Both large and small breed dogs can have short coats, and it's important that they stay warm when the weather starts to cool down.
Size: Even though your tiny dog may think and act like they're a huge dog, they get chilled much faster than their larger companions because they have less body mass than a large dog does. This means that it's relatively easy to get a small dog cold when they go out, and they may need a jacket to act as a buffer against the wind and rain.
What to Look for in Your New Dog Jacket
If you think your dog may need a jacket to stay comfortable while they're out and about, there are several important things that you want to keep in mind to ensure that you end up with a coat that is warm enough for your dog. We'll go over these things below.
Closures
A lot of dog jackets close with strips of velcro that secures around your dog's chest and neck to hold the jacket in place. Velcro is good because it's easy to put on and take off relatively quickly, but velcro also tends to wear out slightly faster if you have more active or rambunctious dogs.
Double Stitching
Having double stitching around the edges of your dog's jacket, around any leash or collar attachment points, and by the closures can help to ensure that your dog's jacket will last at least a year or two. This is a simple feature that can really add to how long your dog's jacket survives for because it'll help it withstand wear and tear.
Ease of Care
Your dog's jacket is going to get dirty, and this is especially true if you live in an area that gets a lot of rain or snow. You want to double check how easy it is to wash and care for your dog's jacket, and it should be able to go into your washing machine and either tumble dry or hang out to dry.
Fit and Size
Not all dog jackets are the same, and you want to pick a jacket that offers a variety of sizes because this will help to ensure that you choose a product that fits your dog well. Look for things like multiple adjustment options and a jacket that is specifically designed for your dog's size and body shape like long for Dachshunds or broader for Bulldogs.
Leash or Harness Attachment Point
If you plan to walk your dog on a leash or harness with the jacket on, make sure that there is an opening for these things to fit through. A zippered opening is popular for a lot of dog jackets, and other jackets let you attach your leash straight to an attachment point that's fixed into the jacket's material.
Reflective Stripping
You want your dog to stay safe while they're out and about, and having reflective strips running along the length of their jacket or down their backs makes them more visible not only to you but to people who are driving or walking by. It's a safety precaution that lets you keep an eye on your dog just by glancing around.
Reversible Design
Your dog may not need a very warm jacket all year round, and buying a jacket with a reversible design allows your dog to wear their jacket in the warmer weather without overheating. A lot of jackets come with the feature, and all you have to do is flip it over so that the warm side is facing out away from your dog and secure it for a light and cool spring jacket.
Waterproof
Your dog jacket should have at least a waterproof outer shell or a waterproof liner because this is what will stop any moisture from getting to the soft and warm later that sits next to your dog's skin. Check that the jacket advertises waterproofing even if your area doesn't get a lot of rain because it can act like a wind barrier for your dog as well.
Our Top 5 Picks for the Best Winter Jackets for Dogs
1. Kouser Cozy Cold Weather Coat
This fun cold weather jacket for your dog comes in seven different sizes ranging from extra small up to extra-extra-large, and it features five colors with a flannel pattern design on the underside of the jacket. The outer layer of this jacket is designed to have a waterproof and windproof fabric with a soft and warm flannel layer that sits next to your dog's skin.
This dog jacket slips over your dog's back and has wide velcro strips that hold the jacket closed around your dog's midsection and between their front legs for a secure fit. It's also reversible, and this means that you can have a warm winter coat for your dog or a light jacket that releases moisture and warmth to keep your dog comfortable.
Dog parents who bought this jacket liked that it's actually two jackets in one because their dog can wear it in warmer and cooler weather without a problem, and they were pleased that it features a waterproof lining. They weren't happy that the velcro doesn't stay in play with very active dogs or that the biggest size may not be large enough for giant breeds.
Things We Liked
Comes with a reversible design
Waterproof and windproof layers
Available in several sizes
Things We Didn't Like
Velcro pieces may come loose or slip
Can be difficult to size correctly
Not able to adjust the size to fit dogs between sizes
2. Zack & Zoey Polyester Nor'easter Dog Blanket Coat
This bright orange winter dog jacket comes with an additional reflector strip that runs down your dog's back so they're easy to see in low light conditions, and it also features a reversible design with a wind and waterproof layer on one side and a soft fleece on the other side. It's made out of pure polyester, and you can buy it in eight different sizes and eight different color combinations.
You'll be able to secure this jacket onto your dog with two different velcro strips that attach under your dog's chest and across by their collar for a no-slip hold. The jacket is thin enough to wear in slightly warmer temperatures, and your dog can wear it in the colder winter months without worrying about getting wet and cold.
Dog parents who purchased this dog jacket loved that it came with a reflective strip that went down their dog's back because it let they keep an eye on their dogs in low light, and they liked that it was easy to put on and take off. However, dog parents weren't happy that this coat can be difficult to size.
Things We Liked
Very bright colors and patterns
Has eight different size choices
Comes with two velcro attachment points for a firm fit
Things We Didn't Like
Can be difficult to get a snug fit
Velcro can wear out quickly
Seams don't have double stitching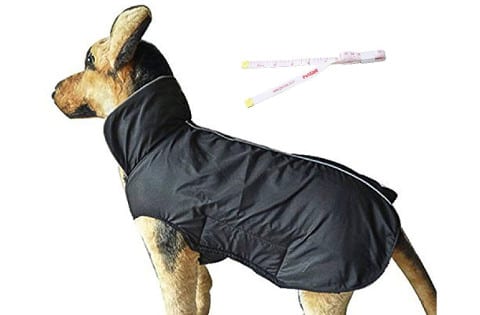 This sleek and stylish dog winter jacket is available in five different colors and five sizes so it's easy to customize it to suit your dog's needs, and this jacket has a 100-percent polyester outer shell that protects the 100-percent fleece inner layer from water or wind. The coat also comes with a collar that you can turn up around your dog's neck to stop wind.
You'll be able to quickly and easily walk your dog with this jacket on because it comes with a leash hole by the top of the coat, and this jacket comes with elastic bands and velcro to secure it with a small band for your dog's tail. Each jacket has a reflective strip that runs around the bottom of the jacket and allows you to see your dog when you take them on walks with low or poor light.
Pet parents were impressed with the small extra features that this jacket had like the hole for the leash and the tail attachment point, and they also liked the reflector strip. They didn't like that the velcro closure tends to get dirty and stop working or that the jacket wasn't very thick.
Things We Liked
Has a 100% fleece lining for warmth
Comes with a few small or extra features
Easy to clean and maintain
Things We Didn't Like
Sizing chart may run small
May not withstand rough play
Jacket is thinner
This bright winter jacket features a reversible and reflective design that comes with several adjustment points that you can customize to give your dog a secure fit each time they wear it. You'll get a durable, warm, and waterproof Microtomic ripstop material when you purchase this jacket that keeps your dog warm in colder and wet temperatures.
The back of the jacket features a small zippered opening that allows you to attach your dog's harness or collar to a leash while they're out and about in this jacket, and this jacket is also very easy to care for because you can just toss it into the washing machine when it gets dirty. Each jacket comes with a full lifetime warranty against damage or defects, and you can pick from five different sizes and eight different color options.
Dog parents loved that this jacket features a very bright and bold reflective outer layer that makes it easy to see their dog when they're outside, and they liked the small zippered opening for the leash or harness to go through. They weren't thrilled that the jacket's design seemed to leave it too short for some dog breeds.
Things We Liked
Has a bright reflective outer layer
Made with durable Microtomic ripstop material
Comes with a zippered leash hole
Things We Didn't Like
May be too short on some dogs
Velcro is very loud and may scare your dog
Zippers tend to slide open on their own
5. Hurtta Extreme Warmer Dog Winter Jacket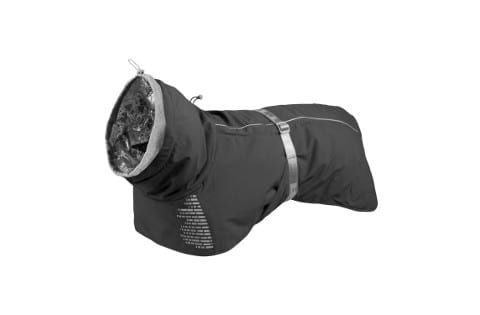 This warm winter jacket is designed to hug your dog in a very snug manner to lock their body heat in and promote good circulation by having a foil-type lining that sits against your dog's fur and skin. This winter dog jacket comes up your dog's neck to prevent any cold wind from getting inside, and you can simply fold this hood down with it's not cold enough.
There are nine different sizes and five different colors and patterns available to choose from, and this allows you to get a snug and comfortable fit for your dog every time they wear it. You'll find a small opening in the back of the jacket that allows a harness attachment or collar to poke through, and there is a reflector strip along the bottom of the coat for great visibility.
Pet parents really liked that they could adjust this dog jacket in several locations to get a secure fit, and they were happy that the foil lining trapped their dog's body heat in and kept them warm. Pet parents weren't thrilled that the leg bands tended to ride up and be uncomfortable.
Things We Liked
Comes with a foil lining to trap body heat
Available in several sizes and colors
Has several adjustment points
Things We Didn't Like
Chest strap may be too short for dogs with deep chests
Leg bands tend to ride up too high
Sizing can be difficult
Our Top Winter Dog Jacket Pick
Our pick for the best winter dog jackets is the Kouser Cozy Cold Weather Coat because it comes with a windproof and waterproof outer lining and a soft fleece inner shell, and we loved that this jacket has an easily reversible design that allows the dogs to wear it in a variety of temperatures without a problem.
This jacket came with a sizing chart that made it relatively easy to find the correct size to give the dog a snug fit. Finally, we chose this jacket because the wide velcro flaps can keep the jacket in place and secure no matter if the dog is running around or exploring at a more sedate pace.