Best Senior Dog Food Guide: Nutrition Tips and Top Picks with Reviews

By Ashley Turner     Last Updated January 25, 2022

We independently research and recommend the best products; Learn more here. We may receive commissions on purchases made from our product recommendations.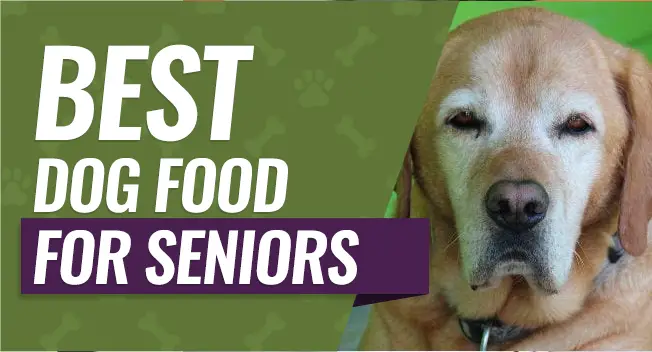 This is why we've rounded our six picks for the best senior dog food, and we want you to be able to see and compare them quickly and easily until you find the one that suits your dog's needs the best. Additionally, we've added nutrition guidelines for your senior dog along with essential things to look for in your dog food to keep your older dogs happy.
Our Top Picks for the Best Senior Dog Foods
Understanding the Nutritional Needs of Your Senior Dog
Your senior dog needs more specialized ingredients as they age to help support all of their systems, and they may not get this from adult blend dog food. This is why it's important to know exactly what your senior dog food should contain when you go shopping, so you can pick up the best options available.
Amino Acids: Your dog's food needs amino acids like L-Carnitine, L-lysine, and Taurine in their formula because these amino acids can help prevent your senior dog from gaining an unhealthy amount of weight. They can also help to protect their bones and keep their muscles strong.
Antioxidants: Your food should have a blend of antioxidants including Alpha Lipoic Acid because antioxidants help to support healthy brain and immune function in your dog. It helps them stay alert and ready to play or learn new tasks well into their senior years. They can protect your dog's cells as well and improve their skin health.
Chondroitin and Glucosamine: Joint and bone health is essential as your dog ages because arthritis is very common, especially in large or giant breeds. Glucosamine and chondoitin are two agents that help to keep their joints lubricated and they help to reduce inflammation, and this can help treat their arthritis.
Healthy Fats and Fatty Acids: Good amounts of healthy fats can help to regulate your dog's metabolism and prevent them from gaining weight as they slow down in their senior years. Fatty acids work to prevent inflammation, heal skin irritation, and give your dog a shiny coat.
Probiotics: Probiotics are "good" bacteria that help your dog's digestive system process the food that passes through it. They help to break down the food, extract the nutrients, and they can help to calm any irritation or inflammation your dog may have in their digestive tract.
Whole Protein Sources: You want to see whole animal protein sources listed as the first ingredient or in the first few ingredients. If you can, find food with non-GMO protein or free-range protein for a healthier alternative.
Related: Is Kidney Disease an Issue? Check Out These Food Picks.
Five Senior Dog Feeding Tips
Quality Control
When you switch to senior dog food, be aware of the quality of the food you purchase because lower quality food can contain unhealthy fillers that cause your dog to gain more weight. Obesity is a real problem with aging dogs, and it can make their health issues worse if they continue to gain weight.
Fix any Dental Issues
If your dog seems like they're having difficulty eating their kibble, it may be because of dental problems like exposed roots, broken teeth, decay, or infections. You can schedule a checkup with your local vet and arrange to have their teeth looked at, extracted, or cleaned.
Modify Your Dog's Portion Sizes
Your dog's metabolism slows down just like ours does when we age, and this means that you don't necessarily want to keep feeding them the same portions because it can lead to weight gain. You want to adjust your dog's portion sizes in response to their activity levels to make sure that you're not overfeeding them and they stay a healthy weight.
Consider Using an Elevated Food Bowl
Your dog may not be able to comfortably bend down to eat like they did when they were younger due to arthritis or joint issues. Adding an elevated food bowl is an excellent way to help your dog eat without irritating their joints or adding pressure to their neck muscles.
Healthy Treats
Your dog may love their treats, but most dog treats come packed full of excess calories that can quickly add up and make your dog put on weight. Try giving your dog fruits and vegetables as treats because these are low-calorie options that your dog can eat without gaining a lot of weight.
Our Top 6 Picks for the Best Dog Food for Senior Dogs
Best for Small Breeds - Hill's Science Diet Small & Toy Breed Senior
Hill's senior food comes in formulas for dogs over seven years old and dogs over 11 years old that weigh 25 pounds or less. Your dog will enjoy a clinically proven blend of antioxidants, vitamin C, vitamin D, and Omega-3 fatty acids that help support their digestive health, bones, joints, and skin.
It's marketed as being a premium natural dog food with no fillers, preservatives, or flavors, and this makes it much healthier for your senior dog as well as much easier for their bodies to process and digest. You can choose from three different formulas and three different sizes when you order this food, and this allows you to tailor your order to suit your dog's needs.
Parents of small breed senior dogs liked that this blend comes packed with antioxidants, fatty acids, nutrients, and vitamins that support their dog's systems, both inside and out. They did note that this food comes with a slightly greasy feel combined with a strong smell when you first open the bag, but the smell dissipates after you open the bag to get food a few times.
Things We Liked
Natural formula with no artificial colors, preservatives, or flavoring
Blended with vitamins, minerals, fatty acids, and antioxidants
Get several size and flavor options
Things We Didn't Like
Can take a while to transition over to it
May have a slightly greasy feel
Might come with a stronger smell when first opened
Best for Medium Breeds - IAMS Proactive Health MiniChunks Dry Dog Food
IAMS brings your medium-sized breed a healthy and tasty dry dog food that has real chicken listed as the first ingredient on the package, and this dog food also comes in six different size options with a formula that supports your dog's health from age seven and up. The protein content is designed to build healthy muscles and keep your dog's moving as they age.
Your dog will enjoy a healthy blend of vitamins, minerals, nutrients, probiotics, and antioxidants that help your dog digest their food without having a problem or an upset stomach. Additionally, this dog food supports a healthy immune system in your dog as well as a healthy coat and healthy skin.
Pet parents with a senior medium breed dog liked that this food comes with a quality and lean protein source listed as the first ingredient followed by fruits, grains, and vegetables, and they also liked the multiple size options. They didn't like that there were grains in the formula that could cause itchy skin or a dull coat in dogs with sensitivities.
Things We Liked
Has a lean protein source as the first ingredient
Comes with fruits, vegetables, probiotics, and antioxidants
Protects your dog's immune system as well as their skin and coat
Things We Didn't Like
Not a grain-free formula
Can cause itchy skin in dogs will allergies
Might make your dog constipated
Best for Large or Giant Breeds - Nutro Wholesome Essentials Large Breed Senior Food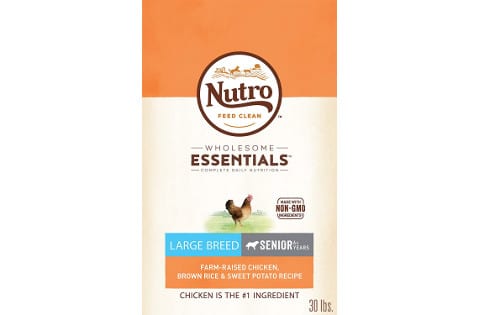 This senior dog food for large or giant breed dogs comes formulated with farm-raised chicken as the first ingredient followed by healthy amounts of glucosamine and chondroitin to support your dog's bones and joints as they age. It also comes packed full of antioxidants that work to support your dog's mind and immune system to keep them healthy and happy.
Your dog will enjoy lean protein sources as well as brown rice and sweet potato, and this food doesn't contain any GMOs, fillers by-products, corn, soy, wheat, or artificial additives that many dog foods do. This food is designed to be easy for your dog to digest, and it has nutrients that support internal and external systems like their teeth and coats to their digestive and immune systems.
Senior large breed pet parents who bought this dog food liked that it came with a very natural formula that was packed with essential nutrients like glucosamine and chondroitin for joint health. They weren't happy that there were defects with the packaging that made it difficult to keep the food fresh once they opened it.
Things We Liked
Farm-raised protein is the first ingredient
No GMOs, soy, corn, or wheat products
Comes in several size choices
Things We Didn't Like
Packaging can make it difficult to keep food fresh
Has a very crunchy and crumbly kibble
Can have a strong smell
Best Wet Food - Purina Pro Plan Bright Mind Adult 7+ Wet Dog Food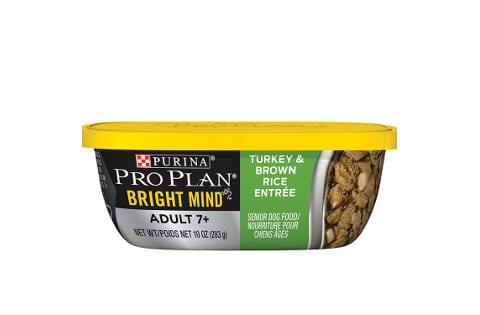 This wet dog food for senior dogs comes with tender pieces of real meat that are easy for your dog to eat and digest, and it also comes formulated to keep your dog alert and sharp as they continue to age by having a great blend of antioxidants and botanical oils.
You can choose from two different sizes and packaging options when you order this food that allows you to customize your order to suit your dog, and it comes with a real protein source as the first ingredient and with the vitamins and nutrients your dog needs for 100-percent balanced nutrition.
Senior dog owners were happy that this food came with tender, meaty pieces and gravy that were easy for their dog to enjoy and easy on their digestive system. They weren't happy that this wet food had a very strong smell when they opened the container, and they didn't like that this food tended to give their dog gas.
Things We Liked
Made with meaty bits and gravy
Contains botanical oils and antioxidants for brain health
Comes in several sizes and packaging options
Things We Didn't Like
Can give dogs gas
Slightly higher price per container
Messy for dogs with long coats to eat
Best for Sensitive Stomach and Allergies - The Honest Kitchen Human Grade Dehydrated Grain Free Food
This senior dog food is great for dogs with sensitive stomachs or allergies because it doesn't contain any preservatives, by-products or GMO ingredients, and it contains human-grade ingredients. This food is made in the United States and it's closely monitored by the FDA to ensure that it has quality human-grade ingredients.
This food base gives you the flexibility to choose your own protein sources and add as much or as little as you like each time you feed your dog, and it also comes with dehydrated fruits and veggies including sweet potato, peas, cabbage, coconut, bananas, spinach, pumpkin, celery and much more. You can mix it in with another dog food or just with a protein source and a little water to give your dog a flavorful and nutritious meal.
Dog parents liked this formula because it has quality human-grade ingredients that the FDA monitors very closely. They didn't like that it wasn't ready to go straight out of the package or that they had to add protein sources to it.
Things We Liked
Contains human-grade ingredients
Packed with dehydrated fruits and vegetables
Easy to use and feed your dog
Things We Didn't Like
Have to add your own protein source
Takes time to prepare it each day
Can have a strong smell when mixed with water
Best for Arthritis - Diamond Naturals Senior Dry Dog Food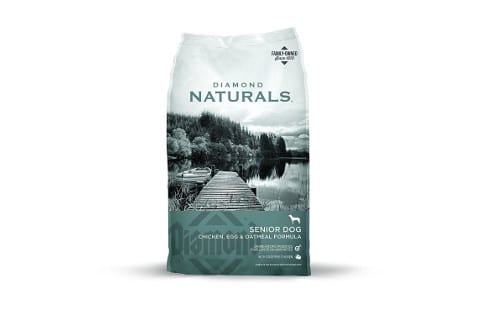 This senior food is specifically designed to protect your dog's joints by having a healthy blend of glucosamine and chondroitin along with antioxidants, and high-quality lean protein made with cage-free chicken. Your dog will get probiotics that help them digest this food and avoid an upset stomach each time they eat it.
This food also comes packed full of fatty acids that work to make your dog's skin and coat healthy as well as supporting your dog's joint health by hydrating the cartilage in their joints. There is no corn, soy, wheat, or by-products in this formula either, and this helps to prevent an allergic reaction, rashes, or itching.
Senior dog owners liked that this senior dry dog food comes with a healthy amount of chondroitin, glucosamine, and fatty acids to help support their dog's joints and reduce any inflammation. They weren't happy that this food took a week or two to transition their dog over to completely, and they also weren't happy that may be too strong for very sensitive stomachs.
Things We Liked
Made with high-quality natural ingredients
Variety of styles, sizes, and flavors to choose from
No artificial colors, flavors, or preservatives
Things We Didn't Like
May have trouble getting your dog to eat it
Can cause your dog to have diarrhea
Can cause weight gain
Our Top Overall Senior Food Pick
Our pick for the overall best senior food for dogs is Hill's Science Diet Small & Toy Breed because you can also get it for medium and large breeds with the same healthy formula, and we also picked this food because it has a clinically proven blend of antioxidants, vitamins, minerals, and fatty acids to support your dog's system.
There are also no fillers or by-products, and we liked that this was easier on the dog's stomachs than some of the other food. Finally, there are also several sizes and flavor profiles to choose from to keep your dog entertained and eating their food.