PuppyWire Scholarship for the Betterment of Dogs
PuppyWire works hard to review many of the top and most popular products for dogs in order to help dog owners make a confident decision when buying for their dogs.
We apply the same philosophy of PuppyWire to giving back to the community whenever we can.
We have taken our love of supporting animal rescues around the US and decided to expand it to include college students who can help make the lives of their dogs better.
Since the rise of college costs are going through the roof we thought this would be the perfect time to offer our yearly scholarship.
Feel free to read on to learn more about the participation terms, eligibility, how to submit, and the deadline.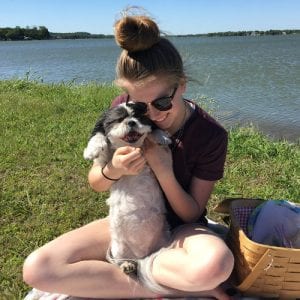 Shelby Grogan
Texas State University
To take part in the PuppyWire scholarship, here is what you need to do.
Write a 1,000 word essay about how your dog has made your life better and how you can make your dog's life better.
The student that writes the best essay will get $500 for college costs.
The PuppyWire scholarship is for college students currently enrolled in a university, college, or even seniors in high school getting ready for college.
Students must have a 3.0 or higher GPA and be a US citizen.
The essay must be unique and will be checked for plagiarism.
Lastly, participants must currently have a dog or grew up with one.
How to Submit Your Application
Email us at scholarship [at] puppywire [dot] com with the following details:
1,000 word essay about above topics
Personal Details (First/Last Name, Phone, Email Address, Mailing Address)
Picture of you with your dog
Name of School
Area of Study
Any document that shows proof that you are a student
After submitting your essay, you give PuppyWire permission to use it for marketing or promotional purposes.
Final date for submissions is on Dec 31, 2017.  We will review all entries and choose the winner by January 31, 2018.
Update 2/2/18 - Congrats to the 2017 winner! We are working out the details for this year's scholarship and will have it open again for submissions in a few weeks. Keep an eye on this page for more information!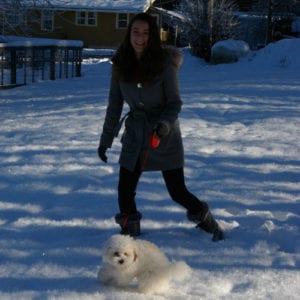 Carolyn van der Meulen
Seattle University