5 of the Best Portable Dog Fences with Reviews and Buyer's Guide

By Ashley Turner     Last Updated January 25, 2022

We independently research and recommend the best products; Learn more here. We may receive commissions on purchases made from our product recommendations.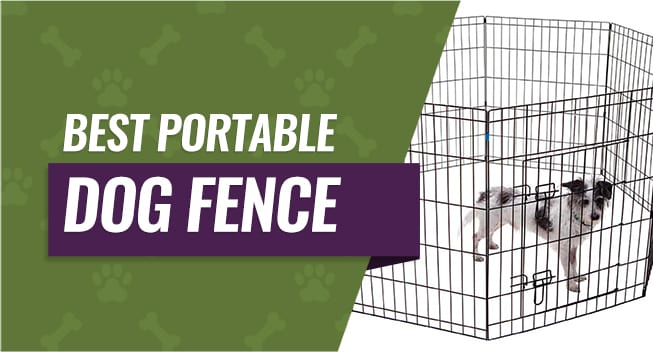 However, there are dozens of different portable fences for dogs available, and this can make it extremely difficult to choose a good one. Our comprehensive buyer's guide ensures that you have everything you need to shop with confidence, and our reviews give you an excellent chance to compare multiple portable dog fences in one convenient place.
Our Top Picks for the Best Portable Dog Fence
There are three main types of portable dog fences available to choose from, and the first thing you have to do is narrow down your fence choices to one category. This will take a lot of options away and make it easier to focus on just one fence system.
Three Main Types of Portable Dog Fences
Indoor Fence
An indoor fence is made out of materials that can't withstand outside elements like water or winds without tearing or rusting. They're designed to give you dog someone to sleep or stay safe when you leave the house or have company over, and you want your dog contained.
You can buy hybrid pens that are mainly used indoors and also do well outside, but these types of pens can cost more. It all depends on where you plan to have your dog contained and for how long because some indoor pens can't withstand your dog scratching or chewing at it either.
Outside Fence
An outside portable fence is usually resistant to wear and tear, and it usually outlives the indoor fences because it's made out of more durable materials. These types of fences are designed to allow your dog outside to go to the bathroom or enjoy the weather without worrying about them running off.
You can buy an electric wireless fence or non-electric outside fence systems that are portable, but you do want to make sure that it is resistant to rust or water damage. It's also important that your outside fence is tall enough that your dog can't jump over it if it's a physical fence instead of an electric one.
Puppy Training Fence
The third type of portable fence system is designed to help you train your puppy to stay in the yard or where it's okay for them to go to the bathroom. You can purchase fences with open bottoms, so you simply have to set it up and let your puppy go and run around.
This portable fence also creates a familiar space for your puppy to explore when you let them outside. It gives you a way to secure them without using a leash and worrying about them getting tangled up or slipping out.
Five Reasons to Get a Portable Fence for Your Dog
There are several reasons why a person would be interested in getting a portable fence system for their dog.
Barrier
If your dog doesn't get along with other people or dogs, but you have company coming over, a portable fence forms a barrier. It gives your dog a space to stay while keeping everyone safe, and it can help your dog feel more relaxed because they're in a familiar environment.
Potty Training
Potty training is easier if you have a specific area you can take your dog to and let them go to the bathroom. It also gives you a restricted area to let your dog go outside where they can't escape from, and it's also helpful when you start to crate train your dog as well.
Replace a Permanent Fence
If you rent your home instead of owning it, there's a good possibility your landlord won't want you to put up a permanent fence if you have room for it. A portable fence lets you give your dog a contained area to run around in without damaging your existing landscape.
Restrict Access to Areas of the House
There may be areas that you want to be off limits to your dog, and you need a training aid until they understand this. A portable fence is a quick and easy way to block access to these areas like a kitchen or an office until your dog understands that they're not allowed to go there.
Travel
People who like to travel and take their dog with like to have a safe space that they can keep their dog contained in. A portable fence allows them to set up a designated area where they can keep an eye on their dog or let their dog stretch their legs without running off.
Advantages of Having a Portable Fence System
Portable dog fences come with several distinct advantages that drive customers to them.
Cost-Effective - A portable fence is a more cost-effective choice than installing a regular fence. This includes buying the fence, installing it, and keeping up with the routine maintenance needs.
Flexibility - Since this fence system is portable, it gives you a great deal more flexibility then you'd get with a traditional fence. You can change the fence's size, location, and shape simply by moving it around because it's not permanently stuck in the ground.
Transportable - These types of fences are also very easy to pack up and transport or take with you when you travel. Most of them come with panels or collapse flat so that you can slide them into your vehicle quickly and easily.
Important Features to Consider with Your Fence System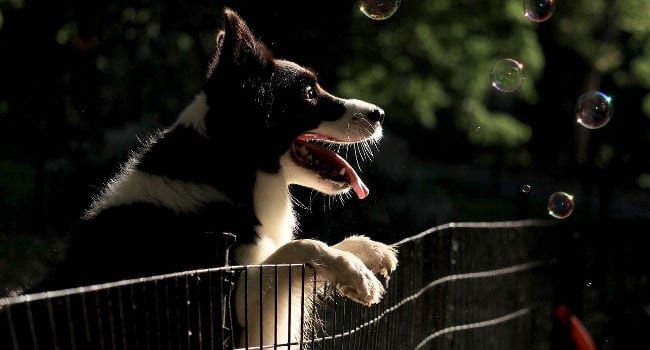 When you're shopping for your new fence system, there are several things you want to consider and keep in mind to help ensure that you pick out a good fence that will suit your needs.
Accessories
You want to keep an eye on how the fence system holds together and whether or not it comes with a door. Some fences have metal hinges that allow you to manipulate the fence system into different shapes, and some have smaller door openings.
Check the hinges and make sure they're made out of a durable material, so they don't weaken and break with repeated use. Also, check that the fence has a door and that is has a secure locking mechanism on it.
Durability
Does your dog tend to throw themselves against any fence system you put up or generally be hard on it? If they do, you want to make sure that your fence can take this type of abuse without bending or developing weak spots.
Additionally, if you plan to have your fence outside, make sure that it is resistant to rain because if it rusts, it can become a hazard for your dog to run into or be around.
Height
Some dog breeds are prone to jumping extremely high, and you want to ensure that your dog can't jump over the fence. This is why the fence's height is so important to remember when you're picking it out.
Your fence won't do much good if your dog learns that they can simply get a running start and jump straight over the fence. Also, make sure that your dog won't get hung up on any parts of the fence if they do try to jump out.
Material
These fences typically come in three different material choices including metal, polyester and mesh, or plastic. The metal fence is going to be one of the most durable options you can get with plastic being the second most durable material you can buy.
Mesh and polyester are good choices if your dog won't be destructive or if you don't play to exposure your fence system to water or high winds. The material you choose along with the environment you put the fence in will determine the longevity.
Weight
Because this fence is designed to be portable, you don't want to struggle with the weight each time you put it up, take it down, or move it from location to location. A metal fence will be heavier than other materials, but it'll usually last longer, so you have to decide if it's worth it.
Size also plays a role here because the higher or larger portable fence systems will generally be heavier and more difficult to move than other sizes and materials. Consider your dog's size and pick out a fence system that will be large enough for them to move and not escape, but small enough that you can move it around.
Our Top 5 Picks for the Best Portable Fence for Dogs
1. MidWest Foldable Metal Exercise Pen/Pet Playpen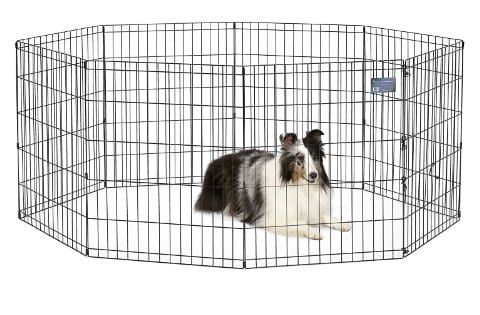 This metal portable fence comes in five different heights ranging from 24 inches high up to 48 inches high, and you get 16 square feet of space when you set this pen up for your dog.
The fence system comes with eight ground anchors so you can quickly and easily secure the bottom of the pen to the ground for added security, and the four thumb snaps make it very easy to assemble. This pen also comes with a black e-coat finish that will withstand the elements like rain without rusting.
Pet parents who bought this portable fence like the fact that it is very easy to set up and secure, and that the fence folds flat for easy storage. They didn't like that the clips that hold the panels together can't withstand a lot of wear and tear without breaking.
Things We Liked
Fence system collapses flat for easy storage
Comes with eight stakes to secure it to the ground
Fence system attaches straight to a crate
Things We Didn't Like
Attachment clips aren't very durable
Tends to slide around on concrete or on the floor
Smaller dogs can wedge themselves between the panel's joints
2. IRIS Exercise Panel Pet Playpen with Door
This portable fence comes in 10 different bright color choices and eight original panel pieces. You can also purchase additional panels to make the fence bigger, and the fence comes with durable double steel latches on the door for added security.
The different panels slide together and are secured by a long stake that runs through the top hinges, and this makes it very easy to increase or decrease the number of panels you have on your fence.
Pet parents like that this fence came with a durable coating that makes it a good choice for indoor or outside use, and they also liked that the door latching mechanism was made out of double steel. They didn't like that the stakes that hold the panels together are made out of plastic, or that the pre-drilled holes weren't large enough to stop the pen from slipping.
Things We Liked
Pen is very easy to assemble
Comes in several different colors
Double steel latches are durable
Things We Didn't Like
Fence can collapse if you lean on it too much
Hinge stakes are plastic
Fence is prone to slipping on hardwood floors
3. Pet Trex Playpen for Dogs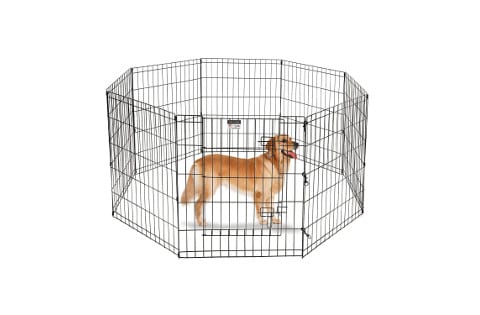 You can choose from 24 by 24 inch panels or 24 by 30 inch panels with this fence, and it comes with a durable electro-coat finish with a satin black finish. The door has secure double latches for an extra layer of security as well.
This fence comes with ground stabilizers that you push into the soil to secure the fence as well as corner stabilizers that give you a strong containment system for dogs up to 40 pounds. It's designed to set up and fold down easily, and it collapses flat for easy storage.
People who purchased this fence liked that it was very easy to set up, change, and take down as well as the fact that it had a finish that was resistant to rust, corrosion, and wear and tear. They didn't like that it was only recommended for dogs up to 40 pounds.
Things We Liked
Corners are reinforced for added durability
Door has a double latch system
Collapses flat for easy storage
Things We Didn't Like
Not suitable for dogs over 40 pounds
Reinforcement pieces are plastic
Can't secure it to the floor
4. Paws & Pals Heavy Duty Portable Metal Exercise Dog Playpen
This portable pen comes in 24, 32 or 40 inches so you can customize it to suit your dog's needs. The eight panel design allows you to quickly and easily change the size or shape of the pen.
The fence is made out of metal with a rust-resistant coating, and it has rounded edges, so there are no sharp corners to cut your dog. The door has a secure double latching system with durable metal latches for added security.
Pet parents who bought this item liked that they could choose from a few different sizes and that they could easily add or take panels away to adjust the size. They didn't like that the fence had slightly wider slats that their dogs could stick their legs through.
Things We Liked
Door has a metal double latching system
Choose from three different fence sizes
Metal has a coating that is resistant to rust or corrosion
Things We Didn't Like
Fence has slightly wider slats
Features a very heavy design
Easy to lose the connector pins when you store it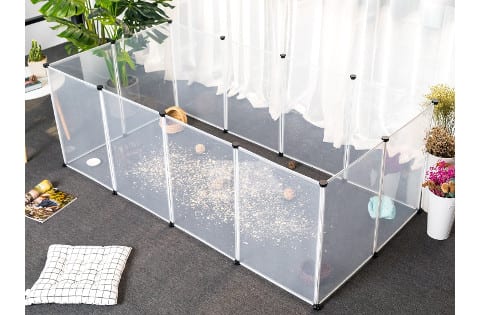 This plastic portable fence gives you pet 28 square feet of space for them to play, and it comes with clear panels so you can easily keep an eye on them. This fence comes with black steel wiring and heavy-duty plastic connectors as well.
It is very easy to put together and take down, and you don't need any tools. The interlocking panels allow you to quickly and easily change the pen's shape and size to suit your needs.
Pet parents who bought this fence liked that it came with see-through plastic panels so that they could keep an eye on their dog while they played. They didn't like that the fence was made out of plastic and prone to chipping or wear and tear.
Things We Liked
Very easy to put up, take down, and change
Comes with see through panels
Has heavy-duty plastic connectors with black steel wire
Things We Didn't Like
Not suitable for larger dogs
Won't withstand extended outdoor use
Can be difficult to snap the corners in place
Our Top Portable Dog Fence Pick
Our pick for the best portable dog fence is the MidWest Foldable Metal Exercise Pen/Pet Playpen. In comes in five different heights so you can customize it to suit your needs, and you get 16 square feet of space with one fence.
It comes with eight ground anchors and corner supports so you can secure the fence, and the entire fence has a black weatherproof coating the helps to prevent rust and corrosion. It's a secure and durable portable fence that will keep your dog safe and secure year round.