Grizzly Salmon Oil is a liquid supplement that can help alleviate problems due to allergies, autoimmune disorders, and sensitivities. It helps to repair cell damage and promotes healing in dogs of all ages.
It works great for dogs of all sizes, breeds, and ages.
Many dog owners report improved cognitive function and alertness in older dogs, along with improved mobility.
The side effects people reported were a rare occurrence, and they've traditionally been reported as being mild and short-lived.
Some pet parents report that this supplement has a strong smell that may be off putting to pickier dogs.
All-natural ingredients
Liquid format allows for faster absorbtion
Suitable for dogs of all ages and sizes
More expensive than other fish oil supplements
Can cause minor side effects
Although Grizzly Salmon Oil is one of the more expensive options when it comes to fish oil supplements, it makes up for it by the all-natural ingredients and their multi-use functions. While you are able to purchase other fish oil supplements, we found this one to be a complete package that is easy to absorb, and dogs of all sizes and ages can use it.
The Ultimate Review of Grizzly Salmon Oil All Natural Dog Food Supplement
It isn't unusual for many dog breeds to have skin problems, allergies, arthritis, or kidney problems develop early on and worsen later in their lives. Grizzly Salmon Oil for dogs is specially designed to help reduce or alleviate these common issues your pet may be experiencing.
If these problems are left untreated, your dog's condition could get worse, and their skin conditions could develop into open sores. Additionally, their arthritis, allergies, or kidney function has the potential to decrease as they age.
What is Grizzly Salmon Oil?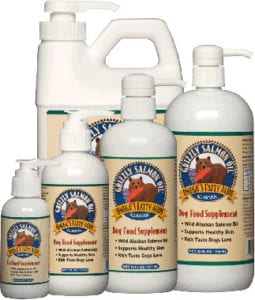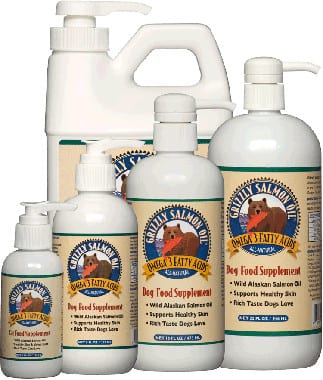 This is an all-natural supplement that you give to your dog to help alleviate skin and coat problems associated with allergies. Additionally, it can help reduce the pain and stiffness associated with arthritis and potentially improve or balance your dog's kidney function.
Grizzly salmon oil contains higher levels of EPA and DHA, and these are good types of fatty acids, along with Omega-6 fatty acids. These fatty acids will provide your dog with a natural and healthy boost to their immune systems, and this can reduce allergy and arthritis symptoms.
This healthy supplement also contains rosemary extract. For those of you that don't know, rosemary extract is packed full of healthy antioxidants, and it acts as a natural bacteria fighting agent.
Because this supplement contains all natural and safe ingredients, you can give your dog other vitamin supplements with it. However, it is always a good idea to research and read up on anything new you're going to give your dog because this will help you decide if it's the right choice for your pet or if there's something better suited for them.
Different Types of Grizzly Salmon Oil
Grizzly offers a few different ways for you to allow your dog to benefit from their salmon oil products. You can choose from the oil or a salmon fillet treat.
Salmon Oil. One of the most popular ways to give your dog the Grizzly Salmon Oil supplement is through their all natural oil. You give your dog a dose each day in their food, and the dosage depends on your dog's weight.
Salmon Fillet Treats. If your dog has trouble eating their food with the oil added in, try the Grizzly Salmon Fillet Treats. They are made of human-grade natural salmon and contain all the beneficial ingredients that the salmon oil does.
How This Supplement Works
Once your dog begins taking this fish oil supplement, the Omega-3 and Omega-6 fatty acids go to work repairing any cell damage due to allergies or skin irritation and allergies. They may also begin to reduce the inflammation that comes with arthritis and joint stiffness.
Your dog's skin and coat will get a boost of vitamins and nutrients, and this can help to reduce the itching and flaky skin you may see with many common skin conditions and allergies. It may also help to balance your dog's immune system, and this might help to reduce breakouts or rashes on their skin.
A good balance of Omega-3 and Omega-6 fatty acids are essential to maintaining your dog's overall skin and coat health. By using this supplement, you can help to alleviate or even prevent conditions like:
Dry, Itchy Skin
Dull or Brittle Coat
Auto Immune Conditions like Arthritis
Allergies
Inflammatory Bowel Disease
Obesity and More
Benefits of Using Grizzly Salmon Oil for Dogs
Aside from the benefits we talked about earlier, there are several other notable ones that are worth mentioning. The ingredients in the salmon oil supplement do work on your dog's skin and coat, but they also work on internal issues your dog may have.
The EPA and DHA found in the fatty acids in the salmon oil supplement works to regulate your dog's entire system by providing vitamins, minerals, and fatty acids that they might have deficiencies in. All of these factors combine to provide an essential boost to your dog's system and overall health.
Internally, the nutrients and rosemary extract can help to combat several problems your dog may face, especially when they're older including:
Reducing Inflammation
Regulates the Immune System
Calms an Overactive Immune System
Combats Bacterial and Fungal Infections
Heart Disease Symptoms
Improves Cognitive Function
Collagen Production and More
Common Questions About the Grizzly Salmon Oil Supplement
1. Does Grizzly Salmon Oil contain Vitamin E?
Yes, it does contain Vitamin E because the wild salmon that is sourced for this supplement is a natural source for this vitamin. This vitamin plays a critical role in your dog's system because it is classified as a powerful antioxidant that can help to repair cell damage.
2. Does Grizzly Salmon Oil contain rosemary?
Yes, this supplement contains rosemary extract in its formula. Rosemary is beneficial to your dog in a number of ways as it is high in iron content, and it may help to fight any bad bacteria in your dog's system.
3. Does Grizzly Salmon Oil need to be refrigerated?
No you don't have to refrigerate your dog's Grizzly Salmon Oil, and you can safely store it at room temperature away from any direct sunlight.
4. How Long Does Grizzly Salmon Oil last?
If you choose to refrigerate your Grizzly Salmon Oil, make sure to use it within 8 to 10 months. If you choose to store it at room temperature, make sure you use it within 4 to 6 months after you first open it.
Grizzly Salmon Oil Pros & Cons
As with any supplement you choose to give your dog, there are pros and cons associated with it. One of the biggest benefits of giving your dog this supplement is the effects it has on alleviating allergy symptoms that are common in many breeds of dogs.
A downside to this supplement is the possible side effects your dog may develop. Most of these are very minor, and things like nausea, dizziness, and diarrhea, and they usually subside once your dog's body adjusts to the supplement.
As we've stated previously, the amount of salmon oil you feed your dog on a daily basis depends on their weight. For an 8 ounce bottle, one pump is equal to around 0.07 fluid ounces or 2 milliliters, and for 16, 32 and 64 oz bottles, one pump is equal to around 0.12 fluid ounces or 3.5 milliliters.
Grizzly Salmon Oil Ingredients
This is a natural supplement, and it contains DHA, EPA, rosemary extract, Omega-3 fatty acids, and Omega-6. These products all combine to form a powerful supplement that benefits your dog in several ways.
The internal things like fighting inflammation and helping to balance your dog's system can lead to a happier dog. Additionally, helping to reduce allergy flares can increase your dog's comfort levels.
Grizzly Salmon Oil vs Pollock Oil
Salmon Oil and Pollock Oil are close for nutrient benefits, but Salmon Oil edges out Pollock oil for superiority. Salmon Oil supports both internal and external health, while Pollock Oil concentrates on your dog's coat and skin.
Pollock Oil is Less Expensive
Salmon Oil Traditionally Has Higher EPA and DHA Levels.
Salmon Oil Has Omega-3 Fatty Acids
Salmon Oil is superior to Pollock Oil because it is designed to provide complete support for your dog's entire system, both internally and externally. It does tend to cost more, but you're getting more benefits from feeding it to your dogs.
It is good to note that many pet owners use a rotating system and feed their dogs both Pollock and Salmon oil supplements. This way, they can be sure that their dogs are getting the best of both supplements.
Here's What Others Are Saying About Grizzly Salmon Oil
A large majority of people have very positive things to say about Grizzly Salmon Oil. They praise it for how well it can work on their dog's coats and skin, leaving them with healthy skin and soft coats.
Many people claim their older dogs seem more alert, and ready to play or learn new things. Additionally, many people claim that the supplement helped to decrease the symptoms of arthritis and allergies, resulting in a happier dog.
One of the primary drawbacks a few people mentioned was the fact that their dogs had minor stomach upset and gas when they first introduced this supplement. They did say it tended to go down once their dogs got used to the oil.
Additionally, many people commented that the price for the supplement seemed to almost double within the first few months.
Popular Alternatives to Grizzly Salmon Oil
Amazing Nutritionals Omega-3 Fish Oil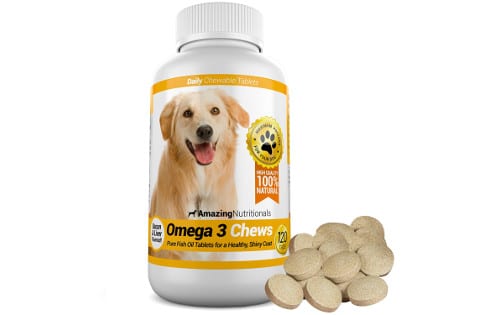 These Omega-3 Fish Oil tablets are made in the United States and are designed to support coat and skin health. This product is less expensive than Grizzly Salmon Oil, and you get 120 capsules in every bottle.
Anyone who wants to support their dog's health and who wants to save money should try this product. It supports heart health, joint health, and it comes in liver or bacon flavors.
Comparing Grizzly Salmon Oil to Amazing Nutritionals:
Grizzly Salmon Oil is More Expensive
You Get More Supplement With Amazing Nutritionals
Amazing Nutritionals Comes With Bacon and Liver Flavors
Finest for Pets Omegease Fish Oil
This all-in-one complete support supplement is designed to make your dog's coat and skin healthier while improving pain and inflammation levels. It claims to have a higher DHA and EPA level than you find with traditional Salmon Oil supplements.
Anyone who's dog is suffering from dry, flaky skin and a dull coat should try this fish oil supplement from Finest For Pets. It supports skin and coat health along with allergy reduction and improved cognitive functions.
Comparing Grizzly Salmon Oil to Finest For Pets Omega Fish Oil:
Omegease Comes With Higher DHA and EPA Levels That Traditional Salmon Oil
Omegease is a Less Expensive Alternative
Grizzly Salmon Oil Comes in Larger Sizes
Nutramax Welactin for Dogs
This number one veterinarian-recommended salmon oil supplement supports healthy skin and improved cognitive function. It can target joint inflammation and pain due to arthritis or injuries, and it works to alleviate them.
This supplement comes in a few different forms, and anyone who has noticed their dogs slowing down or having allergy flares could benefit from trying it.
Comparing Grizzly Salmon Oil to Nutramax Welactin
Grizzly Salmon Oil Comes in Larger/More Sizes
Nutramax Welactin is a Less Expensive Option
They Both Support Internal and External Health
Our Final Thoughts on Grizzly Salmon Oil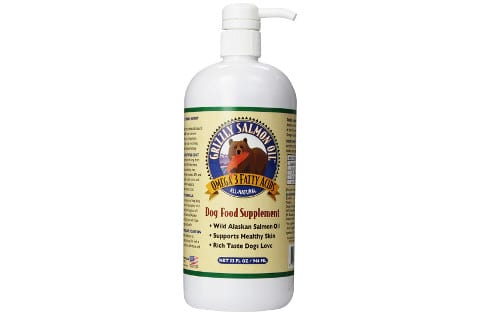 If your dog is suffering from allergies, skin and coat problems, arthritis, or other autoimmune problems, they may benefit from taking a daily salmon oil supplement. You want to correct and balance these problems early, so your dog doesn't get worse or have more complications.
Grizzly Salmon Oil for dogs helps to provide total support both internally and externally for a healthier, happier dog. It is packed full of Omega-3 and Omega-6 fatty acids, vitamins, nutrients, and all natural ingredients that can help alleviate your dog's issues.