This EPA and DHA-rich supplement works to keep a dog's skin and coat healthy and shiny with less itching and shedding by providing it with a number of vitamins, nutrients, and healthy omega-3 fatty acids.
All natural ingredients that include DHA, EPA, Omega-3, and Omega-6
Some of the minor side-effects that you might notice with your dog if it takes this supplement include dizziness, nausea, loose stool, and diarrhea.
Dosage is determined by dogs weight from 1/2 pump (for dogs up to 12.5 lbs) to 4 pumps (for dogs over 75 lbs)
Easy to administer to dogs by pumping onto their dog food
Perfect for dogs with itchy skin or dull coats
Helps Maintain Dog's Coat
High Quality, Salmon Based Products
Fairly Inexpensive
Not all dogs respond well to it
Strong fish smell
Grizzly Salmon Oil has really stood out as a very high quality fish oil to use for your dog that is fairly inexpensive.  Reading through customer reviews during our research has uncovered great experiences with it.  Most of the negative reviews had to do with the strong fish smell, which is fairly normal for fish oil, and the occasional experience of minor side effects of nausea, loose stool and diarrhea.
Grizzly Salmon Oil Dog Food Supplement Review
Grizzly Salmon Oil is an inexpensive fish oil supplement to help relieve your dog from itchy skin, hot spots, dull coats and other similar problems.  Packed with healthy omega-3 and omega-6 fatty acids, this supplement is a healthy and natural way to maintain a dog's coat without putting their health at risk in any way.
This supplement has received lots of positive reviews from those who have purchased it and for good reason. Most dogs seem to respond to this supplement, so it is effective for a variety of breeds with dull or itchy skin.  Even those who have a dog without any coat problems can start using this on their pet to prevent them in the future, as it is important to start doing it as early as possible.
What is Grizzly Salmon Oil?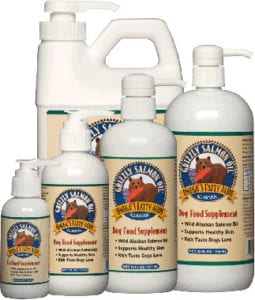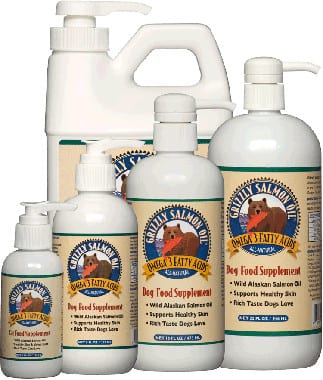 Grizzly salmon oil is a nutritional supplement for dogs that is derived from wild Alaskan salmon. This oil is a mixture of healthy fatty acids as well as Rosemary extract, which offers additional nutritional benefits for dogs. There are also inherent antioxidants as well as vitamins that are naturally found in the salmon.
This product is made with all natural ingredients and will not prevent your dog from taking vitamins from other sources at all. There are many health benefits associated with this supplement and it is important to look into some of them before deciding whether or not to get it for your pet.
This EPA and DHA-rich supplement works to keep a dog's skin and coat healthy and shiny with less itching and shedding by providing it with a number of vitamins, nutrients, and healthy omega-3 fatty acids. The overall health of your dog's coat depends on the balance of fatty acids in its diet, which is why giving a supplement like this can be highly beneficial.
The exact ratio of omega-3 fatty acids to omega-6 fatty acids is very important when determining whether or not a dog will develop certain problems with its coat, including hot spots, itchy skin, and a dull and/or inflamed coat. Grizzly salmon oil supplement will give your dog everything it needs to maintain a healthy and good-looking coat.
You will find that Grizzly salmon oil supplement can offer quite a few benefits for dogs, including a shinier, healthier coat. This supplement works to prevent a number of different problems that dogs can develop with their coats if they do not have the proper balance of omega-3 and omega-6 fatty acids in their diet.
The fact is that some dogs need this type of supplements more than others, even if they eat healthy food on a regular basis. If you have noticed that your dog is particularly itchy or has a dull coat, this particular supplement could be very beneficial overall.
Ingesting salmon oil can have a number of negative side effects for dogs, but fortunately none of them are too serious. Some of the side-effects that you might notice with your dog if it takes this supplement include dizziness, nausea, loose stool, and diarrhea.
There are some dogs that do not experience any side-effects from taking salmon oil supplements like this one while others can have problems with a few of them. Overall, this supplement is very safe to give dogs and the only potential side-effects are minor.
Just like with any other supplement, there are both pros and cons associated with this one. One of the biggest pros of Grizzly salmon oil is that it can help maintain your dog's coat so it continues to look absolutely beautiful. This supplement can also prevent certain problems that many dogs develop with their coats, including itchy skin, irritation, dull coat, and many others.
A dog's coat is very important, which is why a supplement like this can be extremely beneficial for those who own one with coat issues. Also, compared to other dog supplements this is fairly inexpensive.
One of the drawbacks of giving your dog this salmon oil supplement is that it does come with some side-effects, though most of them are minor. Some dogs experience nausea, dizziness, and diarrhea when taking these supplements at first, but it is just because their bodies are adjusting to it.
It is important that you give your dog the correct dosage of this supplement so that they can benefit from it as much as possible.
For dogs that weigh up to 12.5 lbs, you will give them 1 pump from a 4 or 8 oz bottle. For dogs that are 12.5-25 lbs, give them 1-2 pumps.
Dogs that are 25-50 lbs get 3-4 pumps, dogs 50-75 lbs get 5-6 pumps, and all dogs that are over 75 lbs get 7-8 pumps.
There are a number of different ingredients used in Grizzly salmon oil, and all of them are completely natural. These ingredients include DHA, EPA, Omega-3, and Omega-6.
These ingredients help promote a healthy coat for dogs and can be especially beneficial for those that do not get enough of them in their diets.
What Other Customers Are Saying
An overwhelming majority of people who have purchased Grizzly salmon oil supplement have reported excellent results in terms of how their pet's coat looks and feels. A lot of these customers have stated that their dog's coats have improved greatly and were much healthier within just a couple weeks of starting this supplement.
Those who have dogs with itchy skin or dull coats and buy this product typically say that these problems have gone away altogether after starting this liquid supplement on their pets.
A lot of people also like the fact that this supplement is completely natural and comes with very few and minor side-effects, though there are some people who have complained about their dogs having gastrointestinal issues after using it.
Grizzly Salmon Oil for Dogs Review
PuppyWire
Grizzly Salmon Oil for Dogs Review