Best Flea Shampoo for Dogs: Give Your Dog Relief From Pesky Fleas

By Ashley Turner     Last Updated January 25, 2022

We independently research and recommend the best products; Learn more here. We may receive commissions on purchases made from our product recommendations.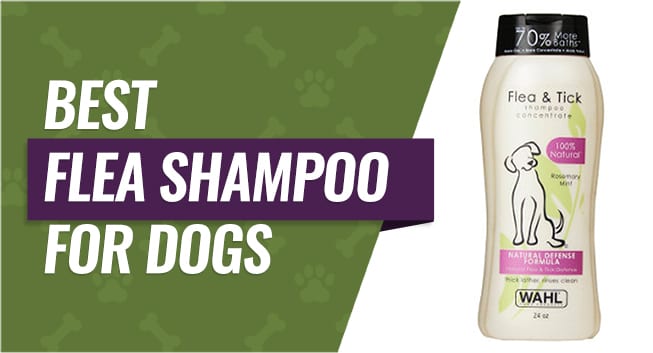 In order for our dogs to maintain healthy skin and a healthy coat, we have to help them by keeping harmful parasites such as fleas at bay. To do this, we have to ensure we are using the best flea shampoo for dogs and that is why this article was created, to help you find the best choice.
Our Top Picks for the Best Flea Shampoo for Your Dog
Wahl 100% Natural Flea & Tick Pet Shampoo (No Longer Available)
How to Choose a Quality Flea Shampoo
Have you noticed at the supermarket all of the shampoos available for different types of hair and skin? That is also what you will notice in the pet section. Picking the right shampoo is important for your dog's skin, coat, and overall comfort.
Using the wrong type of flea shampoo can cause itching, sores, excessive shedding, and dry skin. Before you select a specific shampoo, ask yourself these questions:
Does my dog have any known skin allergies?
Does my dog have sensitive skin?
Does my dog shed excessively?
Is my dog's fur short or long?
Providing answers to these questions will help you to better understand the type of flea shampoo you should use on your dog.
The Advantages of Flea Shampoo
The obvious answer to the advantages of flea shampoo is that it can help to rid and prevent the nasty buggers from harming your beloved dog. However, there is more to flea shampoo than simply killing fleas:
Helps to prevent hot spots, allergies, and infections: Many dogs are allergic to the saliva from fleas. This can trigger itching, scratching, allergies. If your dog scratches too much, he/she runs the risk of infections such as hot spots.
Helps in preventing tapeworms: Tapeworms can be carried by fleas and transmitted to animals. By using a quality flea shampoo, you can keep the fleas and their pet tapeworms at bay.
Helps in preventing tick-borne diseases: As you probably already know, ticks carry a plethora of diseases, such as Lyme disease and Canine Ehrlichiosis. Most quality flea shampoos have the extra advantage of also keeping ticks off of your dog.
Helps to prevent fleas from infesting your home: By using a flea shampoo as a regular treatment plan, you help to keep the fleas outdoors and off of your pet.
As you can see, the advantages of using a quality flea shampoo on your dog go far beyond simply protecting your dog against stubborn fleas.
Related: Best Puppy Shampoo
What to Look for in a Flea Shampoo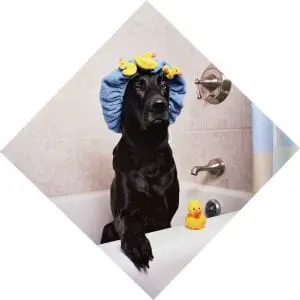 To determine what to look for in a quality flea shampoo, we have to look back at the questions you asked yourself about your pet. The answers to those questions will help to simplify what you should be looking for when you go to pick out a flea shampoo.
Skin Allergies: If your dog does have skin allergies, you will want to look for a flea shampoo that is tough on fleas, but gentle on your dog's skin. By using a flea shampoo that can remove dirt and allergens from your dog while restoring moisture and soothing their skin, you reduce the risk of allergy-related flare ups.
Sensitive Skin: Just as with allergies, if your dog has sensitive skin you will want to use a flea shampoo that is gentle but will get the job done. We want to help our pets, not cause them undue discomfort. Find a flea shampoo that does not contain strong fragrances and detergents.
Excessive Shedding: If Fido leaves an outline of his body every time he/she lays down, there is a very good chance your dog is shedding too much. If this is your situation, look for a flea shampoo that is formulated with amino acids, healthy oils, and antioxidants. This combination of ingredients will help to control shedding while it is helping to control fleas.
Long Haired: For dogs with long hair, a standard flea shampoo is probably not the answer. You will want to find a quality flea shampoo that also has conditioners, such as natural oils, that can be stripped from your dog's coat during a bath. This will not only give their coat a better appearance but will also make it easier to brush and manage.
Quick, Important Note About Using Human Shampoo
You may have heard people say that any shampoo can kill fleas so it is perfectly safe to use your regular shampoo for your pet. This is only a partially accurate statement.
For starters, yes, just about any shampoo will kill the fleas that are currently inhabited on your dog. However, only specially formulated flea shampoos will help to repel them and prevent them from jumping right back onto your dog as soon as he/she steps outside.
Secondly, under no circumstances should you use human shampoo on your dog. Our skin is more acidic than that of a dog, which is more alkaline, and our shampoo is formulated for our skin's chemistry.
Therefore, using a product designed for an acidic skin on something with alkaline skin can lead to irritation, flaky skin, sores, hot spots, and a damaged coat.
Reviews of the Best Flea Shampoo for Dogs
Now that we have thoroughly covered the important factors regarding flea shampoo, let's get the product reviews. For the following products to be included on our lists, they have to meet certain criteria:
It has to be a reputable brand with an established track record of positive results.
Must have reviews from actual customers that have used the product.
Must be able to achieve the desired results without causing any unhealthy side effects.
If the product meets all of these criteria, we review the product and give it an overall rating based on three factors: effectiveness, customer satisfaction, and value. So, without further delay, let's get started.
1. Adams Plus Flea & Tick Shampoo with PRECOR
Adams Plus Flea & Tick Shampoo with PRECOR could serve as a standalone regular flea and tick treatment plan for your pet since it is designed to not only kill adult fleas, it is also designed to kill lice, flea eggs, and larvae, as well as ticks.
Containing lanolin, coconut extracts, oatmeal, and aloe, this could also be a great option if your dog has sensitive or itchy skin as all of these components have been used in the past for treating such issues.
As a bonus, this product is not limited to specific types of pets, meaning you can also us it to treat your cats if you have any, and it is also gentle enough to use on kittens and puppies.
Many customers have reported positive results after the first use, but recommend giving a second bath just to make sure you were able to get all of the parasites off of your dog, especially if your dog is infested with the vermin.
The included PRECOR helps to control pre-adult fleas before they start biting and causing your pet serious issues. According to the manufacturer, this can be achieved with as little as 2 tablespoons per bath, this indicates that a single 14 oz. bottle should last for quite a while, depending on how many pets you need to treat.
Things We Liked
The included PRECOR adds an extra line of protection.
Can be used on all pets, big or small.
Concentrated formula means more value.
Things We Didn't Like
Price is a little high compared to other brands.
2. Sentry Flea and Tick Shampoo with Oatmeal
Sentry has been producing quality pet care products for a long time. This product, their Flea and Tick Shampoo with oatmeal is designed to be effective against parasites, such as fleas and ticks, while remaining gentle on our your pet's skin and coat. And, according to many customer reviews, it has been very effective for helping with dry skin and killing fleas.
However, there have also been some reviews of pet owners using this product on their dogs, in which it worked in killing the fleas, only to have fleas hop back onto their dogs when they go outside.
While these reviews were not too numerous, and the majority of those that have used this Sentry product gave it a great rating, it still leaves the effectiveness of this product in a questionable status.
Another downside of the Sentry Flea & Tick Shampoo with Oatmeal is how long the effects last. While many of the comparable products have a lasting of up to a month, the effects of this product only last 10 days, according to the manufacturer's label.
Regardless, the brand has a huge fan-following and there are many that swear by this product and has been proven to kill fleas and help with dry skin. It could also be a great choice for those on tight budgets.
Things We Liked
Good price if you are on a budget.
Great moisturizing effect.
Things We Didn't Like
Effects only last for 10 days.
Reports of ineffectiveness leave room for concern.
3. Wahl 100% Natural Flea & Tick Shampoo
This line of pet shampoos from Wahl is available in many different formulas, including a natural flea and tick version. This particular blend contains mint, cedar oil, and rosemary. The effects of this natural blend are designed to last up to one week and it does not contain any harmful chemicals that could have adverse side effects on your pet.
Even without any added harsh chemicals, the manufacturers of this product claim that it will help to remove and repel fleas and ticks while also leaving your pets coat and skin moisturized. According to the majority of the reviews from customers, it seems that it does just that.
Out of all of the customer comments regarding this product, nearly 400 of them, 70 percent said that they were very satisfied with the product and that it performed just as the company said it would.
However, a small percentage, about 3 percent, stated that after using this product on their dogs, which had sensitive skin, that their dogs started itching profusely and some developed red blotches.
Overall, the product seems to be a legitimate option if you want to help prevent fleas and ticks from eating at your pet without using harsh chemicals.
Things We Liked
The all natural formula helps reduce harsh side effects.
Great price for an effective product.
Concentrated formula means more value.
Things We Didn't Like
The reports of excessive itching, while few, leaves room for concern.
Out of these three leading products, we have to declare Adams Plus Flea & Tick Shampoo with PRECOR the best option. While we liked the fact that Wahl 100% Natural Pet Shampoo didn't have any harsh chemical additives, the Adams Plus shampoo simply had more to offer with additional protection with the PRECOR and a moisturizing effect that helps to keep your dog's coat and skin from getting too dry.
As always, we here at PuppyWire.com strive to provide you with information on the best possible products for your puppy, young or old. We hope you found this review useful and helps to guide you in the right direction.