Just as our skin is one of the largest and most important organs we have, the same is true for our dogs. Not only does it help to maintain their bodies environment by helping to prevent the loss of moisture, it also serves as a barrier against parasites, the elements, and infections.
In order for our dogs to maintain healthy skin and a healthy coat, we have to help them by keeping harmful parasites such as fleas at bay. To do this, we have to ensure we are using the best flea shampoo for dogs and that is why this article was created, to help you find the best choice.
How to Choose a Quality Flea Shampoo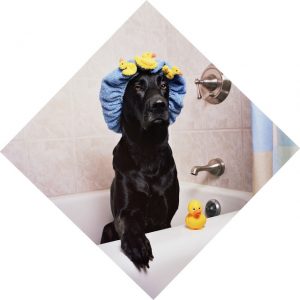 Have you noticed at the supermarket all of the shampoos available for different types of hair and skin? That is also what you will notice in the pet section. Picking the right shampoo is important for your dog's skin, coat, and overall comfort. Using the wrong type of flea shampoo can cause itching, sores, excessive shedding, and dry skin. Before you select a specific shampoo, ask yourself these questions:
Does my dog have any known skin allergies?
Does my dog have sensitive skin?
Does my dog shed excessively?
Is my dog's fur short or long?
Providing answers to these questions will help you to better understand the type of flea shampoo you should use on your dog.
The Advantages of Flea Shampoo
The obvious answer to the advantages of flea shampoo is that it can help to rid and prevent the nasty buggers from harming your beloved dog. However, there is more to flea shampoo than simply killing fleas:
Helps to prevent hot spots, allergies, and infections: Many dogs are allergic to the saliva from fleas. This can trigger itching, scratching, allergies. If your dog scratches too much, he/she runs the risk of infections such as hot spots.
Helps in preventing tapeworms: Tapeworms can be carried by fleas and transmitted to animals. By using a quality flea shampoo, you can keep the fleas and their pet tapeworms at bay.
Helps in preventing tick-borne diseases: As you probably already know, ticks carry a plethora of diseases, such as Lyme disease and Canine Ehrlichiosis. Most quality flea shampoos have the extra advantage of also keeping ticks off of your dog.
Helps to prevent fleas from infesting your home: By using a flea shampoo as a regular treatment plan, you help to keep the fleas outdoors and off of your pet.
As you can see, the advantages of using a quality flea shampoo on your dog go far beyond simply protecting your dog against stubborn fleas.
What to Look for in a Flea Shampoo
To determine what to look for in a quality flea shampoo, we have to look back at the questions you asked yourself about your pet. The answers to those questions will help to simplify what you should be looking for when you go to pick out a flea shampoo.
Skin Allergies: If your dog does have skin allergies, you will want to look for a flea shampoo that is tough on fleas, but gentle on your dog's skin. By using a flea shampoo that can remove dirt and allergens from your dog while restoring moisture and soothing their skin, you reduce the risk of allergy-related flare ups.
Sensitive Skin: Just as with allergies, if your dog has sensitive skin you will want to use a flea shampoo that is gentle but will get the job done. We want to help our pets, not cause them undue discomfort. Find a flea shampoo that does not contain strong fragrances and detergents.
Excessive Shedding: If Fido leaves an outline of his body every time he/she lays down, there is a very good chance your dog is shedding too much. If this is your situation, look for a flea shampoo that is formulated with amino acids, healthy oils, and antioxidants. This combination of ingredients will help to control shedding while it is helping to control fleas.
Long Haired: For dogs with long hair, a standard flea shampoo is probably not the answer. You will want to find a quality flea shampoo that also has conditioners, such as natural oils, that can be stripped from your dog's coat during a bath. This will not only give their coat a better appearance but will also make it easier to brush and manage.
Quick, Important Note About Using Human Shampoo
You may have heard people say that any shampoo can kill fleas so it is perfectly safe to use your regular shampoo for your pet. This is only a partially accurate statement.
For starters, yes, just about any shampoo will kill the fleas that are currently inhabited on your dog. However, only specially formulated flea shampoos will help to repel them and prevent them from jumping right back onto your dog as soon as he/she steps outside.
Secondly, under no circumstances should you use human shampoo on your dog. Our skin is more acidic than that of a dog, which is more alkaline, and our shampoo is formulated for our skin's chemistry.
Therefore, using a product designed for an acidic skin on something with alkaline skin can lead to irritation, flakey skin, sores, hot spots, and a damaged coat.