Top 5 Best Dog Stairs for Beds to Help With Canine Mobility Issues

By Ashley Turner     Last Updated January 25, 2022

We independently research and recommend the best products; Learn more here. We may receive commissions on purchases made from our product recommendations.
However, there are literally hundreds of dog stairs available, and this can make it difficult to find a good one. We've done the hard work for you and rounded up the top five dog stairs as well as listed things you should watch for when you're choosing your stairs.
Our Top Picks for the Best Stairs for Your Dog
Things to Look for with Dog Stairs
If your dog is still capable of climbing stairs without difficulty, there are a few things that you want to watch for to make sure you make the best choice possible.
Dog stairs come made out of a variety of materials, and the materials you choose will largely depend on your style choices and your dog's size. Wooden stairs may hold up better than plastic if you have a larger dog or you can opt for other materials as well.
The last thing you want is for your dog to slip and fall while they're climbing up and down their new stairs. You'll quickly find that many dog stairs come covered with fabric to help with traction, but if it doesn't, you'll want to add something for your dog's paws to grip on when they're using the stairs.
You want to match your new dog stair's height as closely you can do whatever they'll be using the stairs to get up on. Before you buy a set of pet stairs, you want to measure the distance from the floor to the edge of the furniture where your dog will step off and buy a stair set that gets as close as possible.
Some dogs will struggle if the stairs have a very flat incline, and you can buy stairs that have a slightly steeper incline to make it easier for them to use it. Watch your dog and see what types of stairs seem easier for them to climb and buy your dog stairs as close to that incline as possible.
If you don't have a lot of room to store your pet stairs when they're not in use, this one will be important to you. A collapsible setup dog stairs may be the best way to go because you can store them when your dog isn't using them, and they may be easier to move around if your dog has several things they like to get up on.
Dogs with shorter legs may have problems going up to larger stairs, and they may need a stair set with more shorter steps. Likewise, if your dog has longer legs, they may be more comfortable with taller stairs and fewer steps.
You want your dog to be comfortable when they climb the stairs, and larger dogs need stairs that are a wider width. This gives them more room to stand on, and it can help them get a better grip when they're going up and down.
Comparing Dog Ramps to Dog Stairs
Dog ramps and dog stairs essentially perform the same basic function of helping your dog get up and down off furniture safely. Pet ramps may work better for older dogs with arthritis because they'll walk up and down an incline without worrying about steps.
Pet stairs are great for smaller dogs or dogs who have joint problems but don't seem to have problems using stairs. It's important that you compare products and see which one your dog has an easier time with before you buy something.
Introducing Your Dog to Their New Stairs
You can't expect your dog to use their new dog stairs immediately. They may be leery the first few times you introduce them to it, so you should take it slow and let them set the pace.
Start by Collapsing the Staircase. If your staircase allows it, collapse it until it lays flat and encourages your dog to explore around and on it. You can use treats as motivation and show them that there is nothing to be afraid of.
Set the Stairs up to Low Surfaces. Slowly ease your dog into using the stairs by setting them up to lower furniture like a stool or an ottoman. Encourage your dog to go up and down while reassuring them that everything is alright.
Set the Stairs up to Their Full Height. When your dog is comfortable with the lower stairs, slowly move them up to their full height and let your dog use them at their own pace. Offer lots of praise, and you can use treats to reinforce that the stairs are a good thing.
Common Questions About Dog Stairs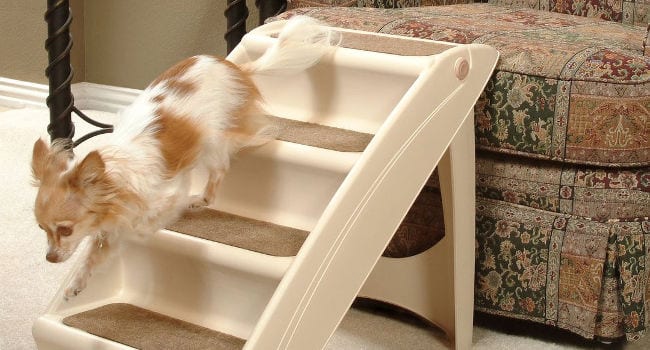 Do Dog Stairs Come in Different Sizes and Lengths?
Yes, dog stairs are designed to accommodate dogs of all sizes from tiny to large. The stairs have different widths and heights to ensure that your dog has a good grip when they use them to prevent injuries from falls and slips.
Why Should You Use Dog Stairs?
When dogs jump up and down, they have an increased risk of having an accident or injuring something. It can also be painful for them to jump up and down if they have joint problems like arthritis.
How Do You Store Dog Stairs?
If you don't want your dog stairs sitting out constantly, you may want to look for a model that collapses so you can slide it away when it's not in use. You can also designate a spot for the stair system when your dog isn't using it if it doesn't collapse.
Any Weight Restrictions With a Set of Dog Stairs?
You can buy dog stairs that are specifically tailored to your dog's size range, and as long as you buy one that accommodates their weight, you shouldn't have a problem. Make sure you double check the maximum weight and compare it to your dog's weight to ensure the stair system is sturdy enough.
Our Top 5 Picks for the Best Dog Stairs
1. Solvit PupSTER Plus Pet Stairs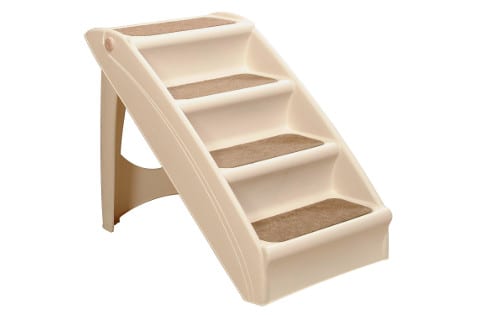 Our first choice for dog stairs is by Solvit, and this lightweight stair set only weighs in at five pounds, but it is capable of supporting dogs up to 120 pounds. The steps themselves are spaced apart at a distance that would suit most medium-sized dogs.
These stairs also feature a no-slip traction layer so your dog won't slip while they use the stairs, and they have short sides to help stabilize your dog if they do have problems while they're using the stairs. When it's not in use, these stairs fold to a compact size for easy storage.
People who purchased these dog stairs said that they were very stable and sturdy, and the compact design was a huge benefit. They did say that the stairs are too small for larger dogs, but they work well for small to medium sized dogs.
Things We Liked
Very lightweight but durable design
Slightly wider design with shorter stairs
Things We Didn't Like
Not meant for large dogs
Does have a slightly steeper incline
2. Pet Gear Easy Step III Pet Stairs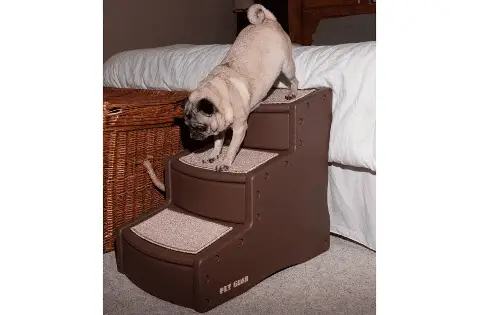 Pet Gear offers two different dog stairs that go by weight so you know exactly which one will suit your dog. There are three steps on this stair system, and the base has rubber grips to prevent the stairs from slipping while your dog goes up or down.
This system is very easy to set up, and all of the pieces snap securely together without the help of any tools. Each stair has a square of carpet-like material to provide traction for your dog, so they don't slip and fall.
People who purchased this product stated that they liked how easy the system was to put together and that they liked how sturdy and stable the design was. They also said that the steps were slightly too deep for dogs with shorter legs to use without problems, and the steps may fall short from higher beds or furniture.
Things We Liked
Very sturdy design that snaps together
Two different stair choices that go by weight
Things We Didn't Like
May not be stable enough on slippery flooring
Some pieces are difficult to snap together properly
3. Cozy Pet Lightweight Pet Stairs
Dallas Manufacturing Company's dog stairs feature an extra padded design for additional support and they come with the choice of three or four stairs. These stairs are very lightweight but they can support up to 200 pounds comfortably.
The cover is removable, and this makes it very easy to clean by tossing it into the washing machine. The bottom of the stairs also features a slip-proof coating, so the stairs stay in place no matter what type of flooring you set them on.
Pet parents who bought these dog stairs said that they are very durable and stable for smaller or medium-sized dogs, but it might not be sturdy enough for larger dogs. They also liked that it was plush and padded for extra support and that there was no-slip padding on the bottom.
Things We Liked
Very durable and stable design
You get the choice of three or four stairs for larger or smaller furniture
Things We Didn't Like
The inside of the stairs are cardboard, and it may not last
The steps may be too steep
4. Portable Pet Stairs by Majestic Pet
These dog stairs come in a variety of colors and patterns to fit into any decor, and each step is padded for added traction and comfort. The inside of the stairs is made of durable foam, so it won't injure your dog if they run into it.
You also get a choice of three or four stairs so you can customize these steps to your furniture heights. These stairs are very lightweight and easy to move around, and the cover is removable and machine washable.
Pet parents who bought this particular dog stair setup liked the fact that they're ready to go straight out of the box, and they liked that the foam is very sturdy. They didn't like that the stairs were very narrow and breeds like Dachshunds had a problem using them easily.
Things We Liked
Very sturdy and safe foam insert
Comes in a variety of patterns with a removable cover
Things We Didn't Like
No gripping material on the bottom
Stairs are narrow and have a steep incline
5. Pet Gear Easy Step II Pet Stairs
Pet Gear's two step dog stair system comes in several colors and it is made out of durable plastic with deep, wide steps. You won't need any tools for these stairs as they feature an easy snap together design.
The harder plastic design is easy to clean, and the carpet squares slide out so you can toss them in the washing machine to clean. They also come with a more gentle incline that is easier on your dog's joints, and there is no-slip padding along the base of the stairs for added safety.
Pet parents who bought these stairs for their dogs said that they liked the extra-wide design and the gentle incline. They didn't like that these steps didn't work very well for larger dogs and that the plastic under the carpet squares seemed to flex or bend with heavier dogs.
Things We Liked
Very wide and deep steps
Has a very sturdy design that snaps together
Things We Didn't Like
Steps may flex or bend under heavier dogs
May be tricky to snap together properly
What is the Best Dog Stairs?
The winner of our top five pet stair roundup is the Solvit PupSTEP Plus Pet Stairs due to their durability, stability, and ease of use. They have wider and shorter stairs so smaller dogs can use them easily, and they feature a no-slip padding on the bottom for added safety.
Unlike the other dog stairs on our list, the Solvit stairs have a small safety siding to prevent your dogs from slipping and falling off, and it has a collapsible design that makes it easy to store when your dog isn't using it.