5 of the Best Dog Food Containers to Keep Your Dog's Food Fresh

By Ashley Turner     Last Updated January 25, 2022

We independently research and recommend the best products; Learn more here. We may receive commissions on purchases made from our product recommendations.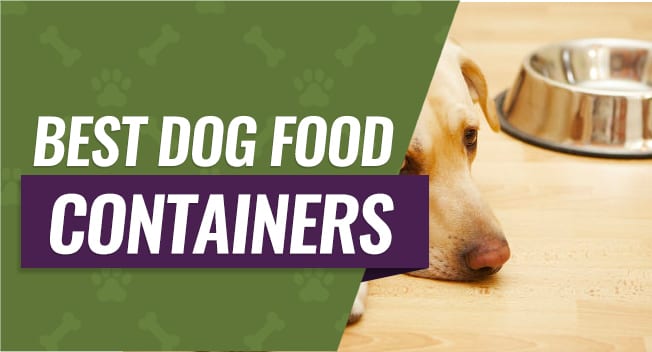 It can be challenging to find the best container because there are so many to choose from, but we've rounded up the top five so you can compare them side by side. We also put together a buying guide, so you know precisely what to look for when you're shopping for your new dog food container.
Our Top Picks for the Best Dog Food Containers
Why Use a Dog Food Container
Even if you have a small dog that eats dry dog food, it can be important to find a good quality dog food storage container for a variety of reasons. These reasons include:
Prevents Spoilage and Moisture Build Up
Any type of food, whether it's your dog's wet or dry dog food, comes with an expiration date that can sneak up on you. When you open your dog's food, you're exposing it to the environment and factors like heightened moisture, and this can start the oxidation process that reduces the food's quality.
This exposure can also lead to an increased chance that your dog's food starts to grow bacteria or mold, and this is unhealthy for your dog. A dog food container with an airtight seal will slow down this process and help to maintain the nutrient content of the dog food.
Pest Barrier
Ants, cockroaches, flies, and rodents can wreak havoc on your pet's food and contaminate it if they have access to it. If your dog food is stored in an airtight container, it can help to prevent these common pests from getting into your dog's food and eating it or spreading a disease to your dog.
Monitor Your Dog's Food Supply
When your dog food is in a traditional bag, it can make it difficult to monitor how much is left, and this can lead to you running out if you order it online. Some dog food containers have see through walls that lets you tell how much dog food you have left at a glance, and when you need to refill it with fresh food.
Organization Capabilities
If you have several pets in the house that eat different types of dog food, keeping it well organized can be a challenge. If you have several stackable dog food containers, they'll keep your pet's food fresh as well as organized because you can designate certain bins for certain types of food and stack them all neatly in one area.
How Long Can Dry Dog Food Last After You Open the Bag?
It's also important that you know how long your dog's food can stay fresh and retain its nutritional value after you've opened the bag. Although dry dog food has a shelf life of around one year, after you open it you have around two weeks before certain oils in the dog food start to lose their potency.
If you buy your dog's food in bulk, this can be disheartening news because there is no feasible way that an average sized dog can go through 30 or 50 pounds of dog food in two weeks. This is where an airtight container comes in because it can help to keep your dog's food fresh and safe to eat for several weeks or months longer.
Points to Consider When You're Dog Food Container Shopping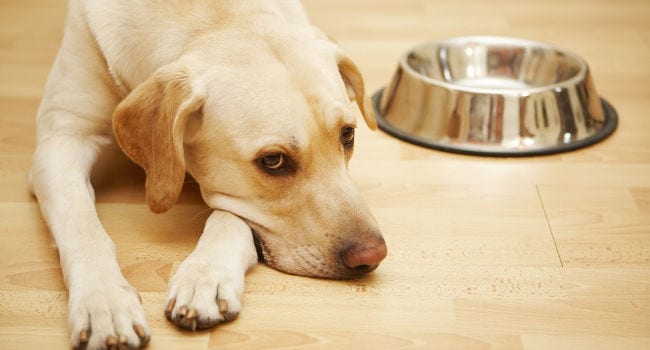 Now that you know how long dry dog food lasts without a container and a few reasons why you'd want to use a container, we'll move on to the container itself. There are dozens to choose from, and you want to make sure that your choice suits your circumstances and keeps your dog food fresh and healthy.
Normally, dog food containers come in two broad categories, and you have to decide which type of container is going to work best for storing your dog food.
Plastic: Plastic containers are typically the more affordable of the two choices, and you want to make sure that the plastic is rated as BPA-free, so it's healthier for your dog. Look for a container with thick and durable plastic that is resistant to chewing or cracking.
Stainless Steel: The second category of dog food containers is made out of stainless steel, and they can have a removable bin inside so you can clean it quickly and easily. Stainless steel is usually more expensive, but they tend to last longer than plastic and have a more aesthetic look.
Airtight Seal
Whatever type of container you decide to purchase should come with an airtight seal, or it'll defeat the purpose of storing your dog food in it to begin with. An airtight seal can help to ensure that the oils stay locked into your dog food while the excess air and environmental factors are locked out when you close the lid.
Durability
The last thing that you want to do is spent a decent amount of money on a dog food container to have it crack or break after a few weeks of using it. Make sure that your dog food container is made out of durable materials, and pay attention to the handle and hinges because these are the areas that get used the most.
Locking Lid
Whether you have kids or pets that like to get into the dog food when they're not supposed to, a secure locking lid can help to prevent this from happening. You can buy dog food containers that twist open and closed or ones that latch closed with thick plastic or metal latch.
Portability
If you buy a smaller dog food container, you won't have to worry about portability as much as you will if you buy a larger container. However, your larger container should come with wheels so you can push it around rather than try to lift and carry it every time you need to move it.
Stackable
Anyone who plans to have multiple dog food containers on hand at one time may want to look for containers that stack to save space. You do want to make sure that they're stable when you stack them, so they don't topple over, and if you can get to the dog food while they're stacked, this is a bonus.
Our Top 5 Picks for the Best Dog Food Containers
1. IRIS 3-Piece Airtight Pet Food Container Combo
This dog food storage container comes with nine different brightly colored lids with a clear plastic body so you can quickly and easily monitor your dog food's level. You'll get an airtight seal with the durable snap lock lid that helps to ensure that your dog's food stays fresh and healthy.
You get a smaller 12-quart container along with a larger 33-quart storage container that sits on top of each other for easy storage, and the larger bin is on wheels so you can move it around quickly and easily. You can store up to 25 pounds of dry dog food in one container and 10 pounds in the other container, and as a bonus, you get a measuring scoop included.
Pet parents liked that these two bins had lockable lids with a durable seal and that the dog food bins sat securely on top of one another. They didn't like that it can be slightly challenging to get the lids to latch and that seal doesn't seem to be as airtight as it is advertised to be.
Things We Liked
The bins stacked on top of one another for easy storage
You get two different sizes in a variety of colors with each order
Larger bin is on wheels and easy to move around
Things We Didn't Like
Seal may not be totally airtight
Plastic can be prone to cracking and it's a thinner material
Can have a strong smell when you first open the container
2. Vittles Vault Stackable Dog Food Container
This stackable dog food container comes in a variety of sizes starting at a five pounds capacity and going up to an 80 pound capacity. It is made out of thick plastic with a twist on lid for a very durable and heavy-duty design that can last through repeated use without a problem.
The lid features a wide built-in handle that is very easy to secure or take off with minimal effort for easy access. The twist on lid ensures that you get an airtight seal each time that you use it, and this can help to keep even larger quantities of dog food fresh for an extended period.
Pet parents who bought this product liked that the lid had a built-in handle and that it had grips along the side that made it easy to pour the food out. They didn't like that the container wasn't see through so they couldn't monitor the dog food levels or that the opening is slightly smaller.
Things We Liked
Containers come in a large variety of sizes with secure lids
The sides have built in handles that make it easy to pour
The twist lid is very secure and forms an airtight seal
Things We Didn't Like
Sides aren't opaque so you can't monitor the levels
The lid has a slightly smaller opening
This container has a slightly higher price tag attached
3. Simplehuman Large Pet Food Storage Can
This sleek and durable stainless steel dog food storage container comes in 25, 30, or 40 liter sizes that allows you to find the best one to suit your needs. The inside of the lid has an airtight seal that is designed to keep your dog's food fresh for weeks.
The inner bucket is made of BPA-free plastic that is removable so you can easily clean it and switch out your dog's food. The included food scoop is magnetic and mounts on the lid for easy storage, and the canister is on wheels that allow you to move it around easily.
People who purchased this container for their dog's food liked that it had a durable stainless steel outer layer with a removable BPA-free inner plastic bucket. They didn't like that this container seemed to be heavier and it wasn't clear so they couldn't monitor the dog food levels.
Things We Liked
Comes in three different sizes
Has a durable and sleek stainless steel design
Includes a magnetized measuring scoop that stores in the lid
Things We Didn't Like
Isn't opaque so you can't monitor the dog food levels
Slightly more expensive than other choices
Dog food can start to smell like the container
4. Bergan Smart Storage Container
This dog food container features a wide, solid design with a slightly larger mouth that is easy to get dog food out of, and you can choose from three different sizes along with packs of one or two. It has a stackable design that makes it easy to store multiple containers at the same time.
The slightly curved lid features a smaller door that has an airtight seal, and it's large enough for one-handed scooping. You can access the dog food even when you have multiple containers in a stack, and it is made out of BPA-free plastic, so it's safer for your dog's food.
Pet parents liked that this container featured a stackable design with the ability to get into the dog food even when it was stacked and that you get an airtight seal. They didn't like that the plastic design seemed to be less durable than other options or that the connecting hinges were made out of plastic.
Things We Liked
Get the dog food out even when the containers are stacked
Lid is semi-opaque and you can monitor the levels
Comes in three sizes and with one or two containers per order
Things We Didn't Like
Entire container is made out of plastic
Connecting hinges are made out of plastic
May not have a completely airtight seal
5. GAMMA2 Vittles Vault Airtight Pet Food Container
This clear dog food container comes in an 8, 15, or 25 pound capacity, and you can see through it to monitor your dog food levels and refill it when necessary. The lid has a thick and durable lock down latch that helps this container to get an airtight seal.
You get a tapered and upright design that is easy to stack and store, even when you don't have a lot of extra room. The larger size also comes with wheels that allow you to move the container around without having to lift it up and carry it around.
Pet parents who bought this product liked that it came in a clear design that allowed them to monitor the dog food levels and that it had a large latch to hold the lid closed. They didn't like that this container was made entirely out of plastic or that you couldn't access the dog food once you stacked it.
Things We Liked
Clear design lets you monitor dog food levels
Tapered and easy to stack and store
Lid attachment is made out of a thicker plastic for added durability
Things We Didn't Like
Entire container is made out of a thinner plastic
Only the largest size container has wheels
Latch may be too easy for your dog to open on their own
What's the Best Dog Food Container?
Our pick for the best dog food container is the IRIS 3-Piece Airtight Pet Food Container Combo because it's a cost-effective option that comes in nine different color choices and two sizes. We liked that you a stackable design with wheels on the larger container because it was easy to move.
We also liked that this choice came with an airtight seal and with a measuring scoop that allows you to ensure that you're feeding your dog the correct amount of food at each meal. It has an airtight design that can help to extend your dog food's life and nutrient value, and this was very important to use as well because we want our dogs to live happy and long lives.