Best Dog Bike Trailers for Small and Large Dogs

By Ashley Turner     Last Updated January 25, 2022

We independently research and recommend the best products; Learn more here. We may receive commissions on purchases made from our product recommendations.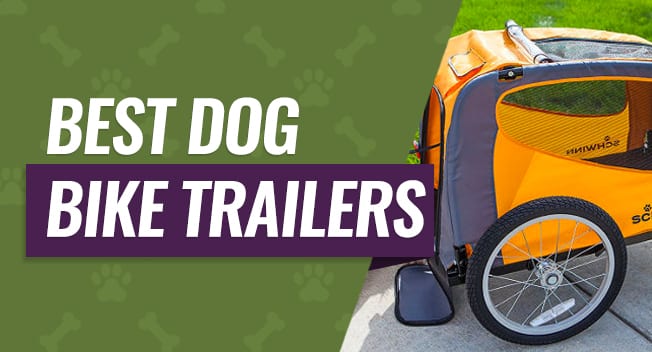 But, since there are so many different types of these dog bike trailers available, finding the right one can be tricky. We want both you and your dog to enjoy this bonding time, so we've rounded up the top five dog trailers with reviews along with a value section, so you know precisely what to look for when you shop.
Our Top Picks for the Best Dog Bike Trailers
What is a Dog Bike Trailer?
A dog trailer mimics an ordinary trailer you would connect to your vehicle, except this one is meant for a non-motorized vehicle like a bicycle. Dog bike trailers typically have zippered mesh panels that keep your dog safe and inside the trailer, as you pull it behind your bicycle.
They're excellent for older dogs who can't keep up, younger dogs who don't run alongside your bike well, or for when it's too hot to let your dog run outside. You attach it to your bike, secure your dog, and you're ready to go.
Most of these trailers have two or three wheels to give it great balance and support as you ride over various terrains. They usually weight around 30 pounds, and it's important to remember this and add in the weight of your dog, so you know how much resistance you'll pull against when you take your dog for rides.
Reasons to Use a Dog Bike Trailer
Now that you know what a dog bike trailer is, we'll give you several great reasons why you want to consider this add-on to your bike outings.
Age - No one wants to see their furry friend slow down, but it can be difficult for your dog to keep up with you on your bicycle when they get older or if they're sick. Putting them in a dog bike trailer allows them to enjoy a nice ride and bonding time with you without adding stress to their bodies.
Discipline - In a perfect world, your dog would run alongside your bike and not get distracted while you're out and about. However, younger dogs or certain breeds are more prone to distraction, and this can be dangerous if they try to run off, so a bike trailer is a safe alternative.
Health Issues - Maybe your dog loves to get out and play, but they lack the stamina to keep up with you for long periods of time due to breed characteristics. Short-nosed breeds will benefit from a bike trailer because they can't get enough air in to support their bodies on a long run.
Stamina - A lot of people like to go for long bike rides, and your dog may get tired a long time before you're ready to turn back. Having a dog bike trailer with allows your dog to run until they get tired and ride the rest of the way.
Looking for something so your dog can get exercise while you are biking? Check out our Dog Bike Leash Guide.
Dog Bike Trailer Buying Considerations
Since there are dozens of bike trailers to choose from by several brands, it's good to know exactly what traits you want to focus on. This will help you make a good choice that both you and your dog are happy with and enjoy.
Construction
Your dog trailer can be a more expensive investment, and this means that you want to look for one that has high-quality construction because it'll last longer and it'll allow you to get more use before it wears out. Look for double stitching along any seams, air-filled tires, a sturdy metal frame, and high-quality fasteners, zippers, and connectors.
Door
Take a look at the door or entry point of your trailer because a lot of them have a door that you have to lift your dog through. This won't be a huge deal if you have a smaller dog, but trying to lift a medium or large dog into the trailer can be difficult, especially if they're not sure about it and struggle when you lift them.
Flooring
Some trailers only come with a fabric floor, and this isn't a huge problem if you have a smaller dog. However, it's a good idea to get a trailer with a harder floor for a larger dog because it offers more support and you can always toss their favorite blanket in to keep them comfortable.
Handling
While you most likely won't be able to test out how your new dog bike trailer handles, it's important to keep this in mind when you're shopping. Take note of the size of the trailer, the wheel size and how many there are, and how it attaches to your bike because all of these factors will affect how the trailer handles behind your bike when you're out riding.
Hitch
The hitch is where the trailer attaches to your bike, and it'll play a large role in how well you're able to control your bike once you have it attached and you're riding. Make sure that it's a sturdy attachment that doesn't overbalance your bike around corners, and you want to make sure that it doesn't interfere with your ability to apply the brakes.
Kick Stand
You most likely won't have your dog trailer attached to your bike all of the time, and you want to look for a trailer with a kickstand by the trailer hitch. It'll be more comfortable and even if your dog sits in it when it's not attached to your bike, and it'll also help to reduce any wear and tear on the attachment point or hitch.
Leash Attachments
Any dog trailer you purchase should have secure D-ring attachments somewhere inside the trailer. You'll attach your dog's leash to this D-ring when they ride to prevent them from moving around too much or running off if you happen to get into an accident and your dog gets out of the trailer.
Parking Brake
Loading and unloading your dog can be a challenge until your dog gets used to the trailer, and you want it to stay steady during this process. A trailer equipped with a parking brake can hold the trailer still when you load and unload your dog or when you're stopped for a break.
Portability
If you plan to use your dog trailer around your local area, portability won't be that big of an issue. But if you plan to travel with it, look for a dog trailer that has wheels that you can easily remove along with a folding or collapsible design because this will make it very easy to put in your vehicle.
Size
Take a good look at any size requirements on your new dog trailer to help ensure you get one that is going to have enough room for your dog. Make sure that your dog is able to sit up, turn around, lay down, and move around a little bit without being cramped because this will make the ride more enjoyable for them.
Windows
Any windows on this trailer should be mesh covered, and ideally, they should have zippered openings with a protective cloth overlay that you can open and close to customize the amount of airflow that goes through the trailer and to your dog. Also, look for a trailer with several windows, so your dog doesn't feel constricted.
Our Top Five Picks for the Best Dog Bike Trailers
1. InStep Sync Single Bicycle Trailer
This single dog bike trailer comes in three fun and bright color styles so it's very easy to see when you're out and about, even in low light conditions. The two-in-one canopy features several large mesh windows with a bug screen and weather shield built right in, and this allows your dog to enjoy a ride in all conditions.
You'll get 16-inch durable tires coupled with a collapsing and folding design that is portable and easy to store. The hitch or attachment point is designed to be universal, and this means that it can quickly and easily attach to almost any bicycles without having to struggle with it or get a new attachment.
Pet parents who purchased this dog trailer liked that it came in several bright colors that made it easy to see in low light, and they also liked that it had a built-in safety harness to restrain their dog. They didn't like that this dog trailer isn't recommended for bicycles with tires over 26-inches or that the seat tended to sag.
Things We Liked
Dog trailer comes in three bright color choices for high visibility
Includes large mesh windows, bug screen, and a weather shield
Features a durable but portable design
Things We Didn't Like
Has a weight limit of 40 pounds
Can be difficult to attach the first time
Does not have a strong suspension system
2. Schwinn Rascal Pet Trailer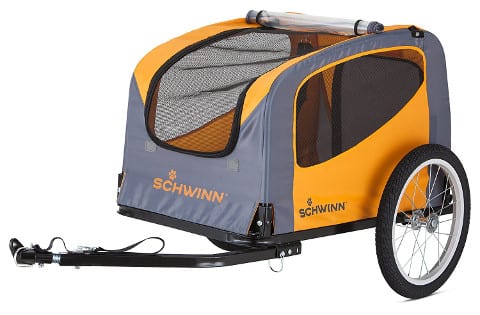 This bright and compact dog trailer comes in two color combinations, and you also get a bright orange safety flag included in each purchase that attaches securely to the back of the trailer. This dog trailer holds pets up to 50 pounds, and it includes an adjustable leash attachment that allows you to give your dog enough room to move without allowing them to jump out.
You get a durable steel frame with aluminum-rimed wheels and secure attachment points for a durable and long-lasting design. There are large mesh windows with zippered flaps, a large rear-facing door, and a big adjustable screen that lays and attaches over the front of the trailer.
Pet parents who bought this dog trailer liked that it came with a steel frame and air-filled wheels with aluminum rims because it was very durable. They didn't like that the bug screen was made out of a thin material that was prone to tearing, and they also didn't like that it tends to tip to one side.
Things We Liked
Very bright colors with an additional safety flag
Comes with aluminum rims on the tires and a steel frame
Rear-facing door zippers closed for easy access
Things We Didn't Like
Only holds dogs up to 50 pounds
Tends to lean or tip to one side
Zippered window flap tends to drag in the dirt
3. Solvit HoundAbout Pet Bicycle Trailer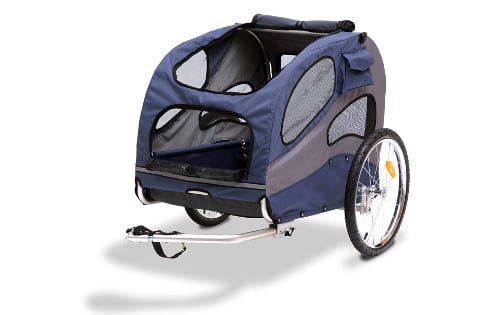 You can choose from two colors and two different sizes ranging from medium to large when you order this dog trailer. Your dog will enjoy several smaller windows and a large sunroof that features a mesh layer and a durable waterproof layer that allows your dog to ride in a variety of conditions.
It's designed to be quick to put together and easy to clean with a soft polyester and mesh design with a durable floor that wipes clean with a damp cloth. There is a leash attachment inside the trailer to keep your dog contained and safe, and you'll also find small storage compartments outside of the trailer with button closure.
Pet parents who bought this dog trailer liked that it had a durable waterproof coating along with a mesh layer, and they also liked that it had small compartments on the outside of the trailer for storage. They didn't like that it was slightly difficult to put together and that the canvas was prone to ripping.
Things We Liked
Suitable for dogs up to 110 pounds
Has a variety of windows and a large sunroof
Small outer storage compartments included
Things We Didn't Like
Mesh was prone to tearing around the pressure points
Hole in front of the trailer for the wheel attachment
Rear reflectors can be difficult to mount
4. Best Choice Products 2-in-1 Pet Stroller and Trailer
This trailer converts into a pet stroller quickly and easily, and it has a bright red fabric to ensure high visibility, even in low light conditions. It's made with a durable and water-resistant polyester material coupled with a durable mesh screen that allows for good airflow while keeping your pet dry in wet weather.
You'll enjoy a lightweight but durable steel frame, a handbrake that makes it easy to lock the trailer in place, and a two-in-one bug screen that folds up when you don't want to use it. It comes with several reflectors and a safety flag included, and you'll also get a stable tri-wheel design for added stability.
Pet parents who purchase this dog trailer liked that they could convert it into a stroller with minimal fuss, and they also liked that it was very bright with reflectors and a safety flag included. They didn't like that this trailer could be difficult to clean or that the flaps attach to the top of the trailer with velcro.
Things We Liked
Comes with a very stable design
Trailer can convert to a stroller
Security tether
Polyester material is resistant to water but breathable
Things We Didn't Like
Rear door zipper sticks up too high and pokes the dog
Hand break only controls one wheel at a time
Lower back frame sticks out at an awkward angle
5. DoggyRide Mini Dog Bike Trailer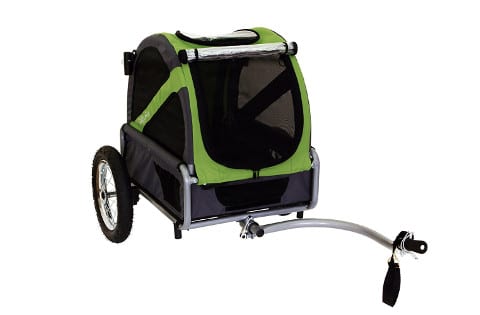 You'll get a large rear door that makes putting your dog in and getting them out of this trailer fast and easy. There are large mesh windows in the front of this trailer as well as long the sides, and they come with mesh paneling with an optional rain flap.
You'll get a small storage pouch with a water bottle holder so you can keep your dog's treats, food, water, leashes, and toys secure while they ride with you. The interior of this dog bike trailer has leash hooks so you can keep your dog safe and secure as you move along.
Pet parents who bought this dog bike trailer liked that the rear access door was larger and easy to get your dog in and out, they also liked that there were large mesh windows for optimal airflow. Pet parents didn't like that the roll bar on the top of the trailer wasn't padded, and they also didn't like that it could be awkward to store because there is no trailer hitch stand.
Things We Liked
Comes in several different size options
Has a few small storage pouches
Get large mesh windows with a rain flap
Things We Didn't Like
Roll bar on the top of the frame isn't padded
No kickstand for the trailer hitch
Can be difficult to assemble
Our choice for the best dog bike trailer is InStep Sync Single Bicycle Trailer. It comes in several bright color combinations, and there are larger mesh windows with rain and bug flaps.
The metal frame combined with the collapsible design and the durable wheels make this a portable and long-lasting dog trailer that is perfect for a variety of weather conditions. The built-in harness is an excellent safety perk that made this dog trailer our top pick.