Best Dog Bike Leash for Active Dogs: Keep Your Dog Safe While Biking With Attachment Reviews

By Ashley Turner     Last Updated January 25, 2022

We independently research and recommend the best products; Learn more here. We may receive commissions on purchases made from our product recommendations.
Since there are dozens of these specialized leashes to choose from, you may get overwhelmed the first time you browse for one. This is why we've picked out the top five best dog bicycle leashes available, and we've combined them with our guide to give you a good idea of essential points to keep in mind when you shop.
Our Top Picks for the Best Dog Bike Leashes
Will a Dog Bike Leash Work For Your Dog?
Although most dogs love getting out and about with their owners and running around, there are some breeds who simply can't keep up. Before you go and buy your new dog bicycle leash, you want to consider the following:
Health - If your dog has outstanding health problems like bad joints, or if they're overweight and have difficulty getting around, they're most likely not going to keep up with you. Double check with your veterinarian and see if your dog is healthy enough to run along with you, and you can also ask about the recommended distance you should start with.
Personality - Dogs who are confident and who don't shy away from things are usually the best ones suited for these bike leashes. Dogs with skittish or fearful personalities will get very stressed out from the surrounding environment and the bike leash, and this can easily result in injuries when your dog tries to get somewhere safe.
Size - Unfortunately, most of these leashes don't work very well for small breed dogs because they can't safely have enough leash exposed for it to reach your dog's height without also allowing it to get tangled in your bike. A dog bike trailer is a good alternative for your small dog if you enjoy biking. Most dogs who get the most use out of these leashes are medium to large breeds with a lot of energy like labs, retrievers, and hounds.
Training - Your dog should at least be trained to walk on a leash before you consider one of these types of devices because they'll know how to behave. If they're not trained, and you strap them into one of these leashes, you could end up with a hurt dog, or you could get hurt yourself if your dog jerks away and takes the bike with them.
Tips for Introducing Your Dog to the Bike Leash
You don't want just to assume that your dog is going to love their new bike leash right away, and there are a few things that you can do to help them along. These things include:
Introduce your dog to the leash slowly.
Let your dog stand next to the bike without moving it.
Walk alongside your bike with your dog attached to the leash.
Teach your dogs commands like go, stop, and turn.
Slowly start to increase your biking distance.
Skip biking with your dog on hot days.
Double check your dog's feet before, during, and after the ride.
Pay close attention to how exhausted your dog seems to be and give them breaks.
Important Dog Bicycle Leash Buying Considerations
Once you've determined that your dog is a good candidate for a bike leash, you can start browsing and shopping for your new one. However, it's important that you keep a few critical points in mind to ensure that you get a bike leash that is going to suit your needs and your dog's needs.
Bike Compatibility
Not all bike leashes will be compatible with your bike because they need different attachment points and things like rear disc brakes can get in the way. Double check how your bike is set up and compare it to your chosen bike leash to ensure that it'll connect securely and that you won't have any problems with your bike's hardware being in the way.
Distance
Measure how far the arm will keep your dog away from your bike before you buy anything. Ideally, this arm should keep your dog far enough away from your bike that there's no chance of them getting caught or tangled in the tires or chain as you ride, but they shouldn't run far enough away to be a nuisance to other joggers or bike riders when you're out and about.
Installation
You want your installation process to be relatively quick and easy, and you don't want to use a lot of extra tools to install or take your bike leash off your bike. Most bike leashes connect to the bike through a bracket system, and this typically takes 10 to 15 minutes to install.
Leash Material
You do want to check what your bike leash is made out of, how long it is, and how much weight or pull it can comfortably hold without snapping. Some bike leashes are adjustable to give your dog more room to run, and some are made out of military-grade paracord with over 500 pounds of pulling capability.
Warranty
The warranty is especially important if you plan to use your bike leash a lot, so make sure that you double check if it comes with a warranty and how long the warranty is good for. You want at least 30 days, but some bike leashes come with up to a year warranty against defects or damage.
Weight
This bike leash shouldn't be a very large or heavy object that is going to unbalance your bike or cause you to have difficulty maneuvering with it on. A lot of people like aluminum or stainless steel because it's very durable without being too heavy or prone to rusting and corrosion.
Our Top Five Picks for the Best Dog Bike Leash
1. Walky Dog Plus Hands Free Dog Bicycle Leash
This bike leash comes with a military grade paracord leash for added durability with up to 550 pounds of pull strength. This bike leash also comes with a stainless steel outer casing with a true quick leash release system that allows you to detach it when you want to walk your dog instead of ride.
You are able to adjust the length of the leash and make it longer by removing two simple springs, and this system has a shock-absorbing core combined with a quick lock system that means your dog will enjoy a smooth ride. This leash has rigorous safety testing, and each one has the TUV SUD Product Service Certification attached.
Cyclists who bought this bike leash for this their dog liked that they could easily and quickly turn it into a regular leash to walk their dogs, and they were also happy that it comes with military grade paracord for durability. Cyclists didn't like that it can only attach to certain bike styles, and they also didn't like that the leash is on the shorter side, even with the ability to extend it by removing springs.
Things We Liked
Very sturdy and solid design
Comes with military grade paracord leash
Features a quick release system
Things We Didn't Like
Only works well with certain bikes
May interfere with mounting or dismounting your bike
Leash is on the shorter side
2. Springer Dog Bike Leash
You'll get a very heavy-duty steel spring with this exerciser that sits very low by the attachment point to help absorb any shock from your dog tugging as they run. Additionally, this leash comes with a solid steel design that is designed to be durable and survive wet weather conditions without rusting or showing wear like corrosion.
This leash attachment is designed to go on either side of your bicycle and secure with a clamp and screws to hold it in place once you tighten it, and it's a great choice for larger or rambunctious dogs because you'll be able to stop quickly if they start to get ahead of your bike or if they pull too hard.
Dog parents who bought this exerciser liked that it attached securely to their bike below the seat for greater control, and they were impressed on how well this exerciser was able to absorb the shock from their dogs trying to run after something. They weren't happy that this exerciser doesn't come with a leash and you have to use a harness for it to work to avoid injuring your dog when they use it.
Things We Liked
Very durable stainless steel design
Has a large spring to absorb any shock
Clips securely right below your seat on either side
Things We Didn't Like
May only fit well on certain types of bikes
Does not come with a leash
May have to tighten the bolts periodically
3. Bike Balance Dog Jogger Kit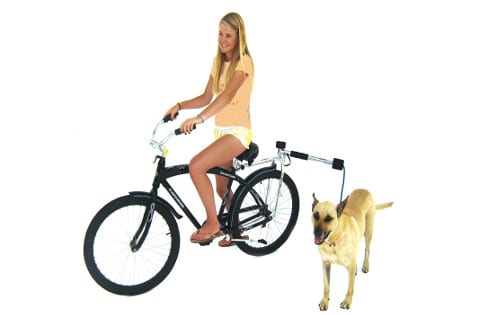 This jogger kit comes with two different leashes including heavy duty and standard so you can customize it to suit your dog's size and their behavior, and you can also quickly and easily adjust this kit to suit dogs of all sizes. It is made out of aircraft-grade aluminum for a lightweight but extremely durable design that withstands wear and tear or rust very well.
This dog leash attaches to any bicycle that doesn't have disc breaks or a rear suspension setup within minutes, and it is set far enough back on your bike that it won't interfere when you try to mount or dismount your bike which is great news if you ever need to dismount to get to your dog quickly.
Dog parents loved that they could install two different leashes with this setup that they can customize to suit their dog's pulling style, and they also liked the lightweight aluminum design. Cyclists with dogs weren't happy that you could only use this on specific bicycles, and they weren't satisfied that there isn't a shock absorbent system in place to prevent their dogs from jerking away.
Things We Liked
Made with lightweight aircraft-grade aluminum
Comes with two different leash attachments
Designed to sit further back on your bicycle
Things We Didn't Like
Only works with certain bicycle styles
No shock absorbing system
May not work well for larger breeds
4. Leash Buddy Dog Bike Leash
Large or medium dogs are perfect for this bike leash because it comes with a leash that has 500 pounds of pull strength that will hold the most rambunctious dogs, and the integrated spring mechanism combined with the flexible leash work to absorb all of the shock your dog generates by pulling to keep your bike upright and you safe.
You'll get a universal bracket that installs quickly and easily to any type of bike right under your seat with four screws, and the side of this bike leash sticks out to keep both your dog and the leash well away from your bike's gears and wheels as you ride with them. Each piece of this dog leash system is made to aerospace standards for added durability and safety.
Pet parents who used this dog leash setup liked that it is designed to keep your dog far away from the wheels and gears of your bike while you ride, and they also liked the advanced shock absorbent system that worked to reduce the strain on their bike. They didn't like that it can be slightly tricky to install and that they had to re-tighten the clamp several times.
Things We Liked
Designed to aerospace standards
Has a great shock absorbent system in place
Keeps your dog away from your bike's wheels
Things We Didn't Like
May have to periodically tighten it up
Might not work well for smaller breeds
Can take a while to install
5. PAWISE Dog Bicycle Leash
This dog leash set comes with an expanding leash that helps to absorb the shock from sudden pulls or if your dog decides to start getting ahead of the bicycle, and you also get two ways to use it depending on how you fix it to your bicycle including a bike leash and a regular leash.
You'll get a secure attachment that is held together by Velcro, and it will detach to keep your dog safe if you fall or if you start to lose control of the bicycle, and this bike leash is also very easy to install or take off by adding or taking a few screws off the mounting bracket.
Dog parents who bought this bike leash liked that it came with an expanding portion of the leash that helped to absorb the shock of sudden pulls from their dogs. They weren't happy that this leash had a rubber grip that helped to attach their dog's leash to the bike because it tended to wear out and be difficult to replace.
Things We Liked
Has an expanding leash to absorb shocks
Comes with two ways to use the leash
Very easy and fast to install
Things We Didn't Like
Rubber attachment point wears out
May not be durable enough for large or giant breeds
Wand attachment point is prone to rusting
Our pick for the best dog bicycle leash is the Walky Dog Plus Hands Free Dog Bicycle Leash because it uses military-grade paracord that gives this leash up to 550 pounds of pulling pressure without wearing out or breaking. It also comes with a quick release system that helps to keep your dog safe as you ride.
We also chose this product because it comes with a certification for safety, and you also get an adjustable leash with a shock-absorbing core to give your dog a smooth ride each time they're out and about with you.